Your Best Reference for Antique Marks. Including pottery marks, porcelain marks and everything antique or collectable.
Over 10,000 antique marks, china marks and trademarks with superb quality images to illustrate examples of antique manufacturers products.
Antique marks is your easy to use online reference for everything antique.
With detailed information on all kinds of antique china, pottery marks, porcelain marks, antiques and collectables. Antique Marks includes antique terms, a full antiques glossary and detailed history on well known companies and artist biographies.  As well as pottery & porcelain companies and information on caring for antique rugs, carpets, silver and glass.
But best of all … Its all FREE, and at your fingertips 24/7.
The site includes graphic illustrations of over 100 manufacturers products to help identify & date your pieces and over 10,000 makers marks and a full antiques glossary with a full easy to use search facility. Antique-marks.com is ideal for the collector to check or verify attributions listed in online auction sales.
Antiques News & Latest Updates ...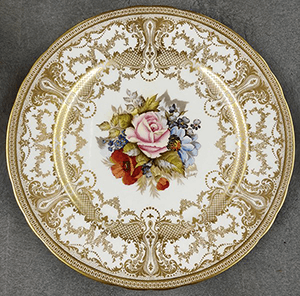 Aynsley China
Aynsley China is now synonymous with fine bone china and elegance, yet before we get into the intriguing life this brand has went through we should start from the beginning. When ...
Read More
Antique Marks is a great resource for antique collectors & dealers
Antique collectors, buyers and sellers can easily access a wealth of information, using our main site or using our mobile friendly version of antique marks while you're out and about.
The antique marks website is ideal for any collector, buyer or seller who needs to research pottery marks, porcelain marks or other antique collector essentials.
And for those who want to provide their potential customer with as much information as possible; information that will allow them to make an educated and informed decision.
Whether you're looking for antique pottery marks, porcelain marks, antique china marks or antique makers marks, it's all right here at your fingertips.
The information can be accessed while they are creating their item description and a link to the relevant section can be provided to the potential buyer; just to re-assure your customer that the antique china you are selling is exactly what you say it is.
It is invaluable to the seller who is unsure of an antique china maker or the date of a piece of porcelain or where to research the origins of quality antique pottery.
And; it can also help prevent you selling antiques for low, low prices.
No matter what antiques you buy, sell or collect...
Royal Doulton
or
Royal Worcester figures
, antique pottery vases, antique china, majolica, studio pottery,
art deco
,
art nouveau
,
antique carpets
,
silver
,
rare coins
or any other range of antique items.
Antique marks with its
comprehensive antiques glossary
and fully illustrated
pottery and porcelain marks sections
can help make sure you know what antiques you are buying and sometimes more importantly, what antiques you are selling.
Finally we would like to thank our partner
VPN Area
for their tech support in keeping Antique-Marks online.