Your Best Reference for Antique Marks. Including pottery marks, porcelain marks and everything antique or collectable.
Over 10,000 antique marks, china marks and trademarks with superb quality images to illustrate examples of antique manufacturers products.
Antique marks is your easy to use online reference for everything antique.
With detailed information on all kinds of antique china, pottery marks, porcelain marks, antiques and collectables.
Antique Marks includes antique terms, a full antiques glossary and detailed history on well known companies and artist biographies.
As well as pottery & porcelain companies and information on caring for antique rugs, carpets, silver and glass.
But best of all ... Its all FREE, and at your fingertips 24/7.
The site includes graphic illustrations of over 100 manufacturers products to help identify & date your pieces and over 10,000 makers marks and a full antiques glossary with a full easy to use search facility. Antique-marks.com is ideal for the collector to check or verify attributions listed in online auction sales.
Antique Marks is a great resource for antique collectors & dealers
Antique collectors, buyers and sellers can easily access a wealth of information, using our main site or using our mobile friendly version of antique marks while you're out and about.
The antique marks website is ideal for any collector, buyer or seller who needs to research pottery marks, porcelain marks or other antique collector essentials.
And for those who want to provide their potential customer with as much information as possible; information that will allow them to make an educated and informed decision.
Whether you're looking for antique pottery marks, porcelain marks, antique china marks or antique makers marks, it's all right here at your fingertips.
The information can be accessed while they are creating their item description and a link to the relevant section can be provided to the potential buyer; just to re-assure your customer that the antique china you are selling is exactly what you say it is.
It is invaluable to the seller who is unsure of an antique china maker or the date of a piece of porcelain or where to research the origins of quality antique pottery.
And; it can also help prevent you selling antiques for low, low prices. Royal Doulton or Royal Worcester figures, antique pottery vases, antique china, majolica, studio pottery, art deco, art nouveau, antique carpets, silver, rare coins or any other range of antique items.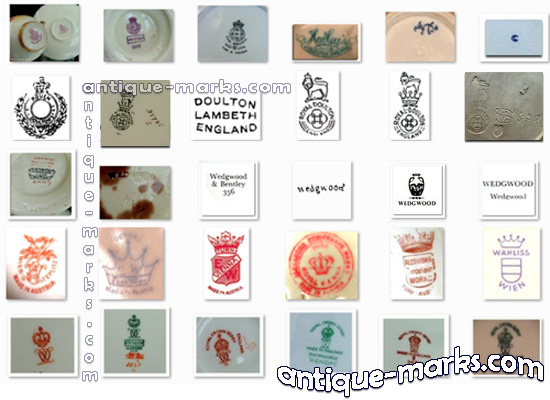 Antique marks with its comprehensive antiques glossary and fully illustrated pottery and porcelain marks sections can help make sure you know what antiques you are buying and sometimes more importantly, what antiques you are selling.
One of the most prized porcelain collectibles. Royal Worcester marks from the Dr Wall period right through to modern times. Use our Worcester marks reference to date your Worcester porcelain and decipher those dot codes
From Burslem to Lambeth and Robert Allen to special Doulton series marks and date codes. We also list HN numbers and Doulton artists marks. All you need to date your Royal Doulton collectables
The Wedgwood Collector is faced with many imitators and must ensure they are buying true Wedgwood antiques that bear genuine Wedgwood marks. Use our china marks to confidently attribute the piece to the Wedgwood potteries.
Originally founded as a studio in 1897 within the James Macintyre & Co ceramic company, Moorcroft pottery is among the most popular pottery collectables. Use our reference to date your Moorcroft Pottery marks.
In April 1723 the Leipziger Post Zeitungen, announced that Meissen porcelain would carry a mark to guard against forgeries. Properly identifying the Meissen blue crossed swords mark and the Augustus Rex Mark will show you that not all blue crossed swords marks are Meissen
In 1775 William Duesbury's hard work was rewarded by King George III and Derby Porcelain was born. In 1890 Queen Victoria helped make it Royal Crown Derby and it has produced some of the most collectable porcelain products ever made
John Rose and Coalport Porcelain used a great variety of Coalport marks as well as early Coalbrook Dale marks and mock Sevres & Chelsea marks. The Coalport Standard Crown mark is the best known but there are many versions and other marks
Makers marks, trade marks and all sort of china marks appear on all sorts of pottery & porcelain, glass and silver. They can be stamped, painted, impressed or handwritten. Here's how.
Hummel figurines are beautifully cute rather than realistic and Hummel marks cover various periods from 1931 when Berta Hummel entered the covent of Siessen to after 1946 when she passed away. We include Geobel marks that include & exclude the Bee.
200 years of Minton makers marks, trade marks and year cyphers. From 1796 this important Stoke firm has traded under various styles and in 1842 it introduced year cyphers. Here's where you'll find them ...
Probably less than 50% of all Antique English Porcelain and pottery from the 18th and 19th centuries has a factory mark. You have to learn to look for other signs ...
There are three commonly seen Noritake marks, namely the Noritake Maruki (often called Komaru) Mark, the M (for Morimura) Wreath Mark and the RC (for Royal Crockery) mark ...