When selling antiques you not only need to know what you are selling but also how, when and where to sell.
Knowledge is key and understanding your various selling options is essential.
There are loads of venues available for selling antiques, including online internet auctions, local auction houses, newspaper classified ads, antique dealers, antique fairs, etc, etc.
However, there is only one way not to sell your antiques and collectables ...
DO NOT SELL antiques unless you know what you are selling.
You must also make sure that you keep an open mind when it comes to what you can sell and how you might be able to sell it.
Remember; no-one makes a profit by sitting on their backside.
Can you make money without spending vast sums buying antiques?
Of course, there is a profitable way to generate a good income without investing large sums in antique stock that may not sell.
It's not easy, and you do have to invest a little spare time and money, but there is money to be made by Selling Other Peoples Antiques.
Selling Antiques at your local auction house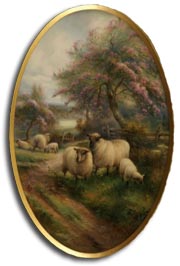 This is probably the most popular way to sell antiques and collectables and selling your possessions through a professional auctioneer is usually an easy and often rewarding experience.
With expert advisors on hand to assess the value of your objects and explain the auction process to you in more detail.
The internet has had a massive impact on the auction house market.
Mainly by allowing private buyers and collectors to easily research a broad base of suppliers without having to travel or invest in printed catalogues.
Auctioneers have also arranged for catalogues to be viewed on their web sites and are allowing users to freely browse, search, download and print auction catalogues (free of charge) prior to viewing or sale days.
Auction Catalogues are also published on major internet portals including the Antiques Trade Gazette and Invaluable.
Good auction houses that invested in internet technology have a very strong internet presence and operate forward thinking policies with continuous investment and improvement. They makes sure that your lots are viewed by the largest number of local, national and international buyers, and ensure they achieve the highest sales price possible.
The downside in selling through a reputable auction house are the fees you have to pay.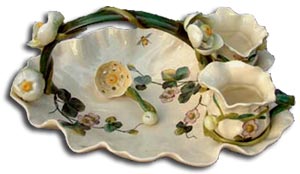 You should make sure you are fully aware of all the charges being applied before you submit your items.
You should also check with the auctioneer whether the type of item you are selling has sold in the past and what final price it is likely to achieve.
There's no guarantee your item will sell in an auction but you will want to limit the risk of a no-sale or a very low price sale as much as possible. Auctioneers offer a reserve price service, but the terms can vary from auctioneer to auctioneer and you should check individual auction houses for their specific reserve price terms.
Remember - There's no use placing your antique painting with an auctioneer who normally only sells second hand white goods, modern toys and the occasional car... more on selling antiques at auction
Selling Antiques at Collectors Fairs
This is another excellent venue and there are plenty of them around the country.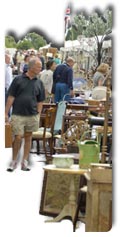 The most popular for buying antiques are probably the largest such as Newark and Swinderby in Lincolnshire and Malvern or Ardingley.
However, they may not be the best place to try to sell;
Because you will have to pay to enter and
The trader may not have a great deal of time.
For selling and especially if you have only a small quantity of items try selling direct to a local market trader.
Initially; visit and browse your local antiques fair and try to find a stand that is selling items similar to yours.
Make sure you get there early, before the trader is too busy to talk to you. Then approach them and ask them if they would be interested in buying. Show and then let them handle your item and ask them for a good price.
Their first price will probably not be their best so be prepared to negotiate and make sure you have researched your item and know what its approximate worth is depending on the condition its in.
If you don't manage to sell at the first stand, re-pack your treasure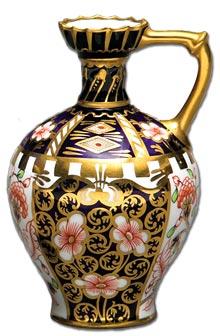 If you have a larger quantity of items to sell then consider booking a stand of your own at a local antiques fair.
You should contact fair organisers who will be able to tell you the procedure for their particular event and make sure you do so as early as possible as there may be a waiting list.
Check - the antiques fairs page for dates.
Be prepared to pay a deposit or in some cases the full amount may need to be paid up-front if competition for spaces is fierce.
If possible try to secure a place close to another stall selling similar items as this will attract more collectors to that area.
Ensure you present your items in the best way and visit the venue first to check other sellers stands and how they are presented; take photos if you can and price your items with a discount structure in mind.
If you are simply selling in order to reduce clutter then under-cutting the competition is fine; but if you want to do it on a regular basis and are buying stock to sell on, then a knowing your costs and having a good, easily remembered, discount structure is essential.
Every potential buyer will ask for a discount and you should know to the penny, how low you can go without losing money.
Selling antiques at a boot, garage or yard sales can be fun and quite profitable too.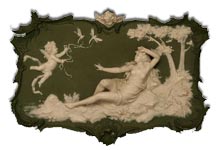 Car boot sales are held in a wide variety of venues, usually fields, school playgrounds or car parks.
They may be advertised on the internet, in the classified columns of certain magazines, local papers, or simply by notices pinned up in your local area. Similar ads can be placed for garage or yard sales or simply place a board outside in the drive.
Organisation is key to a good boot sale and even more so for a profitable yard or garage sale. Items need to be clean and well presented and each item priced up separately. Be prepared for hagglers and ensure you know what you are selling. A little knowledge goes a long way and even more if you know the items personal history.
Collectors and dealers love yard sales and will travel miles if there is the chance of finding rare items, so make sure any advert you place includes an indication of what you have to sell.
Ten Top Tips for a Successful Boot Sale.

What to sell - You can sell almost anything at a boot sale but keep things simple and stick to smalls. Antique pottery and porcelain, figures, vases, antiquarian books and victorian jewellery are all easy to pack, store, transport and for the buyer to take away. Large pieces of furniture pose transportation problems for seller and buyer and only the dedicated buyer will be looking. Appeal to the mass market by sticking to smaller items.
Plan & prepare - Planning and preparation is the key to successful selling. Calculate what you can fit in the car and then what you will be taking. Organise it and price it a day or more before the sale. Make sure you are fuelled up and ready to go and make sure you have a good nights rest
Price your goods - Price things clearly with sticky labels. Other dealers will rummage in your boot while your unpacking and its better to know prices instantly rather than dither about. This can be an opportunity to sell a large proprotion of your stock even before the proper sale starts. In addition the bout sale buyer likes to have a place to start from when deciding to haggle; so give it to them and make sure you know how low you can go.
Packing & packaging - Pack everything in bubble wrap within well organised boxes. Old fruit boxes are ideal and are readily available from your local supermarket. Fragile china and glass need to be unpacked as carefully as they need to be packed so have plenty of old newspaper handy. Old towels or blankets are ideal wrapping pictures, prints and mirrors. In addition; make sure you take plenty of extra packing and loads of old carrier bags for your customers to carry away their purchases.
Loose change - Take plenty of it and keep it safely in a bum belt or money bag for safety. There's nothing worse than losing a sale because you can't change the second twenty you've been handed.
Presentation & Comfort - Make sure you have a sturdy table, preferably a folding table, to display your goods on. Remember to allow space in the car for the table. If possible rest it on top of everything else as it shoud be the last thing in and the first thing out. And take a chair, preferably folding. There's nothing worse than standing all day, especially if its raining or quiet.
Help - Take help; a family member or a friend. Someone that can man the fort during loo breaks or if you want to have a look around. Someone that is able to sell as well as you and that can take money and give change. Remember they'll also want a chair.
Food & Dress - Make sure you wear the right clothes. Warm in the winter and cool in the summer. Welly boots are a good idea in a wet muddy field. A hat if the sun will be beating down on your head all day. An umbrella just in case. Take food; sandwiches and a thermos of tea, coffee or soup. Take two if you think it will be a long day.

DO NOT

spend your hard won profit at the burger van.
Arrive early. - Pack everything the night before. Prepare all your food and drink. Fuel the car. Get up early and allow plenty of time for the journey. Arrive early and get a good position that allows the most buyers to spot your goods. Remember you'll be allocated space on a first come first served basis and you'll be competing with seasoned veterans of that boot sale venue; so be prepared.
Finally - Haggling is a fundamental part of car boot sale culture. Expect to haggle, expect to lower your prices and do it with a smile. Laugh with your customer and he'll buy sooner. Smile when you give him his change and he'll come back to look again. Look as if you're enjoying what you do and buyers will come to you and bypass your competitors.
Again, when selling antiques ... make sure you know exactly what you are selling. Do your own research and if you feel you have a valuable antique get a professional appraisal and valuation before you sell.