It's cheaper than Gold but Collecting Antique Silver can be an expensive pastime.
If you choose collecting antique silver as your main antique interest, you should make sure you know the general history and the historical periods associated with collectable silver.
Silver is a precious metal.
It's lighter and slightly less malleable than gold, but unlike gold, silver is prone to tarnishing as it reacts with pollutants in the air.
Silver products are usually made from an alloy of pure silver and a small proportion of a base metal such as copper to improve strength and durability.
The proportion of pure silver varies according to standards set by different countries, such as the Britannia Standard, the sterling silver standard and the various countries assay marks, which are also known as silver hallmarks.
Ever since silver was discovered it has been fashioned into highly decorative objects and personal objects of great beauty, and these can be of prime interest to the silver collector.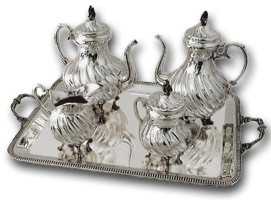 Silver has been classed as a precious metal for a very long time and today it is probably cheaper in real terms than it has ever been.
How long this will continue to be the case is anyone's guess, and as new technologies evolve and new uses are found for precious metals we may just see antique silver and gold becoming less and less affordable.
Antique Silver is a recycleable material and the prices paid for scrap metals in the modern world varies enormously on a day to day basis.
Today there are stories of antique dealers selling rare and precious antique silver objects for their scrap weight value, as often the scrap value is currently bringing in more than selling the item as an antique piece.
The Creation of Antique Silver Hallmarks.
Antique Silver markings were first used in England in the 14th century and the story goes that around 1408 a silversmith called Philip Stubbs complained of the widespread use, by unscrupulous silversmiths, of drossie rubbage or refuse metal. This was alloyed with silver to make the metal tougher and more malleable, but obviously decreased the amount of pure silver in a piece and was cheaper than the actual silver.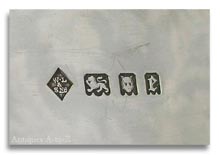 Silver has always been alloyed with small amounts of other metals and this has continued through the ages to the modern age, making it very useful for collectors, firstly as an accurate form of dating and history as well as being quite possibly one of the first forms of consumer protection.
Antique Silver Makers Marks ...
In 1363 it was decided that one method of identifying the makers of sub-standard work or of maintaining a level of quality control, was to make the Master Goldsmith register a unique mark of his work in the form of initials, symbols or a shield. These antique silver markings would be struck onto the silver.
Date Letter... In 1478 to maintain this standard further, a date letter was introduced using the alphabet. Starting with the letter A, but omitting the letters J and from V to Z, merely changing the letter style or shield with each cycle.
This continued without a break until 1696, when, a new cycle was started called the Britannia standard of antique silver markings.
But, so widespread was the abuse of clipping or melting silver coins, that silversmiths were forbidden to use the sterling standard for their wares. Instead a newer, higher standard of 95.8% pure, was introduced.
New Assay Silver Hallmarks were ordered, utilising the initials of each silversmith, together with a figure of a woman known as Britannia and a lion's head, replacing the lion (Passant) ie. Full size looking ahead, first used in 1544.
Changing to the higher standard of 95.8% silver caused some controversy. So, in 1720 it was agreed that the old standard would be restored, and run alongside the higher standard.
Silver Duty Marks ... in 1720, a charge of 6 pennies an ounce was made, as a duty for restoring back to the old standard. This started a practice called duty-dodging, whereby silversmiths avoided paying duty by incorporating pieces of silver bearing antique sliver marks into a new piece of silverware.
To get over this problem the Assay office introduced a duty paid hallmark in 1784, in the form of the sovereigns head, which remained until 1890 and covered the reigns of George III, George IV, William IV and Queen Victoria.
Although these marks are a great help to the silver collector, you still have to be careful when checking a antique silver markings as there are fakes or alterations that can fool you. It is always best to check the hallmarks and pieces carefully.
In particular, the merging or marriage of two pieces of silver ware into one item has produced suspect silver items over the years. What might have started out as a George III silver tankard could end up as a nice silver Coffee Pot once a spout and handle have been added.
The initial reason for using silver hallmarks was to protect the purchaser, but over the years the marks had been somewhat confusing. So, In 1973 the Hall-Marking Act resulted in simplified marks and made it easier to recognise and understand antique silver marks.
In 1975, platinum was also included in the Act and it now has to be marked.
Ten Top Tips for Collecting Antique Silver.
Whether you choose to collect sterling or silver plate, flatware or holloware, the following tips should always apply ...
Choose a Style, Era or Maker... Reflect upon your lifestyle and personal taste, then make choices that will be a good fit.
Will you be using your antique silver daily... or will you save it for special occasions and holiday celebrations? There are many speciality areas of silver collecting, and some of them are more fanciful than others. Some collectors devote their whole attention to a specific pattern while others collect antique silver from a particular maker or era. Some only collect a particular type of piece, such as fish forks or bon bon servers, while many expand into all areas.

Mix-n-Match... Don't be afraid to mix and match patterns. This collecting technique has great aesthetic appeal on a table. This is a wonderful option particularly with hard-to-find, discontinued silver flatware patterns and is often a must for putting together a set large enough for affordable entertaining.
Wear or Damage... Signs of use do not necessarily detract from value, while damage may. Slight damage on a rare silver flatware or hollow ware piece will not significantly reduce its value. The price of a tarnished piece should be signficantly lower than retail. Be wary of buying tarnished antique silver online as it can hide otherwise obvious wear, damage or repair. Picking up tarnished pieces at estate sales and flea markets may be an affordable option, but be sure to check them closely for damage.
Monograms... Many collectors view old, elaborate monograms as a lost art form and historically important. It does not detract from the desirability or value of a piece when a monogram is present. Antique silver can, however, be even more valuable without a monogram. As you become familiar with silver, you will be able to detect monogram removal. Monogram removal can damage a piece of antique silver and significantly reduce its value.
Authenticity... Some antique silver collectors frown on pieces that have been updated, such as those with replacement knife blades. Silverplated blades are often found with wear. They can easily be replaced on hollow handle knives, so some collectors prefer to have them refitted with stainless steel blades. However, stainless steel was not introduced in silver flatware until the early 1920s. This is one of those aspects of antique silver collecting that can be a matter of personal preference, but you do need to be aware that your flatware may go down in value if you alter the knife blades.
Repair -- Dents, disposal or other damage can be repaired by a silversmith. Pieces can also be re-plated. The cost is prohibitive for more common items, but is certainly worthwhile for restoring rare antique silver items.
Modified Items... Be aware that these exist and learn how to determine if a piece has been modified from its original state. Common silver flatware pieces are sometimes altered to make them appear to be rare and valuable pieces. For example, spoons are sometimes cut to resemble ice cream forks or a silver sugar spoon may have been pierced to resemble a silver sugar sifter. Look for signs that pieces have been modified and avoid adding them to your antique silver collection.
Forgeries... New forgeries in popular and rare silver patterns appear for sale regularly on the Internet. In particular, silver salt spoons and rare pieces such as asparagus servers. Many of these pieces have no silver maker's marks. Forged makers marks in silver have appeared for hundreds of years. The age of a piece does not necessarily indicate it's authenticity so learn as much as you can about antique silver markings before investing in an expensive piece.
. Educate Yourself... There are many good books available on collecting antique silver, not necessarily to buy as you will find them in the collecting section of your local library. NOTE: Antique-marks.com will eventually include full details of antique silver hallmarks and assay marks & duty marks.