Tin is one of the metals used by man in the earliest times. Its introduction into alloys with copper led to the gradual elimination of stone tools and gave rise to the Bronze Age. It is believed that such alloys were already known in China around 5000 BC, in Mesopotamia around 3500 BC, in Egypt in 2500 BC, and soon afterwards, they became common in the Mediterranean basin.
From the Bronze Age come alloys of tin with lead, tin with copper, and the art of covering metals with tin. The first bronzes were likely obtained by accidental melting of polymetallic ores. The Romans knew the brazing alloy, and vessels made of the tin plate were used until the late Middle Ages. Gradually they were supplanted by iron vessels covered with tin.
The knowledge of tin bronze casting spread from Mesopotamia through Egypt, the Hittite kingdom, Asia Minor, and Phoenicia and from there to Crete and Cyprus, as well as the nearest Aegean islands. Then the technology of tin bronze smelting spread to all the countries of the Mediterranean basin.
In Europe, the first bronze smelting was probably done in 3000 BC. Egyptians looking for new deposits of tin on the Iberian Peninsula. But it is, thanks to the Phoenicians, Europe owes the popularization and spread of bronze. Very early, they mastered the art of smelting metals and alloys from polymetallic ores. They also applied the mining and extraction of cassiterite (tin ore) in Greece and Thrace, where the first metallurgical centres producing gold, copper, tin, and bronze products were established.
The ancient Greeks also had an outstanding share in tin and tin bronze distribution. They established their colonies near rich deposits of metal ores and built settlements, mines, smelters, and ports there. They were excellent metallurgists, miners, and founders.
In Central Europe, tin deposits were the main ore resources besides silver-bearing deposits. The regions with the greatest wealth of metal deposits included the Ore Mountains in the border areas of Bohemia and Saxony. In these areas, the Celts contributed to the development of mining, metallurgy, and bronze casting. They were the first to notice cassiterite occurring on the slopes of the mountains and in the streams of the eastern part of the Ore Mountains.
The demand for tin in the XIV-XVII centuries was enormous. It was used all the time for tin plating of metal elements and sheets, production of vessels, and as a component of tin and bronze bronzes. Such a high demand for tin made it profitable to import it from distant India in 1516.
Tin was mined both in open-pit mines as well as underground. Tin deposits in the mountains were accessed using short adits and shallow shafts. The decline of mining and metallurgy in the Ore Mountains occurred in the 16th-17th centuries. It was related to the lack of advanced equipment for water drainage from the increasingly deeper shafts. Because of the high demand for tin due to the continuous warfare with the Turks, tin began to be imported in the 17th century from distant Bolivia.
Benefits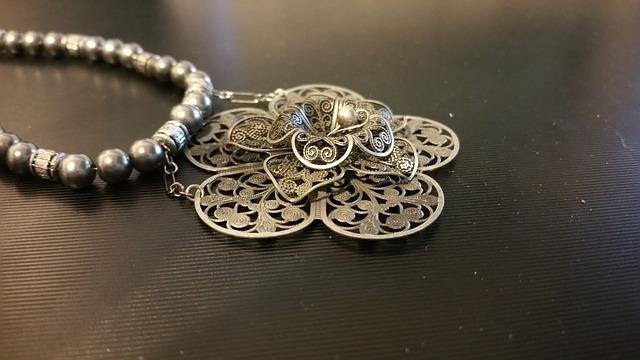 As a rule, the composition of tinware is completely food safe. The product with material composition from 95 to 5 can be considered bona fide and, therefore, completely suitable for use.
Devices made of this metal look quite majestic - often, their surface is filled with reliefs, serifs, and three-dimensional drawings. This is since tin is surprisingly plastic and allows you to make the most complex decorative compositions.
Contact with hot food and overheating of tinware do not deteriorate. Harmful substances are not excreted - if only because they simply do not occur in mild products.
Food never acquires foreign taste or smell devices made of this metal. Oxidation will occur neither on the side of the food nor on the side of the dishes.
Tincture reacts with food. Its use is completely safe. This metal has long been considered the best metal for creating kitchen utensils.
Tin sets or sets will be ideal as gifts for beloved relatives or friends, and the presence of such dishes in the house will indicate the person's high status, wealth, and wealth. Moreover, with time the price of such products increases more and more. In the future, this can be an excellent heirloom for future generations or a way to make money through sales. In some cases, buying pewter dishes is a great investment.
Advantages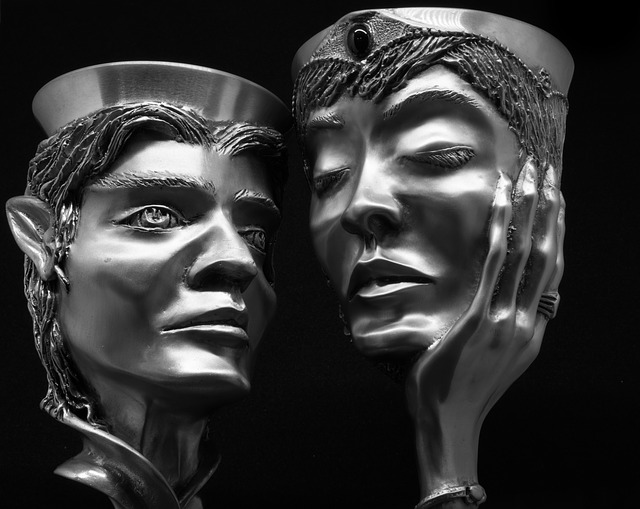 Perhaps a significant word against is the high price of pewter. As mentioned, pewter is considered one of the most expensive metals. Pewter products are priced only cheaper than platinum, gold, and silver.
Don't forget about the huge number of counterfeits. Before buying a tin product, you must carefully read its composition. Tin is an expensive metal, and the price of such dishes is always impressive. This is sometimes exploited by unscrupulous manufacturers who make alloys at the wrong percentage, selling them at the price of the correct alloy and bona fide product.
The composition should be read carefully and slowly, paying particular attention to the percentage of the other metal and its name. Ideal for the dish element will be the option of combining with copper or antimony. Lead is a toxic ingredient. If lead is present in the alloy - such devices should not be purchased for storage or eating. In addition, dishes with lead in the composition darken much faster and become unattractive and boring.
Dishwasher-safe devices do not work. The main disadvantage of such products is the mandatory need for manual care. You should also exclude hard sponges and clothes - unless I want to preserve the presentation.
Without proper care, metal tends to domatize, after which manual polishing will be necessary. This is not that difficult to maintain, but it will still result in a time commitment. In addition, there is a risk of spoiling the product.
Iron, brass, and other vessels are usually whitened inside with pure tin, as it is harmless. Unfortunately, however, pure tin is very rare because, for cheapness, they mix it with lead, which quickly gets into sour, salty, and greasy food. An admixture of 10% leads to white being unconditionally forbidden, and for weaker people, even at 3% can become harmful.
The best way to test this is to boil the vinegar for a more extended period and then add a third of the diluted sulfuric acid after pouring the vinegar into a clean, covered vessel. If, after 24 to 30 hours, the liquid becomes cloudy white, or worse, a white precipitate, the whitewash contains too much lead.
Iron vessels instead of tin whitewash are sometimes enamelled inside. The enamel, however, should not contain any lead; for this reason, the most suitable is made of flint, feldspar, borax, and clay with a small amount of tin oxide; besides this composition, other enamels are made nowadays, always taking into account the absence of lead.
Cleaning and conservation of antique pewter products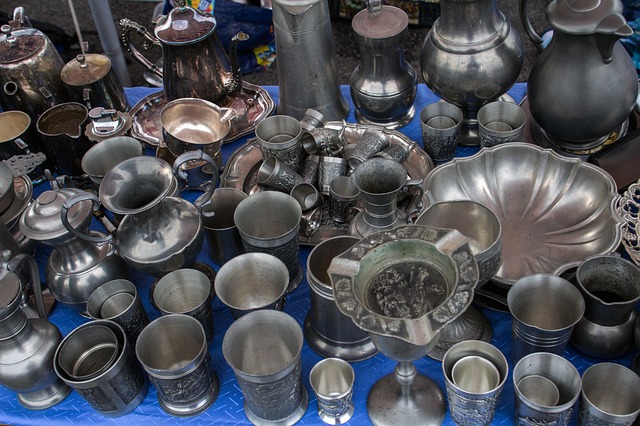 Items made of pewter - authentic antiques or modern imitations - are always beautiful and decorative. Do not polish this metal too vigorously, or it will become similar to modern sheet metal products. Even completely matte tin will always look nobler than overly shiny ones. Tin is very sensitive to temperature changes, especially badly tolerates cold. Under its influence, black spots appear on its surface. It is soft, so no harsh powders or scouring pads should be used to clean it.
REMOVE SURFACE STAINS by rinsing with lukewarm, soapy water and rubbing the stained areas lightly with a soft toothbrush. After rinsing, dry with a soft cloth.
BLACK STAINS on a plate or a tin jug are quite common. In this case, the whole object should be put in a dish with kerosene for 2-3 days.
ATTENTION: A dish with kerosene should not be placed in the kitchen or bathroom as it is flammable! Put on protective gloves, remove the object from the kerosene, dry it, and wipe it with soft flannel. Then heat some light beer and wipe the tin, letting it dry without rinsing or polishing. You can also clean tin objects with coffee grounds.
Dipping tin items in the cooking broth of 3-4 onions will give them a light shine. The most vivid shine is given by rubbing it with pap made of magnesia and denatured alcohol. You can also wipe them with a newspaper swab dipped in kerosene. In the past, housewives did not allow tin objects to get dirty, and after washing, they wiped them with green leaves of fresh leeks, which prevented quick staining.
Lead content
Lead was once an important ingredient in a tin but has been banned for many years. When lead was used to make tin, it could cause many diseases when leaked into food.
Appearance
Tin is polished to a bright silver lustre but quickly develops a peculiar gray patina. Very few pieces survive from the days when lead was used, but they will have a very dark or black appearance.
Eating utensils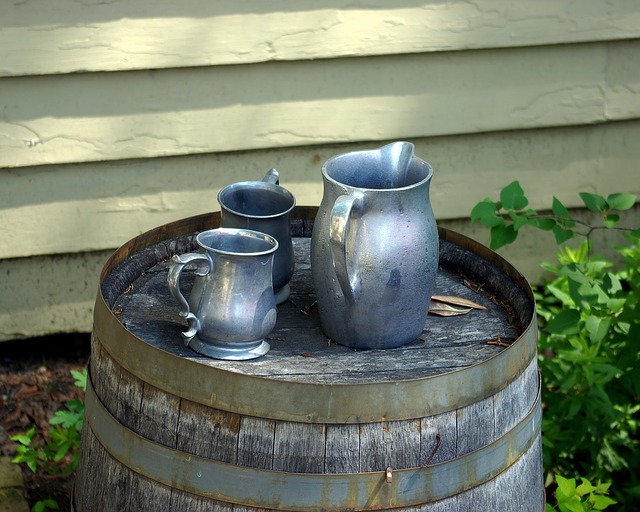 Modern pewter is considered safe for use in eating utensils such as knives, forks, spoons, and serving plates.
Food storage
Tin is not recommended as a food container, as even small amounts of acids naturally found in some foods can cause the tin to swell or discolour.
Cooking
Because tin has a relatively low melting point, it is unsuitable for cooking.
How to clean antique pewter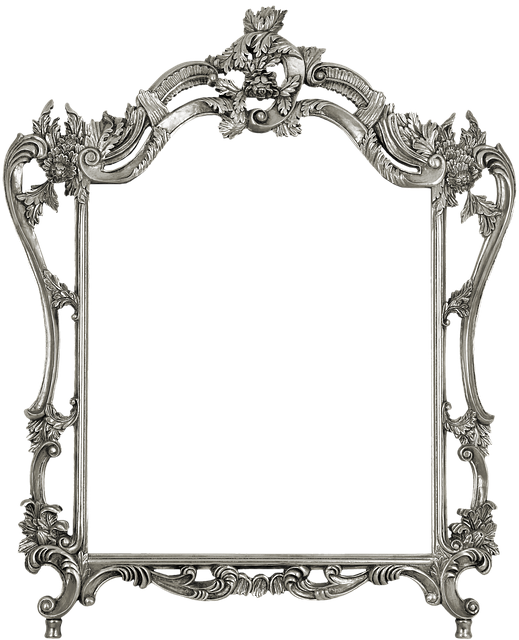 Pewter is an alloy of three metals - tin, antimony, and copper. It makes metal tankards, mugs, ornaments, bowls, and thermoses.
Here are some methods for cleaning pewter:
Pewter does not tarnish, so products from this material are very easy to maintain.
Kitchen equipment can be washed easily with dishwashing liquid and warm water.
After carefully washing and rinsing, wipe the items using a dry cloth.
Metal beer mugs, cups, and bowls should not be cleaned in dishwashers. Using this method can easily damage the metal. Also, avoid cleaning surfaces with wire brushes or hard bristle brushes. They can scratch the surface of the items.
Ketchup cleans brass and copper very well.
Avoid using strong chemicals to prevent possible damage to metal surfaces.