Clarice Cliff – Pottery, Biography
The Life and Work of Clarice Cliff From humble beginnings, Clarice Cliff flourished to become one of the most influential ceramic artists of the 20th Century. Choosing to become a highly atypical "career woman", Cliff broke the barrier that generally separated men and women in the workplace to become the Art Director for two adjoining factories in Burslem, Staffordshire by 1930. Cliff's ceramic designs are highly sought after, and are some of the best pottery examples of the Art Deco ...
Continue Reading
Collectible Wade Whimsies in Red Rose Tea
Many companies use freebies to boost sales. Since 1983 Red Rose Tea has included miniature figurines inside selected boxes of their tea. The figurines were produced by the Wade pottery firm and keen Wade collectors, particularly Wade Whimsies collectors, should know and understand the history of these figurines. So, here's that history with descriptions of all eight Wade Whimsies series issued by Red Rose Tea to date. It was in the USA in 1983, when Red Rose Tea first introduced miniature ...
Continue Reading
1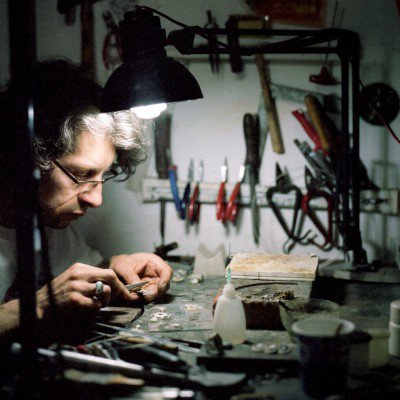 Spotting Antique Fakes and Forgeries
The Golden Rule when buying antiques, is always to ask the seller and to make sure they answer positively one way or the other. If the answer is maybe, could be or it might be an original, then think twice before you buy. Antique fakes are better now than ever and the antique collector really does need to be wary.
Continue Reading
Fake Royal Worcester Marks
Good quality porcelain is often copied and fake Royal Worcester marks are quite common. The artwork on this nice pair of posy vases looks the part and the Stinton signature could get you very excited if you came across them at auction. But are these marks genuine Royal Worcester marks. Only good research and an eye for detail can make sure you don't pay top dollar for inferior copies or outright fakes.
Continue Reading
Antiques Collection: Gerbing & Stephan Majolica Vase c1890
Beginning as Schiller & Gerbing in 1829 and eventually becoming Gerbing & Stephan in 1861, this once significant ceramics company produced some superb Majolica pottery. The battle scene vase in our Antiques collection is a wonderful example bearing Gerbing & Stephan marks used between 1861 and 1900. They show a very clear 'G&St.' mark.
Continue Reading
Chinese Symbols on Antique Furniture
A glossary of Chinese Symbols and oriental marks found on antique furniture and other artifacts. Everything from the eight immortals to the Stellar triad and various traditional symbols for animals fruit and flowers with an explanation of why they would be used
Continue Reading
Rare & Collectable Japanese Imari Porcelain
Japanese Imari Porcelain is a very popular collectible that appeals to all sorts of ceramics collectors. Some prefer the more modern Derby Imari porcelains but to truly appreciate Imari you really have to add a few good quality Japanese Imari porcelain pieces to your Oriental porcelain collection. There are plenty of pieces available and they range in price from just a few pounds to the high hundreds or thousands.
Continue Reading
Finding Local Antique Auctions & Auctioneers
According to the British Antique Dealers Association there are around 20,000 antique dealers & antique auction houses operating in the UK, and more than 100,000 auction houses worldwide. Using our Antique Auctions Finder makes finding your local antiques auction easy.
Continue Reading
Buy Antiques You Love – Feed Your Passions
Mostly antique collectors and dealers suppress their passions and buy antiques with a clinical eye. They use cold reason and keep that eye on economics, worth and potential profit. Their inner child plays no part in their purchases and emotions, passions and desires only factor in when profit potential increases. Occasionally buying antiques you love can reinvigorate your love of antiques, interest in history and even sometimes add to that profit margin.
Continue Reading