Brenda Ginsberg Art & Antiques
Antique Jewelry & Decorative Arts at Brenda Ginsberg Art & Antiques
by Brenda Ginsberg (Boca Raton, Florida, USA)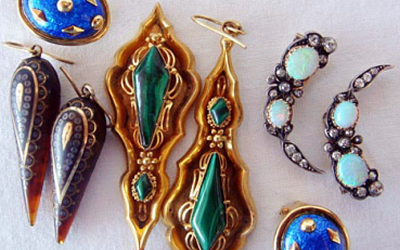 Since 1998, Brenda Ginsberg Art & Antiques has sold unique antiques from around the globe, covering popular periods and all the decorative arts periods and styles.
We specialize in antique jewelry, glass, porcelain, art, and religious items from the Georgian, Victorian, Edwardian eras, as well as quality pieces from the Art Deco and Art Nouveau eras.
Nothing is more practical and useful than good antique jewelry.
Wear a pair of fine gold earrings with an old pair of jeans and perhaps a lovely chain necklace over a t-shirt and you will look and feel like a million dollars.
To me, antiques serve as a physical link between our world and that of long ago and their personal stories are a fascinating challenge to our imagination.
I marvel and wonder at how antique jewelry survived over the centuries.
I truly believe that it is a tremendous privilege for me to own these items. The workmanship and quality are often superb, and I believe it is our responsibility to ensure they pass safely to the generations that follow us.
Did you know antique jewelry birthstones are traditionally worn in rings but can be in any piece of antique jewelry.
The original practice was to own all 12 birthstones and wear each one in its month. But, in modern times jewelry wearers have tended to only wear the stone of their own birth month.

Today's birthstone choices were made by the National Association of Jewelers in 1912. They have been updated periodically and the current British chart is almost identical to the American chart
LOCATION & CONTACT :
Brenda Ginsberg Art & Antiques is located in Boca Raton Florida.
Please Call Brenda with any questions on regarding any antique piece listed at the Brenda Ginsberg Antiques Store.
Boca Raton, Florida :
Tel: 954-415-0622
Email: antiques@brendaginsberg.com
We look forward to seeing you there.
Brenda
No Comments