London is filled with antique shops that offer fabulous and unique antique pieces from a huge range of times and even places thanks to the vast reach of the British empire and the wealth of amazing designers that have lived or sold in Britain.
Antiquing can be fun and affordable, and it can be a way to fill your home with interesting pieces of furniture, art, or a range of other items that look incredible and provide great talking points with your guests.
Listed below are some of the best antique shops for any kind of antique shopping you're hoping to do in London.
Best 20th Century Antiques: Alfies Antique Market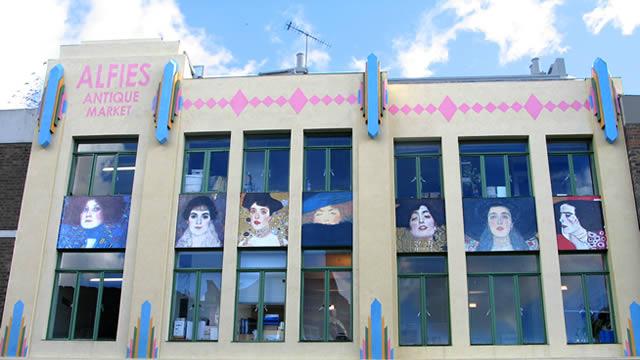 Alfies Antique Market is one of the biggest covered antique markets in London. More than 100 shops provide a wide variety of antiques, collectibles, and vintage accessories and clothing. You'll find a wide range of periods covered, but Alfies is best for 20th-century antique finds.
You'll be able to find almost any type of 20th-century antique offerings here, including vintage clothes and china, home furnishings, and you'll even be able to pick up a variety of antique jewelry from many different periods.
It's a go-to place for many interior designers, tv and movie set designers, and collectors of all kinds with big and small budgets; high-quality antiquing is available here.
If you're looking for the biggest range of 20th-century antiques from a variety of sources, then Alfies Anqitue Market will be best for you.
Best Art And Premium Antiquing: Fine Art Market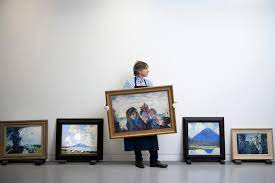 Fine Art Market has been in business since 1876 and specializes in prints and paintings from the 18th and 19th centuries, with a huge range of victorian-era art in a range of prices and specializing in Scottish art from the 16th century onwards and London based artists from not only the Victorian era but Edwardian and interwar periods.
They've recently started offering antique furnishings and home decorating items, so it is a fantastic place to find amazing art along with high-quality antiques from similar periods as their artwork which matches beautifully. However, they're best for shoppers not on a budget as the prices can go relatively high.
Fine Art Market will be best for any true art connoisseurs looking to match fine art pieces with excellent furnishings for an overall theme within their home.
Best Offbeat Antiques: Camden Passage Islington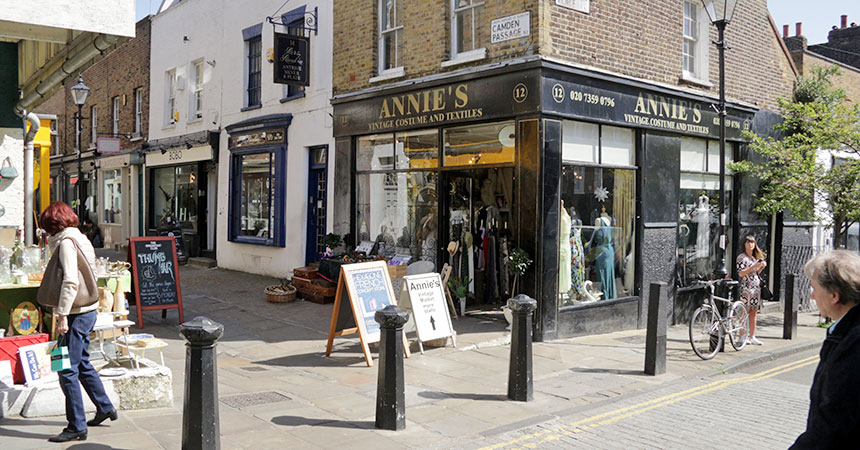 Camden Passage turns into a bustling antique market on Wednesdays and Saturdays, with antique stalls popping up everywhere and offering one of the biggest antique selections from low to high priced items.
The Georgian Village is the best location for your offbeat and lower-priced items for the casual antiquer just looking for a great find, such as vintage clothing and antique books. While the mall side of Camden Passage has a wide selection of higher-priced antique options, including Edwardian furniture, paintings, Victorian-era art, antique jewelry, and a range of other options depending on which dealers are open that day.
The best thing about Camden Passage is that it's got something for everyone, and it's constantly changing depending on which sellers or dealers are available and if they have new wares to sell.
If you're looking for a wide range of antique items at varying prices in an open space from many different vendors, then Camden Passage is your place to be on Wednesdays and Saturdays. Keep an eye out for genuine antiques from reputable dealers, and don't just assume everything is a good deal.
Best For Timepieces: Howard Walwyn Fine Antique Clocks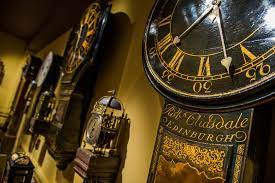 Howard Walwyn Fine Antique Clocks on Kensington Church Street is in the middle of many antique shops but manages to stand above them all with its beautiful antique clocks and timepieces from all periods, including Georgian, Victorian, and Regency. It also specializes and hosts a range of timepieces from the 17th century right up until the 19th century.
Antique timepieces from some of the most well-known British clockmakers can be found here, and you can visit in person or view and buy an always up-to-date catalog of antiques from their website.
If you're looking for antique or vintage clocks and timepieces, then there is no better place than Howard Walwyn.
Best British 19th Century Furnishings: Haslam And Whiteway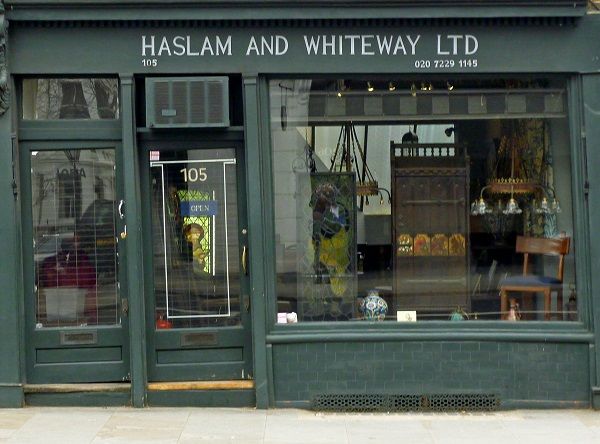 Haslam and Whiteway are dedicated to offering 19th and 20th-century British design antiques, including furnishings along with antique arts, lighting, and deco with an everchanging stock as they procure and sell everything they get quickly, so don't miss out by leaving anything behind.
You'll be able to find pieces from gothic revival, Victorian-era designed furnishings, and anything else they can get their hands on that may interest their customers.
Because they specialize in British design, you'll find a huge array of the best British vintage designers featured, along with a range of potentially unknown designed tiles, furnishing, and many other antique options.
If you're looking for 19th-century British antiques, then Haslam and Whiteway are going to be the best option for you to visit while in London.
Best For Fine Art: Waterhouse And Dodd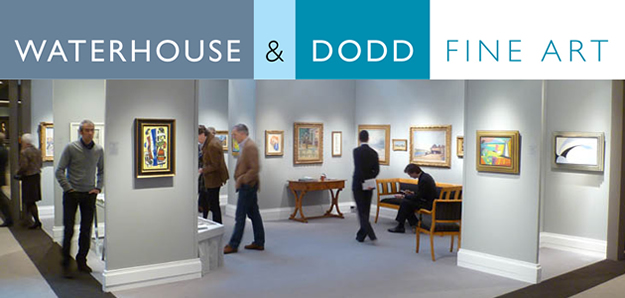 Waterhouse and Dodd focus on antique art from the 19th and early 20th centuries, with a big focus on British art though many options are available depending on their current stock.
Every piece you buy comes with proof of authenticity so that you know exactly what you're getting and how much you should be paying; this is not always the case with many people purchasing fakes through less reputable dealers and vendors.
One of the best things is that you can visit in-store or keep up to date on what's available via their constantly updated website, which you can also purchase from without even being in London.
Best For Variety: Portobello Road Market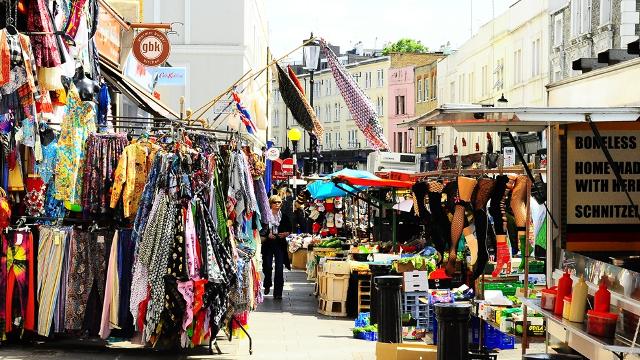 Portobello Road Market is best known for its wide variety of 19th and 20th centuries antiques, with prices ranging from the low to extremely high; there will be something available for everyone no matter what your antique goals are.
The antique market stretches a full mile with up to 1,000 vendors, all offering different antiques, vintage ware, old cameras, African tribal antiques, vintage luggage, and even Asian ceramics, along with a massive range of other options from all the different vendors.
You'll only find the Portobello Road Market on Saturdays, and the market is not only offering antiques, but you can find local produce and artisans selling current options, so it really is the best for variety in anything you need.
Best Overall: Andrew Nebbett Antiques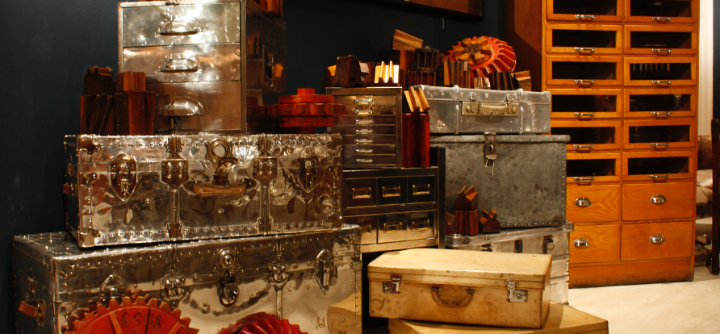 Andrew Nebbet Anqitues offer decorative and unique options from anything between 1780 and 1960, which is an extensive range and why they're the best overall antique shop if you don't have specific requirements.
They have a specialty in restoring antique pieces if you find something great that needs work, especially metalwork, woodwork, and recoloring antique furnishings. You'll find a range of options from them, but this can include cabinets and draws, trunks and cases, antique tables, and even some antique clocks.
They do have a specialty in classic 20th century and industrial furniture if you are looking for that specific type of antiquing, but you won't be disappointed if you're just browsing for interesting antiques.
What's interesting about Andrew Nebbett Antiques is that they encourage a mixture of periods when you're furnishing your home, so they provide advice on how best to match all kinds of antiques from 1780 all the way to 1960 for genuinely unique home designs.
Best French Accessories: The French House (Pintor)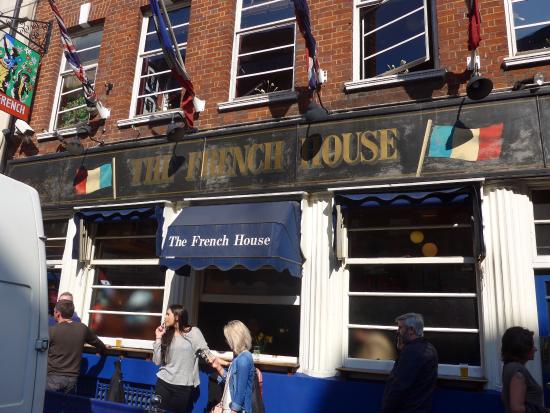 The French House offers everything french in the way of antique furniture, linens, cases, and even artwork. If it's french and antique, you will be able to find what you want here with a constant resupply coming in from France, so there is always something new for you to discover.
You'll be able to find a wide range of french furnishings, including Georgian desks, workbenches, large standing mirrors, chairs, pots, and anything else that has been imported from France recently.
The outstanding feature The French House offers is that you can purchase anything as found, or you can pay extra to have anything restored or modified to your requirements. This service means if you want something amazing but want it beautified or changed to fit your space, it can be done by professionals for a reasonable price.
If you're looking for French antiques and want things modified to fit your home, then The French House or Pintor is the place for you.
Best 18th and 19th Century Antiques: Michael Hughes Antiques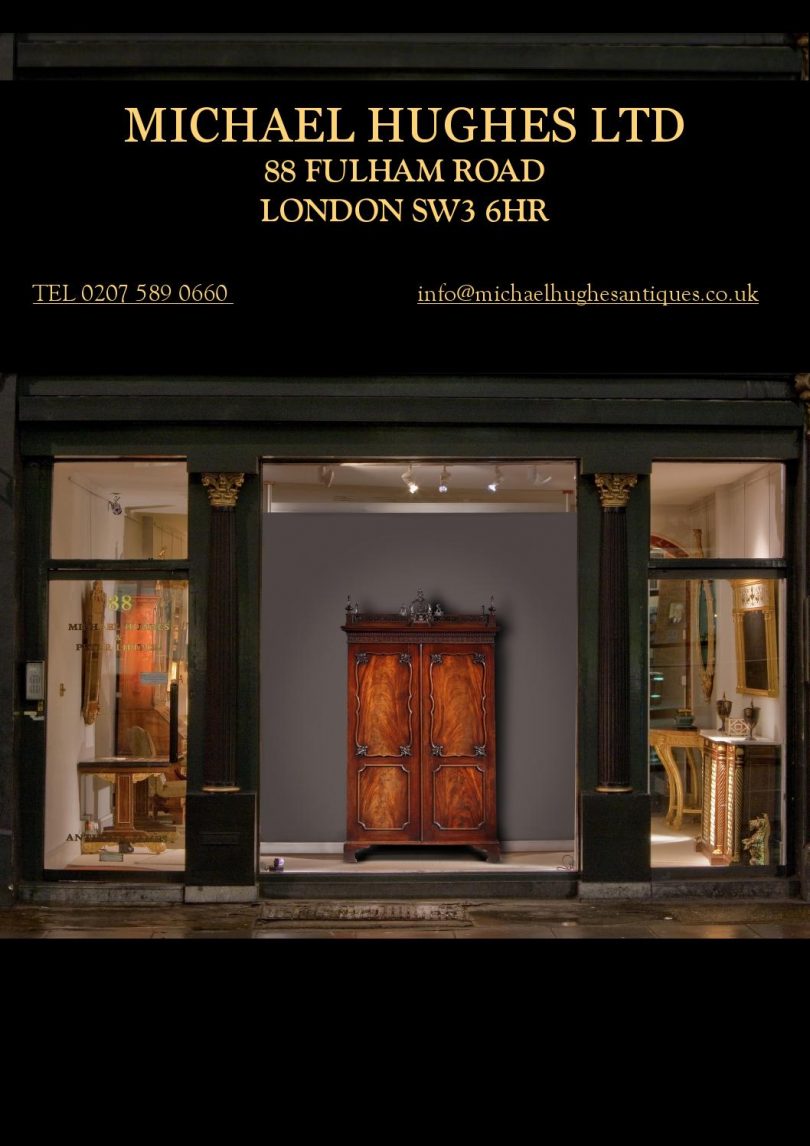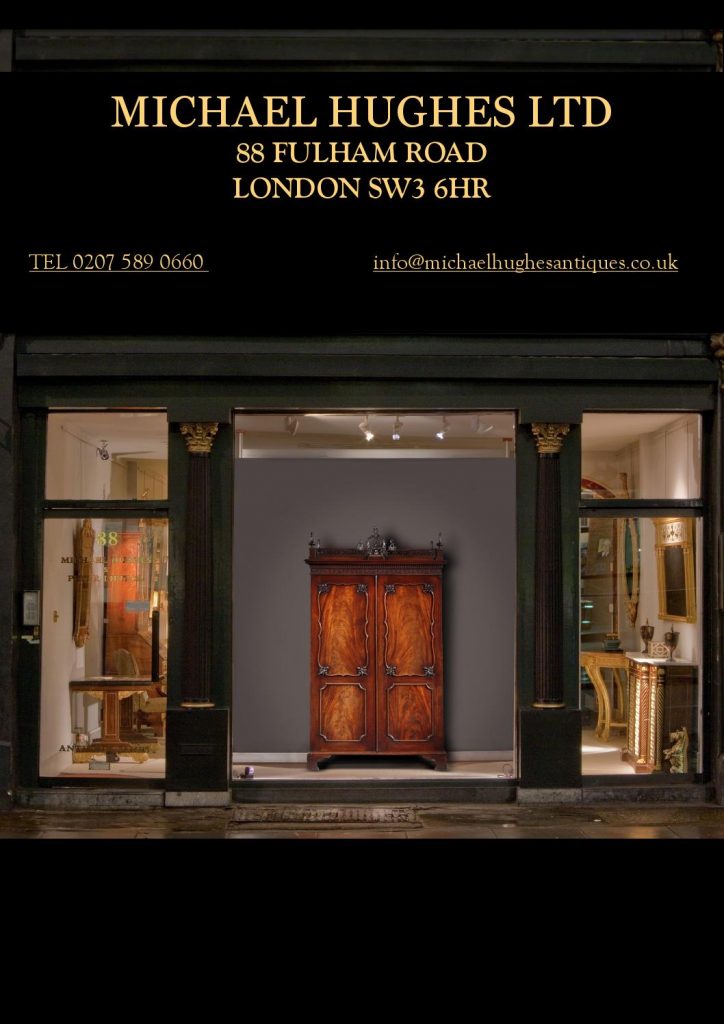 Michael Hughes is known to have some of the best 18th and 19th-century antique furniture options in London. It's a huge three-story showroom where you can view a wide range of ever-changing antique furniture and home furnishings.
If you have antique or old collectible items, including anything from furniture to ornaments, then you can even sell your items to Michael Hughes Anqitues so that somebody else can find a tressure that you can't hold onto anymore.
On any given day, you'll be able to find mirrors, lighting, chairs, art, furniture of all kinds, and a range of nic nacs that could turn out to be something special.