The period and style of antique furniture you choose to decorate your home with can say a lot about your own style and taste. So, how do you make sure what you choose is the right kind of antique furniture, that it's a sound investment in both taste and style that fits your budget but won't stop being fashionable
The types and style of furniture you have in your home say a lot about your own personal style and taste. Choosing the right furniture that fits your budget can be difficult. Finding good quality antique furniture that fits your style and budget can be even harder.
Today's modern, mostly reproduction, furniture covers almost all periods and styles. So, how to stand out, make yourself a little different or simply ensure your own sense of style shines in your home.
Here's a quick look at the different antique furniture styles you could consider.
American Rustic or Country Furniture :
Natural materials and handmade are the basis for these antique furniture styles. Pieces feature solid rustic designs, handcrafted woods and strong cultural or regional touches.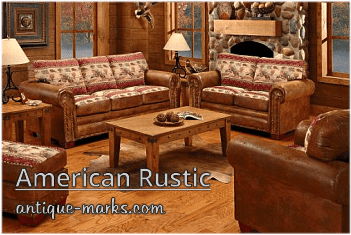 Rustic country styles bring comfort and warmth to any home. Done right they can reflect a warm inviting, homely and personal atmosphere. Done wrong they can seem cluttered and austere.
Think arts & crafts, Quaker or Stickley furniture styles. Focus on either the Colonial periods of American furniture or the Federal period.
European Antique Furniture Styles
European furniture is probably the most expensive with affordable good quality pieces the hardest to find. The favoured styles of furniture feature mainly English, French and Italian pieces.
Antique English furniture styles range from Queen Anne from the early 18th century through Georgian Chippendale, Adams, Hepplewhite and Sheraton in the late 18th century right up to Regency and Victorian furniture styles from the mid to late 19th century.
A great many factors have influenced the designs and styles of english antiue furniture including the British Empire colonies, famous writers, famous architects and the British monarchy from George I to Queen Victoria. Focus therefore, is the key to designing a good English antique interior that suits your taste.
Chippendale is probably the best known English furniture maker but rarity and price will exclude all his pieces from most budgets. However, a good selection of furniture is available in 2014, with an Antique Victorian Mahogany Chest Of Drawers to be picked up for just £145 GBP and Victorian Windsor Chairs for £95 GBP each.
Good Georgian pieces such as a George III Hepplewhite Style Chest of Drawers (c1790 - 1820) can be as little as £449 GBP and a George III Mahogany Arched Back Sofa dating to c1780 available at £5400 GBP.
Antique Italian furniture styles are becoming very popular, particulalrly in the USA. The Italian style can offer a wide choice of materials, from good decorative woods to beautiful marbles, sculptural stone and stunning designer fabrics.
All coming with a resaonably high price tag. Italian pieces can be quite ornate and quite large, incorporating designs from Roman sculpture and architecture.
Make sure you have the room and the budget if this fits your taste & style. A pair of genuine c1850 antique Italian armchairs in Walnut could set you back around $5600 USD.
French antique furniture styles often include elaborate designs, handcrafted carvings or highly ornate patterns. Again the cost of good quality pieces can be off putting, particularly if your taste runs to the more ornate.
Today a Mahogany demi lune table with sunburst veneer top and roller louvre front openings could set you back £270 GBP. A 19thC Empire style occasional table in Mahogany with brass inlay around £265 GBP. A Louis XV style wing back arm chair up to £765 GBP. But, if your budget can accommodate the cost your home could be stunning.
Vintage Retro Furniture :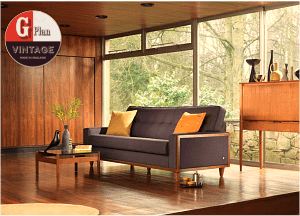 What you should look for in vintage or retro furniture is the clean lines it offers. Vintage or Retro furniture designs often use Teak, bakelite, plastics and have chrome embellishments. All materials introduced in the early 1900's and used through the Art Deco period and featured in nineteen fifties, sixties and seventies British, Danish and Scandinavian furniture styles.
Art Deco styles are popular if expensive for genuine period pieces. The style is characterised by highly stylised natural and geometric forms and ornaments, which are usually strongly symmetrical.
Popular Retro furniture styles include the more affordable G-Plan sideboards and cabinets, and furniture from McIntosh, Nathan, White & Newton, Jentique, Ladderax and Troeds. A set of 6 Vintage G-Plan Fresco Teak Dining chairs can be bought for as little as £149 GBP. A vintage Danish Teak extending dining table for £325 GBP.
A popular alternative to genuine antique furniture is modern studio furniture.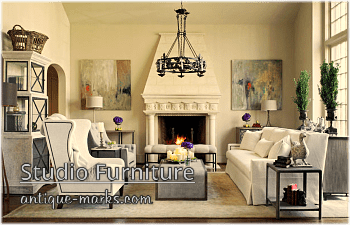 Modern Studio furniture is unique handcrafted furniture manufactured by artisan craftsmen in a studio environment rather than a large factory. It sort of follows the principles of the William Morris Arts & Crafts movement.
Furniture designs are original, but pieces can come with a high price tag. It usually has a contemporary look but some designers do incorporate traditional antique furniture styles in their designs. It could be an ideal choice for home owners who love originality and the antique look but prefer cleaner more modern pieces.
Ultimately, how you furnish your home depends on your taste and style. You should choose furniture that looks good and is durable; and antique furniture has already proven to be just that. Factor in the wide range and choice of antique furniture styles, the environmentally friendly aspects, the quality and the beautiful original look you can achieve and you'd be silly not to consider it.