William Morris was born in Walthamstow in 1834 and studied theology at Oxford.
As a student he was drawn to the ideologies of socialism. He embarked on a career as an artist and it was his intention to apply socialist philosophy to his work from conception to design to production.
His goals led William Morris to abandon painting in favor of architecture and then to the decorative arts.
During university and after, William Morris associated with the Pre-Raphaelite artists of the period.
Men such as Dante Gabriel Rosetti and Edward Burne-Jones.
These relationships would bolster his allegiance to socialist values and influence his roles as poet, artist and businessman.
In 1861 he formed Morris, Marshall, Faulkner, and Co., which was essentially Britain's first design firm.
The group included many of William Morris' Pre- Raphaelite peers. Together they set out to disrupt the world of Victorian design.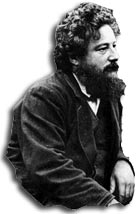 Morris' company produced all manner of materials for home décor: wallpaper, stained glass, tiles, carpets, furniture, and upholstery.
Inspired by Medieval art William Morris covered surfaces with spiraling vine patterns, and carved Celtic-looking animals onto furniture legs.
Organic forms, rather than classical motifs or Victorian curlicues, prevail in his work.
Each piece also revealed the handicraft of its maker. There was no machine-produced regularity at Morris' design firm.
It's an irony that only the wealthy could afford William Morris' hand-crafted products.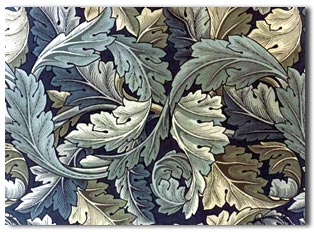 Still, Morris spoke out on behalf of socialism in his utopian writings and through his support of the British Labour Movement.
While the works of the designer and his company may not have been available to the masses, his struggles to preserve the individual identity of the craftsman, and to emphasize simplicity and utility of design, left an important mark on modern design.
Wiliam Morris's wallpapers were his best-known output, with complex designs incorporating plants, flowers and birds.
Philip Webb designed much of the furniture, metalwork, and many tiles. For stained glass,
William Morris generally designed the backgrounds and Burne-Jones drew most of the figures, with Rossetti and Ford Madox Brown also contributing designs.
Burne-Jones also collaborated with Morris on tapestries, designed many tiles, and drew for the books produced by the Kelmscott Press, founded by Morris in 1891.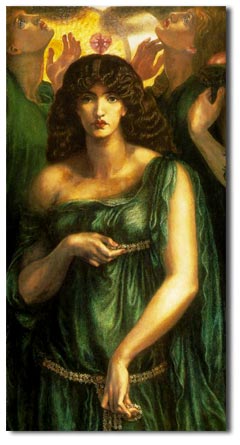 William Morris married Jane Burden, a beautiful model who appears in many Pre-Raphaelite paintings.
She sat for nearly all Rossetti's later works, had an affair with him and appears in his Astarte Syriaca.
Jane, together with her sister Bessie, also did embroideries for William Morris' firm.
Jane and Bessie, were attending a performance in Oxford of the Drury Lane Theatre Company when Jane was noticed by the artists Dante Gabriel Rossetti and Edward Burne-Jones.
Struck by Jane's beauty they asked her to model for them.
Jane initially sat mainly for Rossetti, who needed a model for Queen Guinevere, but afterwards sat for William Morris' La Belle Iseult.
Morris also used Jane as his model for Queen Guinevere and during this period he fell in love with Jane and they were engaged.
William Morris founded the Kelmscott Press in 1891
Morris was described by Walter Crane as the first to approach the craft of practical printing from the artists point of view.
The most important book of the Press was the Kelmscott Chaucer, which has been described as the most beautiful book to be produced since the Renaissance.
This had typography and borders by Morris, with 87 illustrations by Burne-Jones.
Other artists working as designers for the Kelmscott Press included C. M. Gere, Arthur Gaskin, and E. H. New, all from the Birmingham School of Art, and the Birmingham illustrators were in general much influenced by Morris's books.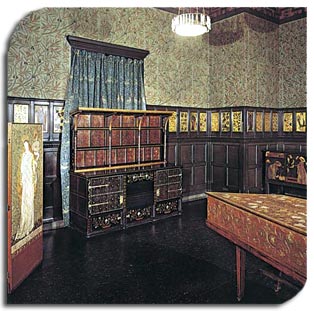 Morris's novels are still available from second hand bookshops and the Kelmscott Press books are very precious.
A complete set is held at the William Morris Gallery in Walthamstow, London.
The Kelmscott Chaucer has been reproduced several times.
In 1996 there were many large exhibitions of Morris's work, marking the centenary of his death, and for this reason there are many catalogues and books currently available.
Morris left few paintings but his Guinevere and Sir Tristram and Iseult's Dog (in the Tate Gallery) are a few.
Examples of Morris's work can be found in stained glass windows, in many churches up and down the country, and in various museums such as the V&A and in Birmingham.
Hiis wallpaper designs and tilework are found in reproductions and rare originals.
The country home of William Morris from 1871 until his death in 1896 was Kelmscott Manor in the Cotswolds.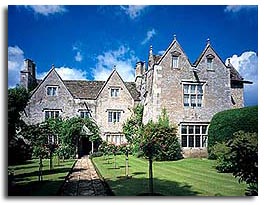 William Morris chose it as his summer home, signing a joint lease with the pre-Raphaelite painter Dante Gabriel Rossetti in the summer of 1871.
Morris loved the house as a work of true craftsmanship, totally unspoilt and unaltered and in harmony with the village and the surrounding countryside.
He considered it so natural in its setting as to be almost organic, it looked to him as if it had "grown up out of the soil"
With "quaint garrets amongst great timbers of the roof where of old times the tillers and herdsmen slept".
Today William Morris's Kelmscott Manor is owned and managed by the Society of Antiquaries of London.