The Antique Marks Collection includes a pair of good quality Royal Bonn vases bearing the Franz Anton Mehlem base mark together with various impressed marks. Blue and white signed SE Schutze c1897.
Good Matched Pair of Royal Bonn Vases in Blue and White Porcelain and Signed SE Schutze c1897
Here we have a stunning matched pair of Royal Bonn vases in a flow blue style, manufactured in a tapered hexagonal ovoid form on a raised hexagonal pedestal foot with matching hexagonal rim. Both vases beautifully decorated with four panels. One vase depicting a harbour scene, the other a figural landscape scene and each vase with a smaller pastoral scene.
All within foliate scroll borders and set against a beautiful background of floral motifs on a soft blue white ground. Both of these good quality Royal Bonn vases bear the Franz Anton Mehlem base mark together with various impressed marks, which date them to around 1897.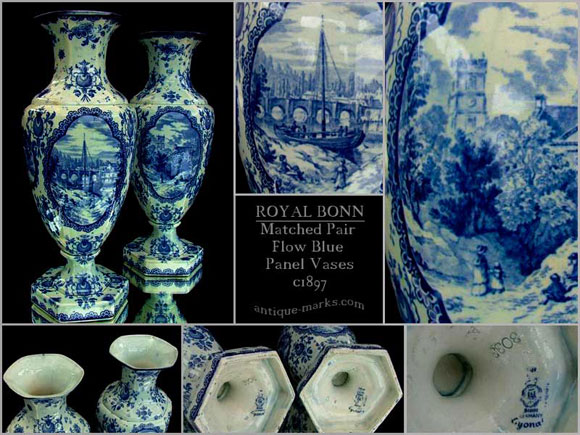 Both Bonn vases fully marked to the base with the Royal Bonn, Crown and FAM mark. Together with 'SE SCHUTZE' - Lyonais' - '3033' - 'A1' and other impressed marks.
Both vases stand 31cm tall on 10cm wide foot rims and have 9cm wide rims with an 11.5cm shoulder. They weigh 1640 gms
Royal Bonn Marks ...
Both 'Royal' and '1755' were added to the Mehlem company mark in the year 1890 and were used continually until the company was sold to Villeroy & Boch on June 1st 1920. Quite a few Mehlem products were made to order or used designs supplied by well known artists from arts and craft academies.
The mark on this pair of blue and white Royal Bonn vases, was used between 1890 and 1920, The typical mark consisting of 'ROYAL' over a crowned shield with stylized F-A-M within and '1755' over 'BONN' over 'GERMANY over the series name, in this case 'LYONAIS'.