The Antique Marks Collection includes a very good Royal Crown Derby Imari dish decorated in the popular Derby pattern 2451 and dating to c1933. A good example of the 2451 pattern from Derby pattern book 6
A Very Good Royal Crown Derby Imari Dish. Acorn Handled with 4 scrollwork feet c1933
The Antique Marks Collection includes a very good Royal Crown Derby Imari dish decorated in the popular Derby pattern 2451.
It is a well preserved Derby imari dish in excellent condition and of quatrefoil form with twin reticulated handles supporting acorn finials. The main dish resting on reticulated scrollwork feet. It is beautifully decorated and profusely gilded and is taken from design number 2451 featured in Derby's pattern book 6.
It is fully marked to the base with the Royal Crown Derby Osmaston Road crown mark. It also bears the date cypher for c1933 & is impressed 'DERBY' 'V' and 'C12' together with script marks '1685' and 'Y'.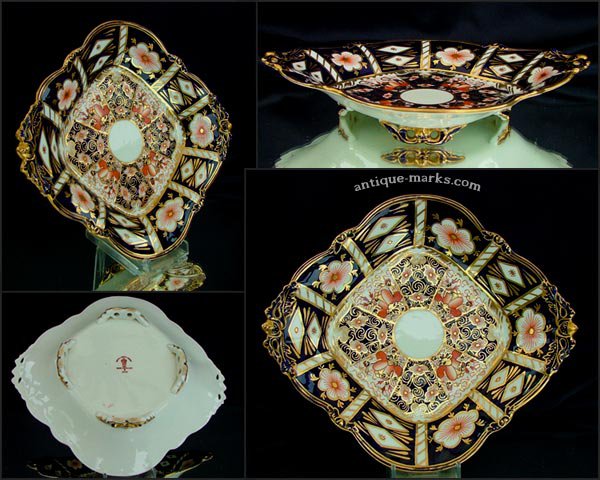 This stunning Derby Imari dish dates to around 1933 and measures: 24cm by 21cm & 4.5cm deep. It rests on four 13cm wide scrolled feet and weighs 390 gms.
Imari - Derby Porcelains most Successful Creation.
Consumate businessman Robert Bloor took over Derby porcelain in 1811. Under Bloor's leadership the Derby porcelain company began designing brightly coloured Japanese imari porcelain patterns.
During this period Royal Crown Derby produced some of the most popular and collected versions of Derby porcelain ever created.
It was originally designed to imitate the popular Japaneses Imari porcelain that was manufactured in Arita in Hizen Province. This was exported to Europe in the 17th and 18th centuries, when it became highly desireable and led to Derby porcelain being recognised by the Monarch.
The Derby factory still produces Derby Imari dishes and other Imari patterned porcelain today, although it is now mostly named 'SOLID GOLD BAND OLD IMARI'. Collectors of the more traditional patterns will find plenty to choose from, in our Derby Imari Porcelain section.