Antiques Collection: Ernst Wahliss Porcelain Centerpiece c1897
From the antique-marks collection we have a magnificent figural Ernst Wahliss porcelain centrepiece.
The piece formed as a large ovoid vase dressed with figures entwined in fishing nets.
The front and reverse face of the Wahliss porcelain centerpiece superbly decorated with raised gilt branchwork and insects.
The entire piece with sponged gilt embellishments and the figures finely modelled, with good detail and excellent life and movement.
The bowl rests on four naturalistic feet which rise to a rough sea with fish protruding through the surface.
Still in excellent condition this Ernst Wahliss centerpiece bears requisite makers marks for c1897.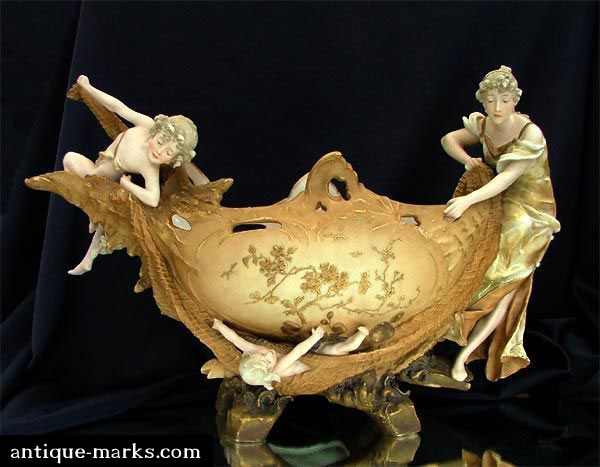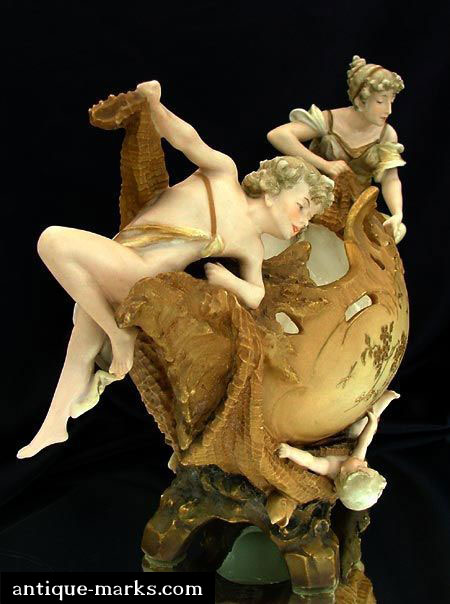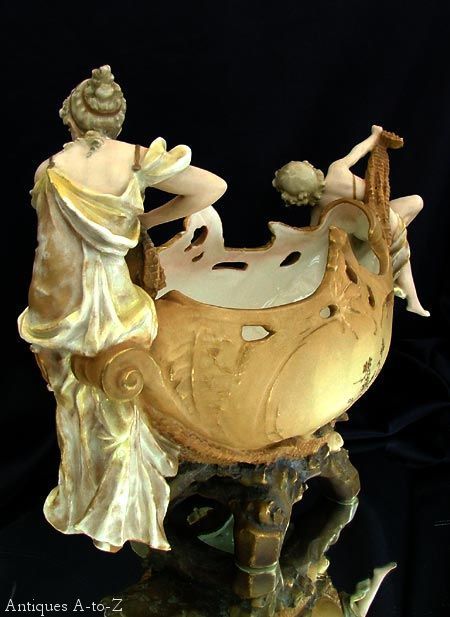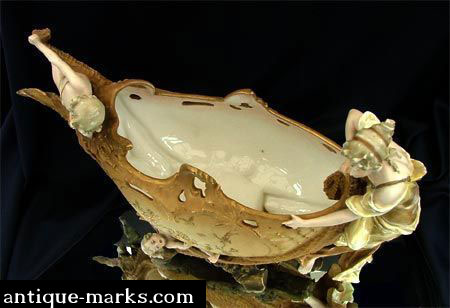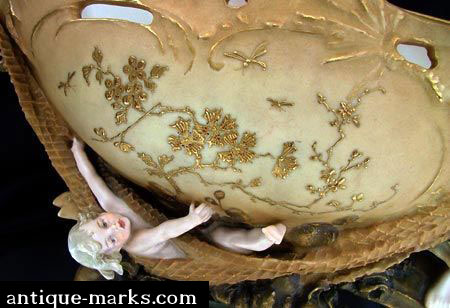 Ernst Wahliss Makers Marks:
Bearing Ernst Wahliss crown mark used from 1897 to 1906
Together with workmans marks and impressed mark '4380 1'
Size & Weight :
The Wahliss Centerpiece Measures: 46cm by 18cm by 32cm tall.
It is 27cm long and the female figure is 28cm tall.
The piece weighs: 3640gms (3.7 kilos)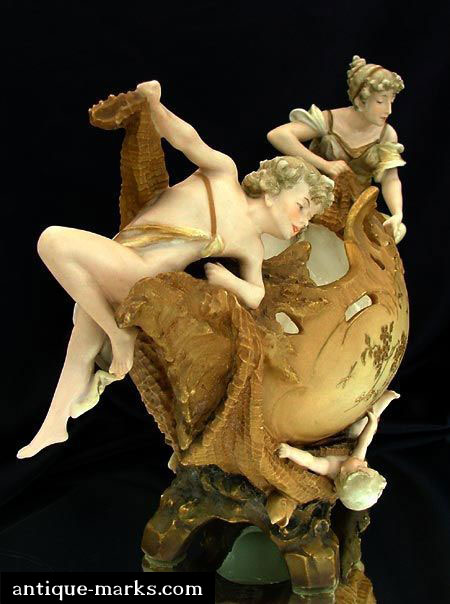 Ernst Wahliss Porcelain Production & History
The Ernst Wahliss manufactory was founded in Trnovany in the Czech Republic in 1863.
The business operated retail stores in London and Vienna where it sold Bohemian porcelain.
In 1894 Ernst Wahliss bought the Alfred Stellmacher Imperial and Royal Porcelain Factory, which was founded in 1859.
Ernst Wahliss died in 1900 and in 1902 his sons, Hans and Erich, purchased about 600 moulds from the Imperial and Royal Porcelain Manufactory in Vienna and began producing reproductions of Vienna porcelain.
In 1905, Hans and Erich named the company Alexandra Porcelain Works Ernst Wahliss.
In 1910 manufacturing turned almost exclusively to the design and production of faience wares.
No Comments