White Ladies Antiques Shop
At the White Ladies Antiques Shop we specialise in 19th and 20th century pottery and porcelain from Britain and Europe
by White Ladies Antiques Shop (Shropshire, England)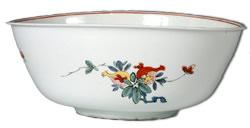 Meissen Bowl by Bottger
We normally stock Dresden, Paris, Meissen,Sevres and Royal Vienna porcelain as well good Antique English pottery and porcelain.
We are Malcolm and Shirley Glaze antique dealers situated in the West Midlands area of England in the UK.
We are based in the idyllic and historic countryside of Shropshire and only 25 miles from the centre of Birmingham. Very close to the famous oak tree in the grounds of Boscobel House, where Charles II hid following the Battle of Worcester in 1663.
Our home Whiteladies is named after the nearby ancient ruins of a nuns' priory whose inhabitants wore white habits.
We have 25 years antique trading experience and carry a wide range of stock, both furniture and small items. We have antique outlets in Tetsworth, Oxfordshire, Moreton-in-the-Marsh, Cotswolds and in London.
OUR GUARANTEE
At White Ladies Antiques we pride ourselves on giving a reliable service and are fully experienced with internet trading. We guarantee our descriptions, giving a full refund including postage, if the fault is ours.
SHIPPING
White Ladies Antiques can provide a quote for shipping on any item to anywhere in the world , either surface or air, including insurance if required. We have an excellent track record on safe delivery as packing is professionally done.
REQUEST LIST
We have a network of trade contacts and access to all UK auction catalogues so register your 'wants' with us and we will inform you of anything of interest.
RESTORATION
White Ladies Antiques have furniture restoration workshops and can quote on repairs, including re-upholstery. We can also provide a ceramic and metalware restoration service. UK only
DEALER ESCORT SERVICE
Specially for overseas clients, White Ladies Antiques can provide a full itinerary for the antiques buyer, including accommodation, tailored to your needs. We have a detailed knowledge of antique fairs, retail and wholesale outlets throughout the UK.
Comments for White Ladies Antiques Shop
Request List by: lmarsh3@maine.rr.com
I am searching for Royal Worcester, Woburn pattern, dinner plates and some other pieces from this pattern. I would appreciate it if you would put this on your request list. Thank You.
COPENHAGEN PORCELAIN VASE by: Crathes
Great item, well packaged, quick service & highly recommend to others!
Noritake Coffee Pot by: Mouton
Very pleased with the item. Professional packing and quick delivery. Thank you!
No Comments