0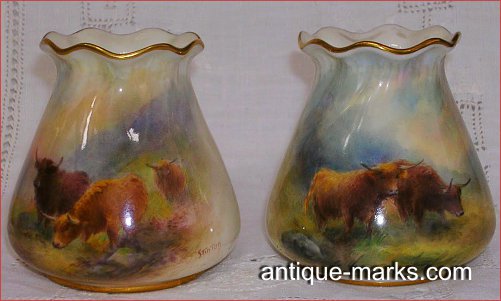 Fake Royal Worcester Marks
Good quality porcelain is often copied and fake Royal Worcester marks are quite common. The artwork on this nice pair of posy vases looks the part and the Stinton signature could get you very excited if you came across them at auction. But are these marks genuine Royal Worcester marks. Only good research and an eye for detail can make sure you don't pay top dollar for inferior copies or outright fakes.
Continue Reading
0

Buy Antiques You Love – Feed Your Passions
Mostly antique collectors and dealers suppress their passions and buy antiques with a clinical eye. They use cold reason and keep that eye on economics, worth and potential profit. Their inner child plays no part in their purchases and emotions, passions and desires only factor in when profit potential increases. Occasionally buying antiques you love can reinvigorate your love of antiques, interest in history and even sometimes add to that profit margin.
Continue Reading
Antiques Roadshow (2)
Your Antiques RoadShow ... Page (2) More antiques and collectibles submitted by antique collectors seeking information or help with antique attributions. Including Georgian glass, Capodimonte porcelain, Wedgwood candlesticks and native American pottery. All sitting comfortably alongside an antique owl jug, blue & white figurines and Chinese vases. The headings and descriptions in the antiques roadshow are those of the owner, and they may be right or they might be ...
Continue Reading
Turner Watercolor Painting of Cockatiels
This Cockatiels Watercolor by an artist named Turner, was my grandmothers by Suzanne Wilson (Waldron, AR) Gran was honored with the Turner watercolor on a Mothers Day at church long ago for having the most family members at church that day. My grandfather unusually decided to come with her that day making her family the most in attendence that day. I have always remembered that painting in her house and it gave me so much peace to see it. I asked her for the turner watercolor ...
Continue Reading
JM French Polishing
At JM French Polishing we undertake sympathetic repairs and restoration of wooden furniture, floors, panels, doors, stairs - basically all wooden items. JM French Polishing was established in 1985 and covers Greater London and Surrey
Continue Reading
Timber Hills Antiques
Timber Hills Antiques provides beautiful fine living accents for your home. Specialising in French Limoges Porcelain, English Pottery, Transferware, Majolica and Faience wares
Continue Reading