The antique marks glossary covering antique terms beginning with V. Everything from Van Dyke to Vaseline glass & Vulliamy.

V also includes lesser known terms ranging from Vargueno to Vermicule & Vulcanite.
Below you will find a wide range of antique related words and their definitions, including particular meanings and definitions that novice antique collectors might find useful.
val st lambert (glass - manufacturer Belgium)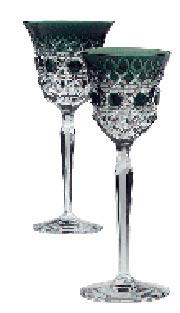 Founded in 1815 on the site of a monastery near liege Val st Lambert is the principle glass manufacturer in Belgium.
Initially producing english style glassware it later turned to manufacturing high quality art glass of its own design in the art deco and art nouveau styles.
Hghly collectable and much sought after.
A firm of jewellers founded in Paris, 1906, and noted for a style of setting gemstones without the metal holds showing (known as invisibly set). The firm also introduced the minaudière for women - a decorative metal box with sections for small items such as make-up, comb, money and cigarettes.
vambrace (militaria - 16thC. armour)
A section of a mediaval 16thC. suit of armour comprising the lance-rest, upper cannon and lower cannon.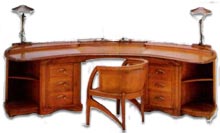 An influential belgian architect and designer and an influential practitioner and teacher of the art nouveau style.
Designed simple, elegant furniture with parallel curves and elongated shapes. Also meissen porcelain, jewellery and metalwork.
vandyke rim (glass - ceramic - scalloped border)
A scalloped border used on ceramics and glass and named for the pointed lace collars seen in portraits of the englich court painted by sir anthony van dyke (1599-1641).
vargueno (furniture - desk 16thC.)
A 19thC. term for a 16thC spanish drop front desk resting on a chest or trestle stand with elaborate inlaid decoration.
varnish (furniture - transparent oil)
A transparent oil or spirit based liquid used to apply a hard clear surface layer to furniture. Expensive furniture would have up to ten coats applied. Cheaper furniture only two or three. All coats should be dried and polished before the next coat is applied. Introduced in the 17thC. with french polishing appearing around 1820. Varnish has been superseded by modern polyurethane lacquer and cellulose finishes. Oil based varnish is used on pictures.
vase carpets (carpets - persian - triple weft)
The term used to describe persian carpets made using a triple weft technique were each set of three wefts have two of wool and one of silk. This alters the tension and produces a more durable fabric. Used in a wide range of designs and in those with a vase or vases within the field pattern.
vaseline glass (glass - uranium - yellow green)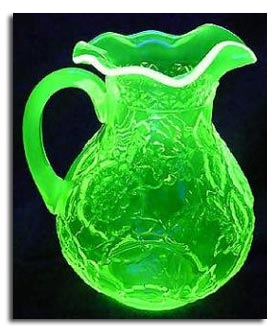 A yellow-green glass first made in the 19thC. by Joseph Reidel who called it annagrun and annagelb.
Usually misdescribed as having an oily sheen and produced using uranium oxide which gives it it's colour. Popular for low cost vases and other decorative items.
During the latter part of the 19th century, glass containing uranium was made with heat sensitive chemicals which turned milky white when reheated, producing a shading effect from yellow to milky white at the edges.
Davidson's lemon pearline is a good example of vaseline glass.
The most unusual thing about vaseline glass is that it is radio-active. You will get a positive reading from it with a geiger-counter and it will glow fluorescent green under an ultra-violet light.
vauxhall (porcelain works - 1751-1764)
The fourth main london porcelain factory after chelsea, bow and limehouse.
Used a soapstone based soft-paste porcelain formula for tea-wares to snuffboxes and chamber pots. Mainly chinese blue and white style decoration similar to deflt ware. Also some high quality hand-painted designs with outlines transfer printed in two or three colours and over-painted with enamels.
veilleuse (french - night-light warmer )
A french term meaning night-light and describing a device to keep broth or drinks warm on the bedside table. Used in the 18th and 19th centuries. Usually the flame form a small oil lamp or candle placed in cylinder heated a covered cup or small teapot on top.
vellum (book - parchment)
A fine parchment made from calf, lamb or kid skin and used for the pages and bindings of early books.
velvet (fabric - dense pile)
An expensive dense-pile fabric originally of cotton or linen with a silk pile. Woven with two warps the second being looped and cut with wire to form the pile. Also figured velvet which is created by leaving some areas of the pile uncut. also pile-on-pile velvet where the length of the pile is varied or areas are left free of pile.
Velvet was first imported into the UK from italy in the 14thC.
Used on furntiure upholstery from the 17thC. Produced at spitalfields silk factories in the 18thC. and from the 20thC. was woven from mad-made yarn or a mixture of man-made and natural fibres.
veneer (wood - decorative surface)
Used since egyptian, greek and roman times and rediscovered in the 17thC. Veneer is a thin layer of wood, tortoiseshell or ivory glued over a wooden body.
Brought to britain from holland and raised to a fine art by french and british cabinet makers in the 18thC.
Craftsmen use walnut, satinwood or rosewood to enhance the effect of the grain and colour.
Thickness depends on the quality of the wood and the cut. 18thC. hand sawn veneers can be 1.6mm - 19thC. Circular sawn veneers 0.8mm and 19thC machine cute veneers even thinner.
venetian glass (glass - venice - murano - millefiori)
Glass production in venice has been influential since 450 AD and the venetian glass houses moved to the island of murano in 1290. Early opaque wares included beakers and beads then venetian glass dominated the market with the creation of clear cristallo in the 15thC. Particularly popular were the facon de venise, elegant, elaborately decorated wine glasses, in the european market. Venetian producers led the way in making vividly coloured glassware and played a significant part in developing millefiori and latticino techniques. Decline beagn with the advent of lead crystal in britain in the 17thC. Slight revival in the late 19thC.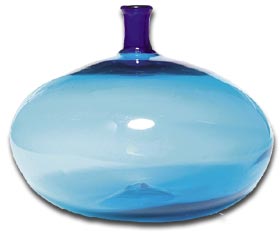 paolo venini (glass designer - italian - murano)
Relatively modern but major italian glass designer with a factory on Murano from 1925.
Venini designs known for their rich colour and texture with simple lines.
Sometimes incorporatiing millefiori and latticino techniques. Well known for the free form, cupped handkerchief style bowl.
verdigris (metal - oxidisation)
A green powdery residue that develops on copper, brass and bronzed after long exposure to air. Dreaded by coin and metal collectors as it is difficult to treat. An unwanted oxidisation unlike the natural, gradual oxidisation that forms a desirable patina.
Part of the mechanism in a clock or watch that controls the driving force. The verge escapment was intorduced with the first mechanical clocks and was originally used with an oscillating bar or foliot with weights at either end. Then with a balance wheel after the introduction of protable clocks and watches. The Verge escapement is unusual in that it uses a horizontally-mounted escape wheel. The anchor for a verge is simply a wire with two "flags" attached to it that act as pallets. The anchor wire is typically the pivot for the pendulum, so this is a very mechanically simple escapement.
The verge escapement was the first to be discovered, and was used in the earliest clocks. It has a couple of disadvantages; it is not a particularly good timekeeper, and it requires a contrate wheel that complicates the mechanical linkage of the escape wheel.
An interesting variant of the verge is the "recoil verge". Where, the verge wheel is cut with teeth like a recoil escapement, and a traditional recoil anchor is used. These are very visually interesting escapements, and are most often used in skeleton clocks.
vermicule (decoration - sevres c1750)
A form of decoration developed for sevres, patterned with a mass of little worm like lines.
verneh (carpet - flat weave - caucasus)
A distinctive type of flat-weave rug originating in the southern caucasus. Similar to the sumakh oriental rugs.
vernier scale (scientific scale - barometers)
A measurement scale invented by french mathematician paul vernier in 1631 and attached to the main scale used in some instruments and barometers in the 19th and 20th centuries. The scale allows more accurate readings to within a hundredth of an inch.
vernis martin (decorative art - japanning - lacquer)
A decorative technique patented by frenchman guillaume martin and his brothers in the 18thC. A lustrous translucent finish using up to 30 coats of coloured, monochrome or gold dusted varnish. The french version of japanning. Used to decorate objets de vertu, etuis and furniture.
verre craquele (glass - crackle glass - ice glass)
An art glass with a frosted outer surface that resembles cracked ice. Made by rolling a partly blown glass object over powdered glass and then re-heating and blowing it into shape or by plunging the white hot glass into cold water so that it becomes veined with thin cracks. Also known as frosted glass, ice glass, crackel glass and originally produced in venice in the 16thC., then revived by british glassmaker apsley pellatt c1840.
verre de soie (glass - pearl satin glass)
An art glass developed in both france and the USA in the late 19thC. The glass has a pearly appearance and is sometimes decorated with acid engraving. Also known as pearl satin glass, mother-of-pearl satin glass or pearl ware. Thomas webb and sons and steven williams produced a british version in 1880 known as quilted-cushion glass. The molten glass is blown into a diamond patterned mould and when cool is covered with a layer of clear glass to create an air pocket around each diamond. It is then given a satin finish by treating with hydroflouric acid.
verre eglomise (glass - gilded - jean-baptiste glomy)
An art glass with gilded decoration, unfired but protected with varnish or metal foil. The gilt surface often decorated with a needle point. Dates from ancient roman times and revived in the middle ages. Revived again by Parisienne art dealer Jean-Baptiste Glomy in the 18thC. after whom it is named.
verzelini, jacopo (glass maker - venetian - 1522-1616)
A venetian glass maker that cam e to britain in 1571. He was granted a 21 year monopoly to produce glass in the venetian style in 1574.
vesta case (case - silver, porcelain)
A small case or box to facilitate the carrying of vestas, wax or wood matches that pre-dated the safety match. Produced from silver and other metals and more rarely in porcelainor papier-mache. Usually pocket sized but larger novelty shapetable sizes produced later.
One of the styles of latticino glass decoration developed in the 16thC. where glass is decorated with a pattern of white or sometimes coloured threads. There are three main styles of decoration - vetro a retori where twists are embedded in clear glass - vetro a reticello which has fine network of rossed threads - vetro a fili which has a spiral or helix pattern.
victorian era (period - reign of victoria 1873-1901)
The period covering the reign of the british monarch, queen victoria. When taste and design was very much influenced by the prospering middle classes.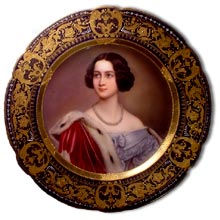 vienna (porcelain - factory - c1719)
A major porcelain factory founded in 1719 and producing hard-paste procelain shortly after meissen. Early pieces where high baroque with chinoiserie, floral or landscape decoration.
Taken over by the state in 1744 and then produced meissen style rococco figures and tableware.
Produced neo-classical pieces with gilding in the late 18thC; and landscapes and portraits were painted in panels with brilliantly coloured grounds.

Classical figures produced in biscuit porcelain.
Vienna Porcelain declined in the late 1820's and closed in 1864.
Utilised the well known shield mark which was much copied by other workshops and factories copying the vienna style in the 19thC. Many vienna style pieces are incorrectly catalogued as 'Vienna' porcelain. See: Vienna Porcelain Marks
First made in the early 19thC. during the biedermeirer period and originally a very accurate wieght driven and pendulum regulated wall clock. Vienesse models have restrained rectilinear cases with pedimented tops. A great many inferior german models, mass produced in 1860 for the european and US markets which have fussy styles and a variety of turned ornaments.
A group of vienesse artists and designers influenced by the rectilinear vertical designs of charles rennie mackintosh and the glasgow school, who broke away from the established art forms in vienna. Two leading figures, josef hoffmann and kolomon moser established the weiner werkstatte.
vignette (decoration - neoclassical style )
A decoration of vine leaves and bunches of grapes used ij medieval carvings and furniture friezes in the neoclassical style. Also a picture or decoration on porcelain or other material thats edges fade into the surround instead of ending in a sharply defined border.
vile & cobb (furniture - cabinet makers - 1751-1764)
A partnership between william vile (1700-1767) and john cobb (1715-1778) who prodcuced furniture noted for its consistantly excellent workmanship. Overshadowed by thomas chippendale. In 1761 vile was appointed cabinet maker to the royal household of king george III, for whom he produced the finest rococco style furniture using rare woods and delicate marquetry decoration.
vinaigrette (box - perfume - smelling salts)
A small box usually of gilt-lined silver used to hold a small sponge soaked in spiced vinegar or aromatic oil. The sponge held in by a grille. Popular and fashionable, and carried on the person from the late 18thC to the 19thC. The aroma inhaled to ward of foul smells or revive swooning ladies.
violet wood (wood - rosewood - kingwood - princewood)
A heavy, durable brazilian tropical hardwood of rich deep brown with purplish tones. Smells of violets when cut and is related to rosewood and is also known as kingwood or princewood. Used as a veneer for parquetry and cross-banding. Very popular in france.
vitrine (furniture - display cabinet)
An 18thC. display cabinet with glass doors and sometimes glazed sides for the display of small items such as coins and fossils. Introduced in the second half of the 18thC. then revived in the 19thC. Also vitrine table which was introduced towards the end of the 19thC. with a lined display compartment and glas top and sides.
A decorative motif usually in a bdan or border and similar to the greek key design.
voider (tray - butlers tray)
An early 17thC. form of tray used for clearing scraps from the dining table. later evolved into the butlers tray.
volute (decorative motif - ornamental - ionic column)
A decorative coil originally copied form the top of an ionic column. Used for ornamental handles on pottery and on some windsor chair backs.
voyeuse (furniture - low seated chair)
A low seated chair first made in france in the mid-18thC. for sitting astride with the elbows on the padded back, possibly while watching card games. A similar ladies chair for kneeling on as they could not modestly sit astride, is called a voyeuse a genoux.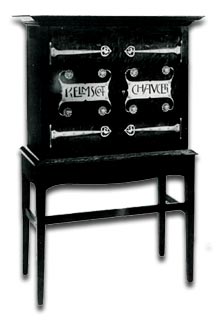 A british architect and designer associated with the arts furniture movement and who believed in functional design.
His best furniture produced between 1895 and 1910.
Also designed wallpapers and fabrics and influenced art nouveau and the devlopment of industrial design.
vulcanite (ebonite - jet - rubber)
A hard black material produced by heating rubber with sulphur. Used to simulate jet in jewellery and for some early fountain pens. Also know as ebonite.
vulliamy family (clock - clock making family - benjamin lewis)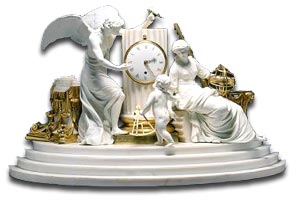 A famous family of clock makers covering three generations.
Originally swiss but working in london from 1750 to 1854.
Produced longcase, bracket, mantle and carriage clocks Comprising justin (1730-1790), benjamin (1747-1811) and benjamin lewis (1780-1854).
Benjamin lewis would often replace the original movements of clocks sent to him for repair with his own new movements... see Royal Crown Derby Gallery