Arts and Crafts Artists from William Morris to Gustav Stickley, William de Morgan and Christopher Dresser.
In 1861 the english designer William Morris started the arts and crafts movement in an effort to improve the tastes of the Victorian public.
A great many artists and designers of the time, supported the Arts and Crafts movement
They looked upon the mass produced industrialised wares as bland, inferior and lacking any soul.
These Arts and Crafts artists and designers helped create an ethos in which many workers guilds rose to prominence.
And in which evening school classes and socially based craft projects sprang up and thrived.
Noteable Arts and Crafts Artists and Designers
Charles Francis Annesley Voysey (1857-1941).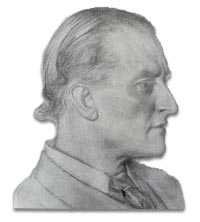 CFA Voysey was the architect and designer son of the Rev. Charles Voysey, founder of the Theistic Church.
Originally trained as an architect, and after working as a pupil in the offices of JP Seddon, he set up his own design practice in 1882 where he concentrated initially on decorative work, including his own designs for fabrics and wallpaper.
In 1881 he joined the Arts and Crafts ArtWorkers Guild.
In 1888 he built his first house, a commission for MH Lakin at Bishops' Itchington.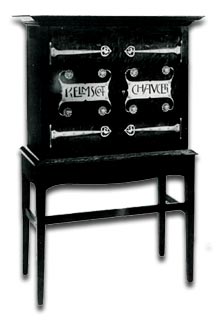 He soon developed his own characteristic style; linear, simple and with virtually no surface decoration. His designs were published widely, exhibited at the Arts & Crafts Exhibition Society from 1888 and were highly influential.
Voysey's furniture was made by F C Nielsen. His metalwork by Thomas Elsley & Co. and his textiles by Alexander Morton, GP&J. Baker, AH Lee, JW&C Ward, Stead McAlpin, Thomas Wardle, Turnbull & Stockdale, Donald Brothers, Foxton's, Templeton's, Tomkinson & Adam and sold to the shops Liberty & Co., Story's and Wylie & Lochead.
In 1900 he completed his own house, The Orchard at Chorley Wood, Hertfordshire, for which he designed most of the furniture.
In 1914 at the outbreak of WW1, his architectural practice virtually ceased but he took up decorative designs again in the 1920's.
Given his Quaker background there is, in his best work, an almost Shaker spareness to which he added simple elegance well suited to todays minimalist, clean lines philosophy.
Voysey furniture designs are still being reproduced by a number of manufacturers in England and America.
Walter Frederick Cave (1863-1939)
Walter cave was articled to Sir Arthur Blomfield and after a time spent travelling abroad set up his own practice in London in 1889.
He was a member of the inner circle of the Art Worker's Guild and used forms of expression very close to those of CFA Voysey.
In 1897 he took over one of Voysey's commisions, a house in Steatham Park, London.
Other Voyseyesque houses followed but he later changed his style to a more French Classical look. He also designed furniture, light fittings and painted.
Mackay Hugh Baillie Scott (1865-1945)
Born in Kent, the eldest son of fourteen children of a Scottish Laird. Originally sent to agricultural college, being groomed to take over the family holdings in Australia.
However his aptitude for drawing led him to be articled to Charles Davis, Bath City architect.
Married in 1889 he went to the Isle of Man and set up practice as an architect.
There he met the designer Archibald Knox and later collaborated with him on the design and execution of stained glass, iron grates and fireplace hoods for the houses he designed there.
In 1897 he collaborated with CR Ashbee on the refurbishment of the grand Ducal palace at Darmstadt.
In 1901 he moved to Bedford, England and through the furniture manufacturer John P White issued a catalogue of furniture. This was retailed thorough Liberty's as well as White's own showrooms in Bond St, London.
Baillie Scott retired in 1939
William Arthur Smith Benson (1854-1924)
Born in London, the son of a prosperous lawyer. Founder member of The Art Worker's Guild.
Persuaded by William Morris in 1880 whom he had met at Oxford, to open a workshop in Hammersmith, London, specialising in metalwork.
Moved to larger premises in 1882 and in 1887 opened a showroom in Bond St, London.
His famous lamp and lighting designs were on show at Samuel Bing's Maison de l'Art Nouveau in Paris.
Benson also designed wallpaper and furniture for Morris & Co, becoming their Managing Director in 1896. He also made furniture designs for JS Henry & Co.
William AS Benson retired in 1920.
Christopher Dresser (1834-1904)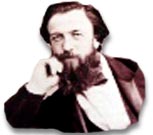 Born in Glasgow, the son of an excise officer, Christopher Dresser studied at the Government School of Design and then lectured at The Department of Science & Art at South Kensington, specialising in botany.
Christopher Dresser was one of the most influential British designers of 19th Century, he helped reform modern manufacture. He studied with Henry Cole, Richard Redgrave and his mentor Owen Jones.
Botany had a huge influence on his work which held to the idea that something simple can be beautiful and perform a clear function.
He published a number of works, exploring the relationship between botany and design with a later interest in Japanese art.
In the late 1860's he included designs for furniture by Burges and Bruce talbert.
By 1868 Christopher Dresser had taken on many different roles from designer to author and teacher. He gained recognition through his writing and lectures at the Royal Society of Arts and in his earlier designs of wallpaper, fabrics and ceramics for companies including Minton and Wedgwood.
In 1871 he made his first designs for the Coalbrookdale Co
In 1875 he began designing for Elkingtons.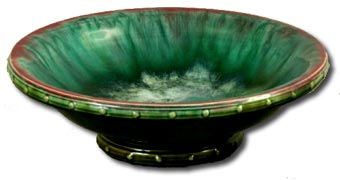 In 1876 Dresser went to America and then onwards to Japan, collecting examples of Japanese goods on behalf of Tiffany & Co of New York.
The pinnacle of Christopher Dresser's design career came in 1880 when a shop was opened on New Bond Street, London, through the Art Furnishers' Alliance.
It stocked everything for the home and all pieces were either designed or approved by Dresser.
Unfortunately by 1883 the Alliance went into liquidation and most of the goods were taken on by Liberty.
By then Dresser was a household name, he allowed everyday people to obtain items that were well-made and efficient in a time of transition in the design industry.
He was once described as 'perhaps the greatest of commercial designers, imposing his fantasy and invention upon the ordinary output of British Industry'
He designed for various manufacturers in subsequent years, including Hukin & Heath, James Dixon & Sons, Ault, Linthorpe, Mintons, Benham & Froud and William Couper amongst others.
Christopher Dresser's comprehensive range of designs covered almost all aspects of interior design & furnishing