The Guilds and Schools of the Arts & Crafts movement.
The Arts and Crafts guilds, their history and influences, from John Ruskin and William Morris to William de Morgan and Charles Ashbee.
The technological upheaval of the industrial revolution transformed Victorian Britain from a largely agrarian and rural society into a country with many urban conurbations, with the working classes enduring terrible conditions and mindless repetitive work.
From the 1850s John Ruskin championed the plight of the worker
He denounced British society as being based on a greed that created misery in inverse proportion.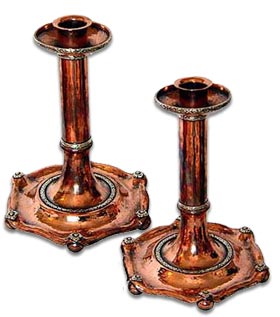 He advocated raising the lot of the working class and society in general through education and development of the individual.
He greatly admired medieval society, which he believed was based on craftmanship, artisanship, dignity and the freedom to express individuality.
In 1871, in an ambitious attempt to bring about social reform and the destruction of industrialism, Ruskin helped establish the Guild of St. George.
His aim was to create a society based on medieval feudalism with craftsmanship and quality of life at the core.
Ruskin donated £7,000 to set it up and his arts and crafts guild and hoped it would be part funded by donations.
Sadly it only received a total of £236 over the next three years. Ruskins experiment was short lived and it left very little by way of legacy.
Whilst at Oxford University William Morris became close friends with the artist and co founder of the Pre-Raphaelite Brotherhood, Edward Burne-Jones.
The influence of Ruskin's writing, their love for medieval arts and crafts and their Anglican beliefs led them to what they felt was a crusade against the art and culture of their time.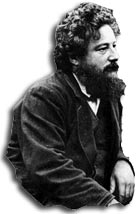 In 1857 with the help of Dante Gabriel Rossetti they were commissioned to paint murals for the walls of the Oxford Union Library.
Their success was limited, with only seven out of ten murals completed and due to poor preparation the colours started fading within a matter of months, but it paved the way for what was to be the most important development for the Arts & Crafts Guilds movement in Britain.
In 1861, Morris, Marshall, Faulkner & Co was established with the idea of bringing high quality interior decoration and fittings to the British populace.
Initially there were seven partners, the other four being Ford Madox Brown, Charles Faulkner, P.P. Marshall and Philip Webb; but by 1874, after varying financial success it had become simply Morris & Co.
The emphasis was on hand crafted design and the aim was to draw the populace away from shoddy, industrially made, ill conceived and over ornamented design. Morris was keen to promote the concept of his arts and crafts guilds moving hand in hand with utility.
Products should have no more decoration than their nature demanded and should have a broad and popular appeal.
Ironically the high production costs involved in providing an arts and crafts product that was well designed and hand crafted meant a price structure that was only affordable by a wealthy bourgeois clientele.
Morris never achieved his utopian vision of arts and crafts design in tune with nature and with a social conscience.
However he did help to create an ethos in which many arts and crafts guilds, evening school classes and socially based craft projects sprang up and thrived in the 1880's and 1890's.
The increased knowledge and appreciation of medieval artisanship and the realisation that industry was submerging the working man and fragmenting society, permeated the middle classes and led to some interesting social and artistic experiments.
There are many Arts and Crafts Guilds and Schools that helped popularise the aesthetic and ethos of the Arts & Crafts movement.
The Glasgow School of Art played a major part in developing Britain's reputation world-wide as one of the creative and innovative leaders in Applied Arts at the turn of the twentieth century.
There were also many other groups throughout the UK who either were too short lived or who never gained much commercial or artistic success. Information on many of these is scarce.
The fortunes and successes of the individual Arts and Crafts Guild and Schools were varied but as a whole their importance cannot be over-estimated.
They helped shape the artistic and, to some extent, the social zeitgeist
of a whole generation.
Arts and Crafts Guilds closed a chapter in the history of British design, breaking away sharply from the excesses of Victorian design and creating a design ethic where suitability of material, fitness for use and an elegance of line are paramount and they helped create the framework for good modern design.