Charles Robert Ashbee was an English Arts & Crafts Artist and Designer
He was celebrated for his metalwork but also as an architect with some sixty buildings, most of them houses, to his credit.
Charles Robert Ashbee was born in London, the son of a prosperous city merchant.
He was articled to GF Bodley between 1883 and 1885 and lived at the pioneer University Settlement at Toynbee Hall.
There he developed a Ruskin reading class, which developed into an arts and crafts class, which in turn became the nucleus of the School Of Handicraft and the Guild of Handicraft.

He was influenced by William Morris, Ruskin, and idealistic socialism and worked for a time with Bodley.
Between 1887 and 1888 he founded the School and Guild of Handicraft
The school and guild exhibited at the 1889 arts and crafts exhibitions.
The guild worked for a while in the East End of London and is chiefly known for the metalwork and jewellery designed by Ashbee himself.
Also for the furniture and metalwork made for the Grand Duke of Hesse in conjunction with the designer MH Baillie Scott.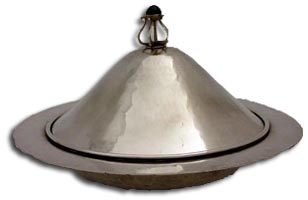 In 1893 Ashbee designed a house for his mother at 37 Cheyne Walk, London.
The interiors were decorated by the Guild of Handicraft and several other houses followed.
Notably 72–3 (destroyed) and 38–9 Cheyne Walk, in the Queen Anne Revival style (1897–1903).
In 1898, the guild of handicraft designed furniture for Baillie Scott's house and for the reigning Grand Duke of Hesse at Darmstadt.
In 1900, Charles Robert Ashbee exhibited at the Vienna Secession.
In 1902, the Guild of Handicraft moved to Chipping Campden in the cotswolds and was eventually forced into liquidation in 1907.
C.R. Ashbee was in the forefront of conservation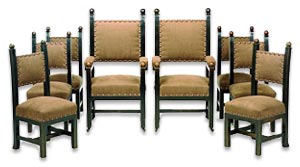 He carried out many restorations on new buildings and extensions in Chipping Campden, all of which were carefully considered in order to respect the character of the place.
His sensitivity was well tested when he adapted a ruined chapel of c1100 as a dwelling-house at Broad Campden (c1906–7).
Charles Robert Ashbee was one of the first British architects to realise the significance of Frank Lloyd Wright
And he was in the vanguard of the endeavour to bring order and care to the planning of towns and cities.
Mindful of the huge losses of historic buildings through redevelopment, Ashbee began a process of surveying London's buildings, which led to the important Survey of London volumes.
In 1906 Charles Robert Ashbee published A Book of Cottages and Little Houses, intended for landlords, architects, builders and others : with suggestions as to cost, the housing difficulty & the improvement of taste in these matters.