Antique Terms W covering terms and meanings from Waals to Wagner and Wedgwood to Watch Paper and Worcester

Below you will find antique terms and related words, meanings, dates, associations and images that all begin with the letter W.
Dutch cabinetmaker and one of the foremost designers in the Cotswolds school.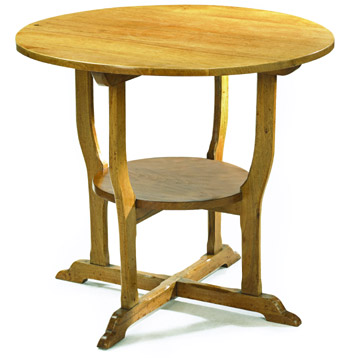 Set up in 1894 by Sydney Barnsley, Ernest Barnsley and Ernest Gimson.
Also connected with the arts and crafts movement.
josef wackerie (ceramic - nymphenburg - modeller)
A german porcelain modeller who, fed up of imitating 18thC. figures, produced figures of sporting girls and others in contemporary dress
Artistic director of the nymphenburg porcelain factory from 1906-1909, and also produced models for the berlin porcelain factory.
otto wagner (architect - designer - art & crafts - 1841-1918)
Viennese architect and furniture designer. Pioneer of functionalism whose work influenced other key designers such as, Josef Hoffmann and Adolf Loos. From 1899 a member of the vienna secession. Wagners furniture is distinguished by its lack of ornamentation, its functional quality and the combined use of metal and wood. Some of his bentwood designs were produced by the thonet brothers.
wainscot (glass - ceramic - scalloped border)
A wood panel or a furniture with panelled work. Also -- a medieval term used to describe oak suitable for wagon (wain) construction, and straight grained oak suitable for panelling. Also -- wainscot bed; a bed with solid panels at its head or foot. Also -- wainscot chair; a panel-backed chair.
waiter (silver - salver - tray)
A small flat salver of silver or silver-gilt, used for the formal offering of , letters or visiting cards. Large, heavy, oblong or oval silver salvers evolved into what we know as trays in the 18thC.
waldglas (glass - bohemian - 14thC.)
The earliest items of bohemian glass, dating from the 14thC, were made from waldglas, a crude, mould-blown product which used wood as a source of potash for the flux.
wall clock (clocks & watches - lantern - girandole)
The general term for a weight or spring-driven clock designed to be mounted on the wall. types include the cartel clock, the lantern clock, the girandole, the tavern clock and the regulator. See: Antique Wall Clocks - Spring Driven and Weight Driven Clocks
Also -- hooded wall clock, which has a hood that can be lifted off from the wall-mounted movement.
Also -- Wall dial, a georgian, victorian or edwardian spring-driven timepiece with a circular dial in a wooden surround.
wall pocket (ceramic or glass - cornucopia - vase)
A ceramic or glass vase designed to hang on the wall and hold flowers. Popular in the 18th and 19th centuries. Usually, but not always in the form of a flat-backed cornucopia.
walnut (wood - rich grain - solid furniture)
A close grained hardwood with a rich grain pattern. Took the place of oak as the most favoured wood for furniture-making about c1660 and before the introduction of mahogany in the 1720s. Tudor england used the european species for high-quality solid furniture. European walnut became scarce after severe weathe rin france c1709, and the darker american walnut was used throughout the 18thC.
almeric walter (glass - art glass - french - 1859-1942 )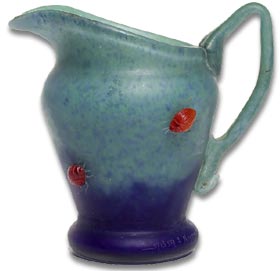 A french art nouveau and art deco glassmaker.
Specialised in opaque pate-de-verre pieces, such as sculptural ornaments, ashtrays and small dishes, in greens, yellows and turquoise.
Often decorated his pieces with insects, small reptiles and sprays of berries.
waltham (clocks & watches - manufacturer )
American watch company and the first to mass-produce cheaper watches for the general public. Established in the 19thC, and working with the Swiss industry began the decline of the exclusive british watch trade.
george walton (architect - scottish - 1867-1933)
Scottish architect and designer of metalware, textiles, furniture and glassware. A member of the glasgow school, that established the british version of the art nouveau style. Produced polished iron and copper candlesticks and chandeliers typical of the art nouveau. Furniture designs, some for liberty, resembled 18thC forms with high backs and strong vertical lines.
Also known as a chronoscope, a watch introduced around 1675, where the hour is displayed through a semicircular arc in the dial. The hour numeral is carried on a rotating disc, and takes one hour to move around the semicircle then disappears from view behind a decorated cover. It is then replaced by the next hour numeral. The scale for the minutes shows on the edge of the semicircle. Stopped appearing around 1730, although there are are 20thC versions around.
wardian case(glass - case - plants - nathaniel ward)
A glass-sided case that resembles a miniature greenhouse. Used for growing display plants indoors, such as ferns or some tropical species. Victorian term that comes from naturalist nathaniel ward, who brought botanical specimens home from his travels using a similar case. Also -- domed wardian cases which were mounted on stands and popular decoration in victorian parlours.
wardrobe (furniture - freestanding cupboard)
The 19thC name used to describe a large, freestanding cupboard used for hanging for clothes. Prior to the 19thC clothes were stored in presses (cupboards).
warming pan (metalware - container - bed warmer)
A, usually round, lidded container made from copper or brass, with a long handle. The pan held hot coals, hot charcoal, or hot water and was used to warm the bed. Popular in the 16thC then replaced in the 19thC by metal or stoneware hot water bottles.
washstand (furniture - support - washbasin)
A multi-legged stand used to support a washbasin, Common furniture from the 18thC. Larger models, sometimes with marble or tiled tops, and a cupboard for a chamber pot became popular in the 19thC.
watchmans clock (clocks & watches - tell-tale clock )

A portable clock provided for checking the times when night patrols reach certain points during their rounds. At certain positions a numbered registering key is fastened to the wall.
The key, when inserted in the portable recording clock, causes the number of the location and the time of day to be recorded on a paper roll or disk inside the clock. Also called a tell-tale clock.
watch paper (clocks & watches - paper label)
a disc of paper placed inside a watch in the 18thC to record the watchmaker or repairers name. Usually placed at the back of an open faced watch or inside the outer pair case..
watch stand (clocks & watches - ceramic - display stand)
A small display stand made of cermaics, wood or metal and used to hold a watch during the night or to stand on a table and emulate a clock.
water clock (clocks & watches - clepsydra)
A clock whose mechanism is run by the regular flow of water from one container to another. Based on the clepsydra, an ancient timekeeping device, and revived in the 18th and 19th centuries. Many reproductions or copies, with false signatures and dates, produced in the 1920s and 30s.
Decoration on ceramics, furniture and other ornaments. On furniture the gilding is applied by floating the gilding to the recieving surface, on water. Water gilding can be burnished but is water soluble and prone to flake.
watercolour (painting - water soluble pigments)
Translucent water soluble pigments are mixed with a preparation of gum and dissolved in water before being transferred to paper.
waterford (glass - irish town - lead crystal)
Irish glass company producing glass at waterford from 1729. Their flint glass was superseded 1783 by fine-quality lead crystal for which waterford in now is best known. First factory closed in 1851 and a new factory opened in 1951 producing traditional waterford styles of lead crystal glasses, bowls and decanters.
waterloo leg (furniture - chair - sabre leg)
An early 19thC curved chair leg that resembles a sabre blade. Closely identified with the regency period. Also called a sabre leg and referred to as a Waterloo leg after the Battle of Waterloo in 1815.
A doll with head, and sometimes limbs, made of bleached beeswax. Popular from c1750-1930. The solid wax may have been carved into shape or a liquid wax poured into a mould. The eyes are either painted or small black beads stuck on with a drop of molten wax. Also -- wax-composition referring to a wax coating over a composition base; colour can be applied to the base itself prior to the wax coating, or directly onto the wax.
way wiser (scientific - distance measuring instrument)
A wheeled device for measuring distances over the ground. Prior to 1840, used by the Post Office to measure postal routes, when the charge for sending letters was based on distance. The device was pushed along and the distance was recorded on a brass dial beneath the handle.
philip webb (designer - arts & crafts - 1831-1915)
British architect and furniture designer, linked with william morris, Webb designed jewellery, glass, metalwork and embroidery for morris's decorative arts firm. Webbs designs were highly influential in the arts and crafts movement.
A Family firm of glass-makers based around stourbridge in worcestershire, since the early 1830s. Noted , in the 19thC for engraving and fine cameo glass From 1886 it also made burmese glass. The company closed in 1991.
Josiah Wedgwood (July 12, 1730 – January 3, 1795) was the English potter, credited with the industrialisation of pottery manufacture.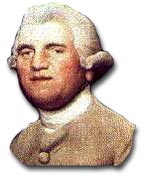 He was a member of the darwin wedgwood family that, most famously, included his grandson, Charles Darwin.
Josiah was raised within a family of English Dissenters. He survived a childhood bout of smallpox to serve as an apprentice potter under his eldest brother Thomas Wedgwood IV.
Smallpox left Josiah with a permanently weakened knee, which made him unable to work the foot pedal of a potter's wheel. As a result, he concentrated from an early age on designing pottery rather than making it.
Wedgwood died in 1795 but his company is still a famous name in pottery today as part of Waterford Wedgwood, and wedgwood china is the common term for his jasperware, the blue or green china with overlaid white decoration, still common throughout the world. He was an active member of the Lunar Society and is remembered on the Moonstones in Birmingham.
His home Etruria Hall built between 1768 and 1771 by Joseph Pickford, was restored as part of the 1986 Stoke-on-Trent Garden Festival and is now part of a four-star hotel.
wedgwood (ceramics - manufacturer - staffordshire )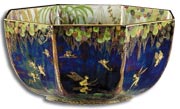 Wedgwood is a British pottery firm, originally founded by Josiah Wedgwood c1795, and possibly the most famous name ever associated with pottery.
Wedgwood merged with Waterford Crystal in 1987 to become Waterford Wedgwood.
The factory was a pioneer of new products such as those modelled by William Greatbach, and coloured with lead glazes developed by Wedgwood during his partnership with the Staffordshire potter Thomas Whieldon. See: Antique Wedgwood Pottery and The Wedgwood Family
wellington chest (furniture - coins - locking chest)
An early 19thC british chest of drawers with six to twelve shallow drawers. Used for storing coins or other small articles. A hinged flap overlaps the drawers on one side and is fitted with a lock.
Wemyss ware (ceramics - fife - heron)
Cheerfully decorated pottery produced at the Fife pottery near Kircaldy in Scotland, 1880-1930, and imitated elsewhere. It is distinguished by brightly coloured underglaze motifs of flowers, fruit, berries and birds. A wide variety of products were made including table ware, especially jam pots; useful ware such as jugs and washbasins; and novelty products such as doorstopper pigs.
whatnot (furniture - stand - victorian)
A lightweight, compact stand with three or more shelves on which to put knick-knacks, books or ornaments. Whatnots appeared towards the end of the 18thC, and continued as drawing-room features throughout the Victorian era. In Victorian times a whatnot was known as an omnium and the French equivalent is an étagère.
A mercury barometer in which the mercury tube is concealed in the back of the case and the reading is taken from a dial like a clock face. As the mercury rises and falls with air pressure changes, a weighted cord, connected by a pulley to a float resting on the surface of the mercury, causes the pointer wheel to move. The British scientist Robert Hooke is credited with its invention in the mid-17thC, but few were made until the mid-19thC.
wheel lock (militaria - firing - doghead)
A firearm ignition system developed in the early 16thC. A metal wheel with a roughened edge was rotated by a spring mechanism. A piece of pyrites, gripped by the doghead, was pressed against it. When the trigger was pressed the wheel rotated against the pyrites, generating sparks which ignited the gunpowder. The wheel lock made it possible for loaded weapons to be carried safely as the doghead could be pulled clear of the pan containing the gunpowder.
See zoetrope.
Influential master potter at Fenton Low, Staffordshire, c1740-80. The modellers Aaron Wood and William Greatbatch, and Josiah Spode were among Whieldon's apprentices, and Josiah Wedgwood was his partner, 1754-8.
Ralph Wood (in c.1730) was apprenticed to John Astbury, and he later worked with Thomas Whieldon at Fenton Low, learning the manufacture of coloured glazes. Aaron Wood was apprenticed with Thomas Wedgwood Jr. from 1731 to 1746, when he left to work with Whieldon. He opened his own pottery four years later.
Whieldon produced salt glazed ware, agate ware and the cream-coloured earthenware which was later perfected by Josiah Wedgwood.
1719 Thomas Whieldon was born at Penkhull
1740 Opened a small pottery in Fenton Low in a range of low thatched buildings.
1746 Aaron Wood started work with Whieldon.
1748 Whieldon bought Fenton Hall from the bankrupt John Peate along with the adjoining potworks.
1749 Thomas Whieldon built an addition to his works, were hs partner wedgwood, carried on his business.
1750 In addition to pottery, he owned a number of plots of land in Fenton, associated with Fenton Hall.
In 1749, when Josiah Spode I was about 16, he was apprenticed to Thomas Whieldon. Spode stayed with Whieldon until 1762 when he went to work for Turner and Banks.
1754-59 Josiah Wedgwood I was in partnership with Whieldon who was to teach him so much about clay and making pottery
1780 Whieldon finished potting and retired on his fortune estimated at £10,000.
1786 Appointed High Sheriff of Staffordshire.
1795 Thomas Whieldon died in March 1795.
white gold (metalware - precious metal - gold alloy)
An alloy of gold with either platinum or with zinc and nickel. White gold was a popular setting for diamonds in the late 19thC. It is similar in colour to platinum; the two metals can only be distinguished by an acid test.
white metal (metalware - soft metal - not sterling silver)
A soft, base metal alloy, often abbreviated to 'WM', which was used for inexpensive commemorative medals, especially in the 19thC. When preserved 'as new', the material looks attractive but it is susceptible to wear and corrosion. 2 Trade term sometimes used to describe silver which is below the sterling standard and cannot by law carry a British hallmark.
whitework (textiles - embroidery - broderie anglaise)
Any cutwork embroidery in white thread on a white or natural ground, such as ayrshire work and broderie anglaise.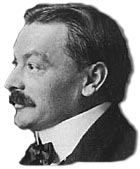 On 19th May, 1903 the Wiener Werkstätte, German Vienna Workshop was registered in Vienna as "Productivgenossenschaft von Kunsthandwerkern".
Founded by Josef Hoffman and Koloman Moser, both members of the Vienna Secession to provide an outlet for graduates from the Kunstgewerbeschule.
The workshop was involved in jewellery making, the production of fabrics, furniture construction, ceramics and other art forms which could be incorporated into daily life and Hofmann incorporated these designs into his architectural projects.
In 1905, Hoffmann, Klimt and the Wiener Werkstätte artists, designed and built the magnificent Palais Stoclet, for the Belgian industrialist Mr Stoclet, in Brussels, the Capital of Art Nouveau and city of Victor Horta.
The Wiener Werkstätte pursued elegance, a reduced vocabulary of form, functionality and appropriateness, which stood in contrast to the pronounced imitation of styles of Historicism.
The result were : simplified shapes, geometric patterns, and minimal decoration characterising the Wiener Werkstätte products.
The majority of designs were supplied by famous artists, including Carl Otto Czeschka, Josef Hoffmann, Bertold Löffler, Dagobert Peche, and, of course, Koloman Moser.
It struggled constantly with a weak financial and the Wiener Werkstätte was closed down in 1932.
wig block (furniture - wig stand)
A head-shaped piece of wood on a stand to hold a wig, or a smaller rounded top on a longer-stemmed wig stand.
a.j. wilkinson (ceramics - potter - clarice cliff)
Staffordshire pottery at Newport which employed art potter Clarice cliff and other leading artists of the 1930s. From 1929 the pottery mass-produced Cliffs designs alone.
david I willaume (metalware - silver - 1658-1741)
huguenot silversmith who worked in London using many techniques and designs which were far advanced. His pieces are individualistic - a large teapot decorated with three rows of cut-card work is typical and ranged from salvers and cutlery to elaborate tableware. His son David Willaume II (1693 -1761) took over the business in 1716. For a time the two silversmiths were thought to be one and the same.
British decorative arts style linked with the reign of King William III and Queen Mary (1689-1702).
willow (wood - wickerwork - dowels)
Strong yet soft, white to pinkish, flecked wood. Because of its long fibres, it was used for the dowels in early joined construction. The young shoots have long been used for wickerwork. In the 17th and 18th centuries it was sometimes dyed black to imitate ebony.
willow pattern (ceramics - chinese pattern - blue & white)
A Chinese-influenced pattern, based on a Chinese legend but designed in Britain, which was widely transfer-printed on pottery and porcelain tableware in underglaze blue. It was first engraved by Thomas minton for the caughley pottery in Shropshire c.1780, and much imitated, even by the Chinese.
Early carpets produced in Wilton, Wiltshire, from the late 17thC, were ingrain carpets, made using a flat-weave technique with a bulky texture. In 1740, narrow Brussels looms were set up by two former savonnerie weavers to produce moquette carpets in competition with kidderminster manufacturers. In 1769, Blackmore& Son combined the Wilton and axminster businesses. The Wilton industry increased in the 1840s, making luxury hand-knotted as well as machine-made carpets.
Term applied to a chair with a solid wooden seat with sockets into which turned legs and back and arm spindles are fitted. The term has been in use since c. 1724, but its origin is uncertain, as this type of chair was not confined to Windsor, Berkshire, but made in many provincial areas. A variety of timbers was used, sometimes all in the same chair, such as beech for the turned members (legs and spindles), elm or sometimes yew for the seat, and ash, elm and some fruitwoods for the bentwood parts. Yew examples are the most desirable today. High Wycombe, Buckinghamshire, was a leading centre of Windsor chair production by the early 19thC.
wine cistern (furniture - wine cooler)
A container for holding several bottles of wine, also known as wine fountain. They were made of marble or various metals and woods, but in the 18thC were often mahogany bound in brass, lined with lead and were watertight, in order to hold ice. A wine cooler holds a single bottle in ice, and is usually made of ceramics, or in sheffield plate or electroplated silver.
wine funnel (ceramics or silver - sieve)
A funnel sometimes with a curved spout and a sieve for separating sediment, used for decanting red wine from the 17th to 19th centuries. The funnels are found in silver, porcelain, pewter or silver plate. Late 28th and early 19th-century examples are smaller and plainer than those made after the 1820s.
wine table (furniture - after dinner drinks)
1 Semicircular table sometimes with a pivoted arm and coaster fitted to the inside curve which could be swung across to pass wine to fellow drinkers. Wine tables were used for after-dinner drinks around the hearth from the late 18th to early 19th centuries, hence the alternative names of social or fireside tables.
2 A small table with a galleried top to hold decanters and clean glasses, and notches cut out of the rim where dirty glasses can be hung by the foot.
wine waiter (furniture - table or cupboard)
Table on castors with partitioned top for holding wine bottles, used in the 18thC to circulate wine during a meal. Some wine waiters incorporate a cupboard.
wing chair (furniture - chair - 17thC)
Upholstered chair with wings extending either from the upper part, or from the whole length of the back in order to protect the occupant's head from draughts. Wing chairs were first introduced during the latter part of the 17thC.
ralph wood (ceramics - potter - 1715-72)
One of a famous family of staffordshire potters to whom many Staffordshire figures, often of provincial characters, and flatwares are attributed - although sometimes on rather slim documentary evidence. Many toby jugs and rustic groups with in-glaze colour are attributed to Wood and his son, also Ralph (1748-95).
samuel wood (metalware - silversmith - 1704-94)
Prolific London-based silversmith, a specialist in cruets and casters.
Two of the most important of late 19th and early 20th-century British cameo glass carvers, trained by John north wood and then employed by Thomas webb & sons of Stourbridge. Their joint works are rarely signed 'T &l G Woodall' and are in Victorian Classical style, although George in particular had a talent for figure compositions. His early work was hand-carved, while later pieces were worked with an engraver's wheel. In the late 19thC, the brothers headed a team of up to 70 craftsmen producing inkwells, candlesticks, door panels, scent bottles, plaques and vases.
woodcut (painting & prints - print - woodblock)
A print formed from a design carved in relief on the plank surface of a woodblock. The background is cut away leaving the design raised, and it is this which receives the ink. The inked design prints and the background remains free of ink. In a wood engraving, the design is cut into the endgrain surface so that the background is in relief and takes the ink, and the engraved design shows white on the finished print.
work table (furniture - tool table - victorian)
A small table with a bag or box suspended beneath the top in which to store articles related to the use of the table - such as needlework or chess pieces. Work tables date from the early 19thC, and were popular in the Victorian era.
wreathing (ceramics - hollow ware - spirals)
Spiral ridges of slightly increased thickness on the inside of some hollow-ware, shaped, on the wheel, by the potter's fingers.
wrigglework (metalware - pewter - silver decoration)
Zigzag pattern used on British pewter and silverware in the 17th and 18th centuries. An engraving tool was pushed over the surface at a 45° angle, while rocking or turning the object.
frank lloyd wright (architect designer - decorative arts - 1867-1959)
US architect and designer whose work had a widespread impact on 20thC decorative arts ... See: Frank Lloyd Wright Art Deco Artist
wrotham ware (ceramics - slip ware - kent)
Slipware produced by a group of potteries in Kent c1612-1712. The coarse reddish body of the pieces was coated with white clay slip, decorated with slip-trailed swirls or stamped motifs and then covered with a yellowish lead glaze. Candlesticks were a speciality and tygs and other vessels survive, some with the name of potters such as Nicholas Hubble, John Green and George Richardson inscribed.
Ironwork that is drawn and worked into elaborate shapes on an anvil while hot. It is not as hard or brittle as cast iron and is used for objects such as grilles, screens, garden furniture, candle-holders and andirons. Wrought iron has been made since ancient times. In the late 19thC, William morris, a central figure in the arts and crafts movement, encouraged the use of decorative wrought ironwork in Britain, a pattern echoed throughout Europe. One of the finest exponents was the French designer and metalworker Edgar brandt.
wrythening (glass - decoration - ridged)
Spiral or diagonal ridges, fluting or reeding especially fashionable on 17th-19thC glass. It is also found on furniture, pewter and silver - the top of a wrythen-top spoon is a spirally fluted oval.
wucai (ceramics - chinese - 5 colour)
The Chinese term for a porcelain palette consisting of five colours (wu is the Chinese word for five). The design is not outlined in underglaze blue (as in doucail). Wucai was formerly spelt wu-ts'ai.
After firing the piece at a low temperature, red, green, yellow, blue, and purple enamels are applied to the white ware. Wucai has been popular since the early Qing Dynasty
wyon family (metalware - die engravers)
A family of gifted and prolific coin and medal engravers who dominated British die engraving during most of the 19thC.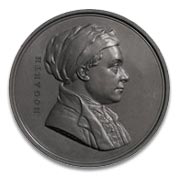 The Wyons are one of the most celebrated and talented coin and medal engravers in England.
Their period of activity extends from before the middle of the eighteenth century to almost the end of the nineteenth century.
Tradition has it that Peter George (II) Wyon came to England from Cologne, Germany, during the reign of King George II. He brought with him a boy who grew up to be George (III) Wyon.
George Wyon had two sons, Thomas (I) and Peter, both of whom distinguished themselves as medallists and engravers of dies for coinage.
Peter was the father of William Wyon, the most famous of the Wyon family of artists. William, in turn, was the father of Leonard Charles Wyon. Thomas (I) had a son, Benjamin, a medallist in his own right, and Benjamin had two sons, Joseph Shepherd and Alfred Benjamin, both of whom became medallists.
Alfred Benjamin Wyon (1837-1884) was the second son of Benjamin Wyon , and brother of Joseph Shepherd and Allan Wyon. He was a student in the School of Painting at the Royal Academy and learned the art of die engraving under his father. He became Chief Engraver of the Seals in 1873, a post he retained until his death. Alfred Benjamin Wyon, who attained great eminence as an engraver and medallist, collaborated with his brother Joseph Shepherd in the die sinking business, making many medals together, including some for the Corporation of the City of London.
Benjamin Wyon (1802-1858), the second son of Thomas Wyon the elder, received a major portion of his instruction from his elder brother, Thomas Wyon the younger. He succeeded his father as Chief Engraver of the Seals in 1831.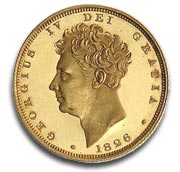 Joseph Shepherd Wyon (1836-1873) was the eldest son of Benjamin Wyon. He studied in the schools of the Royal Academy, where he distinguished himself.
In 1858 J.S. Wyon was appointed Chief Engraver of the Seals, in succession to his father. He made many medals alone and some in collaboration with his brother Alfred Benjamin.
William Wyon (1795-1851), the most celebrated of the Wyon family of medallists, was the eldest son of Peter Wyon, with whom he apprenticed.
In London, he aided his uncle Thomas Wyon the elder in engraving, and shortly after was chosen to fill the post of second engraver.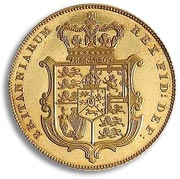 When the chief engraver, Thomas Wyon junior died, Pistrucci, the noted gem engraver and favorite of the Master of the Mint, was appointed to the vacant office.
William Wyon resented this nomination and differences arose between the two artists. A compromise was reached when Wyon was made Chief Engraver and Pistrucci received the designation of Chief Medallist.
According to Forrer, Wyon's head of Queen Victoria used on coinage, by combining beauty of design and perfect execution, received universal approbation and still ranks as one of the noblest productions in the British numismatic series. See: George III Silver Crown - Coin Collecting Reviews.