Coin Collecting Reviews - The George III Silver Crown with the Three Graces by William Wyon c1817.
A very rare George III Silver Crown c1817, depicting the Three Graces as designed by William Wyon and part of The Strickland Neville Rolfe Collection.
Obverse ... George III laureate head right with date below. W.WYON. below truncation, GEORGIUS III D:G: BRITANNIARUM REX F:D:, beaded border and linear circle both sides.
Reverse ... Struck en medaille with the Three Graces, personifying England, Scotland and Ireland,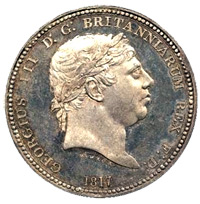 With national emblems of harp, thistle and leek. W.WYON to left of harp, FOEDUS INVIOLABILE, palm branch and paddle in exergue. plain edge.
Attractively toned with a few tiny blotches, a little cabinet friction to high points, good extremely fine, very attractive and extremely rare.
2010 Auction Estimate for the George III Silver Crown featuring The Three Graces is from £10,000 to £15,000 (GBP).
About The Strickland Neville Rolfe Collection ...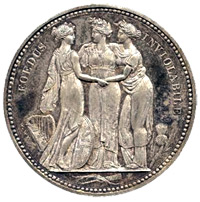 Strickland Charles Edward Neville Rolfe was born in 1789, eldest son of General Neville of the Royal Artillery.
He assumed the name and arms of Rolfe by royal warrant in 1837, upon receiving the bequest of the estates at Heacham and Sedgeford, from Edmund Rolfe, a distant relative who had no issue.
Educated at Wadham College, Oxford, BA 1812, MA 1816, he was ordained in 1814.
He then became domestic chaplain to the Duke of Kent in 1814 and to the Duke of Somerset in 1825.
He was appointed vicar of Heacham in Norfolk in 1838.
His first wife, Agnes, was the only daughter of Henry Fawcett, MP for Carlisle. They married in 1814 and had five sons and four daughters.
In 1833 he married Dorothy, widow of the Rev TT Thomason, Chaplain to the Honourable East India Company.
Strickland Rolfe died in 1852. Heacham Hall was destroyed by fire in 1941, while occupied by the RAF.
The Rolfe numismatic collection has remained in the hands of descendants and represents a snapshot of the tastes and interests of an educated country gentleman.
The English coins in the Rolfe collection span three centuries and include some key rarities, such as the pattern 'Incorrupta' and 'Three Graces' silver crowns, as well as some rare and interesting coppers.