Antique English Porcelain Factories ... The manufacturers history, the makers marks and antique periods.

18th Century antique english porcelain manufacturers followed in the steps of the French in that the vast majority of porcelain produced was of the soft paste type.
In 1567 two European potters arrived in England, from Holland
They brought with them the production methods for tin-glaze pottery manufacture.
This type of pottery is known as delftware in England, and it flourished in London, Bristol and Liverpool in the 17th and 18th centuries.
It was replaced in the 18th century by refined stonewares, salt-glazed stoneware, fine earthenwares, creamware and pearlware, made mainly in Staffordshire, the heart of the English porcelain industry.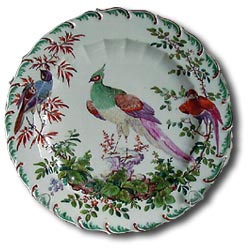 Soft paste porcelain is porcelain made to a different formula
It differs significantly from the recipe for true or hard paste porcelain, which was first discovered by the Chinese about a 1000 years ago then rediscovered by Meissen about 1710.
Hard paste porcelain is a mixture of kaolin and petunse, or china clay and china stone, mixed and then fired to a temperature of about 1350C degrees.
The alternative formula for soft paste porcelain was first made in Europe by the Medicis in Florence in 1575, and later made in France from the latter part of the 17thC at Rouen.
Then in the 18thC by St Cloud, Mennency, Chantilly, Vincennes and Sevres.
The soft pastes all include a fair proportion of glass in their formulas which allowed for the production of some magnificent French porcelain.
The English started making porcelain rather late compared with the rest of Europe, and several of the English factories used the glassy type of soft paste.
In trying to improve the recipes two other basic types of soft paste porcelain were made in England. One type used soapstone (soapy) in the mix and the other used bone ash (bony). The three basic English porcelains can loosely be called glassy, soapy or bony.
Although, it is said that all English 18thC factories used soft paste, there are three exceptions, in the factories of Plymouth, Bristol and New hall, who all used a hard paste mixture.
Towards the end of the 18thC when the New Hall patent expired many factories started experimenting with their own formulas and tried to better their products, and you often see references to "hybrid hard paste" in the late 1790s and early 1800s.
In the early 1800s New Hall continued with its hard paste and Worcester continued with their soft paste but eventually all the English factories moved to bone china production.
English bone china is said to have been developed by Josiah Spode around 1800 and is a mixture of hard paste and bone ash which is still being used by many of the great English porcelain factories today.
A Chronological History of Antique English Porcelain Factories.
John Dwight established a factory at Fulham in 1671 and tests from excavated shards found at the site revealed a glassy type of porcelaneous material.
However, it seems firing and glazing difficulties prevented full commercial production.
Pomona Factory at Newcastle under Lyme (1744-1754)
Williams Steers of Hoxton took out a patent for the manufacture of porcelain in 1744 which states, "..transparent earthenware in imitation of porcelain or china after a method entirely new..".
Some 2000 shards were excavated in 1970 and some glassy type of under glaze blue items have been reconstructed but no pieces are known outside of these museum pieces.
Chelsea (1744-1770) and Chelsea-Derby (1770-1784)... read more
The Chelsea factory was started in the town of that name by Nicholas Sprimont who, up until then, had been one of the Huguenot silversmiths in London.
Right from the very start Sprimonts glassy type of porcelain was aimed at the upper classes and so only a very small amount of underglaze blue decorated Chelsea is found. The factories production can generally, be divided into four groups according to the mark used at the time.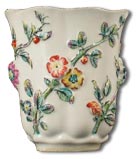 The four main marks used by Chelsea are: Incised triangle, raised anchor ,red anchor and the gold anchor. The earliest items made were of a glassy paste but some bone ash was added about 1758 around the early years of the gold anchor period.
Marks can generally be relied on but quite a lot of "gold anchor" marked pieces fakes or copies are seen.
Nicholas Sprimont did not always enjoy good health and the factory was sold, eventually, to James Cox in 1769 and the some eight months later to William Duesbury of Derby fame.
The Chelsea-Derby factory spans the years 1770-1784 and was under the control of William Duesbury. Wares were still made at Chelsea and some may have been decorated at Derby. Marks during this times include a gold anchor, an intertwined anchor and D and a crown and anchor. The Chelsea factory was closed in 1784 and what was left moved to Derby.
Recommended reading :
Chelsea Porcelain by Elizabeth Adams (B & J)
Chelsea Porcelain at Williamsburg by J.C.Austin
Flowers and Fables, a survey of Chelsea Porcelain 1745-1769
by Margaret Legge
Derby (1747 to today)... read more
The date of commencement of production at the Derby factory may never be known but it is thought to be around 1747/1748 and was started by Andrew Planche, a Huguenot goldsmith who had moved up from London. The first products from this factory include some very finely modelled figures that are categorised as "dry edge" due to glaze free areas around the base.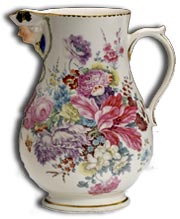 William Duesbury I, from 1756, and his son William Duesbury II, from 1786, were the driving forces behind this successful factory, which at first made a glassy type of porcelain, and later on some bone ash was added.
No marks appear on early Derby, but from about 1760 some patch or pad marks are found on the bottom of wares and figures. These were small "scars" left from pads which supported the items in the kiln.
From 1770 model numbers are found incised into the bases of figures. Also from the 1770s the familiar crown and D mark starts to appear and lasts through till the 1820s.
Derby made more figures than any of the other factories and probably accounts for over 50% of all English 18thC figures. From about the 1780s on the Duesburys managed to employ some great artists to decorate their porcelain and names such as Billingsley, Robertson, Complin, Boreman, Askew , "Quaker" Pegg etc. often add a premium the the value of Derby pieces today.
Recommended reading :
Derby Porcelain by John Twitchett (B & J)
Derby Porcelain by Barrett & Thorpe
Derby Porcelain Figures by Peter Bradshaw 1750-1848 (Faber)
Derby Porcelain 1748 - 1848 an illustrated guide by John Twitchett
Bow (1747-1776)... read more
Heylyn and Frye took out a patent in 1744 but production doesn't seem to start until around 1747.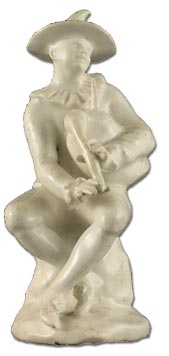 What inspired the founders at Bow to include bone ash in their recipe is not known but it proved to be a significant ingredient both for Bow and the factories that followed.
The Bow factory was situated on the East side of London and did not aspire to the type of trade that Chelsea pursued, preferring to produce wares for the growing middle class market. Their products included a lot of blue and white wares together with polychrome decorated pieces and a large range of figures. Pieces of Bow are often thickly potted and can show brownish stains where there are exposed areas such as chips etc.
Factory marks were not often used but you can find mock oriental marks on Chinoiserie styled blue and white pieces, and in 1760 an anchor and dagger mark was used which might be an outside decorators mark.
Recommended reading :
Bow Porcelain by Adams & Redstone ( Faber)
Bow Porcelain the Geoffrey Freeman Collection by A .Gabszewicz
Bow Porcelain Figures by Peter Bradshaw
Limehouse (1745-1748)
The existence of a factory at Limehouse has been known since 1927, when researchers found old ads from the "Daily Advertiser".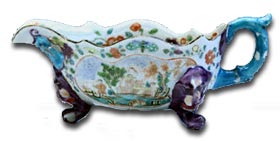 The advertisement states "... the proprietors of the Limehouse ware give notice that they now have a large assortment at their Manufactory, near Dick Shore in Limehouse ...".
Other documents reveal that Joseph Wilson was the proprietor of the factory at 20 Fore Street, Limehouse.
A glassy type of porcelain was produced and the products were mainly decorated in under glaze blue. Some polychrome wares were made but they were probably decorated in Holland or by Dutch decorators in England.
Following the 1990 excavation by Dr Bernard Watney and others, the existence and products of this factory could be proved, and a class of wares that had previously been attributed to William Reid can now be called Limehouse.
A creditors meeting was held in 1748 which heralded the end of this factory.
Recommended reading :
Limehouse Wares Revealed, by the English Ceramic Circle with the collaboration of the Museum of London.
Lunds Bristol (1749-1752)
This short lived factory was started in Bristol by Benjamin Lund and William Miller in 1749 following the granting of a licence to Lund to mine soap rock in Cornwall. The wares produced using this "soapy" type of soft paste were painted with underglaze blue and decorated in the Chinoiserie style although some were left in the white.
The painting was usually slightly blurred and sometimes the images will have three dots in the landscape (the three-dot painter). Kiln failures and under capitalisation probably led to the demise of the factory.v
The factory came under the notice of Richard Holdship (one of the partners of the newly formed Worcester factory) in 1752 and he arranged to take over Lunds licence for the mining of soap rock. Holdship was instrumental in Worcester acquiring the factories stock, utensils and effects and also the services of Lund and probably some other workers.
Occasionally the word Bristol or Bristoll is found moulded to the base of wares and to the back of a figure.
Recommended reading:
There are no specific books on Lunds Bristol but all good books on Worcester will have references to this factory.
Worcester (1751 to today)... read more
The Worcester factory was started by a group of fifteen subscribers in 1751. Included in their number were Richard Holdship, William Davis and Dr John Wall.
Worcester had probably made porcelain in 1751 with some difficulty and it was fortunate for them that the vigilant Holdship allowed them to acquire the Lunds licence, knowledge and probably some stock, as well as Lund himself moving to Worcester.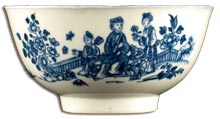 Soapstone soft paste porcelain proved to be the best of the soft paste recipes and Worcester produced a porcelain which did not craze and which could survive the addition of boiling water to tea pots ( other factories notably Derby had problems with their tea pots flying, ie. breaking, on the addition of boiling water).
Worcester produced a fine range of wares including printed wares, both under and over glaze, scale decoration in blue, red, yellow and pink and of course under glaze blue painting. Whilst their main opposition at Derby were producing a lot of figures it is surprising that Worcester made just a few.
The periods of Worcester in the C18th and early C19th can generally be divided into the Dr Wall period 1752-1776, the Davis period 1776-1783 and the Flight and various Barr's periods 1783-1840.
Worcester used a large range of marks, the most recognisable being the crescent marks, both open and hatched, the fret mark and the script and printed W. It should be noted that some Worcester under glaze blue painted patterns have their own unique mark.
In 1840 the Worcester factory merged with Chamberlains, later to become Kerr & Binns and then Royal Worcester.
Recommended reading :
Worcester Blue and White Porcelain 1751-1790 by Branyan, French & Sandon (B&J)
Caughley and Worcester Porcelains 1775-1800 by Geoffrey Godden
Worcester Porcelain 1751-1793 by Henry Sandon
Dictionary of Worcester Porcelain Vol .1 1751-1851 by John Sandon
The Zorensky Collection by S.Spero & J.Sandon
Girl in the Swing Factory or the St. James Factory of Charles Gouyn (1749-1759)
In 1962 Lane and Charlestone "isolated" a group of porcelain that had previously been given to Chelsea, and gave it the name of the Girl in the Swing.
This name was taken from a figure in the V & A Museum which shows a girl in a swing supported by two leafy trunks. The paste is glassy like Chelsea's but with a greater percentage of lead and with some other modelling differences.
The products of the factory are decorated in polychrome, or left in the white. Some wares and figures were made but the main production seems to be "toys", ie. perfume bottles, etuis, patch boxes etc.
Following recent research in the archives of Sevres this factory has now, been firmly given to Charles Gouyn, a Huguenot, and former associate and partner of Nicholas Sprimont at Chelsea.
The critical document found by Bernard Dragesco in the French archives reveals that Charles Gouyn "... left with the loss of part of his funds and makes at his house in St James Street very beautiful small porcelain figures...". This statement means that he left the Chelsea factory.
There are no marks associated with this factory.
Recommended reading :
There are no specific books but all books on Chelsea will have a reference to the Girl in the Swing
Longton Hall (1749-1760)
In 1749 William Jenkinson "obtained the art, secret or mystery of making a certain porcelain ware in imitation of china ware" and started production at Longton in Staffordshire.
In 1751 he was joined in partnership by William Littler and William Nicklin.
A glassy type of soft paste was made and decorated both in polychrome and under glaze blue. Naturalistic forms are common with leaf and vegetable forms often found.
Figures were made and are often referred to as "snowmen figures" due to their slightly melted look which tends to blur their features.
Flower painting is often done by a recognisable hand as are castles and buildings painted by the "Castle painter". Unusual and sometimes clumsy handle forms help with identifying Longton Hall products.
"Littlers blue" a distinct blue which sometimes ran into the glaze is another characteristic of the factory.
There are no distinct factory marks but the crossed "L" is often cited as a Longton Hall mark although this may now be attributed to West Pans.
In 1760 following the break-up of the partnership the factory closed and a massive sale of 90000 pieces was held at Salisbury.
Recommended reading :
Longton Hall Porcelain (Faber) by Dr Bernard Watney.
West Pans (1764-1777)
After the dissolution of the Longton Hall partnership William Littler and his wife went to West Pans in Scotland and started another porcelain making concern.
The glassy paste at West Pans produced much the same sort of wares as at Longton Hall with "Littlers Blue" continuing to bleed into the glaze.
The crossed "L"s of Longton Hall may well belong to West Pans. Lack of funds and quality probably led to the downfall of this factory.
In 1777 William Littler returned to Staffordshire and became associated with Ralph Baddeley at Shelton.
Recommended reading:
Longton hall porcelain by Dr Bernard Watney
Vauxhall (1751-1764)
In 1751 a licence to mine soaprock was taken out by Nicholas Crisp of London, a jeweller, and John Sanders of Lambeth, a potter, and by 1752 nearly 30 tons had been used by this licence.
The soft paste porcelain was of the soapy type with some added calcium. Interestingly, John Bacon R.A. was employed at the factory and may have been a modeller and decorator of figures.
Wares and figures were produced in underglaze blue and polychrome and a polychrome printing technique was used at Vauxhall.
In 1758 John Sanders died leaving Crisp to carry on until 1763 when he became bankrupt. Crisp's unfortunate circumstances were probably not caused by the porcelain factory but by his other business interests.
In 1764 the stock was sold up and Nicholas Crisp then turned up at Bovey Tracey.
In 1980 and 1987 following excavations carried out at the Vauxhall site a group of porcelain previously attributed to William Ball of Liverpool is now attributed to Vauxhall.
There are no factory marks for Vauxhall.
Recommended reading : no specific books for this factory
The Liverpool Factories (1754 - )
A small city, small factories, different family members concerned with different factories, the itinerancy of workers and decorators has all helped to add to the confusion that has and may still be the Liverpool factories.
The porcelain factories at Liverpool produced a great variety of wares and some figures. The main production being blue and white. Some printed wares, over and under glaze, were made as well as polychrome decorated pieces.
There are no factory marks for the Liverpool concerns although a mark on later wares is sometimes seen in underglaze blue with the initials HP.
Liverpool factories in chronological order:
Samuel Gilbody (1754 to 1761)
Richard Chaffers (1754 to 1765)
William Reid (1755 to 1761)
Phillip Christian (1765 to 1778)
William Ball (1763 to )
James Pennington (1763 to 1773)
John & Jane Pennington (1770 to 1794)
Seth Pennington & John Part (1778 to 1803)
Recommended reading
Made in Liverpool. Liverpool Pottery & Porcelain 1700-1850 an exhibition catalogue
Liverpool Porcelain by Dr Bernard Watney
The Liverpool Porcelain of William Reid by Maurice Hillis and Roderick Jellicoe
Lowestoft (1757-1799)
In 1757 the Lowestoft factory situated on the east coast of Suffolk, was started by five partners .
The best known of the partners was Robert Browne who may have picked up some ideas when working at the Bow factory prior to the forming of Lowestoft. Both Bow and Lowestoft used a phosphatic (bony) type of soft paste.
Until 1768 the first products of the factory were all under glaze blue painted wares with both under glaze blue printed and polychrome wares made afterwards. The range of wares made were typically for the middle class market with some figures in the mix.
Towards 1799 and the end of the century, Lowestoft made mugs etc. bearing the words "A trifle from Lowestoft".
There are no factory marks for Lowestoft but you can sometimes find a numeral in underglaze blue on the inside of the foot rim.
Recommended reading :
Lowestoft Porcelain by Geoffrey Godden (A.C.C.)
Lowestoft Porcelain in the Norwich Castle Museum Vol. 1 Blue & White by S.Smith
Lowestoft Porcelain in the Norwich Castle Museum Vol.2 Polychrome by S.Smith
Early Lowestoft Porcelain by C.Spencer.
Plymouth (1768-1770)
William Cookworthy, a chemist in Plymouth, was the first to make hard paste porcelain in England. He found the two essential ingredients, kaolin and petunse or china clay and china stone on the property of Thomas Pitt.
He experienced difficulties in manufacturing his wares as some pieces slumped, the porcelain would come out a grey colour and the fabric sometimes showed signs of wreathing or tearing. Neither did his under glaze blue fire to a good colour.
A factory mark of the alchemists sign for tin which looks like a cross between a 2 and a 4 is found on some pieces.
In 1770 production was moved to Bristol where most of the production problems were solved.
Bristol (1770-1781)
In 1774 when Cookworthy retired the running of the factory was taken over by Richard Champion who had been a partner in the works at Plymouth. Some of the problems, like wreathing, still occurred but the quality was generally better than at Plymouth.
In 1782 the patent to produce hard paste porcelain was due to run out and in seeking to extend the patent Champion was opposed by Staffordshire potters and Josiah Wedgwood. However he achieved limited success with his application and was given the right to use the materials for production of transparent porcelain.
Some Bristol goods are marked with an overglaze cross or a B which may also occur with a potters or gilders number.
In 1778, after contemplating bankruptcy, Champion managed to dispose of his patent to a consortium of potters from Staffordshire.
In 1781 New Hall was formed.
Recommended reading :
Cookworthy's Plymouth and Bristol Porcelain by Severne MacKenna
Baddeley Littler (1777-1785)
This group of porcelain was previously attributed to the Liverpool area.
Geoffrey Godden has for some time, quite effectively, argued that William Littler, after the failure of his West Pans concern, moved to Staffordshire and helped Ralph Baddeley make porcelain. This porcelain was a type similar to the glassy paste of West Pans.
This group of porcelain was, for a while, known as the "Caddy Class" because of a label that was attached to a tea caddy once owned by Enoch Wood. The label states that it was given to Enoch Wood by William Fletcher who recalled that it had been made by William Littler.
Known items belonging to this group are usually in polychrome but some under glaze blue painting and printing occur.
No factory marks are recorded.
Recommended reading : No specific books on this factory.
New Hall (1782-1835)
In 1782, a group of potters from Staffordshire acquired the patent to make hard paste porcelain from Richard Champion and the patent ran until 1796.
New Hall made a range of goods in both underglaze blue and polychrome decoration. In the 18thC the production consisted mainly of tea wares with fairly simple decoration.
In c1790 the firm introduced a system of pattern numbers which is helpful in identifying New Hall wares.
In c1814 when bone china was introduced, a change was made to the paste. The style of decoration also changed as fashion dictated the desire for more brightly decorated wares.
Marks other than pattern numbers are rarely found on New hall but sometimes after about 1815 the words New Hall appear within double concentric circles.
In 1835 an auction was held to dispose of all stock following the leasing of the factory premises.
Recommended reading:
New Hall Porcelain by David Holgate (Faber)
A Guide to New Hall Porcelain Patterns by A.de Saye Hutton (B & J)
New Hall Pattern Book by Patricia Preller
New Hall Porcelains by G.A.Godden. Printed by A.C.C. ISBN 185149 463 4
Caughley (1775-1799)
The Caughley factory was started near Broseley in Shropshire by Ambrose Gallimore and Thomas Turner; Turner having had some experience at Worcester.
The paste used was of the soapstone variety and typically shows an orange like translucency.
Caughley did seem to copy a lot of Worcester shapes and patterns but they were also innovative in picking up on the French style of decoration; and while Caughley is sometimes thought of as being inferior to Worcester it can be argued that Caughley produced better quality wares in the last quarter of the 18thC.
Their wares were fairly utilitarian and typically utilsed under glaze blue decoration; either painted or printed.
Their polychrome wares were probably decorated by Chamberlains factory at Worcester.
There are a few Caughley marks used
A capital S which sometimes has a small x or o beside it.
A capital C with a serif, which if not clear, can be confused with the hatched crescent of Worcester
The impressed word "salopian".
Some older books give the disguised numeral marks to Caughley but they really belong to Worcester.
The Caughley works were sold to John Rose at Coalport in 1799.
Recommended reading:
Caughley & Worcester Porcelains by Geoffrey Godden
Lesser known English Porcelain Factories.
"A" mark factory
About thirty pieces with an A mark, either incised or painted, are known and all of them have been found in England, which probably indicates an English source. They appear to be a type of hard paste with polychrome decoration in the European style. The decorations are taken from Gravelot's engravings which were printed in London in the 1740s and this suggests that the decoration may have been done in the 1750s.
One theory suggests that they were made by Alexander Lind who was working for the Duke of Argyll near Edinburgh about 1750, and that the A stands for Argyll.
Recent research has offered the possibility that -A- marked porcelain was the product of the first Bow patent and was made at Bow using imported clay from America. It was first found by Andrew Duche in the Appalachian mountains of Carolina and exported by him to Bow.
Kentish Town (1755-1756)
During Whitsuntide of 1755 John Bolton was prevailed upon by William Kempson to leave the employ of Crisp and Saunders at Vauxhall.
William Kempson and Michael Alcock were button makers in Birmingham and it was with the thought of making porcelain that they sought the services of John Bolton. They were somewhat successful as apparently some wares were made or decorated.
This fact is gleaned from the bankruptcy petition against Alcock and Kempson, which states that monies were owed to tradesmen and labourers.
James Giles had a decorating establishment in Kentish Town and later on he may have used the kilns of Alcock and Kempson.
Isleworth (1766-1800)
Both Chaffers and Llewellyn Jewitt record the knowledge of this factory in the late 1800s.
Following excavations on the site in very recent times (1997) a small group of porcelain products have been drawn together under the Isleworth banner of this "new" factory. The porcelain is phosphatic and some pieces that have previously been attributed to Derby, Lowestoft and Bow can now bear an Isleworth label.
The families involved were Joseph Shore and his two daughters, Ann and Mary. Ann married Benjamin Quarman and Mary married Richard Goulding. Goulding had been in Worcester and may have picked up knowledge in porcelain there.
Recommended reading :
Isleworth Porcelain by Anton Gabszewicz and Roderick Jellicoe
Bovey Tracey (1767- )
It appears that Nicholas Crisp, following his bankruptcy at Vauxhall, was experimenting with porcelain at Bovey Tracey in 1767. Crisp is mentioned several times in Cookworthy's correspondence; whether Crisp was making porcelain in marketable quantities is unclear, and to what extent his connection with Cookworthy ran is also confused.
Suffice it to say that there was some co-operation and advice between the two in the years 1767/8.
It is interesting to note that Cookworthys comments on Crisp's porcelain suggest that it had a yellowish tinge and that at a Phillips auction in London recently a pair of sauce boats were sold which had a yellowish tinge and bore a tentative attribution to Bovey Tracey.
Wirksworth China Factory (1772-1777)
There was certainly a porcelain factory at Wirksworth during this period as contemporary records mention invoices for materials, advertisements for labour and the sale of stock etc. Josiah Wedgwood mentioned this factory in 1775, stating "...a china works, lately begun at Wirksworth, by Mr Gell of Hopton who lately made some use of a fine white clay found near Brassington in Derbyshire..."
Goods produced included tea and coffee wares, bowls, figures, jugs vases etc. with on and under glaze printing being done.
It is fair to assume that, given the Derby factory was only 13 miles away, quite a number of workers from this factory would have been employed at Wirksworth and would have taken their various skills with them. So that when the products are identified we should probably look for some similarities with the goods from Derby.
Pierre Stephan and his son John are both recorded as going to Wirksworth from Derby.
The factory was in decline by 1777 and sales notices in the Derby Mercury tell of the disposal of equipment and stock.
It is also possible that there is some connection between Wirksworth and the infant factory at Caughley and that Turner may have bought some of the moulds etc
Factory marks on Antique English Porcelain.
Probably less than 50% of all Antique English Porcelain and pottery from the 18th and 19th centuries has a factory mark. You have to learn to look for other signs.
The key indicators to look for in identifying a piece of antique English porcelain include the type of paste, the shape, the glaze, the colours used (either under or over glaze), the mouldings, the handle and the finial forms.
The whole of these observations will often suggest a certain factory and then the mark, if any is present, should confirm your observations rather than using the mark itself as the sole decider of the items origins.
It's not that easy and many pieces remain unattributed.
You will only learn to tell original pieces apart by personally handling and checking an antique porcelain object against pieces that have known attributions.
Recommended Reference Works on Antique English Porcelain.
A Collectors History of British Porcelain -- by John & Margaret Cushion (A.C.C.)
Eighteenth Century English Porcelain -- by Geoffrey Godden (Granada)
Encyclopaedia of British Porcelain Manufacturers -- by Geoffrey Godden (B & J)
Staffordshire Porcelain -- by Geoffrey Godden et al ( Granada)
Porcelain Through The Ages -- by George Savage