The Antique Marks Glossary covering Antique Terms (M)

Here you will find antique terms and related words beginning with the letter 'M' including definitions and short histories covering everything from MacIntyre to the Martin Brothers, Moorcroft, Minton and Musket.
Listed alphabetically, so simply scroll through or use the search function to find the word or term you are looking for.
Georg Heinrich Macheleid (1723-1801) Inventor of Thuringian porcelain. Macheleid finished his studies then worked as a preacher in
the principality of Schwarzburg-Rudolstadt.
Around 1755 Macheleid gave up preaching and started the re-invention of the mysterious "Arkanum".
In 1757 he worked in Sitzendorf, a small village in the valley of the river Schwarza. There Macheleid tried mixing different local soils. One legend states that he had success after an old beggar sold him special sand from the surrounding hills.
Macheleid tried to find the beggar again but was unsuccessful and had to discover for himself where the old beggar got the special sand. Finally Macheleid found the soil in a quarry near Koenigssee.
The porcelain from his first experiments with the new soil was very good; so Macheleid decided to ask the prince of Schwarzburg-Rudolstadt for an exclusive licence. The prince agreed and the Volkstedt factory was founded in the spring of 1762.
machine knotting (carpets - mechanical - hand knots)
Mechanical carpet-making technique for reproducing hand-knots, usually Turkish, invented in Britain c. 1900. Later machines were able to produce a wider variety of knots and patterns in more varied colours. Belgium is particularly well known for machine-knotted carpets in a variety of Oriental patterns .
james macintyre, & co (ceramics - staffordshire - art pottery - moorcroft)
Staffordshire pottery at Burslem from c. 1847 which mainly produced utility ceramics. The company opened an art pottery studio in 1897, for a time under the direction of William moorcroft before he set up independently; this closed in 1913. See: Antique Moorcroft Pottery and Moorcroft History
1869-1928) Scottish architect, designer and leading art nouveau figure. Mackintosh's best-known building was the new Glasgow School of Art (1897), where he himself had been trained and which became the focal point for a group of revolutionary designers - the glasgow school -around the turn of the century. See: Art Deco Artists and Art Deco Designers
arthur mackmurdo, (architect - designer - century guild - art nouveau)
(1851 -1942) Architect, designer of textiles, wallpapers and furniture, and a pioneer of the art nouveau decorative style in Britain. He founded the Century Guild (1882), which aimed to put glass-blowing, pottery, woodcarving and other decorative crafts on a par with painting and sculpture. Mackmurdo's lasting contribution to 19thC design was his swirling decorative motif (often seen on his chair backs), later widely adopted by Art Nouveau artists. He also had a considerable influence on the architect-designer Charles voysey. See: Art Nouveau Artists and Designers
magic lantern (toys - projector - glass slides)
A simple image projector using hand-painted or photographic glass slides. The images were initially lit by natural light, candles, oil or gas. Then came limelight (lime glows brilliantly when hot) or paraffin lamps, some of which were later converted to use electricity. The magic lantern was especially popular during Victorian and Edwardian times and used at public shows and as a form of home entertainment.
A navigational device for finding the earth's magnetic north. It has been used in Europe from the 13thC to the present day
maggot (ceramic - meissen - buddha - pagods)
French name for a chinoiserie figure - usually a Chinese Buddha -which was produced in the 18thC by many European porcelain factories including meissen and chantilly. During the 19thC the word was also used in a derogatory manner to describe chinese export porcelain. Magots are also known as pagods .
mahogany(wood - furniture - durable)
Strong and durable, close-grained hardwood native to central and northern South America and the West Indies. Mahogany varies in colour from red to dark brown and is sometimes spotted. The wood was first imported in quantity to Europe in the early 18thC. Because of the great girth and height of the tree, the timber was available in lengths and widths previously unknown to European craftsmen, enabling them to use a single cut of wood for a table-top or the front of a large piece of furniture. Mahogany furniture became a British speciality in the mid-18thC, and was used by all major cabinetmakers, but spread later to France and, with the French empire style, to the rest of Europe. In the 1800s African mahogany, which is lighter in weight, began to be used .
maine gauche (militaria - dagger - left hand)
Dagger used in the left hand to parry an opponent's blade while using a rapier. It was popular in Europe in the 16th and 17th centuries.
maiolica(ceramic - tin glaze - earthenware)
Glazed earthenware produced in Italy from the 13thC, although the term 'maiolica' was not coined until the 14thC. It originally applied to hispano-moresque lustreware imported to Italy from Spain via the island of Majorca - from which the word is thought to be derived. Maiolica production reached its peak during the 16thC at centres such as Faenza and Florence, and led directly to the development of faience in France
majolica (ceramic - lead glazed - earthenware)
19thC British and US lead-glazed earthenware which echoed the strong colours, rich relief work and thick glazes of 16thC Italian maiolica, especially that produced by the Della Robbia family in Florence, Italy, in the 16thC.
Majolica was introduced in Britain by Minton, using a cane-coloured body to set off the thick, coloured glazes. wedgwood followed suit, reviving its 18thC green-glazed ware with leaves moulded in relief, and using a white earthenware body and translucent glaze. The finest exponent of all, however, was probably George Jones, also of Staffordshire. The popularity of majolica spread to Sweden, throughout Europe and North America in the late 19thC, often drawing design ideas from the Far East.
louis majorelle (furniture - art nouveau - art deco - 1859-1926)
French art Nouveau and art deco furniture-maker and metalwork designer who was a key figure in the nancy school, and in 1925 served on the jury of the Paris exposition internationale des arts décoratifs. His studio, Maison Majorelle, operated from the late 1890s until the Second World War. Majorelle's early furniture exhibits flowing, sculptural forms and fine proportions; later pieces follow the more geometric lines of Art Deco. He also produced elaborate metal mounts for daum glassware and lamps. see art deco artists
malachite (gemstones - green - faberge)
Bright green stone with bandings and circular markings in dark and pale green. It is found mainly in Russia, and used for table tops, veneers, vases and inlaid decoration, and in jewellery, either carved or cabochon cut. The Russian jeweller fabergé used the stone extensively .
16th.
mandarin palette (ceramic - decoration - chinese - famille rose)
A combination of enamel colours including a distinctive purplish-red and pink, and gold - a variant of the famille-rose palette - used on chinese export porcelain in the late 18th and early 19th centuries. Typical panel scenes of families out-of-doors, sometimes alternating with panels of flowers, are set against a densely celled or trellised ground and often framed in underglaze blue. The palette was imitated on some English porcelain and stone china.
mandau (militaria - sword - borneo head hunter)
Borneo head-hunter's sword. The blade is often decorated and the hilt is carved from bone or horn, sometimes in the shape of an animal's head. The scabbard is made of two pieces of wood bound together with thongs.
mantel clock (clocks & watches - spring driven - mantelpiece)
A general term for any spring-driven clock specifically designed to be placed on a mantelpiece, generally smaller and shallower than a bracket clock, and without a carrying handle. see: Antique Clocks - The history and the clockmakers and Antique Mantel Clocks for Sale
maple (wood - american - birds-eye - fiddleback)
The field maple, one of the first North American woods to be exported to Europe for use in the furniture trade. It is whitish in colour with veins and wavy darker lines running through, polishes to a fine finish and is excellent for turning. The American sugar or hard maple is distinguished by highly decorative markings known by the apt names of 'bird's-eye', 'fiddleback', 'blister' and 'curly', which are caused by buds that failed to break through the bark. Bird's-eye maple, in particular, was popular for veneers in the early 19thC Regency period and for Victorian and Edwardian bedroom suites.
marbled glass (glass - venetian - agate - onyx)
Streaked glass with the appearance of marble. It was made in Venice from the 15th to 17th centuries and involved combining two or more colours of molten glass. See agate glass and onyx glass.
marbling (furniture - decoration - marble imitation)
The process of decorating a surface to resemble marble, practised in Europe from the 13thC. It was used particularly on woodwork and furniture from the early 17thC and on table and commode tops in the 18thC. The late Victorian arts and crafts movement disapproved of such imitation of an authentic material, but marbling made a comeback in early 20thC furnishing and decoration.
marcasite (ceramic - lead glazed - earthenware)
Originally common crystallised iron pyrites (iron sulphide), and later a misnomer for pyrite or white iron pyrites (iron disulphide). True marcasite is almost white, resembling pale bronze. The substitute pyrite was popular in Europe from the 18thC. Marcasite is usually set in silver or pewter and rose cut (see jewel cutting) or mounted in a pave setting to increase its sparkle.
A large Austrian silver coin always dated 1780 and bearing the head of Empress Maria Theresa, also known as an MT dollar (the word 'dollar' comes from thaler). The coin is still being struck today to the original design, and persists as a standard bullion-style currency in some parts of the world, including the Middle East.
maurice marinot (ceramic - lead glazed - earthenware)
(1882-1960) French painter and leading art deco glass-maker, mainly active 1911-37. Many of his pieces feature deliberate inclusions in the glass, such as bubbles or chemical specks, and his early work (pre-1922) is often decorated with brightly coloured enamel flowers or figures. His output was limited and most has been lost, but his influence was considerable both in Europe and the United States.
daniel marot (ceramic - lead glazed - earthenware)
(1663-1752) French-born architect and designer. Marot worked in Holland and England as architect to William of Orange. He was probably the first designer in Britain to create complete room interiors (furniture, hangings, upholstery and fittings), some 70 years before the Adam brothers. His baroque designs influenced furniture designers such as William kent.
marotte (ceramic - lead glazed - earthenware)
See poupard.
Style of decorative glassware (literally translated as 'marquetry on glass')developed by the French designer Emile gallé. Pieces of hot glass, often shaped like flowers, were smoothed into a glass object of contrasting colour by marvering when the glass was still molten.
marquetry (ceramic - lead glazed - earthenware)
Decorative veneer on furniture which is made up of shaped pieces of wood, or other materials such as ivory, metals and mother-of-pearl, arranged in a pattern of contrasting colours. Floral designs and seaweed marquetry are often seen, as are geometric patterns (see parquetry). Marquetry largely replaced inlaid decoration in the early 17thC, firstly in Germany and the Low Countries; it was taken up by the French ébénistes, and in Britain from c. 1675. The neoclassical period in Britain brought a resurgence of interest in the technique during the 1760s.
marquise (ceramic - lead glazed - earthenware)
See love seat.
Group of prominent 18thC faience factories in southern France noted for their informal, brightly coloured enamel-decorated wares, featuring scenes from nature incorporating flowers, fish and seascapes, produced before 1770. Some of the finest work was from the factory run by Veuve Perrin.
martel (ceramic - lead glazed - earthenware)
French for 'hammered' and used to describe the uneven surface given to metal, especially copper and silver, by hammering, as a form of art nouveau decoration. The term also applies to the faceted glass, which resembles hammered metal, invented by the daum brothers.
martha gunn (ceramic - lead glazed - earthenware)
See toby jug.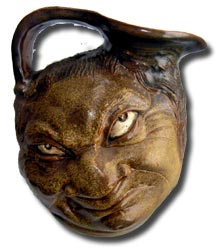 martin brothers (ceramic - gothic - stoneware)
The Martin Brothers pottery was founded by the eldest of the group, Robert Wallace Martin (1843–1923), who trained in sculpture at Lambeth School of Art and later at the Royal Academy of Art.
He set up his first pottery in the 1860s, where he made terracotta sculpture. See: The Martin Brothers Pottery and Martinware Pottery Marks
marvering (ceramic - lead glazed - earthenware)
Process of rolling molten glass on a marble or smooth iron table to shape it and to add decorative effects as in iced glass or latticing. The surface is known as a marver, from the Italian word for marble.
maser (ceramic - lead glazed - earthenware)
Wide, flat-bottomed shallow bowl made of turned wood, usually maple, or sometimes walnut or beech, used from the 13th to 15th centuries.
match vase (ceramic - lead glazed - earthenware)
See spill vase.
matchlock (ceramic - lead glazed - earthenware)
The earliest gun-firing mechanism, developed in the early 15thC, in which the powder charge was ignited by a glowing wick (or 'match') soaked in nitre and dilute alcohol, and held in an S-shaped pivot called a serpentine. When the trigger was pressed, the serpentine moved forwards and applied the match to the powder in a pan so igniting the main charge. The mechanism was used in the Orient long after it had been discarded in Europe.
matryushka (ceramic - lead glazed - earthenware)
Traditional wooden Russian peasant dolls of varying sizes that fit inside each other. Matryushka means 'little mother'.
matt gilding (ceramic - lead glazed - earthenware)
See gilding.
matting (ceramic - lead glazed - earthenware)
Method of giving a textured, matt appearance to a silver or other metal surface, either by using acid or by punching closely spaced dots with a punch or similar tool. The process dates from the 16thC and was widely used in the 17th and 18th centuries for decorating vessels. In the 19thC, matting commonly served as a background for cast or chased ornament, and relief design and matted gold was especially popular in 19thC jewellery. It is also known as bloomed gold.
mayhew, john (ceramic - lead glazed - earthenware)
See ince & mayhew.
mazarine (ceramic - lead glazed - earthenware)
1 Dish liner, usually of silver with decorative pierced patterns, to fit in a fish or meat dish so that the juices can strain.
2 Rich, deep blue ceramic colour, characteristic of sèvres porcelain. The colour was imitated at worcester, and also at chelsea from c. 1755, particularly during the red anchor period.
mean time (ceramic - lead glazed - earthenware)
The standard form of time measurement shown on most clocks, representing the average (or 'mean') of the differing daily rate of solar time. Solar time is time measured by the course of the sun as on a sundial; it is inconstant, differing slightly from day to day. Sidereal time is time as measured by the motion of the stars. The sidereal day is four minutes longer than a solar day, and there is one day less than in a solar year. The equation of time indicates the difference (either fast or slow) between solar and mean time, which agree only on four days in each year -April 16, June 14, September 1 and December 25. An equation dial on a clock or watch shows the interrelation between mean time and solar time, either by two sets of hands or on a subsidiary calendrical dial.
measham ware (ceramic - lead glazed - earthenware)
See barge ware.
medallion (ceramic - lead glazed - earthenware)
Thin, oval or circular tablet, used as a decorative motif - in Oriental carpets, for example - inset into a panel of furniture, embedded in glass for display purposes, decorated with painted or relief motifs on ceramics, or, in terms of jewellery, worn as a pendant or brooch.
medici (ceramic - lead glazed - earthenware)
Porcelain factory founded by the Grand Duke Francesco I de'Medici; the first producer of soft-paste porcelain (c.1575-87).
meerschaum (ceramic - lead glazed - earthenware)
A white, soft, porous mineral suitable for carving, taken from the German word for 'sea foam'. It was exported from Turkey and the Black Sea to Vienna, Budapest and Paris in the 18th and 19th centuries where it was made into pipes, cigarette holders and ash bowls. Peak production was c. 1870-1900. It is also known as sepiolite.
meiji period (ceramic - lead glazed - earthenware)
Japanese period (1868-1912) during which art was affected by increased contact with the West, including industrialisation, European techniques and the export of Japanese wares worldwide.
meiping (ceramic - lead glazed - earthenware)
Chinese vase form, with a narrow neck and broad, bulbous shoulders. The vases were designed to hold a single stem of cherry blossom.
meissen (ceramic - lead glazed - earthenware)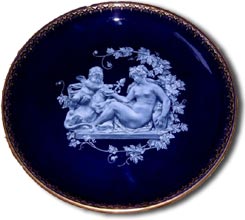 The first true porcelain producer in Europe, some 12 miles (19 km) from dresden, in what is now the south-eastern part of Germany. The man responsible was Johann bottger, Meissen's first director in 1710, who discovered the secret of making white hard-paste porcelain c.1708 - over 800 years after the Chinese. See: Meissen Porcelain Section
Born Oct. 12, 1742, Lindorf, near Düsseldorf, died June 13, 1825, Nymphenburg. Modeller in porcelain, best known of the artists associated with the great German porcelain factory at Höchst.
As a child he showed an interest in drawing, painting, and sculpture, and a relative apprenticed him to a sculptor in Düsseldorf. He became sufficiently well known to be named Modellmeister in 1767, a post he held until 1779. He later worked at the factories
at Frankenthal (1779-93) and Nymphenburg (1797-1822).
Melchior was a transitional figure between Rococo and Neoclassicism. His early work was graceful and often sentimental, and his favorite subjects included religious groups, pastoral scenes, characters from mythology, and children. As his career progressed, his work became less sentimental and more neoclassical.
memento mori jeter (ceramic - lead glazed - earthenware)
See mourning jewellery
mennecy (ceramic - lead glazed - earthenware)
French soft-paste porcelain and faience factory founded in Paris, 1734. It was moved to Mennecy 1748, then to Bourg-La-Reine 1773, and was closed in 1806. Typical porcelain products included tea services, small vases, knife handles and novelties such as snuffboxes and walking-stick heads in a muted Rococo style. Porcelain production is thought to have ceased c. 1780, and cream ware was produced instead.
French joiner who specialised in making small (menus) objects in plain or carved woods, as distinct from an ébéniste who specialised in veneered work. The distinction was in force from the mid-17thC until the French Revolution of 1789, after which time the guilds were disbanded.
See kodogu.
mercury gilding (ceramic - lead glazed - earthenware)
See gilding.
merton abbey (ceramic - lead glazed - earthenware)
English arts and crafts factory in South London founded by William Morris in 1881 and in operation until 1940. It produced carpets, printed textiles, stained glass and wallpaper. William de morgan and the artist Edward Burne-Jones were linked with the factory.
mestrelle, eloye (ceramic - lead glazed - earthenware)
French coin-maker who introduced the first mechanical coining techniques to Britain c1560. Ousted from the Royal Mint by fellow workers who feared that the improved production methods might cost them their jobs, Mestrelle turned to forgery, for which he was eventually hanged (d.1578)
metal (ceramic - lead glazed - earthenware)
A glass-making term for the fused ingredients, in either molten or solid form, from which glass is made.
metal head dolls (ceramic - lead glazed - earthenware)
Dolls with metal heads on kid, cloth, composition, wooden or metal bodies, dated from the mid- 19thC. The head was stamped out of sheet metal, such as brass, copper, zinc, lead, pewter or tin. The majority of metal heads were made in Germany c. 1861 until the 1930s and exported to Britain, France and the USA during the early 1900s.
metamorphic chair (ceramic - lead glazed - earthenware)
See library steps.
Lead glazed red earthenware, decorated with white trailed slip, and used to make chamberpots, bowls, mugs and jugs, in London c1630-1730
mezzotint (ceramic - lead glazed - earthenware)
The entire surface of the copper plate is roughened with a tool called a rocker, and then areas are scraped or burnished to produce different textures that are more or less receptive to ink; rough areas retain the ink and form the shaded parts of the design, while the smooth, polished sections remain ink-free.
microscope (ceramic - lead glazed - earthenware)
Scientific instrument used for magnification, especially of objects too minute to see clearly with the naked eye. Early single-lens microscopes were little different from magnifying glasses, but in 1590 Dutchmen Hans and Zacharias Jannsen invented the compound microscope, which had a lens at each end of an adjustable tube. The image was blurred at high magnification, and development was slow until the invention of the achromatic lens about 200 years later.
(1886-1969) German architect and designer working in the early 20thC Modernist style. He produced simple, stylish furniture from the 1920s onwards, experimenting with chromium-plated steel to create, among other chair designs, his Barcelona chair of 1929 which is still in production today. He was director of the German bauhaus school of design from 1930, and emigrated to the USA in 1938.
mihrab (ceramic - lead glazed - earthenware)
A motif based on the shape of a prayer niche in a mosque, commonly a dominant part of the pattern on Oriental prayer rugs. Although the mihrab is primarily associated with Islam, it actually predates Moslem carpets and was probably an ancient symbol which was simply adopted by the Islamic world.
millefiori (ceramic - lead glazed - earthenware)
Italian for 'thousand flowers' — a decorative glass-making technique. The 'flowers' are made from transverse slices of coloured glass canes, which are embedded in a clear glass body when it is still in a molten state. Although the technique was used in early Egyptian and Roman mosaic glass, the name millefiori was not applied until the 16thC when it was revived in Venice. It has since been applied to vases, bowls, door knobs and paperweights some of the best producers being baccarat, bacchus, clichy, st Louis and tiffany. (see; Antique Glass Paperweight Collecting.
milling (ceramic - lead glazed - earthenware)
See graining.
minaudier (ceramic - lead glazed - earthenware)
See van cleef & arpels.
ming dynasty (ceramic - lead glazed - earthenware)
The penultimate of the great Chinese dynasties, 1368-1644. The period saw a diversification and consolidation of already established porcelain techniques including the perfection of blue and white wares. enamel colours were introduced in the late 15thC and Ming porcelain was traded with the West from the 16thC. The trade grew rapidly, so that by the end of the period, exports of ceramics, textiles, lacquer and other works of art were thriving. The dynasty fell to the invading Manchus who founded the qing dynasty.
miniature (ceramic - lead glazed - earthenware)
The term on its own usually refers to miniature paintings up to a few inches across. Miniature portraits were developed from illuminated manuscript work and were popular from the 16thC onwards. They are usually in watercolour or gouache; early examples are on vellum and from the 18thC on ivory. Oil miniatures are rare, generally dating from the 16th and 17th centuries and of Dutch or Flemish origin. Enamel on metal miniatures, popular in the 18th and 19th centuries, were often found on objects of vertu. See plumbago. Miniature furniture was produced in the 18thC both as proof of a cabinet-maker's skill (they were sometimes required as final proof of an apprentice's readiness for entry into the trade, and were known as apprentice pieces) or as advertisements, to be placed in a shop front to attract attention. Miniature ceramics popular in the late 18th and 19th centuries, especially in Britain, include domestic tea and coffee services, made for some dolls' houses. Miniature books under 3x2 in (75 x 50 mm) were produced from c. 1773, including calendars, Bibles, church notes and tide tables.
mintmark (ceramic - lead glazed - earthenware)
A small letter or symbol on a coin that denotes its place and sometimes its period of origin. On British hammered coins, a change of mintmark normally occurred following a trial of the pyx.
minton (ceramic - lead glazed - earthenware)
One of Britain's leading ceramics factories during the Victorian era. It was founded by Thomas Minton at Stoke-on-Trent in 1793 and throughout its history has often led the way in adapting fashions to the field of ceramics, resulting in a huge range of styles. Minton were just behind Spode in the production of bone china c1800. In 1850 Minton introduced the richly coloured and heavily glazed majolica, but the most ambitious and notable contribution to ceramics history was the intricate and expensive pate-sur-pate decoration applied to Classically shaped vases ... See: Antique Minton Porcelain and Thomas Minton
An early form of the flintlock mechanism, also known as a Mediterranean or Spanish flintlock, in use from the first half of the 17thC to the 19thC.
Painted decoration applied to glass, especially mirrors and snuff bottles. The technique is also known as reverse painting because the foreground details are painted first and the background details last.
A cut-glass technique using a V-edged wheel to make a sharp groove.
A combination of two different cutting styles on a gemstone. See jewel cutting.
A combination of two or more postage stamps from different countries appearing on the same envelope. Before international traffic of mail was regulated in 1874, an envelope might acquire an extra stamp for each country it passed through to cover the next leg of postage.
Pottery decorated with moss or fern-like designs. It is named after mocha stone, a form of quartz with branch-like markings. A drop of pigment, said to be composed of tobacco juice, stale urine and turpentine, grew chemically on a slip-coated body while it was still slightly moist achieving the feathered effect. Mocha ware was produced for especially in the form of mugs and jugs, from the 1780s and throughout the 19thC.
In the ceramics industry, the sculptor or workman responsible for the creation of a 'master' figure, group or any three-dimensional form. The master model is then cast so that moulds can be made and the original figure copied repeatedly for commercial production.
Loosely used term for work by early 20thC designers and architects, which attempted to create a new approach to design suitable for a technological world. Modernism was embraced by international designers experimenting with new materials and techniques, including Walter Gropius, Marcel Breuer, le Corbusier and Ludwig Mies van der Rome.
Material originally made from pure spun goats' hair, and later from a mix of spun wool, cotton and silk, used for upholstery and hangings in the 17th and 18th centuries. Mohair was also used to make dolls' wigs in the 19thC.
Finely ribbed furnishing fabric, usually silk or silk mixture, that has a lustrous finish with a watered or wavy figure. The word is a French adaptation of mohair, from which the fabric was first made. Moreen or morine is the now obsolete English version of moiré, which referred to a strong woollen material sometimes mixed with cotton and used for bed and window curtains in the 18thC.
A decorative support used on tables and chairs, consisting of the head and one leg of an animal, usually a lion. The monopodium was first seen in Roman furniture, and was revived by late 18thC neoclassical designers such as Thomas hope.
Large silver or sometimes ceramic bowl with a notched or scalloped rim which appeared in late 17thC Britain and Europe. It was initially used to cool wine glasses, which were suspended over ice or in iced water from notches around the rim. Later examples often have a detachable rim, allowing the bowl also to be used for serving punch.
Translucent spots, sometimes also known as stars, in some French and British soft-paste porcelain caused by bubbles in the paste, seen when a piece is held up to the light.
Colourless gemstone with a blue sheen from the feldspar family, found mainly in Sri Lanka. Moonstones were very sought after in the late 19thC and were popular with arts and crafts jewellers.
Moorcroft worked for James macintyre & Co from 1898. Backed by the liberty family, he established his own factory at Cobridge, Staffordshire in 1913. Moorcroft's early pieces were art nouveau style in a palette of blues, greens and yellows. From the early 20thC he experimented with different finishes, including lustre, vivid flambé glazes and from the 1930s, matt glazes combined with simple forms and dramatic colouring. See: Antique Moorcroft Pottery and Moorcroft History and Rare William Moorcroft Pottery.
(1850-1935) Staffordshire artist-potter whose successful experimentation with Chinese flamb and sang-de-boeuf glazes became a characteristic of his work. He produced simply shaped decorative ware such as vases in porcelain and earthenware forms, much of it decorated by ceramics artists such as Hilda Beardmore.
(c. 1670-1726) Royal cabinet-maker at the time of King George I and in partnership with John gumley from 1714. Moore supplied quality carved and gilt gesso furniture to many aristocratic houses.
Hand-knotted carpets made by Thomas Moore in Moorfields, London, in the mid 18thC. Moore was the main competitor of Thomas Whitty, founder of the axminster Carpet Manufactory, and produced high-quality pieces in neoclassical style, many for the architect Robert Adam.
Sturdy carpeting and upholstery textile woven in a similar manner to velvet - on narrow looms, using coarse wool and linen. The production of moquette carpets, also known as brussels carpets, occurred from the 16th to the 18th centuries in Britain at kidderminster, wilton, Norwich and Bradford.
crested 16th- 17thC metal helmet with the brim upcurving at front and rear.
Fine-grained, elastic, soft but firm leather used by bookbinders, upholsterers and furniture-makers. It was originally goatskin, produced by the Moors in Spain and Morocco; later, sheepskin was also used. Morocco leather became a popular bookbinding material in Europe from the 16thC, and by the 18thC was also used for the production of furniture.
(1834-1896) Artist-craftsman, designer, social reformer, writer and the main inspiration behind the arts and crafts movement. See: William Morris Arts and Crafts Artist
Walrus tooth, which was carved into small decorative and religious pieces in northern Europe. It has a slightly different texture from elephant ivory, is harder to carve and liable to crack. See scrimshaw.
Flat bottomed bowl used in Europe from the 11thC for pounding pharmaceuticals or foods. Mortars are usually made from a hard material such as marble, stone or bronze, and are used with a pounding utensil of the same material called a pestle.
Coloured glass made since ancient times and popular in the late 19thC. Pieces of glass are fused together, the colours remaining separate, then stretched into a long cane which is sliced crosswise or diagonally. The slices are then arranged on a core of the desired shape, covered with an outer mould to hold everything in place and heated until their edges fuse together. Alternatively, mosaic glass is arranged in flat plaques for use as hung decoration, or reheated and blown or shaped into various objects, including millefiori and jewellery.
See vienna secession, wiener werkstatte
The smooth, iridescent lining of the shell of certain molluscs, including pearl, oyster, abalone, nautilus and river mussel. The iridescence fades on exposure to sunlight over time. Mother-of-pearl, also known as nacre, is used in jewellery and was popular for inlaid decoration and marquetry mainly in the 17thC, and in the 19thC on papier-mâché furniture.
One of the earliest types of doll with a degree of articulation in the limbs, made by German doll-maker Charles Motschmann in the 1850s. The upper arms and legs and torso are made of cloth, and the head, upper chest, pelvis and lower arms and legs are of non-flexible material such as composition. A press squeaker was often inserted into the cloth midriff. Although his name has become a generic term for such dolls, Motschmann was neither the first nor the only manufacturer to make them. moulded glass Glassware made by blowing or pressing molten glass into a mould; produced in antiquity, and commercially since the 1830s.
Any shaped ornament or projection cast in plaster or carved in wood or stone and applied to furniture, furnishings or to frame wall panels. Most mouldings are based on architectural features, especially those used c. 1720-1850, which were mainly taken from Classical Roman and Greek architecture. Non-architectural mouldings include the bead and quirk, bead and flush, and bead and butt, all of which were invented by joiners, often to disguise joints.
Term for all metal parts found on furniture, whether part of the construction - applied to prevent wear - or performing some function, such as a hinge or keyhole. Mounts can also be purely ornamental as in the ormolu or bronze decoration on 18thC French and British furniture. The term also embraces silver or other metal parts applied to glass and ceramic objects, such as handles and spouts on jugs and decanters.
Articles of jewellery worn in memory of the deceased. Money was often allocated in the will of the deceased for spending on memorial jewellery. From the late 18thC onwards, brooches, pendants and particularly rings were typically set with gemstones and decorated with sentimental motifs, including weeping willows, broken columns or a lock of hair from the dead person. Mourning jewellery in jet, or glass imitations of jet, reached its height of popularity after the death of Prince Albert, Queen Victoria's consort, in 1861. Similar items of jewellery with motifs such as skulls, skeletons or coffins were intended as a reminder of mortality. These are known as memento mori, literally meaning 'remember you must die', and were common during the 16th and 17th centuries.
Mid-19thC cup with a small guard added to the rim to prevent the user's moustache getting wet. Alternatively a moustache mount could be clipped onto the rim of a cup.
Spoons with a moustache guard, made in silver and electroplate for left or right-handed use and patented in the USA in 1875.
Group of leading faience factories in southern France, operational from the 17thC. The best work was produced c. 1710-40, using motifs based on the designs of leading Louis XlV-style draughtsman Jean berain in an underglaze blue on a white base. The designs made extensive use of grotesque and arabesque patterns.
The complete mechanism of a clock or watch, automaton or musical box, also known as the works. The movement can be weight, spring or electrically driven. See train.
(1860-1939) Czech-born artist, illustrator and designer of textiles, furniture and jewellery, known particularly for his art nouveau posters of the French actress Sarah Bernhardt. He lived in Paris, where he collaborated on designs with French jeweller Georges fouquet, before moving to New York in 1904 where he worked with Louis Comfort tiffany.
(1715-94) Innovative clock and watchmaker, who was apprenticed to George graham. Mudge invented the lever escapement c. 1754 - the forerunner of the escapements found in modern mechanical watches and travelling clocks. From c. 1770 he worked mainly on marine chronometers.
A long chain worn around the neck with fasteners at each end to be joined when threaded through a lady's fur muff.
1 Round dish with domed cover used for serving hot muffins.
2 Small caster first used late 18thC for sprinkling muffins with cinnamon or salt. Examples are usually of silver, sometimes with a porcelain body, and have finer holes than a sugar caster.
Term used from the mid- 17thC for a drinking cup with a single handle and rim without a lip. Mugs are generally smaller than tankards and usually lidless. They are found in silver, pewter, glass or ceramics and were used for beer, wine or ale; small silver mugs were made for children.
A hard, heavy, golden to reddish-brown timber with dark streaks. Mulberry was used as a veneer and for small articles such as boxes, during the Queen Anne period at the beginning of the 18thC.
A coin that has been mistakenly struck on one side with a design intended for another coin, resulting in a 'hybrid' of two types that were never meant to be together.
17thC, mainly English, forerunner of the chest of drawers. It consists of a main, box-like storage area with a hinged lid, and with two drawers, side by side, beneath.
Late 18th and early 19th-century Scottish ornamental snuffbox, often with a decorated lid. Mulls were generally made of horn, ivory, shell or similar material with silver or pewter mounts, although some examples are made entirely of metal. A large type of mull was intended for passing around the dinner table. Some of these are made from a complete ram's head, and may have various utensils attached such as a spoon, a rake and a spike for mixing the snuff, and a hare's foot for wiping the upper lip.
(1893-1981) New Zealand-born architect and designer of silver, glass and ceramics. In the 1930s Murray designed simple tableware and decorative items, including engraved lead crystal for glass-makers stevens & williams, plain but elegant ceramics for wedgwood and silverware for Mappin & Webb. From 1938 he worked solely as an architect.
Late 17thC Dutch dessert plates decorated with the words and music of a song to be sung at the meal's end. They were made in delftware in the late 17thC, were reproduced at moustiers, nevers and rouen, and extensively copied during the 19thC.
Clock incorporating or linked to a musical movement which plays periodically or on the operation of a cord or lever. The tune is played on bells or a toothed comb. See carillon.
Musical watches were made in the late 18th and 19th centuries mainly in Switzerland, but also in Britain. The tune is played via a pinned, rotating disc or cylinder on a nest of bells or on a toothed comb.
Long-barrelled shoulder gun with a smooth bore, loaded through the muzzle, used from the late 16th to late 19th centuries.
The forward, discharging end of the barrel of a firearm.
A clock, usually in a novelty or ornate form, in which there is no visible connection between the clock mechanism and the dial. A common type has a standing figure holding an apparently free-swinging pendulum. The clocks were fashionable in Britain and France in the 19thC and during the art deco period, especially those made by cartier, c1920. See: Antique Clocks - The history and the clockmakers