Moorcroft Pottery, its history, artists and superb pottery products.
The Moorcroft pottery is one of the last remaining independent art potteries in the world today and still operates out of the original brick factory in Stoke-on-Trent, England
Moorcroft uses the proprietary glazes and distinctive slip-trailing methods pioneered by William Moorcroft at the end of the 19th century.
This incredibly labor-intensive process produces colourful designs of intricacy, brilliance, and clarity
Moorcroft Pottery was originally founded as a studio in 1897, within the James Macintyre & Co ceramic company.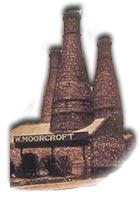 However, on its own Moorcroft pottery soon made its mark on the world.
Original ceramic designs came from 24-year-old William Moorcroft who was allowed to personalise each piece of pottery with his own signature or initials.
This did little for James Macintyre's name and reputation, and in 1912 Macintyres closed the Moorcroft art ware department and the inevitable split occurred and over 100 years of Moorcroft Pottery History began.
---
The Moorcroft Pottery today...

On the death of William Moorcroft in 1945, his eldest son Walter, took over management and design. In 1962 the Moorcroft family bought out Liberty & Co's share, but Moorcroft seldom prospered.
Finally, in 1984 the family sold the bulk of their shares on the open market and after several shareholder changes in the mid-1980's and early 1990's, Moorcroft is now controlled by the Edwards family and has been since 1993.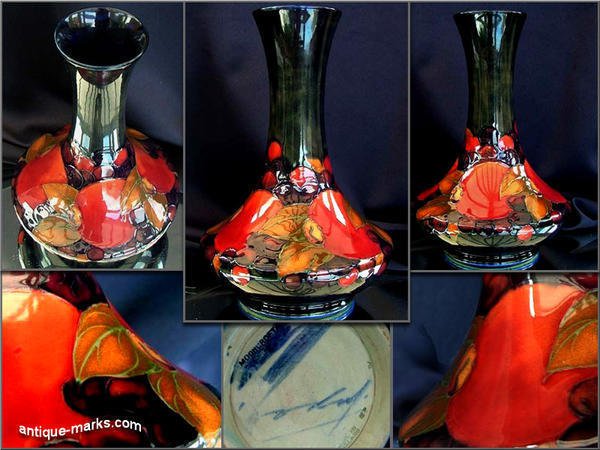 In 1979 trading in The Potteries was very difficult and as Moorcroft was only a small company it suffered badly.
In 1986 It was rescued by Maureen & Hugh Edwards and Sally & Richard Dennis. Sally became Art Director of the Moorcroft Pottery and she produced many successful designs under her maiden name of Sally Tuffin.
In 1992 Sally & Richard withdrew from the company . They now run a successful independent pottery called Dennis Chinaworks.
Maureen & Hugh Edwards have held sole ownership of moorcroft since 1993 and they support the ethic that design is all important.
Over the past nine years moorcrofts international profile has grown enormously, both in quality and in perceived value
Auctioneers Christies hold a dedicated Moorcroft sale each year.
In 2001, Sotheby's New York held a major sale that included a high percentage of Moorcroft pottery.
The Victoria & Albert museum has joined many other national museums in holding significant pieces of Moorcroft pottery in their permanent collections.

In 1993, Rachel Bishop joined Moorcroft as only its fourth designer in almost one hundred years. Just 24 years old, sales of her work flourished very quickly.
With her success came the Moorcroft centenary in 1997, and in the same year the Moorcroft Design Studio was formed, made up of eight designers with Rachel at the head.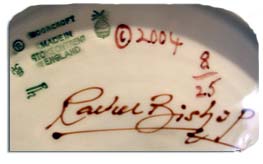 Through the new design studio initiative, and with added value coming from the skills and craftsmanship of a dedicated workforce, Moorcroft is now selling its magnificent work all over the world.
Today, the moorcroft studio designers are young and the moorcroft workforce has an average age of less than 27.
There are art and design degrees and master's degrees scattered among them, but the only true mark of success, is when designers produce work which enhances any home with its presence. Only then can they say that their reputation is international and their place in the history books assured.
Ambition, innovation, and high standards are essential prerequisites to membership of the prestigious Moorcroft Design Studio.
---
William Moorcroft Period 1872 to 1945
In 1912 William Moorcroft marched his workforce across Cobridge Park to a new factory in Sandbach Road where Moorcroft pottery is still made today.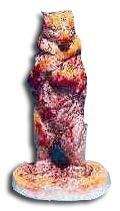 The initial setup investment came from Liberty & Co., the famous London store, and Liberty controlled Moorcroft until 1962.
In 1904, William Moorcroft won a gold medal at the St Louis International Exhibition
He followed this superb achievement with further medals and commendations, that culminated in the appointment of the Moorcroft company as Potters to HM The Queen in 1928.
1872 -- William Moorcroft born in Riley Street, Burslem.
1894 -- Macintyre present new art wares at the exhibition of Decorative and Artistic Art Ware - 'Taluf' and 'Washington Faience'
1895 -- Harry Barnard joins Macintyre from Doulton where he had been assistant to Mark V Marshall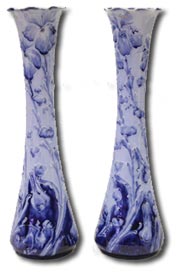 1897 -- William Moorcroft joins Macintyre at the age of 24.
1898 -- New Macintyre designs registered - Aurelian included.
1904 -- William Moorcroft wins the gold medal at the St Louis International Exhibition.
1910 -- William Moorcroft wins the gold medal at the Brussels Exhibition.
1912 -- Macintyres inform William his department is to close 30th June 1913.
1913 -- William Moorcroft awarded the Diploma of Honour at Ghent, Brussels.
1913 -- William purchases the site for his own factory. a joint venture with Liberty & Co.
1913 -- William marries Florence Lovibond on 30th April an they move to Glendair in Trentham.
1914 -- Williams daughter Beatrice is born on 28th July.
1915 -- Moorcroft attend their first trade fair at the British Industies Fair. It became an annual event and Queen Mary visited the moorcroft stand each year.
1917 -- Walter Moorcroft born 12th february.
1919 -- Moorcroft attend the War Memorials Exhibition at the Victoria & Albert Museum.
1919 -- William has a special flambe kiln built.
1924 -- Edward Maufe designs the stand at the British Empire Exhibition at Wembley.
1925 -- Exposition des Arts Decoratifs in Paris.
1926 -- Williams wife Florence dies of pneumonia in June.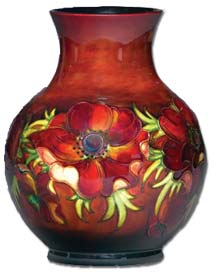 1928 -- William Moorcroft recieves the Royal Warrant and introduces a mark with 'Potter To HM The Queen'
1930 -- William wins the Grand Prix award at the Antwerp International Exhibition.
1933 -- William wins a diploma of honour at the Milan Fair.
1935 -- Walter finishes school and starts work at the moorcroft pottery.
1937 -- Duchess of Gloucester buys Walters lily flower bowl at the British Industries Fair.
1938 -- William John S Moorcroft born 29th March.
1945 -- William Moorcroft suffers a severe stroke in September and dies on the 14th October.
---
1945 -- Walter Moorcroft assumes control of the Moorcroft Pottery
1946 -- The Royal Warrant is transferred to Walter
1947 -- Unmanned stand at the British Industries Fair - Only Walter attending when Queen Mary arrives.
1950 -- Walter introduces the Columbine design on an octagonal ashtray.
1951 -- Moorcroft Blue exhibited at the Festival of Britian.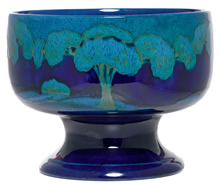 1953 -- Last British Industries Fair which Walter attended as a Royal Warrant holder.
1956 -- Walters wife Molly dies suddenly on 23rd October.
1956 -- First glost kiln demolished and electric kiln installed, with first firing in November.
1956 -- First International Spring Fair held at Blackpool.
1959 -- Walter marries Elisabeth Kirkby Thomas on 14th February.
1960 -- Liberty sell their shares to Walter and Moorcroft Pottery Ltd becomes independent.
1962 -- John Moorcroft joins the firm and assumes responsibility for sales and exhibitions.
1963 -- Powder blue production ends after 50 years.
1965 -- Hand throwing came to an end with the retirement of Ted Burdon.
1968 -- Walters first trade mission to Canada & the USA where he appoints Ebeling & Reuss as distributors.
1968 -- Walter produces the coral hibiscus pattern during his trade mission.
1970 -- The last flambe firing following the loss of the chemical atmosphere in the kiln after the change to natural gas.
1971 -- Walters trade mission to the USA, from Atlantic City to California. A break in Bermuda produces the Bermuda Lily design.
1971 -- Flambe kilns demolished.
1971 -- Moorcroft shop opened on 24th November and run by Gill Moorcroft on the site of the flambe kilns.
1972 -- Moorcroft exhibition to commemorate the birth of William, held at the V&A then touring the UK.
1973 -- William & Walter Moorcroft Exhibition organised by Richard Dennis and held at the Fine Art Society.
1976 -- Beatrice Moorcroft retires after serving as factory inspector for 36 years.
1980 -- Moorcroft exhibits in Tokyo, Japan. Organised by Tokyos Ato Gallery.
1983 -- Recession bites at moorcroft and a high overdraft and high interest rates compound the problems.
1984 -- Walter approaches the Roper family (Churchill Pottery) about merging with or buying moorcroft.
1984 -- John Moorcroft becomes managing director.
1986 -- Roper family fail to change the moorcroft business to mass production and John Moorcroft persuades Hugh Edwards - a moorcroft collector - and his wife, together with art dealer Richard Dennis and his wife Sally Dennis (Sally Tuffin), to buy 76% of moorcroft shares. John & his wife Gill retain the other 24%.
1987 -- Walter Moorcroft retires but remains a consultant to the company. Prior to his departure he designs five limited editions - Pineapple Plant - Chestnut - Tulip - Maize and Wild Arum.
---
1987 -- Moorcroft Collectors Club launches.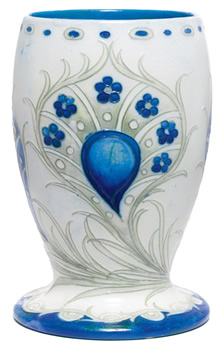 1987 -- Libertys re-stock and re-launch Moorcroft pottery with a special exhibition and a book by Paul Atterbury.
1988 -- Factory celebrates 75 years of production and bottle oven wins heritage award.
1989 -- Moorcroft museum opens on 7th June.
1989 -- Walter re-draws the entire anemone range.
1991 -- Moorcroft mosaic unveiled. It being produced by Candace Bahouth from pottery shards discovered during the car park construction.
1992 -- Richard and Sally Dennis leave moorcroft. The Edwards are now sole owners.
1992 -- Rachel Bishop commissioned to produce the first of several designs.
1993 -- Factory expands and workforce increased from 50 to 60.
1993 -- Rachel Bishop appointed full-time designer on 4th June.
1994 -- Foxglove launched at the Tokyo Great Britain trade show.
1994 -- Moorcroft buys Okra Glass Studios.
1996 -- Gill Moorcroft retires after 25 years. She started the Moorcroft shop and ran the collectors club.
1997 -- Centenary celebrations covering Williams appointment as Macintyres designer.
1997 -- Lighting strikes the historic Moorcroft bottle oven. Restoration costs amount to £200,000.
1997 -- Rachel Bishop appointed senior designer and head of design studio.
1998 -- Cobridge Stoneware PLC established.
1998 -- Moorcroft acquires Kngsley Enamels and later changes the name to Moorcroft Enamels.
1999 -- Walter Moorcroft - Memories of Life & Living. Written by Walter and published by Richard Dennis publications.
1999 -- Moorcroft Enamels launched at Liberty on 13th May. Exclusive 'Narcissus' design produced to commemorate the launch. The design based on a William Moorcroft design from 1908.
1999 -- Walter Moorcroft awarded the OBE.
2000 -- Moorcroft Millenium exhibition - Atlanta Gift Fair - Allen Wright appointed sales director.
2000 -- Winds of Change by Fraser Street published by WM publications. Moorcroft staffing levels now around 225.