The Art Deco period produced some truly inspired artists and designers.

Here we provide an index of art deco artists and architectural and decorative-arts designers that typify the art deco style.
Various Art Deco artists have grown in popularity over the past few years and none more so than the decorative arts designers like Clarice Cliff and Susie Cooper.
Art Deco is, however, all about style and stylish pieces with symmetrical lines and geometric patterns are and always will be the most in demand.
Geometric shapes coupled with superbly finished surfaces define the art in art deco.
Placing beautifully made sculptures or superbly functional seating in a minimalist or modernist design draws the eye to the work of the art deco artist.
Notable Art Deco Artists Include ...
Click the name to read more about that artist and their art deco designs.
Andre Leon Arbus (art deco, designer, 1903-1969)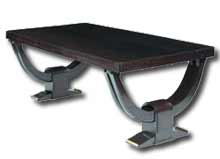 After graduating from the Ecole des Beaux Arts, Arbus joined his father's Toulouse cabinet making firm, which he later headed. Exhibiting in the Paris Salons from 1926 onwards, he moved to the capital in I930.
Arbus was awarded the Prix Blumenthal in 1935 and exhibited at the great International Exhibitions in Brussels (1935), Paris(1937) and New York (1939).
He ended the firm's production of Furniture in eighteenth century styles, his own designs were very much inspired by the more stylised classicism of the French Empire.
He rejected the rhetoric of the UAM, continuing his workshop system and incorporating luxurious veneers, bleached animal hide vellum and gilt mounts in his furniture.
Norman Bel Geddes (art deco, designer, 1893-1958)
After studying briefly at the Art Institute of Chicago, Bel Geddes worked in a Chicago advertising agency designing posters for General Motors and Packard.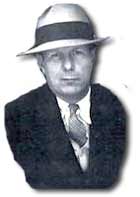 In 1918 he began a successful career as a stage set designer before turning to industrial design in 1927. Despite commissions for the Toledo Scale Co. (1929), and the Standard Gas Equipment Corp. (1932). it was as polemicist of Modernity that Bel Geddes gained greatest recognition.
His book Horizons (1932) was a manifesto for Modern streamlining which promoted a series of futuristic designs for buildings and transport systems.
Bel Geddes' positivist vision of a streamlined future reached its apogee with his' futurama '' Metropolis of Tomorrow' for the General Motors Highways and Horizons Pavilion at the 1939 New York World's Fair.
In 1958 Norman Bel Geddes died on 8th of May. In 1960 his autobiography, Miracle in the Evening, was published.
He is the father of actress Barbara Bel Geddes
A.M Cassandre (art deco, designer, 1901-1968)
Born Adolphe Jean-Marie Mouron, Cassandre studied painting and was a friend of many leading figures in Parisian avant-garde society of the 1920s, including Apollinaire, Fernand Leger and Erik Satie. His posters combined bold images with a stylised simplicity and Modern typefaces.
In 1927 he founded an advertising agency, Alliance Graphique with Charles Loupot and Maurice Moyrand. Cassandre designed three typefaces: Bifur ( 1929), L'Acier ( 1930) and Peignet (1937).
Pierre Chareau (art deco, designer, 1883-1950)
Born in Bordeaux, Chareau first exhibited at the Salon d' Automne in 1914. Trained as an architect, he exhibited in the 1925 Paris Exposition as both an architect and a decorator.
The bold curves and luxurious contrasting of exotic woods in his earlier furniture gave way in the later 1920s to a more functionalist inspired aesthetic.
As a founder member of the UAM, Chareau's belief in the relationship between form and function was reaffirmed, and from 1932 to 1938 he undertook detailed research into the development of mobile room partitions.
Chareau received commissions to design interiors from, among others, Mallet-Stevens, and his most celebrated architectural work was his 1931 collaboration with the Dutch architect Bijvoet on the Mason deVerre, famed for its revolutionary use of glass brick walls and mobile room partitions.
Serge Chermayeff (art deco, designer, 1900-)
Born in the Caucasus, Chermayeff was educated in England. His career from 1924 until his emigration to America in 1939 illustrates the gradual hardening of Modernist attitudes in Britain in the 1930s.
Nevertheless, Chermayeff's work always retained a lyrical quality which set it apart from many of his less inspired contemporaries.
From 1921 to 1927, Chermayeff was chief designer to the London decorating firm F. Williams Ltd before progressing to director of Waring & Gillows's 'Modern Art Studio', for which he designed luxurious modernistic furniture.
He joined the Modernist group MARS in the early 1930s, and worked with the German emigre Erich Mendelsohn, with whom he designed the celebrated De La Warr Pavilion at Bexhill on Sea, Sussex.
His pioneering designs for the furniture manufacturer PEL introduced the use of tubular steel in Britain. During the same period Chermayeff also designed radio cabinets for Ecko
Clarice Cliff (art deco, designer, 1899-1972)
Clarice Cliff is known throughout the world, she is possibly the most significant Art Deco ceramic artists of the twentieth century.


Initially influenced by her aunts, who were paintresses at a nearby pottery company, she began her career as an enameler at the age of thirteen and by 1916 her long standing collaboration with A.J.Wilkinson began.

In 1927 after studying at the RCA in London, Clarice Cliff returned to Wilkinsons, who introduced her 'Bizzare' wares in 1929.
During market testing Wilkinson's salesmen were stunned by the speed at which Cliff's 'Bizarre Ware' sold. At first, the Bizzare line simply consisted of her colourful painting on standard forms, but by the early 1930's new geometric forms were evolved to accommodate her innovative style.
The bold designs were such a success that Clarice Cliff became Art Director responsible for a team of over 1000 people, including a team of 70 young painters called her 'bizarre girls'.
In 1935, having married Colley Shorter the owner, she produced a number of other lines for Wilkinsons but in 1941 after the Bizzare wares were discontinued she became more involved in Wilkinsons administration.
In August 1964 Clarice Cliff decided the time had come to call it a day and sold the Wilkinson's factories to Midwinter, ending production of original Clarice Cliff works.
In 1971 Clarice Cliff was recognised as a leading art deco designer by the Minneapolis Institute of Arts, following display of a significant number of her pieces in their influential 'World of Art Deco' exhibition.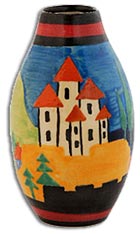 1899 -- Born on January 20th 1899 in Tunstall, Stoke-on-Trent.
1912 -- Started work at the age of 13 in 'The Potteries'.
1916 -- Moved to the AJ Wilkinson's pottery factory.
1927 -- Clarice set up her own studio. Bizarre wares launched.
1940 -- Clarice married her boss, Colley Shorter and moved to Chetwynd House.
1964 -- The factory stopped producing pottery bearing Clarice's name.
Following Colley Shorter's death Clarice sold the factory to Midwinter.
1972 -- First Clarice Cliff exhibition takes place at Brighton in 1972.
1972 -- Clarice Cliff dies suddenly at Chetwynd House on 23rd October 1972.
Susie Cooper (art deco, designer, 1902-)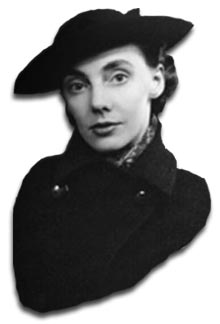 Despite early ambitions to become a fashion designer, Susie Cooper emerged as one of the most important ceramic designers and producers of the century.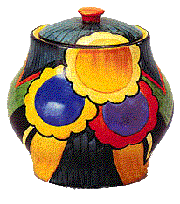 Her interest in ceramics was awakened in 1922 and she initially worked with A. E. Gray & Co.
In 1929 she established her own atelier, and her factory produced breakfast sets, tea sets and dinner ware for a largely middle-class market.
Her designs are reported to have caused a sensation at the 1922 British Industries Fair where she sold a clown decorated triangular lamp base to a member of the Royal family.
Michel die Klerk (art deco, designer, 1884-1923)
After collaborating with J.M. van der Mey and Piet Kramer on the Scheepvaarthuis in Amsterdam, de Klerk went on to establish himself as perhaps the most prominent architect of the Amsterdam School.
In his celebrated housing schemes such as Het Scheep in Amsterdam,
de KIerk married an adventurous plasticity and strong sense of geometry with an appreciation of traditional Dutch forms and shapes.
Unlike his architecture, de Klerk's furniture was luxurious and expensive, and of 200 pieces made, only about 25 are known to survive.
A suite designed in 1916 was exhibited posthumously at the 1925 Paris Exposition.
De Klerk's importance to contemporary design was reflected in the fact that the Dutch magazine Wendingen devoted six special issues to his work.
Sonia Delaunay (art deco, designer, 1885-1979)
Born in Ukraine, Sonia Delaunay (nee Stern, Terk) trained as a painter before moving to Paris in 1905 and she married the painter Robert Delaunay (1885-1941) in 1910.
As early as 1912 Sonia was designing embroidery and bookbindings alongside her abstract paintings, and after the loss of her private income in 1917 (as a result of the Russian Revolution) she became more preoccupied with her design work.
After spending time in Madrid during the First World War, she opened her Atelier Simultane in Paris, designing fashion, textiles and interiors.
At the 1925 Paris Exposition she ran the Boutique Simultanee where she achieved fame as a designer of modern fashions.
In the 1930's the Delaunays concentrated on public art and advertising, and at the 1937 Paris Exposition they designed a series of large murals
Donald Deskey (art deco, designer, 1894-1989)
Deskey was unusual among the leading proponents of Art Deco design in America in that he was actually born there rather than arriving as an emigre from Europe.
A visit to Paris in 1925 led Deskey to focus on interior and furniture design. His early successes were designs for screens, and in 1927 he entered into partnership with Phillip Vollmer, creating the decorating firm Deskey - Vollmer Inc.
He worked for wealthy private clients in the 1920's but Deskey became more interested in designs suited for mass production in the 1930s.
Archives suggest that some 400 designs for furniture, rugs and textiles by Deskey were put into production.
Djo Bourgeois (art deco, designer, 1898-1937)
Djo Bourgeois was part of the youngest generation of French Art Deco designers who were subsequently attracted to the ethics and aesthetics of Modernism towards the end of the 1920s.
Born in Bezons (Seine et Oise), Djo Bourgeois graduated from the Ecole Speciale d'Architecture in 1922.
In 1923 he joined Le Studium Louvre and began exhibiting at the Salon. Le Studium Louvre saw his adventurously Modern designs as providing an opportunity to compete with the work of Charlotte Perriand and Mallet-Stevens.
At first Djo Bourgeois preferred lacquered wood and glass, but soon discovered steel, aluminium and concrete.
He left Le Studium Louvre in 1929. His last exhibit before his death was a dining room with moveable partitions at the 1936 Salon.
Maurice Dufrene (art deco, designer, 1876-1955)
A founder member of the Societe des Artistes Decorateurs, Dufrene with Leon Jallot, was among the group of French designers who became known as the Constructeurs, before the First World War.
Dufrene had worked on Meier-Graefe's 'La Maison Moderne' around 1900 designing in the Art Nouveau style.
By 1910, his work adapted more simplified forms using more substantial materials and construction.
Dufrene's open acceptance of mass production in the 1920s, when he became the artistic director of the studio La Maitrise led to a prolific output.
At the 1925 Paris Exposition, as well as the La Maitrise pavilion, Dufrene designed the 'petit salon' in the 'Ambassade Francaise', a boutique for the furrier Jungman, and the row of shoes on the Pont Alexandre Ill.
Dufrene's stylistic development continued into the 1930s when he experimented with steel and glass.
Jean Dunand (art deco, designer, 1877-1942)
Although he began his career as a sculptor and producer of decorative objects, Dunand became interested in lacquer from 1909 and it is for his lacquered panels, furniture and interiors that he is best remembered.
He exhibited throughout the inter war years, co-designing the smoking room of the Ambassade Francaise at the 1925 Paris Exposition.
By 1921 he was producing and exhibiting large pieces of lacquer furniture, Dunand contributed to the three great French ocean liners of the period, the lle de France ( 1928), the Atlantique (1931) and the Normandie ( 1935).
Paul Follot (art deco, designer, 1877-1941)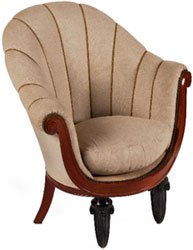 Like Dufrene Follot was part of the older generation of Art Deco designers who had developed their style from Art Nouveau.
Follot worked at La Maison Moderne between 1901 and 1903. He became independent in 1904, designing furniture, lighting, carpets, clocks and jewellery.
His style combined simplified traditionally inspired forms with rich decoration, and his work before the First World War represented an exercise in modern decoration which provided a blueprint for much of the more traditional French Art Deco which reached its apex at the 1925 Paris Exposition, to which Follot made a large contribution.
In 1923 Follot became director of design at the Pomone studios of Au Bon Marche before moving to Waring and Gillow's Paris office in 1928 where he worked with Serge Chermayeff.
After 1931 Follot returned to independent practice and in 1935 he received a commission for the ocean liner Normandie as well as exhibiting at the Brussels Exposition.
Paul Theodore Frankl (art deco, designer, 1886-1962)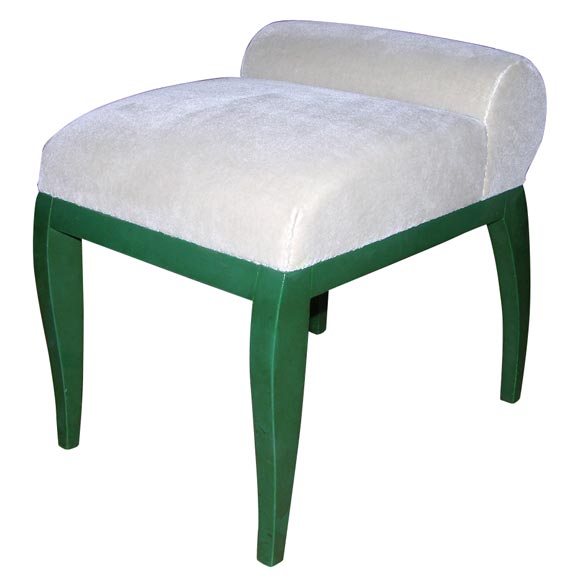 Born in Prague, Frankl together with his fellow European Joseph Urban, was one of the pioneering Modern designers working in America before 1925, who laid the foundations of the American tradition of modern decoration.
After spending some time in Berlin and Copenhagen, Frankl left for America in 1914 and set up in business in New York. Although at first describing himself as an architect, in 1922 he opened a gallery at 4e, 48th Street which sold a variety of his designs for furniture, as well as modern textiles and wallpapers imported from Europe.
His influence as a designer was compounded by his polemical pro-Modern publications: New Dimensions, Form and Re-Form, Machine Age Leisure, Spaces for Living, and Survey of American Textiles.
In 1926 he introduced his celebrated skyscraper furniture, before turning to metal furnishings in the 1930s
Gill (art deco, designer, 1882-1940)
Despite a diverse body of work, Gill is best remembered for his sculpture and his typography.
His sans serif typeface, designed in 1928 for the Monotype Corporation, became synonymous with Modern graphic design. Ironically so, as Gill's work and philosophy was based on craft and catholicism.
Gill's stylised sculpture was also chosen to adorn another monument to the modern age, BBC Broadcasting House in Portland Place, London (1929-31).
In 1937 Gill was elected associate of the Royal Academy and awarded honorary apprenticeship of the Royal Society of British Sculptors.
Josef Gocar (art deco, designer, 1880-1945)
Gocar was a leading exponent of Czech cubist design in the 1910s, co-founding the Prague Artistic Workshops in 1912.
He had trained at the School of Decorative Arts in Prague between 1906 and 1908 after which he worked for Jan Kotera, 'the founder of modern Czech architecture'.
Between 1922 and 1939, Gocar was Professor at the Academy of Fine Arts and in 1925 he was awarded the Grand Prix for the design of the Czechoslovak Pavilion at the Paris Exposition.
Gocar's furniture is among the most exciting and original of the period, with a literal attempt to translate the idea of cubism into three dimensions at its heart.
Oliver Hill (art deco, designer, 1887-1968)
Hill attended evening classes at the Architectural Association, London. After the First World War he returned to practice becoming a fashionable society architect working predominantly in the neo-georgian and neo-vernacular styles.
After 1930 Hill designed a number of buildings in the modern style, although his ambiguous relationship with the more doctrinaire elements in the Modern Movement is embodied in his use of decoration.
While Joldwynds (1933) and his scheme for Frinton (1933) appear to belong firmly to the Modern Movement, at the Midland Hotel, Morecambe (1934), he used Erie Gill and Erie Ravilious for decorative assistance.
Hill also designed the British Pavilion for the Exposition Internationale in Paris, 1937.
Charles Hoiden (art deco, designer, 1875-1960)
The architecture of Charles Hoiden exemplifies the pragmatic compromise that was British Art Deco.
Included in Hoiden's early career was as an assistant to Charles Robert Ashbee.
After the First World War he became a member of the Design in Industries Association, through which he met Frank Pick who commissioned him to build new facades for existing London Underground stations and for new stations on the extended Northern Line.
He traveled with Pick throughout Northern Europe and his work on the new stations on the Piccadilly Line established a brick-built, modern house style for the Underground which echoed the work of architects in Holland such as Dudok.
From 1931, Holden was involved in the scheme to centralise the London University, the most prominent monument of which is the University's Senate House in Bloomsbury.
Raymond Hood (art deco, designer, 1881-1934)
Educated at the Massachusetts Institute of Technology and the Ecole des Beaux Arts in Paris, the early years of Hood's architectural career were spent in obscurity.
He was catapulted to fame in 1922 when, together with John Mead Howells, he won the competition to design the Chicago Tribune Tower.
Despite the fact that the building was neo-Gothic rather than Art Deco, his remaining twelve years of practice included work on some of the most significant American buildings of the age: the American Radiator Building in New York (1925), which combined a more subdued Gothic with a more confident modernity; the Rockefeller building (1931), which he co-designed and remains an icon of Art Deco, and the McGraw Hill Building with its terracotta exterior.
His last commission was to design the Electricity Building at the 1933 Century of Progress exhibition in Chicago.
Pavel Janak (art deco, designer, 1882-1956)
After studying under Otto Wagner at the Academy of Fine Arts in Vienna (1906-8), Janak returned to his native Prague, where he was to design some of the most remarkable furniture and ceramics of the Czech cubist movement.
In 1908, he co-founded the Artel Cooperative, which proved so crucial to the realisation of many of the cubists' designs.
Janak joined the Group of Plastic Artists in 1911 and was one of the editors of Umelecky Mesicnik as well as being a founder member of the Prague Artistic Workshops in 1912.
Betty Joel (art deco, designer, 1894-1985)
Born Mary Steward Lockhart in Hong Kong, Betty ]Joel was educated in England and met David Joel while he was in the navy serving in the Far East.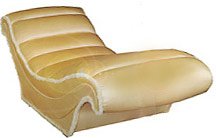 In 1918, they married and, although neither had any formal design training, they began manufacturing furniture under the name Betty Joel Ltd.
Early work was in a modernized Arts and Crafts idiom, however, by the late 1920's and early 1930's French Art Deco influences were clear.
Betty Joels London showroom was at 177 Sloane Street and then 25 Knightsbridge.
The firm's clients were wide ranging, both corporate and private. Furniture was manufactured for the Savoy and St Jame's Palace hotels and for many of H.S. Goodhart Rendel's projects, including Hays Wharf.
Her more celebrated private clients included Lord Louis Mountbatten and the then Duchess of York.
Francis Jourdain (art deco, designer, 1876-1958)
One of the founders of the UAM, Jourdain had always held an ambivalent attitude towards decoration. His relatively austere, angular work exhibited at the Salon d' Automne in 1902 had effectively renounced the Art Nouveau style of his contemporaries.
For clients demanding luxury, his concession might be the use of a rich veneer. As a result of his sparse style, many of his early commissions were for public spaces rather than private interiors.
Jourdain exhibited at the 1925 Paris Exposition and from then onwards he began to use steel, aluminium and lacquer.
Jourdain retired in 1939 to spend more time writing.
Ely Jacques Kahn (art deco, designer, 1884-1972)
After graduating from the Architecture School of Columbia University in 1907, Kahn spent four years in Paris studying at the Ecole des Beaux Arts.
He became a partner in the firm Buchman & Fox, which he eventually dominated, and was well placed to play an influential role on the New York architectural scene between 1925 and 1930.
As well as exhibiting in The Architect and the Industrial Arts at the Metropolitan Museum in 1929, Kahn was responsible for some of the great decorative buildings of the 1920s, such as 261 Fifth Avenue and 2 Park Avenue with its brightly coloured terracotta exterior by L.V. Solovon.
Piet Kramer (art deco, designer, 1881-1961)
Kramer met Michel de Klerk while working in the office of the Amsterdam architect Eduard Cuypers and he collaborated with J.M van der Mey, another leading figure of the Amsterdam School, on the Scheepvaarthuis in Amsterdam.
Kramer took part in five of the Amsterdam social housing projects which characterized the work of the school in the years 1915-1925.
The use of brickwork to carry the abstract geometric decoration on the facades of his buildings proved an antecedent to some of the more flamboyant decorative exercises in Art Deco architecture, while his use of brick also provided inspiration for the more pragmatic approach of the suburban Art Deco of Britain.
Kramer was also a notable furniture designer.

Lalique's professional career, first as a goldsmith and then, more famously as a glass maker, spanned both the Art Nouveau and the Art Deco eras.
Lalique rented his first glassworks in 1909, at Combs-la-vile near Fontainebleau. Initially the factory produced only perfume bottles, but by the 1920s Lalique began to manufacture other works in glass such as jewellery, mirrors, lamps, chandeliers and tableware.
He exhibited at Paris in 1925, his celebrated glass fountain provided both a centrepiece for the Perfume Pavilion as well as a defining symbol of French Art Deco of the 1920s.
By the 1930s, Lalique's innovation was challenged by other makers such as Sabino, and even though he was in his seventies, Lalique continued his stewardship of the firm which had grown to employ over 600 people.
Le Corbusier - Charles-Eduard Jeanneret (art deco, designer, 1887-1965)

Born in La Chaux-de-Fonds, Le Corbusier worked under his real name, Charles-Eduard Jeanneret until the early 1920s.
In 1907 he travelled in Europe, meeting Josef Hoffmann in Vienna.
From 1908 until 1909 he worked for the Paris architect Auguste Perret, and in 1910 and 1911 in the Berlin office of Peter Behrens.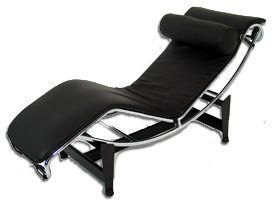 In 1911, the publication in France of his Etude sur le Mouvement d'art decoratif en Allemagne, associated Jeanneret's name with the debate on the role of national identity and decorative arts in France.
Indeed it was as a decorator that Jeanneret became known in the Parisian art world, working with such designers as Andre Groult and Paul Poiret.
However, through his involvement with the Purist painter Amedee Ozenfant, Jeanneret by now known as Le Corbusier, developed the anti-decorative theory for which he became famous.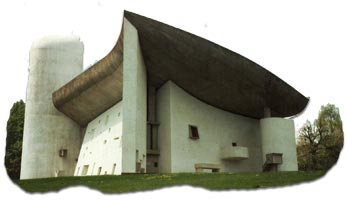 In 1925, his Pavilion de L'Espirit Nouveau at the Paris Exposition became an icon of the burgeoning modernist movement, and his books The Decorative Art of Today and Towards A New Architecture, showed that his ability as a polemicist matched his skill as a designer.
A founder member of the UAM, Le Corbusier is often portrayed as representing the antithesis of Art Deco (his pavilion was marginalised at the 1925 exhibition).
But his work before 1920 and the influence of the modernist aesthetic on the development of Art Deco in Europe and America from the late 1920s, make him an important figure in the history of the art deco style.
Raymond Loewy (art deco, designer, 1893-1986)
Loewy studied electrical engineering in his native France before emigrating to America after serving in the First World War.
Following a brief spell as window dresser at Macy's, he worked as a fashion illustrator on Harpers Bazaar.
He recognised the potential of applying the principles of commercial art to the actual products of industry and in 1929 was commissioned to modernize the Gestetner mimeograph machine.
In 1930 he set up his own design consultancy and in 1935 he revamped the Sears Roebuck refrigerator, signing the 'Coldspot', and in doing so brought the streamlined, white curves of the moderne style into kitchens across America.
He published influential futuristic designs for taxis, cars and trains as well as designing locomotives for the Pennsylvanian Railroad and the distinctive Greyhound Coach (1940).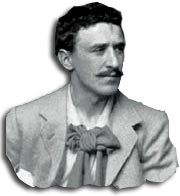 Apprenticed in his native Glasgow to the architect John Hutchinson between 1884 and 1889, Mackintosh traveled widely in Europe in the 1890s.
He designed posters from the mid 1890s, and also exhibited at the 1896 Arts and Crafts exhibition.

In 1897 Mackintosh began the first phase of his work on the Glasgow School of Art, which he also extended in 1907.
Other work in Scotland included the Willow Tea Rooms (1903) and Hill House (1904).
Despite international acclaim, Mackintosh never achieved commercial success. He left Glasgow in 1914, and between 1915 and 1920 he carried out work for the industrialist W.J. Bassett-Lowke, most notably at 78 Derngate, Northampton.
After traveling through France in the mid 1920s, Mackintosh died of cancer in London in 1928.
Robert Mallet-Stevens (art deco, designer, 1886-1945)
Trained at the Ecole Speciale d'Architecture (1905-10), Mallet-Stevens built little until after the First World War.
His work at the 1925 Paris Exposition included the cubist concrete trees by the Martel Brothers in his Winter Garden and the distinctive tower for his 'Pavillon du Tourism', both of which established him as the archetypal maverick Modernist, setting an international mould for Art Deco architects of the 1920s and 1930s.
His most celebrated commissions were the Villa for the Viscount de Noailles in Hyeres (1923-5), the Rue Mallet-Stevens in Auteuil (1926-7) and the Casino at Saint Jean-de-luz (1928),
His disregard for the social dimension of Modernism did not prevent him assuming the presidency of the UAM in 1930, and although he undertook commissions at the 1935 Brussels exhibition and the 1937 Paris Exposition Universalles, his work never eclipsed his triumphs in the 1920s.
Andre Mare (art deco, designer, 1887-1932)
Andre Mare was an artist, and studied at the Academie Julian Louis Sue also trained as a painter, but turned to interior design as early as 1905.
The lack of design or craft training led both Sue and Mare to be grouped with the Coloristes in Paris before the First World War.
Mare was involved with Duchamp Villon's Maison Cubiste in 1912, while Sue worked with Poiret until the founding of La Maison Martine in 1912. In the same year, Sue set up his own decorating firm, L'atelier Francais, and began his association with Mare in 1914.
This association became a partnership in 1919 with the foundation of La Compagnie des Arts Francaise which lasted until 1928.
Sue et Mare worked across the spectrum of the decorative arts from wallpapers to furniture. Their furniture used exotic woods and was clearly inspired by traditional French styles.
At the 1925 Paris Exposition their pavilion, Un Musee d'Art Contemporian, rivalled Ruhlmann's and the firm also exhibited furniture in the Ambassade Francaise and the Perfums d'Orsay boutique among other pavilions.
The partnership ended in 1928 and Sue continued to work in France throughout the 1930s.
Edward McKnight Kauffer (art deco, illustrator, 1890-1954)
A poster designer and illustrator, Kauffer was an American who settled in England. His first commission to design a poster for the Underground Railway Co. came in 1915.
In 1921 he gave up painting and became devoted to commercial art. His commissions reveal a portfolio of celebrated modern commercial graphic design, his clients including: the London Transport Board, Shell, BP, the Great Western Railway, the General Post Office, and the Gas, Light & Coal Co.
A fellow of the British Institute of Industrial Art and member of the Council for Art and Industry, Kauffer was married to the celebrated textile and carpet designer Marion Doran, another American who came to England in the early 1920s.
The two exhibited together in 1929.
Koloman Moser (art deco, designer, 1868-1918)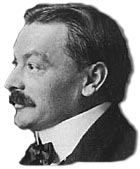 Studying under Otto Wagner at the Academy of Fine Arts in Vienna, Moser, together with Hoffmann was a founder of both the Secession and the Wiener Werkstatte.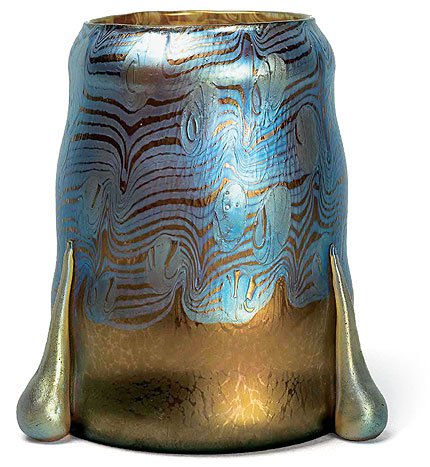 Although he trained as a painter, by the late 1890s, Moser was active in the decorative arts winning a prize at the Paris Exposition Universalle in 1900.
His major contribution to the Werkstatte came in his design of the interiors of Hoffmann's Purkersdorf Sanatorium in 1905.
It was Moser's departure in 1908 that heralded a move away from the strict geometry of the Werkstatte's early and most influential work.
Dagobert Peche (art deco, designer, 1887-1923)
Berta Zuckerkandl described Peche as, 'the greatest genius of ornament that Austria has possessed since the Baroque'.
Peche trained at the technical college in Vienna and at the Academy of Fine Arts from 1908 to 1911.
He joined the Werkstatte in 1915, and his work characterized, and indeed influenced the shift towards a more whimsical, folk inspired aesthetic in the workshop.
Peche designed the Wiener Werkstatte's Zurich branch, where he was based from 1917 to 1918.
Although Peche's work was not confined to any one branch of the applied arts, it is for his delightfully ornamented small objects that he is best remembered. His ornamental objects in chased silver from the earlier 1920s illustrate how far the Werkstatte had moved from Moser's geometry in the years since his departure.
Paul Poiret (art deco, designer, 1879-1944)
The son of a Parisian shopkeeper, Poiret became a dress designer in 1896 after meeting Jacques Doucet.
In 1910 he visited Vienna, met Josef Hoffmann and took inspiration from the textile and fashion designs of the Wiener Werkstatte.
He founded his Atelier Martine in 1911 and his Maison Martine on Fauborg Saint-Honore sold rugs, carpets and wallpapers.
Together with his long-term collaborator, the painter Raoul Duty, Poiret began a studio for printing textiles, La Petite Usine.
In 1908 and 1911 Poiret published volumes of his designs, which was in itself an innovative step, and as a result he was received warmly when he visited America in 1913.
He continued to work in the 1920s and 1930s, but his contribution to the 1925 Paris Exposition, three decorated barges, brought Poiret to the edge of financial ruin.
Gio Ponti (art deco, designer, 1891-1979)
After studying architecture at the Polytechnic in Milan (1918 - 21), Ponti became a designer for Richard Ginori the Doccia ceramics
firm.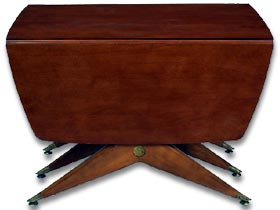 His work, often in a stylised and humorous classical idiom, gained him the Grand Prix at the 1925 Paris Exposition.
As a result of the exposure he received at Paris, he was asked to design a range of cutlery for Christofle and a villa for the firm's chairman.
In 1927 he left Ginori to set up an architectural practice with Emilio Lancia, and a year later he became the founder editor of Domus a journal which promoted the work and ideas of the Novecento movemert,
The Novecento, which Ponti founded together with other architects such as Giovanni Muzio, combined tradition, decoration and a striking modernity providing a starting point for Italian designers who, keen to absorb what they had seen in Paris, were inspired to produce decorative and modern pieces.
Jean Puiforcat (art deco, designer, 1897-1945)
Puiforcat joined the family firm of silversmiths while he was studying sculpture with Louis-Aime Lejeure.
After setting up his own workshop in 1922, Puiforcat's work came to embody the simple geometric wing of the Art Deco idiom. Puiforcat's objects relied on a purity of line and mathematical proportions as opposed to applied decoration.
In 1929 he was a founding member of the UAM; however, despite his aesthetic similarities with the Modern Movement, his refusal to compromise in his use of silver ensured Puiforcat maintained his status as a designer of luxury items.
In 1934 his work took a new direction when he began to produce liturgical objects for the Catholic Church.
By 1937 he had become disillusioned with the UAM, and he left France at the beginning of the Second World War, returning shortly before
his death In 1945.
Jacques Emile Ruhlmann (art deco, designer, 1879-1933)
In 1900 Ruhlmann joined his father's decorating business and by 1903 he was producing his first furniture designs,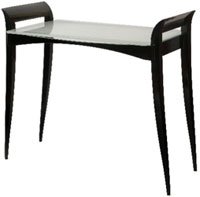 After his father's death in 1907, he began to display his work at the Paris Salons, his first pieces of furniture being exhibited In 1913.
Escaping military service for medical reasons, Ruhlmann spent the war refining his classically inspired style before entering into partnership with Pierre Laurent in 1919. Together their business expanded, Laurent's decorating work providing a secure base for Ruhlmann's less profitable luxury furniture.
Characterized by its exotic use of veneers and perfectly proportioned forms, Ruhlmann's furniture remains for many the apogee of French Art Deco, a sentiment reflected in the soaring prices paid at auction for his pieces today.
Ruhlmann's most celebrated ensembles were for his 'Hotel du Collectionneur' at the 1925 Paris Exposition and his office for Marshall Lyautey at the 1931 Exposition Coloniale
Waiter Dorwin Teague (art deco, designer, 1883-1960)
After moving to New York in 1902, Teague joined the advertising agency Calins and Horden in 1908.
By 1927 he was a freelance artist and typography expert, however, he began to apply this advertising expertise to the products of the manufacturing Industry.
His clients included Kodak, Westing House and Steinway and Sons.
Teague did much to bring the aesthetic of streamlining to everyday American life through products such as the Bantam Special Camera for Kodak.
His pioneering system designs for Texaco, which were used to build over 10,000 roadside petrol and service stations in the 1930s, did much to ensure that the streamlined moderne style became the architectural idiom of the highway.
At the 1939 World's Fair, Teague carried out commissions for Ford, Kodak and the National Cash Register Co. among others.
Joseph Urban (art deco, designer, 1872-1933)
Born in Vienna, Urban studied at the Imperial and Royal Academy of Fine Arts and the Polytechnic, and first visited the USA in 1901 to prepare his designs for the Austrian Pavilion at the forthcoming St Louis Exposition.
In 1911 he settled in the US, and in doing so provided a vital link between the Viennese tradition of modern decoration, and the evolving idiom of American Art Deco.
He exhibited at the 1929 Metropolitan Museum show 'the Architect and the Industrial Arts'. Urban was celebrated for his theatre designs, most famously his building for Ziegfeld's troupe for which he also designed most of its Broadway shows.
He ran his own 'Decorative and Scenic Studio' in New York, as well as opening the Wiener Werkstatte's New York Branch on Fifth Avenue in 1922, for which he designed the interiors and some of the furniture.
Urban also started an artists' fund to support the Werkstatte's activities.
His archives at Columbia University contain details of a wide variety of furnishings that he designed for hotels and restaurants in New York and the Midwest.
Ralph T. Walker (art deco, designer, 1889-1973)
Walker trained at the Massachusetts institute of Technology (1909-11), and after a series of apprenticeships he joined the New York architects McKenzIe, Voorhees & Gmelin in 1919.
Walker became a partner in 1926, and as Voorhees, Gmelin & Walker, the firm were responsible for some of the most decoratively adventurous skyscrapers of the 1920s, including the Barclay-Vesey Telephone Building (1923-6) and the Western Union Building (1928-9).
After becoming Voorhees, Walker Foley & Smith in 1939, the firm undertook several commissions to design buildings for the 1939
New York World's Fair.
Thomas Wallis (art deco, designer, 1873-1953)
Perhaps the most decoratively adventurous inter-war British architect, Wallis became a consultant to Kahncrete, an American engineering company specializing In reinforced concrete industrial buildings.
In 1917 he set up his practice as Wallis Gilbert and Partners specializing in industrial buildings, often for American clients.
The firm was responsible for many of the factories in west London, where the stylised facade ornament may be atypical, but has made them icons of British Art Deco.
His firm's most distinctive work included the Firestone Factory (1929) and the Pyrene Factory (1930), both in Brentford, the AIbion Car Works and India Tyre and Rubber Co., Glasgow (1930), the Hoover Factory in Perivale (1932) and London's Victoria Coach Station (1932).
Karl Emmanual Martin Weber (art deco, designer, 1889 -)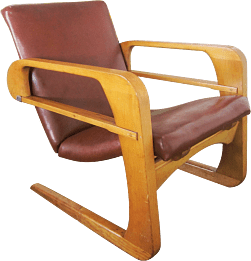 Weber also known as kem, was born in Berlin and studied under Bruno Paul between 1908 and 1910.
Finding himself stranded in San Francisco at the outbreak of war In 1914, he eventually joined the Los Angeles design studio Baker Bros. where he became director.
After visiting Paris in 1925, he became committed to Modern design, and his subsequent repertoire of furniture mirrors the evolution of American Art Deco from the 'zig zag' style of the late 1920s to the streamlined moderne aesthetic of the 1930s.
He was one of the few American designers to contribute to Macy's first International Exposition of Arts and Trades.
In the 1930s Weber developed furniture in plywood, an ideal medium for the streamlined style.
His most famous work was his 1935 design for an airplane chair for the Airline Chair Co. in Los Angeles, which has been described as '... the most striking interpretation of the streamline ethic to emerge in the USA ...'.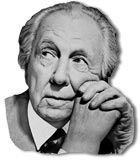 Perhaps America's most influential twentieth-century architect and design theorist.
Wright was instrumental in fashioning a specifically American tradition of modern decoration upon which American Art Deco was built.
This is particularly true of the horizontal style of his domestic architecture of the first two decades of the century inspired by both European Modernists and the practitioners of the moderne America ...