Rene Lalique Artist and Designer. Life and career.

The life of Rene Lalique and his artistic career covered the three most significant movements in the field of decorative arts - Arts and Crafts, Art Nouveau and Art Deco.
Who was the famous glassmaker Rene Lalique?
Rene Lalique was born Rene Jules Lalique in Ay, France on April 6, 1860. His mother quickly recognised her son's artistic talent. At the age of sixteenth, she  steered him to an apprenticeship with the famous Paris jeweller, Louis Aucoc. Lalique had experimented with glass in his jewellery making, and at 50 years of age, he embarked on a new career as a glassmaker. A career that would gain him the worldwide recognition that continues today.

He became an iconic glass designer, especially noted for his stunning creations which, included perfume bottles, vases, jewellery, chandeliers, clocks and car bonnet ornaments. The company Rene Lalique founded in 1885 still operates today, and its Lalique Glass creations are still sought after by the modern glass collector.
His beautiful jewellery designs and stunning glasswork contributed significantly to the art nouveau movement.
Rene Lalique as a glass maker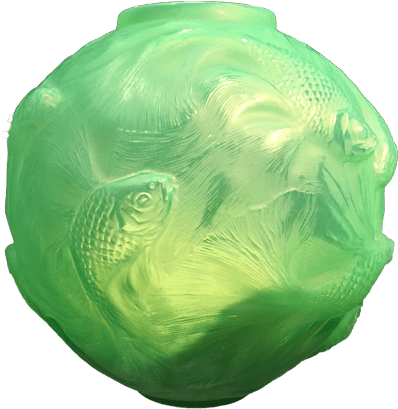 In 1907, Lalique opened a shop near the business of the famous perfumer Francois Coty. He began creating vintage glass perfume bottles for Coty. Eventually, he was asked to do the same for Worth, Forvil, D'Orsay, Guerlain, Rogeret et Gallet. In total, Lalique created more than 250 different perfume bottles.
Although most sell for modest prices, in 1990, a Lalique perfume bottled fetched $80,000 at auction.
A few years ago, a L'ldylle flacon sold for $58,350 at the Philips Geneva flacon auction
A Japanese bidder paid $8,625 for a Lalique Bochon Fleurs de Pommiers design at a William Doyle Galleries auction in New York.
Lalique for the masses
Reneé Lalique sought to bring art into everyday life by mass producing stemware, tableware, inkwells, clocks, chandeliers, and vases. At the height of glass production, his factories employed up to 600 people and created millions of pieces of glassware.
Despite his mechanised approach to production, the imagination and beauty of his work are unparalleled. He personalised much of his work with frosting, polishing, and glazing to give it that handcrafted and individual feel. Rather than create a few pieces that could only be enjoyed by the wealthy, Lalique mass produced his work in the hope that everyone could enjoy it.
Unusual application of Lalique's talents

In the 1920's Lalique turned his hand to decorating the bonnets of cars.And in line with his love of the human and animal form, Lalique created 29 car mascots in the shapes of fish, horse heads, frogs, dragonflies, shooting stars and St. Christopher Carrying the Christ Child. Female nudes were also a favourite design.
Lalique designed all the mascots to be illuminated from within. A six or a twelve-volt bulb was connected to the cars wiring to provide illumination. Filters were also used in order to change the colour of the light to red, blue, green, amber, or mauve.
Lalique glass mascots ornamented the hoods of the most stylish cars of the day. Such an examples were Bentley, Hispano-Suiza, Isotta Fraschini, and Bugatti. Nowadays, Lalique's hood ornaments are highly sought after by collectors.
Lalique's Vases
Nowhere in all his work in glass is Renee Lalique more renowned than
for his stunning vases. His true talent shines in the amber, plum, blue, opalescent, grey, green, black, and yellow hues he obtained by meticulously adding measured amounts of pigment to his darkened Lalique glass.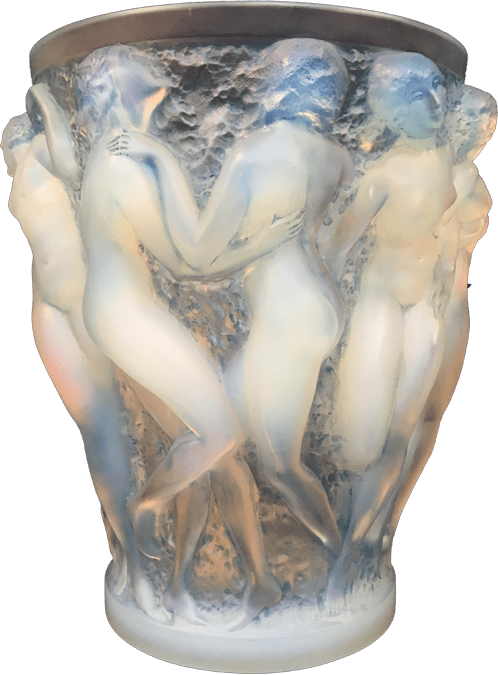 Striking animal figures, mythical beasts, and geometric shapes poured from his fertile mind. The art deco style in Lalique's jewellery followed through to his work in glass and, distinct geometric designs, smooth flowing lines, and vibrant
gouache colours are all characteristic patterns and qualities of Lalique glass. Today, museums around the world feature Rene Lalique glass.
Rene Lalique's Collectors Tips

For the new Lalique glass collector, the two most important considerations are authenticity and condition.
Chips, repairs, ground down edges and drill holes will all reduce value. The poor condition can reduce the value in extreme cases by up to 90%.
As for authenticity, there is little worry about known Lalique designs being faked. However, there is a huge problem with modern Czech glass bearing Lalique signatures.
eBay sellers list Czech glass to great volumes as Lalique. You can also see less valuable French glass of the 1920s with a Lalique signature.
The company Rene Lalique after Lalique himself
Lalique used mass production techniques. In this way, he made his work available and affordable to people in most income brackets. Millions of pieces have been created since the early 1900s. Moreover, Lalique factories continue to produce fine glass and crystal today.
In the 1940s World War II forced the closure of his factory. Rene Lalique died in 1945 before his factory could be re-opened.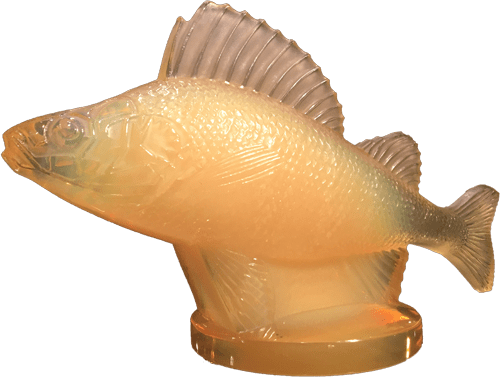 After his death, Lalique's son Marc re-started the company, and in 1948, he changed production from demi-crystal to full lead crystal.
Lalique's granddaughter, Marie-Claude, later led the company and implemented her own style with clear crystal accented with coloured motifs.
Rene Lalique Signature Marks
The pre-WWII Lalique pieces are the most highly sought after by collectors.
Lalique marked all of his work. Even the mass-produced pieces bore his signature, "R.Lalique" at their base. However, the execution of the mark could vary between engraved, moulded, etched, printed or sandblasted. On earlier pieces, the leading L in the signature could have curlicue on top, making the letter resembles an S. Unfortunately, Rene Lalique used too many signatures in too many different ways to allow for a definitive guide as to what was manufactured before or after 1945.
More modern pieces, produced in the time of Marc and Marie-Claude Lalique altered the mark.
The pieces created by Marc Lalique are signed "Lalique France"
The pieces created by Marie-Claude are signed "Lalique h France"
Chronology
1860 to 1885
1886 to 1897
1900 to 1910
1911 to 1921
1925 to 1945
Tab 1
1872 Lalique studied in Paris. Until the age of 14, he studied at the College Turgot. He then started to learn drawing with Lequien.
1874 Lalique continued his studies and pagouache flower bouquets which he sold to shopkeepers in the local market town.
1876 Louis Aucoc takes René Lalique as an apprentice for two years, Lalique also attended evening classes at a school for decorative arts. Aucoc was among the leading luxury jewellers in Paris.
1878 Lalique spent two years studying in London. He attends Sydenham College at Crystal Palace. Lalique improves his graphic design skills and develops a unique and naturalistic style that would become his trademark as a jeweller.
1880 Lalique returns to Paris and works as an illustrator for M. Vuilleret. He draws jewellery.
1881 Lalique spends a year as a jewellery illustrator with Auguste Petit, on the Rue de Chabanais.
1882 Continues to independently design jewellery and work as an illustrator. He designs for Jacta, Aucoc, Renn, Gariod, Hamelin and Destape.
1883 Lalique contributes to the trade magazine Le Bijou.
1884 Lalique worked for two years with Varenne; his drawings bear the trading stamp Lalique & Varenne, 84, Rue de Vaugirard
1885 Lalique takes over the workshop of Jules Destape on Place Gaillon.He begins producing the innovative jewellery which he is famous for. He fabricates jewellery in the traditional style, selling many to other firms. He presents a corsage ornament in the form of a flight of swallows to Boucheron.
During this time he makes increasing use of novel and inexpensive materials, including translucent enamels, semi-precious stones, ivory and hard stones. His workshop supervisor was Briancon. They would work together for the next twenty years.
Tab 2
1886 Lalique marries his first wife, Marie-Louise Lambert. A daughter, Georgette, is born but dies prematurely on December 12, 1910.
1887 The Flight of Swallows parure is bought by Boucheron, allowing Lalique to begin working in gold. Lalique draws inspiration from Japanese Art.
1889 At the Exposition Universelle in Paris, Vever and Boucheron include Lalique works in their displays. Lalique produces a diamond-set brooch in the form of three little songbirds perched on a rose branch for Le Maison Vever.
1890 Lalique opens at the fashionable 20, Rue Therese. He meets his second wife Augustine-Alice Ledru, daughter of the sculptor Auguste Ledru.
1892 Augustine-Alice gives birth to Suzanne on May 4th. Lalique incorporates glass into his jewellery as cast pates-de-verre.
1893 Lalique enters a competition organised by the Union Centrale des Arts Decoratifs on the theme of a drinking vessel. He wins second prize, 500 francs for his Thistle flowers goblet and is awarded a medal with a special mention for his Satyr and vine shoots mug.
1894 Lalique exhibits for the first time at the Salon de la Societe des Artistes Francais regularly participating until 1911.Lalique starts to design jewellery for the famous actress Sarah Bernhardt. He creates pieces for Siegfried Bing's Maison de l'Art Nouveau, the Paris shop that gave its name to the Art Nouveau movement.
1895-1905 Executes around 150 important commissions for Calouste Gulbenkian, his biggest patron
1897 Lalique wins the first prize at the Universal Exhibition in Brussels and is awarded the Legion of Honour's Croix de Chevalier.
Tab 3
1900 At the Universal Exhibition in Paris, Lalique's display creates a sensation. He is hailed as the founder of the new school of modern jewellery design. Lalique becomes an officer of the Legion of Honour. Augustine-Alice Ledru gives birth to their second child, Marc, on September 1.
1902 Attends International Exhibition of Decorative Arts in Turin, Italy. Lalique marries Augustine-Alice on July 8.
1903 First participation at the Salon d'Automne. A solo exhibition of Lalique's work is held in St Petersburg.
1904 Successfully exhibits at the Saint Louis World's Fair in the USA
1905 Opens his first retail shop at 24, Place Vendome.
1907 François Coty commissions Lalique designs for labels for his perfume bottles. Lalique designs the bottles for Coty's Ambre Antique and L'Origan scents. The tie-up would revolutionise the perfume industry.Lalique rents the Combs-la-Ville glassworks.
The Muse Galliria hosts the Women's Precious Jewellery Sets exhibition.
1909 Lalique continues to experiment with glass manufacturing techniques, applying technology from French wine and pharmaceutical industries. He applies for his first patent on glass production techniques. Lalique's wife Augustine-Alice Lalique-Ledru dies
Tab 4
1911 Lalique exhibits for the first time at the Salon de la Societe Nationale des Beaux-Arts. Lalique shows a window display devoted entirely to glass, at 24 Place Vendome.Lalique collaborates on the design for the François Coty boutique in New York.
Lalique designed windows can still be seen at 712 Fifth Avenue in New York.
1913 Lalique opens the glassworks factory at Combs-La-Ville
1918 WWI forces the closure of the Combs-la-Ville factory. Lalique starts to design and construction of the factory at Wingen-sur-Moder, in the Alsace region.Lalique presents President Wilson's wife with a corsage ornament, consisting of diamond-studded branches and eight glass doves.
1921 Lalique works on the interior decoration of the French ocean liner Paris.He later works on the liners De Grasse, Ile-de-France, and Normandie, as well as on the interiors of luxury trains such as Compagnie des Wagons-Lits (the Orient Express), designing chandeliers and lighting panels.
Tab 5
1925 Lalique designs the interior of the Sevres Pavilion at the Exposition Internationale des Arts Decoratifs et Industriels Modernes in Paris.At this exhibition, the term "Art Deco" is derived. Lalique's glass pavilion, which includes a monumental fountain entitled The Springs of France, is pivotal in establishing the Art Deco style.
Lalique designs the first car mascot (bouchons de radiateur) for Citroen, the French automobile company.
Lalique would eventually design 27 car mascot models for Bentley, Bugatti, Delage, Hispano-Suiza, Rolls Royce, and Voisin.
Birth of Lalique' son Jean Raymond, to Lalique and Marie Anre on March 30. Two years later Lalique and Marie Anre have their second child, Rene Jeanne Georgette.
1926 Lalique designs the windows of the Saint-Nicaise church in Reims and decoration of the new Worth store in Cannes.He contributes to the design of the shopping arcade on the Champs-Elysees.
Begins manufacture of the luxurious satin-finished vases, bowls and figurines that are synonymous with the Lalique name.
1932 Lalique designs the fountains for the Rond-Point des Champs-Elysees and the main doors to the salon of Prince Asaka Yasuhiko's palace in Tokyo.Lalique contributes to the glass and decoration of the Church of St. Matthew in St. Helier, Isle of Jersey, UK.
1933 A retrospective exhibition of Lalique's work is held in Paris
1935 A new Lalique boutique opens on rue Royale. This continues to be the main Lalique showroom.
1939 WWII forces the closure of the Wingen factory.
1941 Production at Combs-la-Ville resumes after temporary closure, and Lalique participates in the glassware exhibition at the Musée des Art Decoratifs in Paris.
1945 Rene Lalique dies aged 85 on May 1stJust days before his death, Lalique found out that his factory in Alsace had been liberated by the Allied troops.
He is buried at Le Pere Lachaise Cemetery in Paris. The gravestone bears a glass crucifix designed by Lalique.