Art is something that always keeps updating and changing into different forms whether it's in the form of architectural art, graphics, paintings, etc. The movement, Art Nouveau, acted as a turning point for the evolution of art.
This led to modern artists being able to express their designs instead of the old classical type of art. These days, you'll see this type of art flourishing everywhere from the US to France to Germany.
To know more details about what Art nouveau is, how it started and the best ones to find in Germany, read on below!
What is Art Nouveau?
Before finding out where you can find the best Art Nouveau in Germany, let's first see what exactly this term means. Art Nouveau was a contemporary shift from the typical old school artistic traditions.
This was a movement created by artists from all around the world to start a revolution where they would bring out new daring and extravagant design along with rejecting weary and obsolete historicism associated with conventional architecture and art.
Throughout the 1890s, Art Nouveau grew significantly and became famous in various parts of the world. This vibrant visual art movement was first created by artists being inspired by nature and the different types of plants and using them as abstracts in the creation of something out of the ordinary.
History of Art Nouveau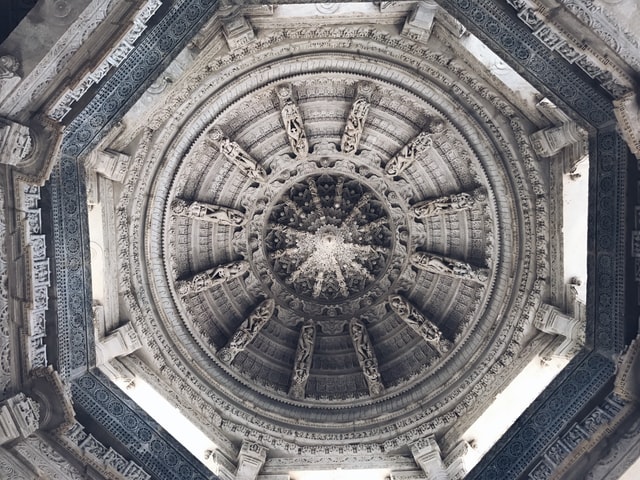 The movement of Art Nouveau started right before World War 1, in the era known as "Belle Epoque." In this time period, there was a lot of technological progress going on. This style of art retaliated against and defied the set-out rules of how architectural design should be like.
This movement was not limited to one place or person; however, William Morris is known to be the philosophical forefather of Art Nouveau. Along with him, multiple other loyal Art Nouveau believers such as Gustav Klimt, Oscar Wilde, and Henry de Toulouse have helped in paving a way for eccentrically beautiful and organic art.
Why was Art Nouveau So Popular?
This movement allowed the success of tearing down hierarchies in the art that have been present for a long time. Art Nouveau caused artists to test themselves and create different types of art designs with an organic touch.
Because Art Nouveau was widespread in public venues such as train stations, tea and coffee cafes, and stores, the style was equally owned by the public and private realms. This proves and emphasizes Art Nouveau's united, inclusive nature; an art style that is appreciated by everybody.
Art Nouveau Characteristics
The main characteristics of Art Nouveau designs are inspired by nature and consist of having sinuous asymmetrical shapes, curved or stained Art Nouveau glass, mosaics, flowing motifs such as leaves, flowers or other natural elements. You'll notice that there's an extensive use of curves and arches in the creation of this art.
Is Jugendstil The Same as Art Nouveau?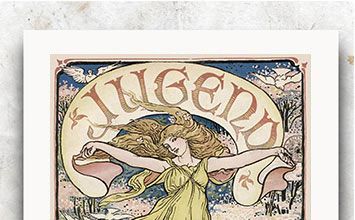 The Art Nouveau movement evolved through multiple eras and was known by various names as it travelled through Europe. It was known as "Style Moderne" and "Style Nouille" in France, for example (Noodle Style). It was known as "Jugendstil" in Germany, "Sezessionsstil" in Austria, "Stile Liberty" in Italy, "Arte Noven" or "Modernismo" in Spain, and "Glasgow Style" in Scotland.
So, Jugendstil is just another term for Art Nouveau used by the Germans. This movement revolutionized the art present in Germany, making it more modern. The theme, just like elsewhere, revolved mainly around floral and folk-art themes.
Where Will I Find the Best Art Nouveau In Germany?
Just like the rest of the countries, Germany adopted Art Nouveau wholeheartedly. There are many various places in the cities of Germany where you can go to experience and observe the beauty of this form of Art. So, scroll down below and read about the places in Germany where you can find some of the best Art Nouveau present.
Munich
Munich was a pivotal city in the Art Nouveau movement, and the proof is still there today! The term 'Jugendstil' was coined by Munich's illustrated magazine 'Die Jugend.' Munich is at it again, establishing trends! The best places to look for this type of design in Munich include:
Adam and Eve's House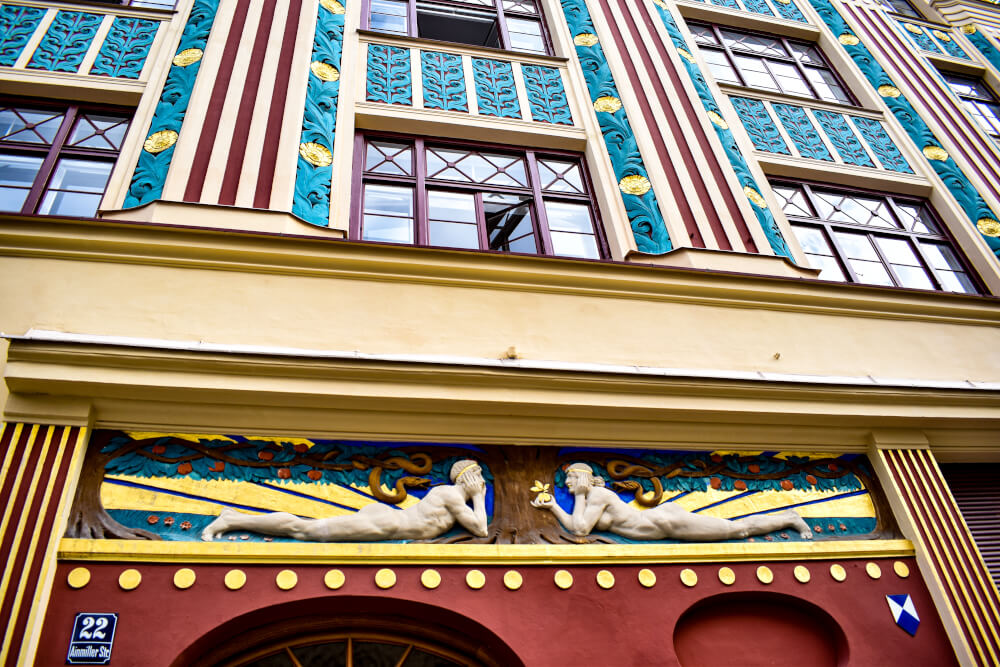 This house, more famously known as "The garden of Eden" should definitely be on your list to visit when searching for Art Nouveau type designs. The art on this is created by keeping the scenes of Adam and Eve in mind.
Right above the door, you'll see a tree under which two naked humans are lying down representing Adam and Eve. There are fine details included such as the apple in Eve's hand which can be viewed at eye level.
The Egyptian House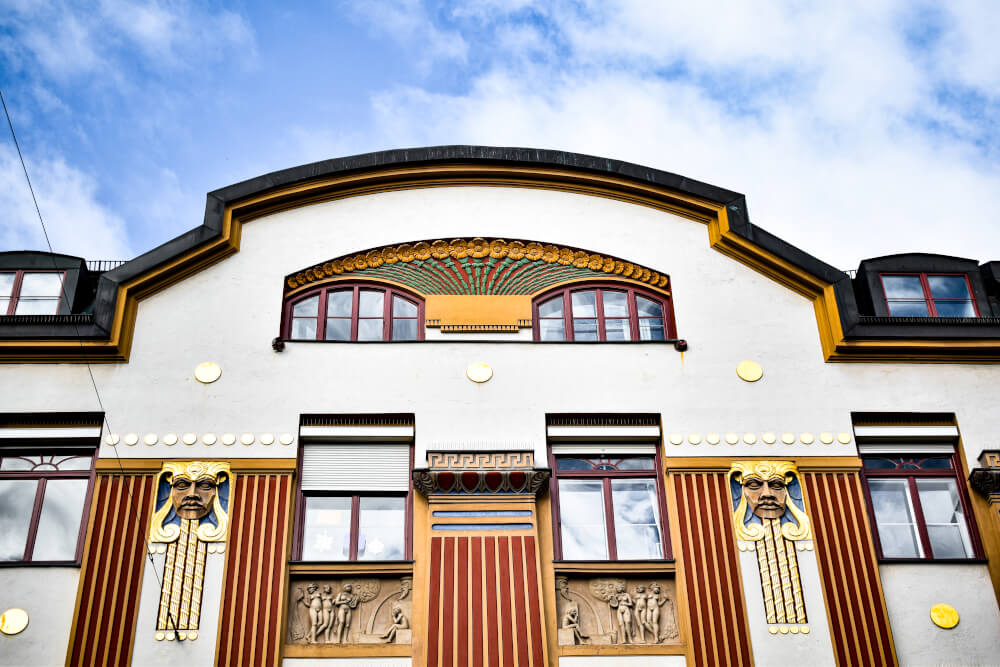 This eye-catching Egyptian house consists of red striped pillars along with flowers styled with peacock feathers. This house was made by the same architects as the Adam and Eve's house. This ancient Egypt inspired house also has the Greek God fresco next to the entrance.
The Secret Doorway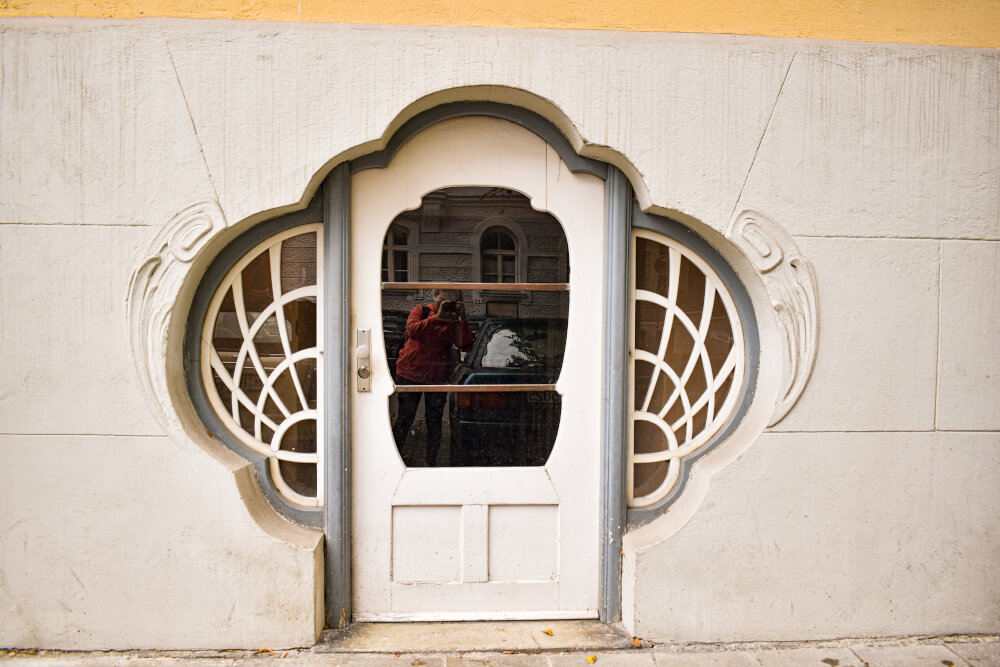 On this little doorway, now used for entrance to keep bikes, you'll observe a beautifully arched flower on both the sides. Even though the design is very simple, it'll still manage to catch your eye easily.
The Double Archway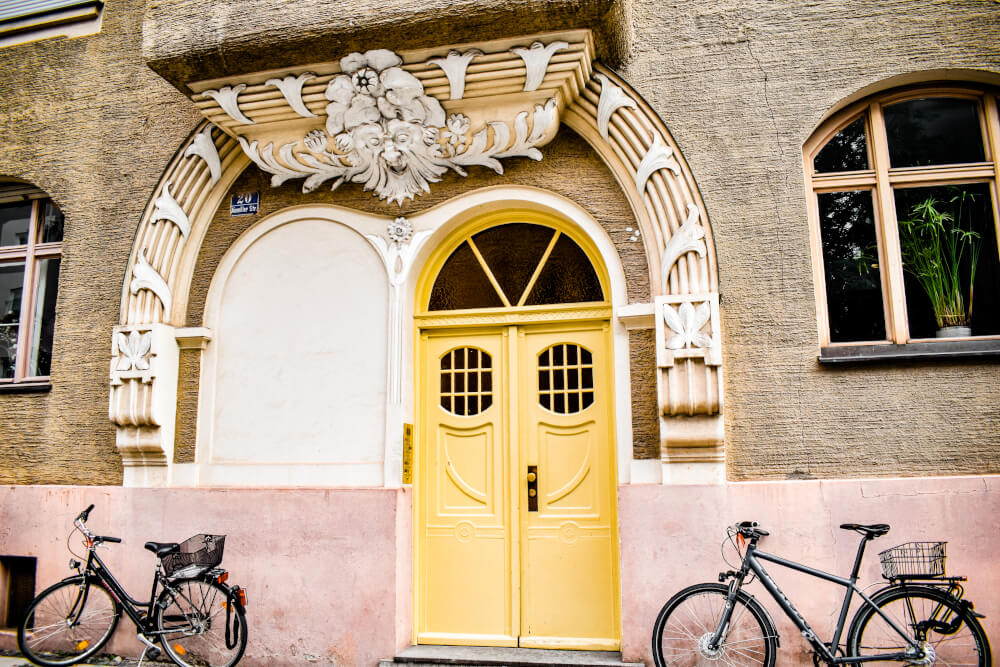 The door of this nursery school has one of the most spectacular forms of design that you'll ever see. The color of the door is mustard-yellow and is surrounded by light pink walls with a fancy stone arch on top. On top of the stone arch, you'll witness a huge face of the green man smiling, which represents nature and rebirth hence blending accurately with what the theme of Art nouveau defines.
The Liquorice Swirl House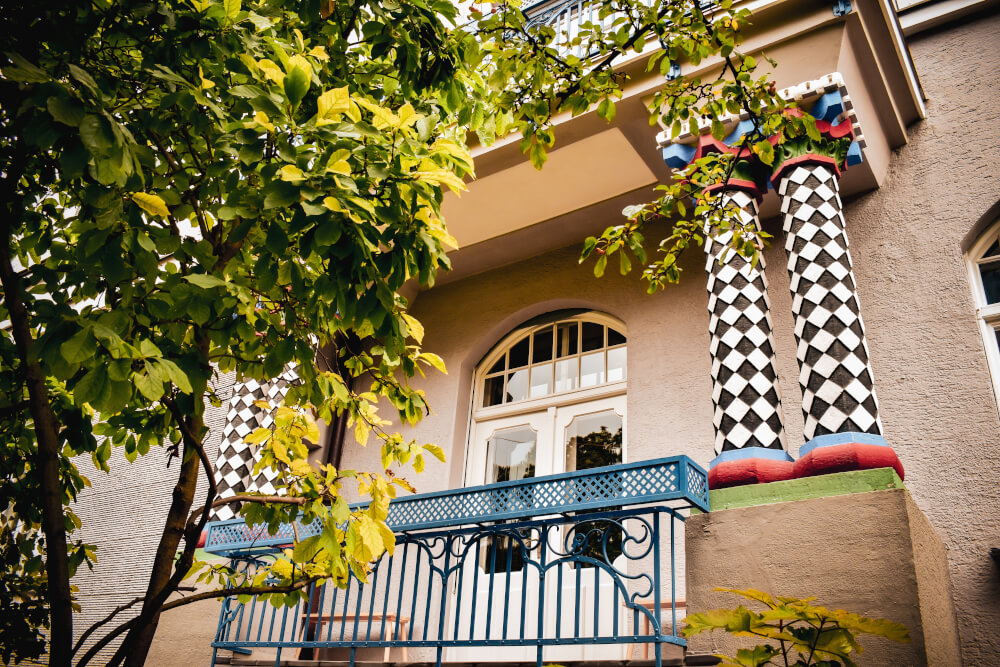 If you love liquorice, you're definitely going to enjoy the view and art of this house! The windows are surrounded with beaming red and blue tones while the pillars have the colour black and white twisted in the form of checkers. Another interesting thing about this house is that you'll see a small smiling statue of a man sitting underneath the window.
The Riverside Castle
Looking at this house will make you feel as if you're in a Disney movie. It has a castle type appearance and is painted blue all over. The turrets are designed with white vines draped all around them giving an enchanting look!
Mullersches Volksbad
Volksbad is one of the most unique places you'll ever swim at. This indoor swimming pool area is a jewel with a pure white colored balcony giving a very luxurious feeling even though it's open for the public as well, not just the elites. The design of Volksbad was made keeping in mind the theme of ancient Rome spas and oriental bathhouses.
Berlin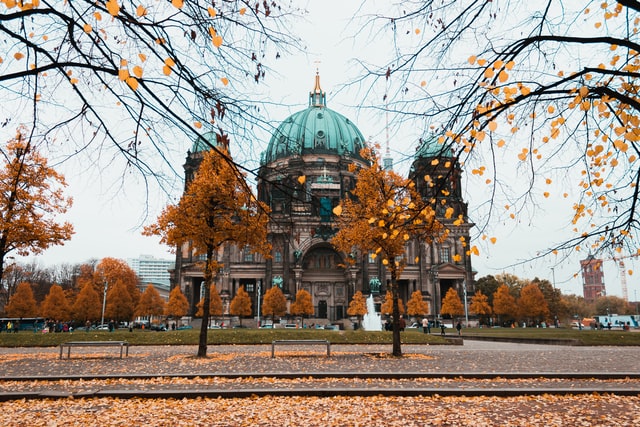 Just like Munich, Berlin, the capital of Germany, also consists of a lot of buildings inspired by Art Nouveau. Some of the famous Art Nouveau places in berlin include:
Municipal Court
The credits for making this court goes to the architects' Paul Thoemer and Rudolf Monnich. This building has a rectangular floor base with an Art Nouveau style staircase consisting of curved lines, stair grilles and stucco going up to four floors.
Hackesche Hofe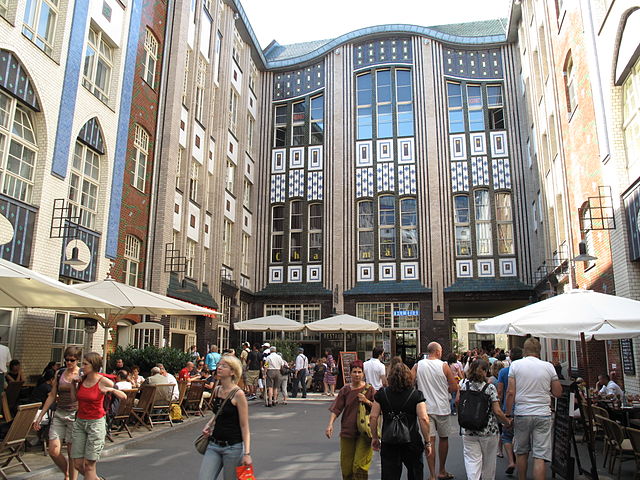 This courtyard complex was inaugurated in 1906 and still stands strong today. August Endwell designed the interior and exterior of this courtyard in the Art Nouveau form of art. The current front building, which is extended with two massive round arches and panels of metal-glazed window frames with black friezes and is tailored to the angled street front, demonstrates the earliest Art Deco borrowings.
Mer Hotel Carlton
This building was previously a hotel designed by Carl Gause in 1902 brings a mixture of themes together in one frame including- Gothic style, Art Nouveau and German Renaissance. There are segmental-arched windows present with a facade of natural stone.
In the corner of the building, you can appreciate Mercury present on the globe along with floral designs present all over. One fun fact about this building is that it's used as the headquarters for Microsoft.
Villa Groterjan
The Villa Groerjan has an asymmetrical design with the upper façade having round-arched windows throughout its whole surface along with a huge balcony which is painted with colourful plant friezes. The round-arched bay window was influenced by Scandinavia's Nordic Art Nouveau style. This Art Nouveau filled structure has survived, being practically untouched to this day.
Department Store
Lachmann & Zauber created a five-story structure consisting of a rounded corner, with rows of high rectangular windows and an elegant skylight hall on the topmost floor. Plant embellishment decorates the round-arched windows on the fourth story beneath the overhanging cornice.
In recent times Art Nouveau hasn't been as popular as it used to be, however, its importance in the advancement of art and architecture remains to this day. It's due to this movement that new styles of art such as street art or abstract art have come into the picture so the legacy of Art Nouveau will always remain and keep on evolving into further creative forms of art, no matter what.