An illustrated list of Wedgwood Marks presented in chronological order
An easy to use chronological list of Wedgwood marks to help the Wedgwood collector, who is faced with many imitators, to date genuine Wedgwood antiques.
Fortunately for the collector, Josiah Wedgwood was the first potter of note to mark his goods with his own name.
Unlike the easily copied potters marks used by other manufacturers, for example the crossed swords mark used by Meissen; the Sevres double L mark, or the Chelsea anchor mark.
Early Wedgwood works may be unmarked, but the presence of the correct mark is an indication that the piece is genuine and should allow you to determine its true age.
Before 1781 very few unmarked pieces can be correctly attributed to Wedgwood.
There are also some interesting pieces around that are marked with USA Patent dates and details.
NOTE: Beware of pieces marked 'Wedgwood & Co', an Enoch Wedgwood mark and also wares of the 1790-1801 period by the Knottingley Pottery which are also marked 'Wedgwood & Co'
Wedgwood Marks (1759 to 1780)
1759 to 1769

The first impressed mark on earthenware. It is assumed that Josiah Wedgwood used the mark at Burslem

1764 to 1769

A rare mark. Used on the bell works.

1759 and 1769

Used in various sizes

1769

A circle mark without rims.

1769-80

This mark includes the word, 'Etruria' and it was impressed inside the bottom of an old Basalt vase.

1769-80

Having lines inside and outside, the mark was impressed on Basalt or Etruria vases, but not seen on Jasper ware.

1769-80

Original handwritten mark. Wedgwood Bentley

1769-80

This mark was used on intaglios and 356 is the number of Wedgwood and Bentley catalog.

1769-80

W & B and a catalog number were used on very small intaglios.

1768-80

A rare mark found on plaques and ornamental wares. The addition of Etruria is rare.

1768-80

There are various sizes. Found on busts, granites, Basalt vases, figurines, plaques, medallions, and cameos.

1780-1795

It's thought this mark was produced after the death of Bentley (1780),
and for a while after the death of Josiah (1795).
Wedgwood Marks (from 1790 on)
1790

A rare impressed mark, WEDGWOOD & SONS, used for just a short time.

1805

The date indicates the first registration date of the design in 1805. "2nd Feby" was sometimes used instead of "Feb. 2". Found on tripod incense burners.

1812 to 1822

Found on bone china or earthenware printed in red, blue, or gold.

Since 1769

Impressed directly in the bodies of Queens ware or printed in colour. From 1860 used with a three digit date code (see year cyphers) 'England' added in 1891.

1840

For a short period. Found on high-quality goods.

1878-1900

Without the three stars beneath the vase. 1900 onwards With the three stars under the vase. Printed in various colours.

ENGLAND was added to the Wedgwood mark in 1891, to meet the requirements of the U.S. customs regulation know as the "McKinley Customs Administrative Act".

1940 onwards

Printed mark on creamwares and Queens ware in colour. The ® denoting a registered brand name.

1962 onwards

The pattern name or number may also be shown. The ® denoting a registerd brand name.

mid-1998 onwards Note the Portland vase designed within the W.
The Wedgwood Standard Impressed Mark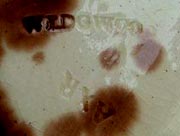 The standard impressed WEDGWOOD mark occurs on all items that include the three letter code.
The table below shows the year associated with each third letter in the group of three.
O - 1860
P - 1861
Q - 1962
R - 1863
S - 1864
T - 1865
U - 1866
V - 1867
W - 1868
X - 1869
Y - 1870
Z - 1871
A - 1872
B - 1873
C - 1874
D - 1875
E - 1876
F - 1877
G - 1878
H - 1879
J - 1881
K - 1882
L - 1883
M - 1884
N - 1885
O - 1886
P - 1887
Q - 1888
R - 1889
S - 1890
T - 1891
V - 1893
W - 1894
X - 1895
Z - 1897
The impressed letters first appeared in 1860 with the year letter 'O'.
From 1886 to 1897 the first 12 characters were re-used.
After 1891 ENGLAND will appear with the mark.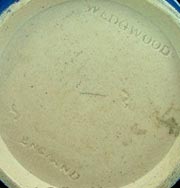 Again from 1898 the letters A to I are re-used but are easy to differentiate as they also have ENGLAND within the Wedgwood marks.
A-1898 B-1899 C-1900 D-1901 E-1902 F-1903 G-1904 H-1905 I-1906
Wedgwood Antique Pottery and Porcelain for Sale ... You can find great deals on Wedgwood Jasperware, Queens Ware and Fairyland Lustre at local Antique Auctions listed in our Antique Auctions finder (soon to be launched).