Antique Meissen Marks and the blue crossed swords mark imitators.
Not all blue crossed swords marks are genuine Meissen marks.
Knowing what to look for and the dates that are relevant to each Meissen mark can help you avoid buying imitation Meissen porcelain.
You should remember that the marks detailed below are mostly drawn by hand and that slight variations in the format occur and the mark only supports the source and doesn't testify to it.
The true test of an antique Meissen porcelain piece is always the overall quality of the object and the quality of the decoration.
The Meissen Blue Crossed Swords and Augustus Rex marks.

| | |
| --- | --- |
| 1723-1725 -- Original kpm mark with blue crossed swords beneath. | 1825-1924 -- blue crossed swords mark with curved handles |
| 1725-1732 -- Original blue crossed swords mark with curved crosspieces and handles. | 1924-1934 -- blue crossed swords mark with dot between top of blades. |
| 1732-1773 -- Dot period blue crossed swords mark with dot between crosspieces. | 1945-1947 -- blue crossed swords mark with crescent below. |
| 1773-1814 -- Marcolini period blue crossed swords mark with asterix below or between crosspieces. | 1947-1973 -- blue crossed swords mark with straight crosspieces. |
| 1814-1824 -- blue crossed swords mark with straight hilts and vertical bar below | 1974 -- blue crossed swords mark with meissen name in logotype script below. |
Meissen incised marks, rather than underglaze, used on biscuit porcelain and white glazed porcelain:
1774-1814

-- incised mark on biscuit porcelain.

1900

-- incised mark on white glazed porcelain.

1814

-- incised mark on biscuit porcelain.
Samples of actual meissen marks ...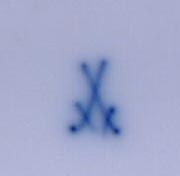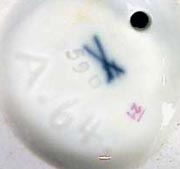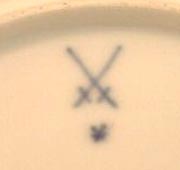 [hr style="solid|dash|dot"]
The Meissen Augustus Rex Mark.
The augustus rex mark or monogram (AR) was introduced by Meissen in the first half of the 18th century when the crossed swords were introduced.
The Meissen AR monogram was a special mark reserved for objects used by the court of Elector August the Strong, founder of the Meissen factory and later reigning monarch of Poland, King August II.

It was also added to pieces produced for the court of his son, August III, who succeeded him in 1733.
All court pieces were marked with the AR monogram, and occasionally the mark was added to gifts produced for royal visitors.
The mark was always applied by hand, in underglaze blue, and some variations exist.
However pieces marked with the AR monogram were produced in the very early days of the meissen factory and are mostly decorated with oriental motifs, in the Bottger chinoiserie or the kakiemon style.
It goes without saying that surviving pieces are very rare and very expensive and that there are almost none available on the open market. Most if not all of the existing pieces are part of Royal or museum collections.
You do see AR marked porcelain for sale at auctions on internet auction sites and at fairs and markets
And buyers should be aware that they are probably all imitations, most having been produced in the second half of the 19th century.
Most imitations will be colourful and completely different in style from the original early 18th century meissen pieces.
In the 1880's Meissen did take legal steps and attempt to stop the imitations (as they have also done with their crossed swords mark), but as with today's modern market, the general public are quite willing to accept imitations at the right price and the copies continue to be produced throughout europe.
Read on for a selection of the imitators, including the almost perfect and very popular imitator, Helena Wolfsohn.
The Meissen blue crossed sword mark imitators.
[hr style="solid|dash|dot"]
Anspach (Germany - Nassau)

Founded c1860
Used From: 1860 onwards
---
Arnstadt (Germany - Thuringia)

Founded in 1790
Used From: 1790 onwards
A small factory in production for a very short time.
---
Berlin (Germany - Prussia)

Founded in 1751 - By: Wilhelm Caspar Wegely
Used From: 1751-1757
The Wegely factory (Manufacture de Porcelaine de Berlin) produced mainly figurines in the Meissen and Vienna style. Wegely was forced to close his factory in 1757 due to financial problems.
---
Bristol (England - Gloucester)

Founded in 1770 - By William Cookworthy - Richard Champion
Used From: 1772-1782
William Cookworthy set up a porcelain factory at Plymouth in 1768, which he moved to Bristol around 1770. In 1772 he sold his patent to make porcelain to Richard Champion, who then sold it due to financial problems; to a consortium of Staffordshire potteries in 1782. The factory in Bristol was closed not long after.
---
Bristol (England - Gloucester)

Founded in 1749 - By: William Miller and Benjamin Lund
Used From: 1749-1752
Already operating as a glass making company in 1749 when they began manufacturing soft-paste porcelain. In 1752 William Lund sold the porcelain department to the Worcester factory.
---
Buschbad (Germany)

Founded in 1886 - By: L. Schleich
Period: 1886 - ca. 1927. Produced mainly household porcelain, with some decorative wares. Factory closed in 1927.
---
Dresden (Germany - Saxony)

Founded in 1894 - By Franziska Hirsch
Used from: 1894 - 1896
In 1894 Franziska Hirsch founded a painting studio located in Struwestrasse 19 where porcelain was decorated in the Meissen style.
In 1896 the Meissen factory submitted an official complaint against Hirsch for the imitation of their patented factory mark. The complaint was upheld and Hirsch was forbidden any further use of the mark.
Caughley (England - Shropshire)

Founded in 1755 - By: Gallimore - Thomas Turner
Used From: 1772-1799
Thomas Turner, a porcelain-painter from Worcester married the daughter of Gallimore and introduced soft-paste porcelain to the production around 1772. In 1799 the factory was bought by John Rose, the owner of the Coalport factory. Rose transferred production and used factory as a warehouse. Factory closed in 1814.
---
Charlottenbrunn (Germany - Silesia)

Founded in 1859 - By: Joseph Schachtel
Used From: ca. 1866
The Charlottenbrunn factory specialised in the production of porcelain pipes. WIth some general household porcelain and a few decorative wares. Factory closed in 1920.
---
Chelsea (England - London)

Founded in 1743 - By: Charles Gouyn - Nicholas Sprimont
Used From: 1755-1758
The first English porcelain factory. Nicholas Sprimont, sole owner from 1749 put the factory up for sale in 1763 due to illness. In 1769 it was purchased by James Cox, who resold it in 1770 to William Duesbury, the owner of the Derby factory. Both companies merged afterwards (Chelsea-Derby period).
---
Choisy-le-Roy (France - Seine)

Founded in 1786 - By: M. Clément
Used From: 1786 - 1886
In 1886, after an official complaint by Meissen, Choisy-le-Roy was forbidden to make further use of the crossed swords mark.
---
Derby (England - Derbyshire)

Founded in 1756 - By Planché, John Heath and William Duesbury
Used From: Last quarter of the 18th century
The first factory was set up in 1745 by Thomas Briand and James Marchand, but lasted for only a short period. The second attempt, by William Duesbury in 1756, was more succesful: the Derby factory is still operational today.
Its products were advertised using the slogan "Derby the second Dresden", directly relating it to Meissen and high quality porcelain. In 1784 - Derby merged with the Chelsea factory.
---
Dresden (Germany - Saxony)

Founded at the end of the 19th century - By Meyers.
Used From: End of the 19th century
This was not a porcelain factory but a company and eventually a selection of companies and decorators who decorated porcelain in the Meissen style.
The Meissen Augustus Rex mark imitators.

The Augustus Rex monogram (AR) was introduced by Meissen in the first half of the 18th century and other manufacturers quickly saw the advantage of including a pseudo AR mark on their own porcelain wares.
The list below details the best of these and includes English and European makers marks.
Helena Wolfsohn - Dresden (Germany - Saxony)


Founded in 1843 by Helena Wolfsohn
Used: c1880s
Helena Wolfsohn wasn't a porcelain manufacturer but rather a painting studio that decorated externally bought porcelain.
However, the AR monogram on early wares is often under the glaze and it's safe to assume pieces were ordered with the mark applied before firing. The Wolfsohn mark is one of the best examples of the Augustus Rex mark you will find.
---
Bauscher Brothers - Weiden (Germany - Pfaltz)

Founded in 1881 by the Bauscher Brothers
Used : c1882
The Bauscher Brothers founded their Porcelain factory in 1881 producing table wares for railroad and shipping companies. In 1927 the company was taken over by the Lorenz Hutschenreuter AG from Selb. The mark shown was registered in the RWZR (Weiden district) on the 7th of November 1882 and is actually 'AB' and not 'AR' but the style is intended to mirror the Augustus Rex mark.
---
Blot - Mehun-sur-Yèvre (France)

Founded in 1920 by Albert Blot
Used from: 1930 - 1941
Although this is clearly a monogram depicting "AB" (after the founder), it cannot be denied that the style is clearly influenced by the Augustus Rex monogram of the Meissen factory. The factory of Albert Blot started already as a quite large company and employed more than 100 workers. The factory did not produce real art porcelain but was more focussed on table wares.
---
Boussomaert - Arras (France)

Founded in 1770 by Joseph François Boussomaert
Used from: 1770 - 1790
The Arras porcelain factory was founded in 1770 by Joseph François Boussomaert under the protection of M. de Calonne, the governor of Flanders and Artois. However, the Arras factory only produced soft paste porcelain which was painted in the style of the Tournai and Chantilly factories.
The factory was closed in 1790.
---
Anton Richter - Dresden (Germany - Saxony)

Founded in 1887 by : Anton Richter
Used: from 1887
Anton Richter did not manufacture porcelain and the speciality of the studio was decorating porcelain in the Vienna and Meissen styles. Richters studio of Richter did win the Dresden silver medal award for porcelain decoration in 1891 and in 1896. The 'AR' was probably used to add credibility and as it matched Richters initials.
Hutschenreuther - Hohenberg (Germany - Hohenberg)

Founded in 1822 by Carl Magnus Hutschenreuther
Used : c1882
Set up by Carl Magnus Hutschenreuther, a porcelain painter who once worked at the Wallendorf factory. The mark is actually 'HR' and not 'AR' however the form displays a clear intention to fool the uneducated buyer. The "Porzellanfabrik C.M. Hutschenreuter is still one of the biggest porcelain factories in Germany.
Tinelli - Milano (Italy)

Founded in 1833 by Luigi Tinelli
Used : c1850
Originally Tinelli imitated wares from the Wedgwood factory and marked them with his own mark. In 1841 the factory was taken over by his brother Carlo Tinelli and Giulio Richard, then in 1870 Giulio Richard gained full control and in 1873 renamed it to "Società Ceramica Richard". The mark would never fool a knowledgeable collector but is clearly designed to imitate the Augustus Rex Mark.
[message type="success|error|info|notice"]It's always worth repeating that the Meissen marks detailed above only support the source as Meissen Porcelain and that the mark doesn't always testify to the authenticity of a piece.[/message]