0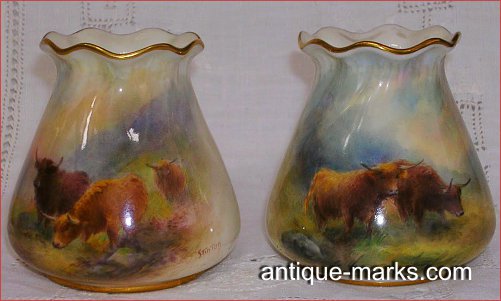 Fake Royal Worcester Marks
Good quality porcelain is often copied and fake Royal Worcester marks are quite common. The artwork on this nice pair of posy vases looks the part and the Stinton signature could get you very excited if you came across them at auction. But are these marks genuine Royal Worcester marks. Only good research and an eye for detail can make sure you don't pay top dollar for inferior copies or outright fakes.
Continue Reading
0

Antiques Collection: Rare Worcester Pot Pourri
Few things provide an antique collector with more pleasure than finding an antique they really like. This wonderful little Royal Worcester pot pourri bowl was the perfect addition to our antiques collection and sits beautifully among the other pieces of antique Worcester porcelain we own. It's been beautifully decorated in the Royal Worcester Persian style using a palette of muted shades of green and peach and bears all the right Worcester marks. Plus it came at just the right price.
Continue Reading
Worcester Antiques Shop
Worcester Porcelain Collectibles at the Royal Worcester Antiques Shop As the oldest continuously operating ceramics factory in the UK, Royal Worcester antiques come in a wide variety of quality porcelain products. Including the ever popular blue and white porcelain from the 1st period and Dr Wall era. Also offering highly collectable Worcester antiques in the much sought after Worcester Fruit painted porcelain category and an endless stream of beautifully hand painted porcelain by ...
Continue Reading
Royal Worcester Gallery
Royal Worcester Gallery - a brief look at examples of Worcester porcelain. We've included the Royal Worcester Gallery to give you a brief look at a few examples of good quality Royal Worcester Porcelain. Quality porcelain from the oldest, continuously operating English porcelain factory still in production today. The Worcester Gallery includes items from renowned artists like Walter Sedgley, the Stintons, The Doughty sisters and many more. We will add to it as we can and when we ...
Continue Reading
Royal Worcester Stinton
The Royal Worcester Stinton story and details for John Stinton jnr, James Stinton and Harry Stinton. The Worcester Stinton dynasty is renowned for their famous Highland Cattle and Gamebird scenes. They are probably the best known of all Royal Worcester artists, with members of the family painting at the various Worcester factories for almost one hundred and sixty years. The best known of these would undoubtedly be Harry Stinton, his father John Stinton junior and his uncle James Stinton, ...
Continue Reading
James Hadley
Royal Worcester Artist - James Hadley (1837 - 1903) In the 1850s James Hadley was apprenticed to Kerr & Binns of Worcester. He worked in the modelling department with Edward Locke and the young Thomas Brock. By 1870 James Hadley had become the principal modeller at Royal Worcester porcelain. In 1875 he left the Worcester factory and set up his own modelling studio at 95 High Street, Worcester. Hadley is reputed to have sold the complete output of his factories ornamental vases and ...
Continue Reading
Dorothy & Freda Doughty
Worcester Artists Dorothy Doughty (1892-1962) and Freda Doughty (-1972) The Doughty Sisters, Dorothy and Freda Doughty, probably did more to ensure the future prosperity and stability of the Royal Worcester factory than any other Worcester artists or modellers. Born in San Remo, Italy, Dorothy and Freda were the daughters of Charles Doughty, the English poet and traveller (The author of 'Arabia Deserta'and the inspiration for Lawrence of Arabia ). They came to England when the sisters were ...
Continue Reading
Worcester's Charles Baldwyn
Royal Worcester Artist - Charles Henry Clifford Baldwyn (1843-1913) Few royal worcester artists are better known than Charles Baldwyn,(Charley). His paintings of swans in flight on royal worcester vases are instantly recognisable as his signature pieces. Charles Baldwyn was born in 1859, the son of worcester piano tuner and skilled musician Henry Baldwyn. Charles Baldwyn started work at the worcester factory at the age of fifteen and as with all young artists he spent his first year doing ...
Continue Reading
Royal Worcester Fruit
Royal Worcester fruit painted porcelain and the skill of the Worcester fruit artists. The beauty of Royal Worcester fruit painted porcelain can only be achieved thanks to the varied skills that the fruit painters and craftsmen possess. It is believed that Worcester artist Octar H. Copson, was the first to paint Worcester Fruit He painted a large plaque commissioned by a local farmer to celebrate the introduction of the pershore plum in 1880. Modern painters can train for up to seven ...
Continue Reading
Royal Worcester Artists
Information on the foremost Royal Worcester Artists; everyone from Charles Baldwyn to Hadley, Sebright and Doughty. Over the years Royal Worcester and all of its many incarnations have employed or been associated with some of the best and most innovate ceramics artists. The artists detailed below are currently a very small selection of these but we hope to grow this list extensively over the years. Although Worcester porcelain takes a great many skilled hands to manufacture, from around ...
Continue Reading