Few things provide an antique collector with more pleasure than finding an antique they really like. This wonderful little Royal Worcester pot pourri bowl was the perfect addition to our antiques collection and sits beautifully among the other pieces of antique Worcester porcelain we own.
It's been beautifully decorated in the Royal Worcester Persian style using a palette of muted shades of green and peach and bears all the right Worcester marks. Plus it came at just the right price.
There are a great many Royal Worcester porcelain vases, bowls and other objects to be found at antique auctions, in antique dealers shops and at antique fairs.
Most show the superb quality and craftsmanship that Worcester produced, but sadly a large percentage also show considerable wear & tear and even significant damage. It's a real pleasure when you find a piece of Worcester porcelain that you can be proud to add to your antique collection, which is exactly what this Worcester pot pourri bowl is.
A rare & beautiful Royal Worcester pot pourri bowl in the Persian style
Of deep dish form raised on three paw feet & complete with original lattice scrollwork cover. Beautifully decorated in the Persian style using a palette of muted shades of green and peach in a wide band of scrolling vine and leafwork.
The base with moulded leafwork, in rich green and peach tones above the three well formed paw feet. Gilded in high relief in the aesthetic style with foliate bands around the base and reticulated cover. All on a rich ivory ground.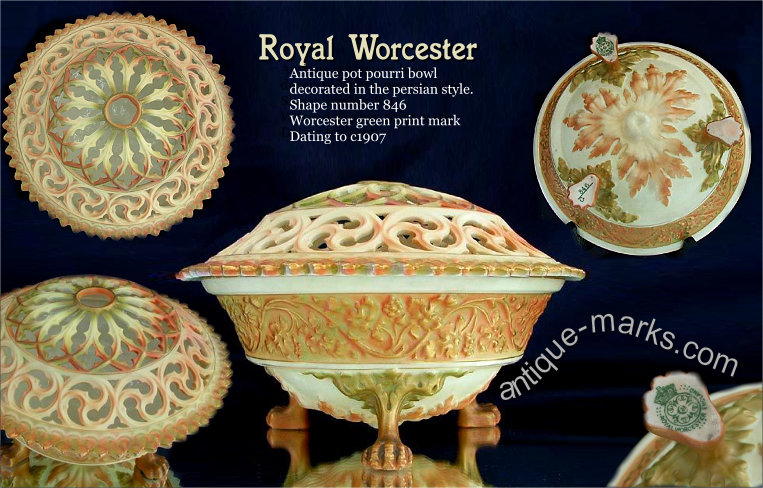 Worcester Persian Style ...
From 1851 to 1887 the Royal Worcester Severn Street factory employed around 700 people. The then Royal Worcester Art Director, Richard Binns, encouraged the artists and designers to work in and produce beautiful porcelain objects in many different styles.
The factory output included objects in the Japanese, Persian, Indian, Renaissance and classical Greek styles. The Persian style, of which this covered pot-pourri bowl is a good example, proved quite popular and a great variety of vases, bowls and other porcelain pieces were produced by Royal Worcester.
Finding other good examples of Persian style Worcester porcelain isn't that difficult. You would be well advised to add a few nice examples to your own antique porcelain collection.
Royal Worcester Makers Marks ...
This lovely Worcester pot pourri bowl bears requisite Royal Worcester marks to the base of two paw feet. One foot bears the standard Worcester porcelain print mark in green. The mark having 6 dots either side and 4 dots below.
The dot code dating this beautiful piece of Worcester porcelain to c1907. The other foot bears the Worcester shape mark 846. The pot pourri bowl stands 12.5cm tall with an 8cm deep bowl. The cover is 20cm in diameter & 5cm deep. It weighs 820 gms.