In late 1907, Fenton Glass introduced Iridescent glass designs now known as the very popular and highly collectible carnival glass.
The Fenton hobnail glass line is very much sought after and was a Fenton top seller when it was first introduced around 1939. The exceedingly rare Bottle No.289, which ensured Fenton's prosperity when it was introduced is one of the most desireable pieces of Fenton Glass.
On January 2nd 1907, the first glass was produce by the Fenton Glass factory in Williamstown, West Virginia.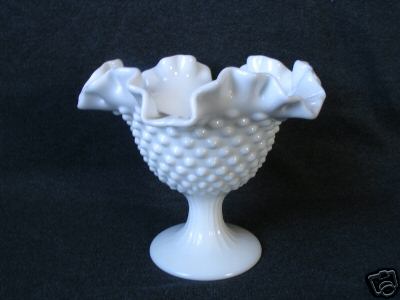 Frank L. Fenton's desire to develop new and unusual colors helped to keep Fenton Art Glass at the forefront of the handmade art glass industry for decades to come.
In 1907 Fenton Glass introduced irridescent glass.
In 1939 Fenton began producing a full line of the popular and collectable hobnail glass.
Fenton Art Glass is still produced today and it is still renowned for its beautiful colors.
Newer Vintage Fenton Glass Marks :
Vintage rather than antique Fenton Glass was re-introduced in 1970, when Fenton began marking its glass with FENTON in script, inside an oval.
In 1971, Fenton Glass added a range of Carnival glass to its Olde Virginia Glass line. The company marked these products with an OVG mark in capitals and stacked vertically
In 1980, Fenton reduced the size of the mark and added a date number that changed in each decade … 8 for the 1980′s, 9 for the 1990′s and 0 on and after 2000.
Fenton also produced patterns using molds they purchased from other glassmakers. Fenton marked thse products using an F within a vertically oriented oval.
Learn more about rare and collectible antique Fenton Glass to add to your glass collection ... About Fenton Art Glass