A short history of the Fenton Art Glass company & collecting Fenton's stunning glass creations
The Fenton Art Glass company was founded in 1905 by Frank L. Fenton and his brother John W. Fenton in an old glass factory in Martins Ferry, Ohio.
The Fenton art glass company is the largest manufacturer of handmade colored glass in the United States and it celebrated its centenary in 2005.
The company began by painting decorations on glass blanks made by other glass manufacturers. but soon had to manufacture their own glass as they were unable to get the glass they needed.
A brief chronological history of Fenton Art Glass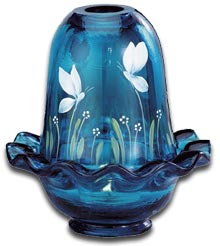 On January 2nd 1907, the first glass was produce by the Fenton factory in Williamstown, West Virginia and Frank L. Fenton's desire to develop new and unusual colors helped to keep Fenton at the forefront of the handmade art glass industry for decades to come.
From 1905 to the 1920's, Fenton art glass design was heavily influenced by the artists at Tiffany and Steuben.
In late 1907, Fenton introduced Iridescent glass and this glass, now known as carnival glass, is a very popular collectible glass today.
During the 1930's, Fenton produced practical items, such as mixing bowls and tableware to get through the depression and WWII shortages. They also continued working on developing a wide array of new colors.
In 1933 Fenton began its line of mixing bowls and reamers for the Doromeyer Company to sell with its electric egg beaters. The Doromeyer account kept Fenton from folding during the depression.
A cologne bottle, a copy of the old Hobnail pattern they tried in the late 1930s, pulled the Fenton Art Glass Company from the depths of the depression and into economic renewal.
In 1936 LG Wright, a jobber based in New Martinsville, West Virginia, (who used Fenton to make glass from molds he bought from folding companies), brought in a mold of an old Hobb's Company Barber Bottle, hoping that Fenton could make a reproduction of it for his wholesale business. Fate intervened and a buyer for Wrisley Cologne saw the finished bottle and asked if it could be mass produced.
The original bottle was too expensive to produce but small changes to cut costs produced the No.289 bottle.
The bottles were shipped to Wrisley, who test marketed them in 1938. The results surprised both Fenton and Wristley.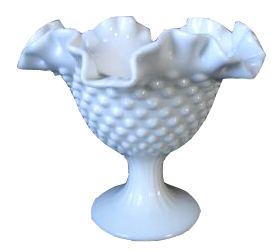 The No.289 bottle sold better than they could ever have imagined and Fenton struggled to keep up with demand.
Having secured the Wristley and Doromeyer accounts Fenton prospered once again.
In 1939 after seeing the success of the hobnail cologne bottle, Fenton began a complete line . The hobnail line has become a company top seller ever since, by far outlasting the Wrisley defection to a machine made Milk Glass bottle in the early 1940s.
In the late 1940's the top three members of the Fenton management team died, leaving Frank M. Fenton, age 33, and Wilmer C. (Bill) Fenton, age 25, to step in and take over as President and Vice President.
In spite of other glass factories closing at a rapid rate, Frank and Bill led the Fenton factory through significant American growth for the next 30 years.
In 1986, the leadership of the company passed to a third generation, with George W. Fenton, taking over as President.
Today nine Fenton family members work together along with over 400 employees to create handmade art glass that is loved by collectors around the world
Fenton art glass is still renowned for its beautiful colors and patterns and every glass object is an individual piece of light and colour created by master glassworkers and skilled decorators.
Examples of some collectable Fenton Art Glass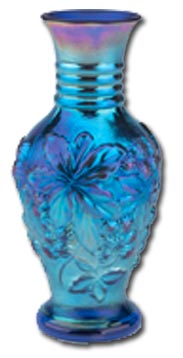 Fenton Favrene Glass Vase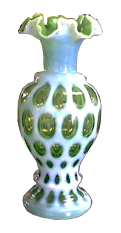 Fenton Lime Green Opalescent Coin Dot Vase
Made from 1953 - 1954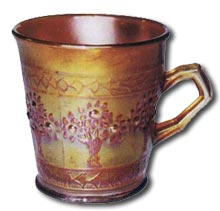 Fenton Orange Tree Tankard