Chihuly Glass Art are sculptures of amazing art made out of glass. Dale Chihuly is the designer, he also has teams that work with him in his studios for the last decade or so due to personal issues Dale Chichuly has suffered. Chihuly may not be doing all the intense work at this time, however, he is still the designer of all of these works of art that come from the Chihuly Studios.
Chihuly Glass Art has exhibitions all around the world. The artist himself has a studio in the Pacific Northwest. He and his family still reside in Washington. Dale Chihuly was born in 1941. He had originally decided he was not continuing his education once he graduated high school. His mother talked him into attending the College of Puget Sound. He later transferred to the University of Washington and began to study interior design.
Growing up in the Pacific Northwest, Chihuly states he is heavily influenced by Native American works. In 1961, Chihuly joined a fraternity and also learned the beginnings of glass blowing, and how to melt and fuse glass. In 1962, Chihuly dropped out of the University to go study art in Florence, Italy.
Through his travels in the Middle East, and meeting Robert Landsman, Chihuly decided to return to his studies and obtained his Bachelor of Arts in 1965. He also began a weaving class where he utilized glass shards woven into tapestries.
After experimenting with glass blowing, Chihuly won a full scholarship for the University of Wisconsin-Madison. In 1967, he received a Master of Arts in sculpture, he then enrolled in the Rhode Island School of Design where he received his Master in Fine Arts. Thanks to a grant and a Fellowship he was given, Chihuly was able to travel to Venice, Italy where he first became aware of the team's approach to blowing glass.
Decades of Works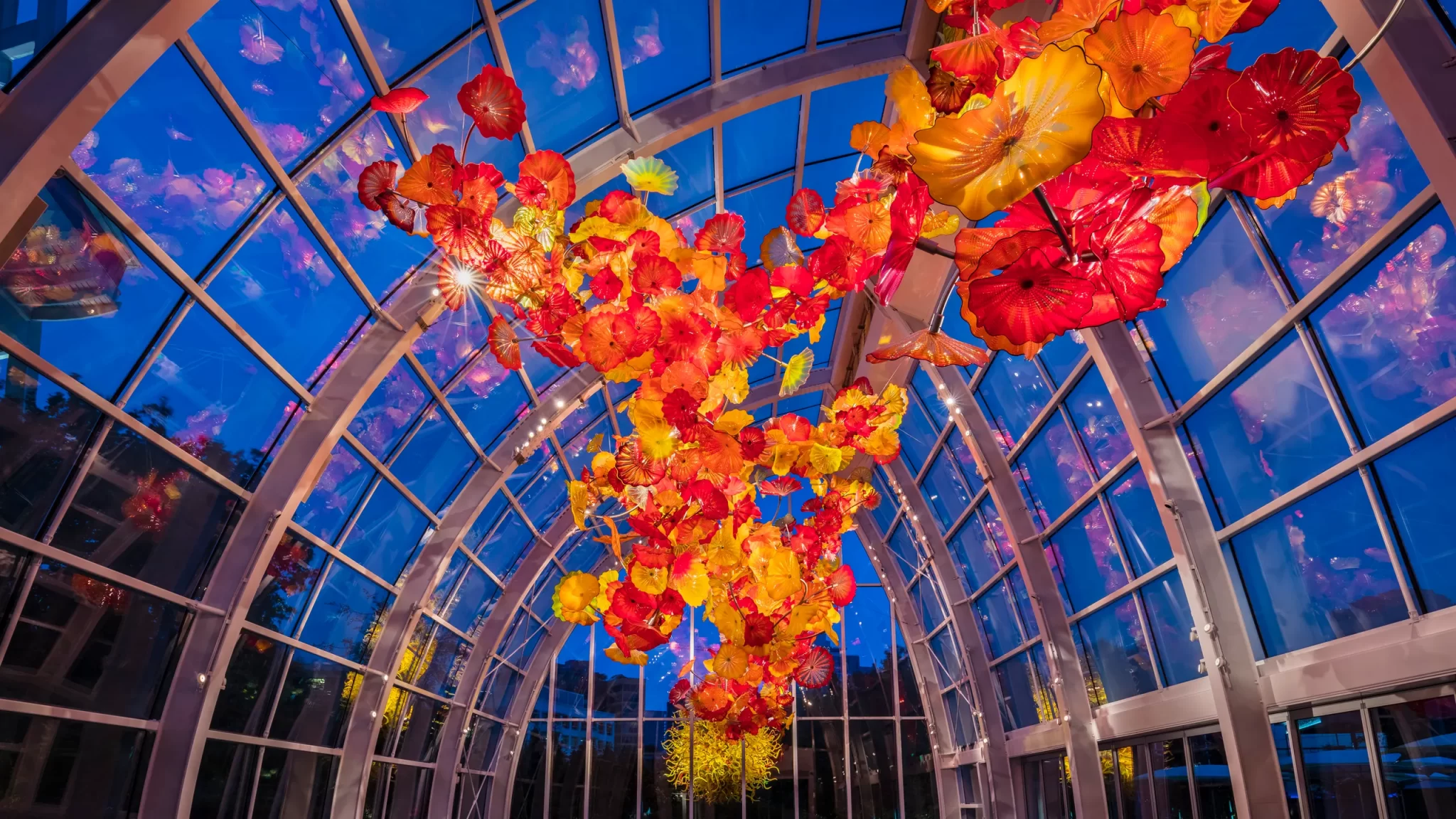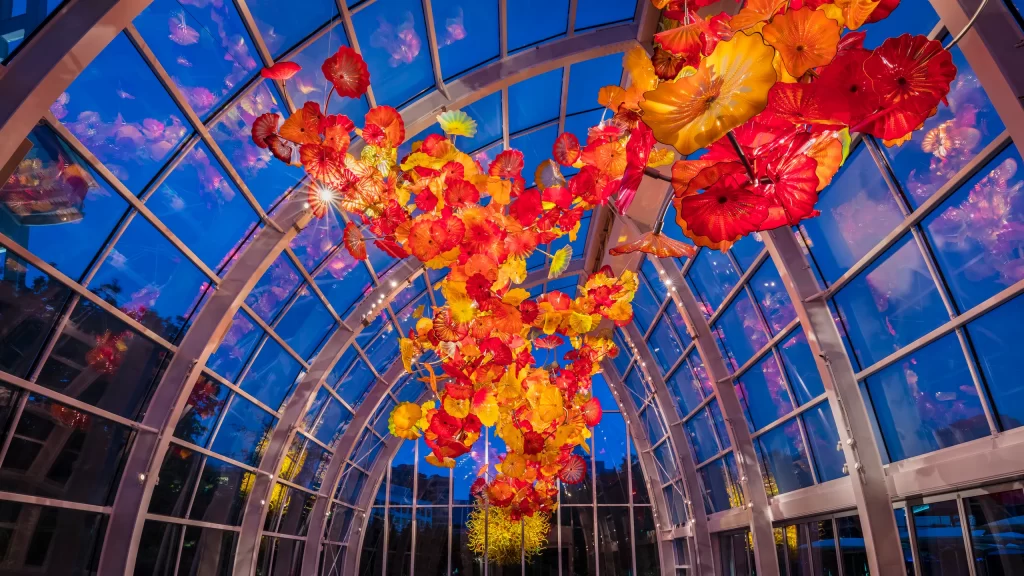 Over a period of three decades, Chihuly designed many of the world's finest Glass Art Sculptures. By moving the art of blowing glass into a large-scale piece of Art, Dale Chihuly became one of the world's best known Glass Artists.
Because of his interest in Native American Art and Design, he began painting replications of Native American weavings onto glass. In 1977, based on Native American woven baskets that he had seen as a child, he began Art displays based on those baskets.
1980 brought on his Seaform Series. These were thin transparent sheets of glass strengthened by colored ribbons of glass. The next year he designed the Macchia Series which featured every color that was available in his studio. In 1986 he designed the Persian Series which featured room sized creations with restrained color patterns.
1988 was the Venetian Series based on the Art Deco period
1989 came the Ikebana Series, which were glass flower arrangements
1990 saw the return of the Venetian Series, on a more eccentric scale
1991 Niijima Series featuring six foot spheres inspired by glass fishing floats.
1992 became the Chandeliers period which began as modest designs but soon became one ton sculptures of glass. Some looked to be flowers or orbs, some looked like beasts and some appeared to be snakes. Also at this time, Chihuly designed and created Irish Cylinders, modest representations of blown glass works.
In 1995, Dale Chihuly began 'Chihuly over Venice'. With these, Dale Chihuly designed and created glass sculptures at the glass factories in Mexico, Ireland and Finland and these sculptures were hung over the canals and piazzas of Venice.
Galleries and Museums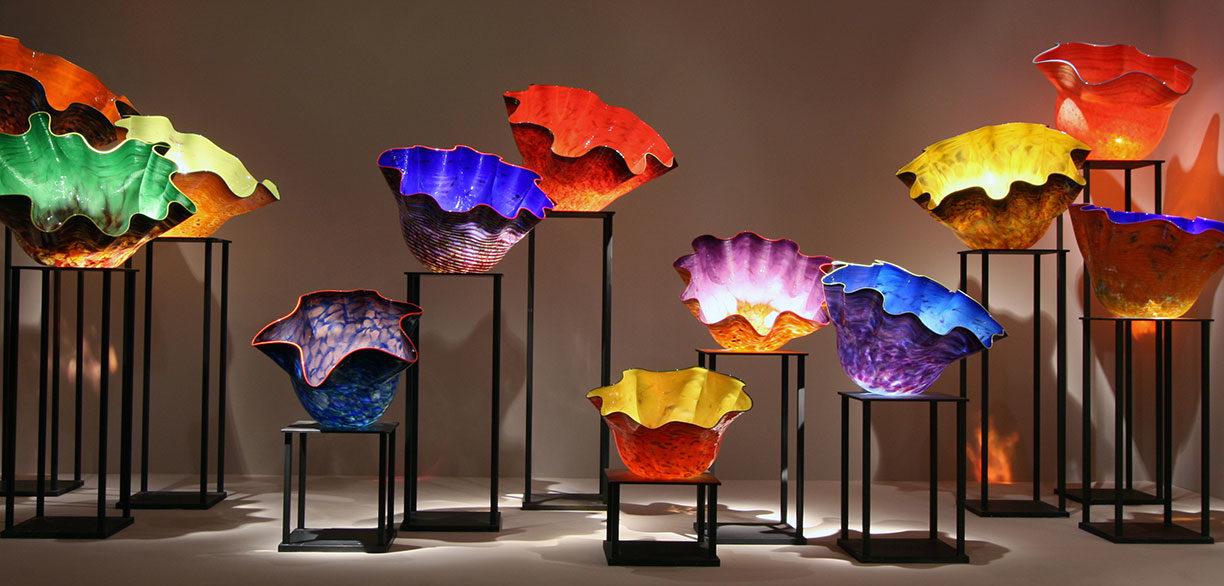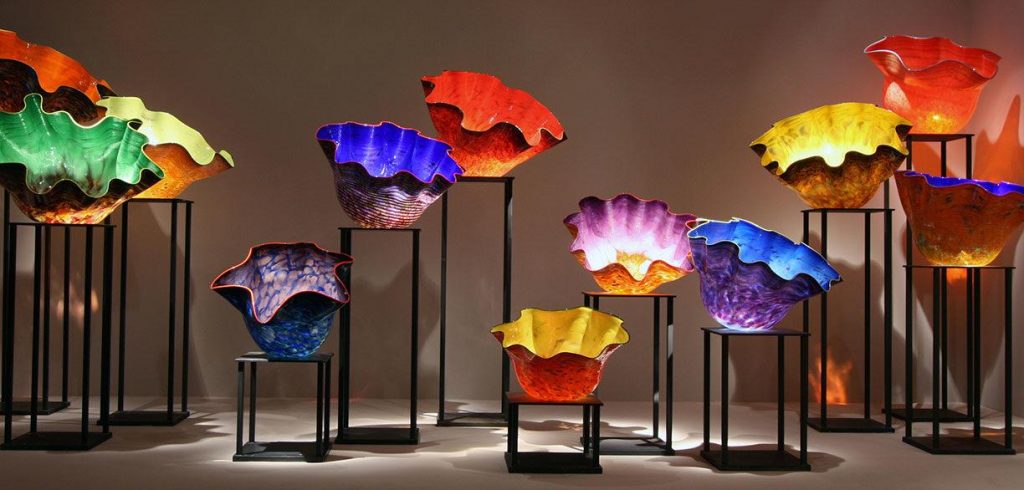 There is one of the largest permanent galleries dedicated to Chihuly works  at the Oklahoma City Museum of Art. There are two retail stores maintained in partnership with MGM Resorts. St. Petersburg Florida holds the Morean Arts Center which features Chihuly works. Columbus, Ohio is home to the Franklin Park Conservatory and Botanical Gardens which houses Chihuly Sculptures.
Toyama, Japan Glass Art and Botanical Gardens is also home to Chihuly Glass Art.  Seattle, Washington has two locations where works of Chihuly can be viewed. Nashville, Tennessee is home to Chihuly at Cheekwood and Fountain Focal Point in Atlanta, Georgia now has a permanent Chihuly in the Garden.
Chihuly Exhibitions travel around the world giving millions of people the chance to set eyes on some of the greatest Artworks of all time.  There are many permanent collections of Chihuly Glass Sculptures in over 400 permanent exhibits. These range from the United Arab Emirates to China, Canada and the United States to England, Israel and Singapore, and also in Australia.
Personal Life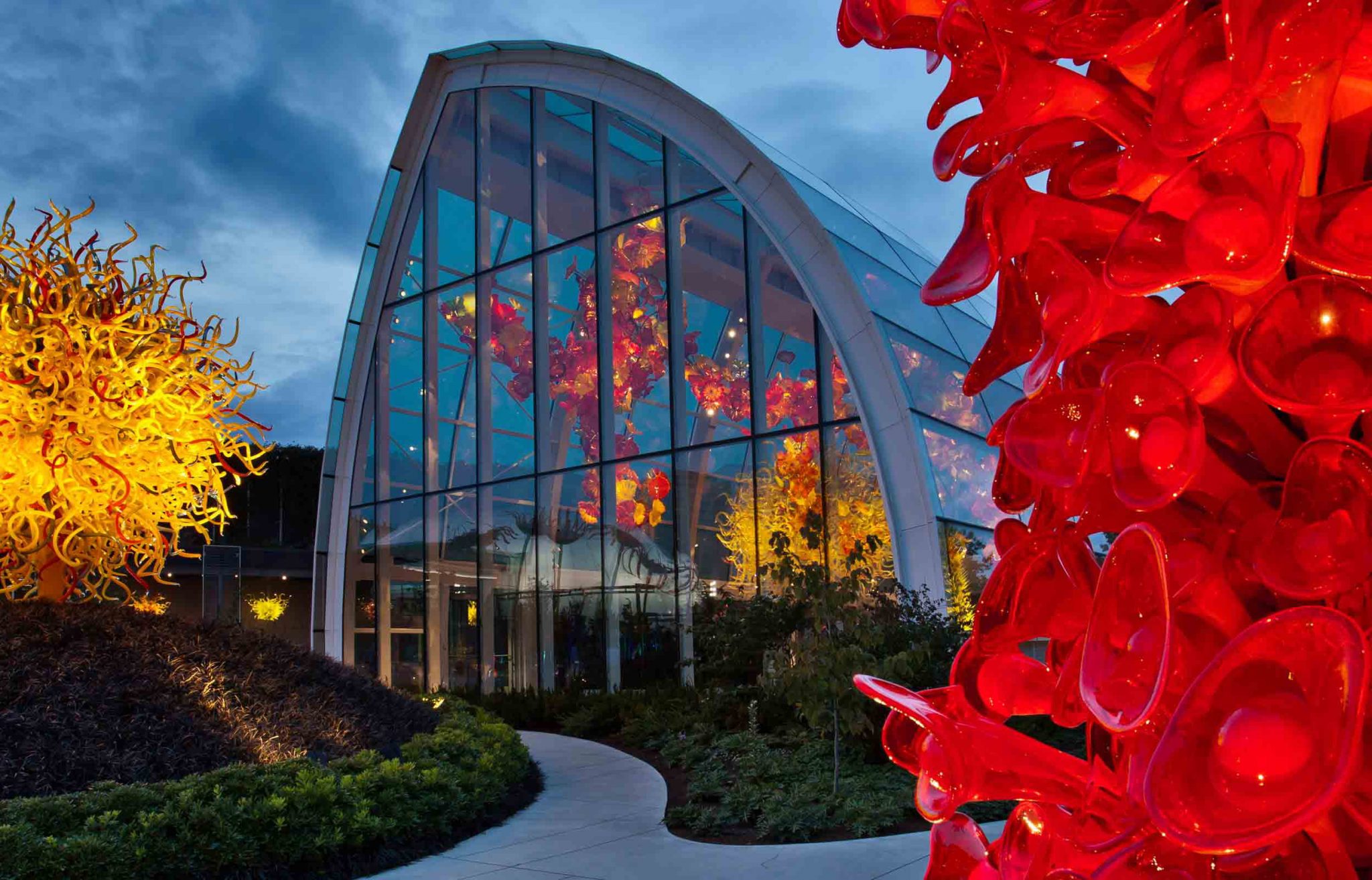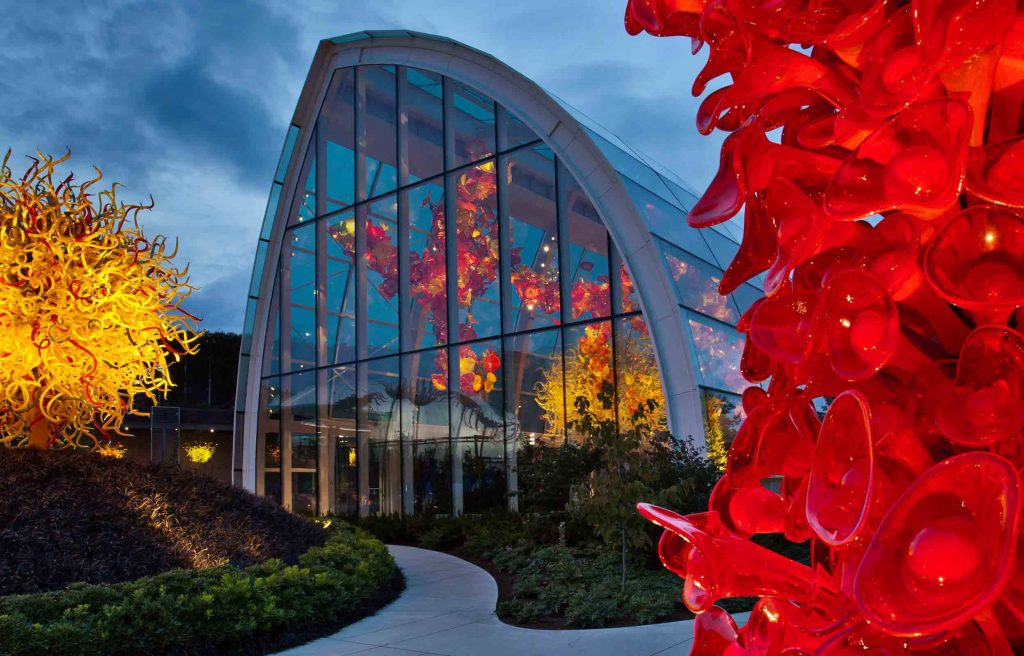 Dale Chihuly works with his team of assistants now due to limitations that he is faced with. Beginning in 1976 where he was in a severe vehicle accident, to the more recent developments of mental health issues like Bipolar disorder, he also deals with old, previous injuries causing pain.
Due to a dislocated shoulder while body surfing, he is unable to blow glass alone due to the weights of the pipes and other equipment. His team now helps out considerably. As long as he can put an idea on paper they help bring it to life. Unable to work for long periods of time, 1 or 2 hours a day, maybe once or twice a week is as much as this great artist can deal with at a time.
His wife also helps with all aspects of the 'business', including the legal battles they face with former employees like handymen, who believe that they can lay claim to some of the greatest ideas to come from Dale Chihuly.
The battle is being fought by attorneys, but could be a long drawn out situation. Chihuly, however, needs not prove anything, that will rest on the plaintiff who claims to be the mastermind behind some of the great works of glass art sculptures.
Museums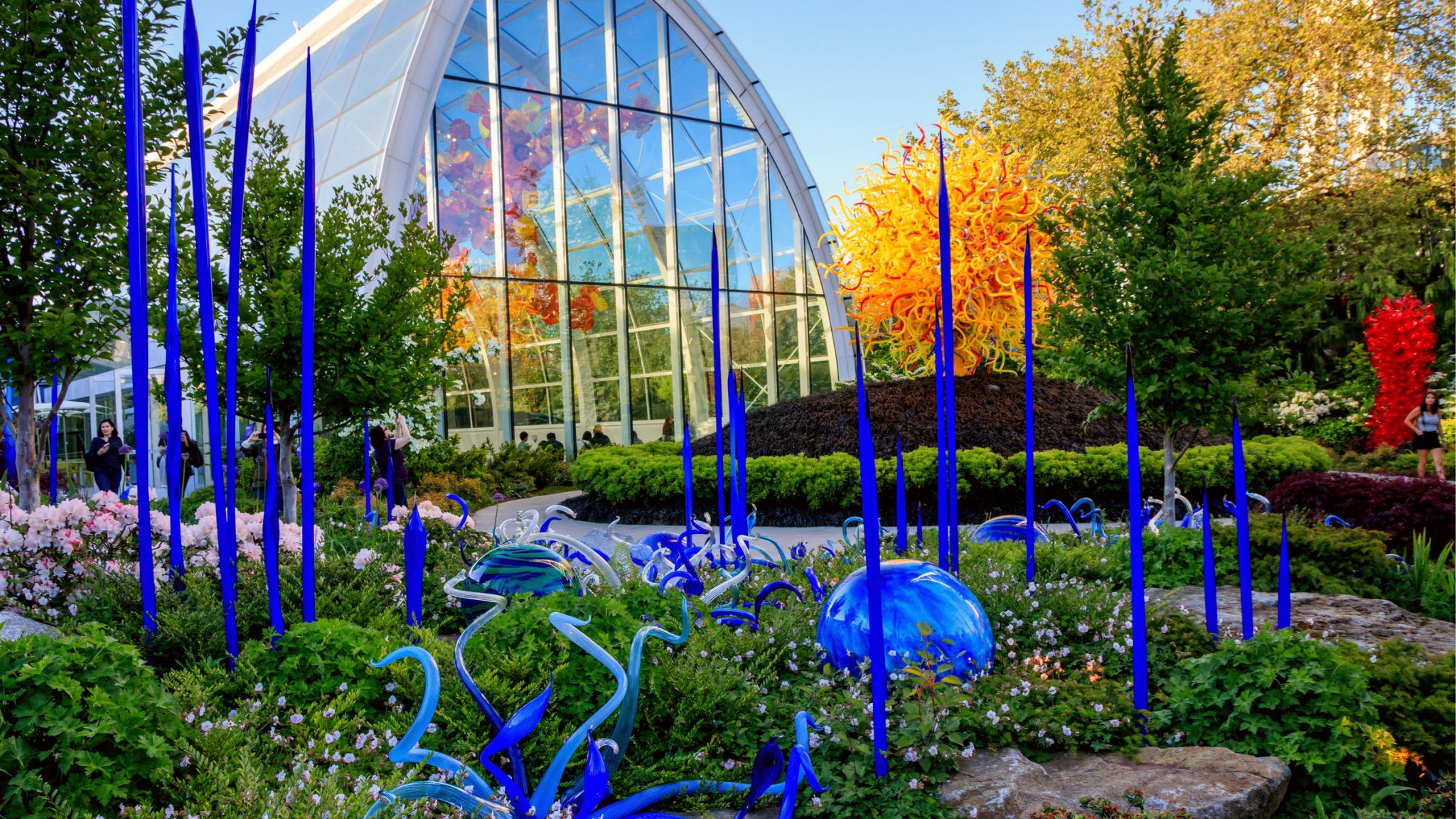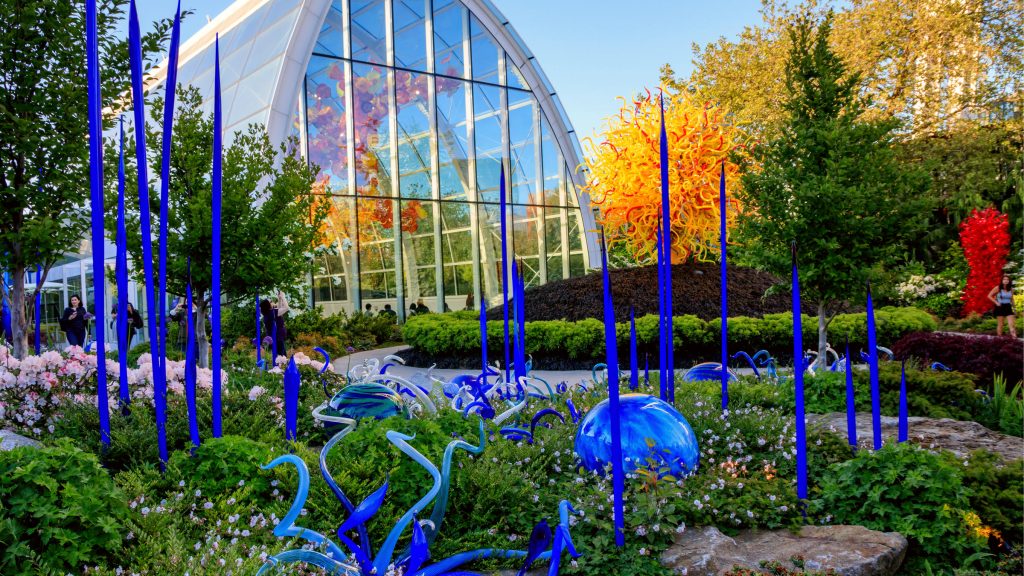 The Chihuly Art Museums hold a wide variety of the works that Chihuly has created. They range from paintings, weavings and small blown glass items to some very large and permanent blown glass sculptures.
Dale Chihuly has been influenced by different cultures, methods and many of his own strange, but successful attempts at unique art works. Chihuly celebrates life with innovation and imagination, even to this day as much as his physical limitations allow.
The worldwide museums proudly display the works of a genius artist. The exhibitions may travel from location to location to give all a chance to know that art is popular and can be created with an imagination. He seems to enjoy the different view he has now when it comes to Art. Today, he is more of a director than an actor. But, he still finds immense satisfaction from creating Art.
The Glasshouse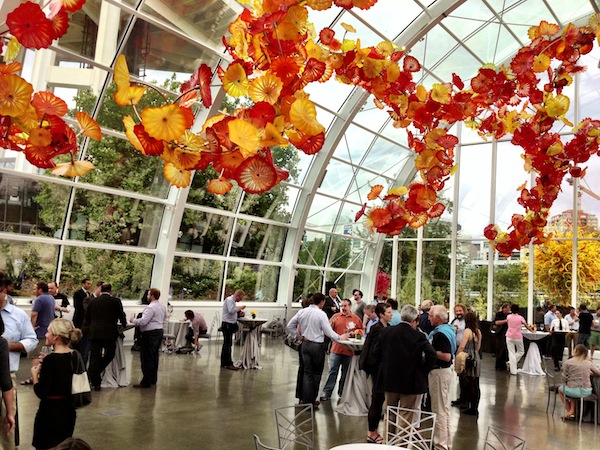 Within all his exhibitions, the most prominent exhibition is likely the 40 foot Glasshouse that envelops a 100 foot long sculpture of flowers. This work of art is done in shades of red and orange, with some yellow and amber colorings. It is made with multiple elements and depending on the natural light of the day, it can appear differently each time it is viewed.
The Galleries
Within the galleries, one can see how the boundaries of art have been pushed successfully.
Botanical Gardens
Always a fan of Botanical Gardens, Chihuly created gardens that include amazing glass sculptures to represent gorgeous plants and beauty of nature.
The Theater
Once inside the theater, you can view the many videos that show the works of Chuhily and how those works are created. Today, the videos will show his team that do the actual works based on the designs that Dale himself creates. Due to his physical and mental limitations now, it is almost impossible for Dale Chuhily to spend an entire day in the studio working.
What can be said about the exhibitions, the galleries, the museums is that worldwide they are proud to open their doors to such a great artist that has changed perception of glass art. He has changed the world when it comes to glass by incorporating it into other artworks such as tapestries and paintings. He has not hesitated to try new formats, new methods and new ways. Even with so many physical and mental limitations on him, he has not stopped designing in his 80 plus years.
You can be sure of the fact that generations of families will enjoy learning how Dale Chihuly changed the world views when it comes to glass and art together. To the point of even being partners with others in a school called Pilchuck Glass Art School. This is located in Washington. Dale Chihuly has worked as a teacher, an educator, a mentor and an author. The school has offered Artist Residencies and many fellowships.
Dale Chihuly has had a dream, he has stretched our imaginations and shares his knowledge and his gifts with us in his many exhibits, galleries, and museums. Chihuly has always loved a challenge and spares no work when it comes to stretching the limits of any media form.