Charles Noke was Royal Doultons premier designer and modeller.
Here we examine why and Charles Noke's life, his work, the Doulton relationship and his history.
In 1899 the Doulton studio recruited a young designer by the name of Charles Noke.
He is now regarded as the brainchild behind Royal Doulton seriesware, a range of products were standard blank pottery shapes (everything from plates to jugs, bowls to vases and teapots) could be decorated with a consistent theme.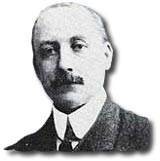 Initially, Charles John Noke was a gifted ceramic designer at the Royal Worcester factory and only later became the senior designer and modeller for Royal Doulton from 1889.
Born in Worcester in 1858, only a short distance from the cathedral and the Royal Worcester works, Charles was the son of a well respected antique dealer.
From the earliest age he showed a great interest in the contents of his fathers shop and particularly his private collection of antique vases and figures from most of the major English and European porcelain factories.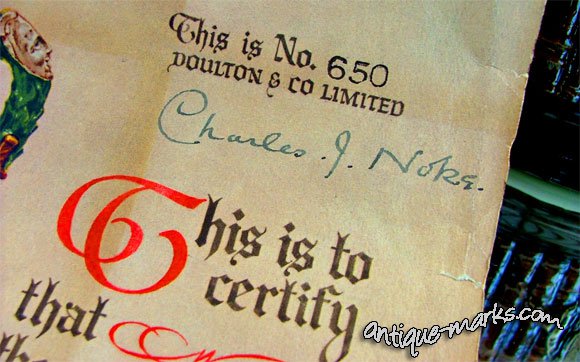 Nokes father was great friends with R W Binns the former partner of W H Kerr and art director of the newly reformed Worcester Royal Porcelain Company.
Binns admired Charles Noke's appreciation of antique ceramic art and encouraged him to spend time wandering around the worcester factory and talking to the employees.
He would stand and watch the artists and potters at work, asking a quiet question here and there, slowly absorbing the atmosphere and activity of the great porcelain works.
Wandering freely throughout the Binns factory and would end most of his visits at the modelling room of James Hadley.
James Hadley was a critically acclaimed modeller
He had shown his work at international exhibitions in London and Vienna and was already known to Charles from social visits with his father.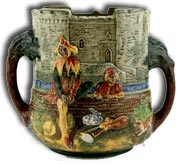 Hadley eventually allowed Charles Noke to take home some modelling clay and was surprised when he returned with models of an elephant and a court jester that demonstrated a good understanding of form and loads of promise.
In 1873, at the age of fifteen Charles Noke signed an apprenticeship under Hadley and Binns to become a modeller and enrolled on a part time basis at the Worcester college of design.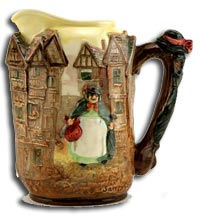 While Charles was still serving his apprenticeship Hadley left the factory and set up as an independent designer.
Noke continued his term under Binns and other factory modellers like George Owen; but almost all of Hadley's independent work was being bought by the factory and there was still a great deal of contact with him and noke would often be sent to help Hadley in his own workshops.
It was inevitable that Noke should be greatly influenced by James Hadley's style and you can see this in a great deal of his early work.
Charles served his apprenticeship and stayed with the Royal Worcester factory for sixteen years, taking over much of the in house design work that had formerly been done by Hadley.
His work was shown at national exhibitions and he built up a formidable reputation as a skilled modeller of ornamental vases and figurines that led to John Slater, director of the Doulton works in Burslem, approaching him with an offer of work as chief designer at Royal Doulton.
In 1889 Charles Noke accepted an offer from Royal Doulton and moved to the Doulton potteries
Henry Doulton had a very unusual work policy at his art pottery allowing his designers to work entirely within their own desires.
There was no laid down 'Doulton Style' which needed to be followed and the only direction they were steered in was one of total freedom of expression in whatever form of ceramic artwork they chose to pursue.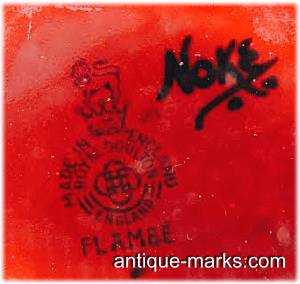 This was based on a simple premise that artistic designers had a burning desire to produce art and that this should not be restricted by confining their designs to a particular theme.
It was a policy that paid off and Doulton had a reputation for producing large volumes of high quality art work that spread across the world. It was an ideal platform for Noke's talents.
In 1893 - Charles Noke's first pieces for Doulton appeared at the Chicago world fair and won him great acclaim and he went on to produce great designs in ornamental ceramics that are highly prized today.
He was the inventor (together with Bernard Moore ) of the famous Doulton Flambe glazes which first appeared in 1904 as well as the Chang ware and Chinese Jade that is so popular with collectors.
Most popular of all of Charles Noke's work are his figurines.
Noke was always interested in modelling the human form and his great desire was to re-instate Staffordshire as the premier design centre of ceramic figures. A tribute that had been paid to it over a hundred years earlier but that it had subsequently lost.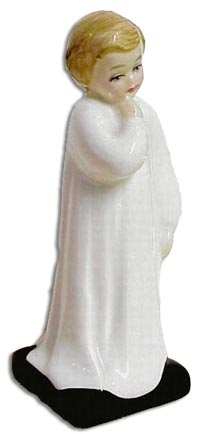 The introduction of figures to a factories output was a risky business, others had tried it recently and found the public 'not ready to respond' but Noke was convinced that the market should be there for the right type of model.
He had produced numerous figures in the past, many of them for Doulton which had been praised but they formed a decorative part of other articles such as the celebrated Columbus vase.
His first solo figurine productions owed much to the influence of James Hadley and were produced in a hard ivory parian body and glazed lightly with shades of pink and green. They were not that successful.
In 1909 noke again became absorbed with figure making and after discussions with Henry Doulton (the son of Henry and grandson of John Doulton ) he assembled a small team of talented designers and sculptors, to develop a new range of figure models. The figures were three years in design before he felt they were ready to go into production.
In 1912 - the first production run coincided with a visit to the factory by King George and Queen Mary and they were the first to see the new series of figures.
Queen Mary fell in love with one of them and she referred to it as a 'little darling' and ordered several copies to be sent to the palace. This particular model was originally made by Charles Vyse (Darling. HN1) and the royal patronage lifted the whole series and made them much easier to sell.
Noke went on to produce a wide variety of both human and animal figures over the next few years, notable among them being a study of King Charles. Sales of these were steady rather than spectacular but the launch of this series of figures was poorly timed in relation to world events.
World War One and the economic climate obviously led to a great drop in interest for the arts and many of the work force were involved in the conflict. They were not produced in large numbers and this makes them even more desirable to today's collectors.
The Doulton studio released a succession of new designs each year with Charles Noke being personally responsible for many of the original
drawings.
The subject matter ranged from historical characters and events to popular characters in literature, sports, nostalgic English, dickensian and popular pastimes.
Along with Fred Moore; Noke was also instrumental in developing the sung and chang flambe wares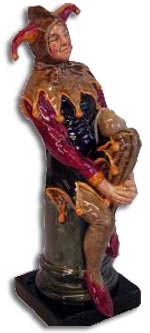 In 1913, Noke was responsible for launching Royal Doulton's famous HN collection of Figurines and many of his early models reflect his fascination with the theatre. The Jester is one of his best known figurines and it was produced in many different colorways.
Noke was constantly experimenting with new glaze effects and he developed a rich brown body called Kingsware which was used to make whisky flasks, particularly for Dewar's distillery. As Art Director, he also perfected new types of Flambé decoration, such as painted Sung and modeled Chang wares.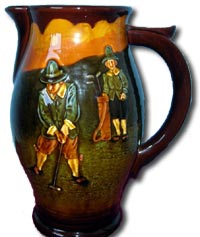 In 1930, Noke introduced Royal Doulton's first limited editions, a colorful range of prestige Loving Cups and Jugs, modeled with scenes from literature, history and royal occasions.
Finally, in 1934, Noke launched the range of Character Jugs and Toby Jugs which are so collectible today.
He modeled the first two characters, John Barleycorn and Old Charley and the striking double-faced jug of Mephistopheles.
Noke's last model was a portrait jug of his war-time hero, Winston Churchill, which he completed not long before his death in 1941, aged 83.
His son, Cecil Jack Noke succeeded him as Royal Doulton's Art Director
A selection of work produced or designed by Charles Noke.
The various images show examples of Charles Noke's fine work featuring his favourite subjects, figures, historical commemmoratives and character jugs.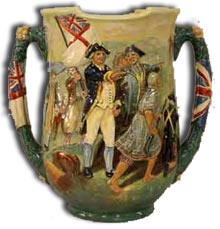 Captain Cook Loving Cup
Depicting Captain Cook and the first landing of HMB Endeavour in Australia 1770.
No: 309 of 350 in a limited edition by Charles Noke and Harry Fenton
With incised signatures and complete with certificate signed by Charles J. Noke.
Recently sold for circa $5000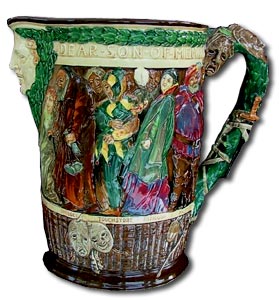 Limited Edition Shakespeare Jug
A large size jug featuring shakespeare mask spout and decorated with a band of figures from his various works, including Falstaff, Shylock, MacBeth, etc.
No: 650 of 1000 in a limited edition by Charles Noke, with incised signature and complete with certificate signed by Charles J. Noke.
Recently sold for circa £450.00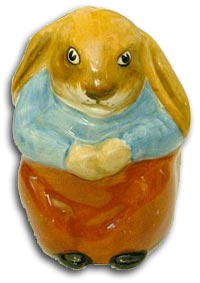 Breakfast Set - Figural Cruet:
Designed by Charles Noke in 1939 as part of a six piece breakfast set.
Production began in 1940 but was quickly discontinued due to the war
APPROX. 7cm HIGH.
Charles Noke ... was greatly influenced by James Hadley and his early work shows this. Doulton collectors would be well advised to keep a sharp eye out for those early Noke pieces.