Royal Worcester Artist - James Hadley (1837 - 1903)
In the 1850s James Hadley was apprenticed to Kerr & Binns of Worcester. He worked in the modelling department with Edward Locke and the young Thomas Brock.
By 1870 James Hadley had become the principal modeller at Royal Worcester porcelain.
In 1875 he left the Worcester factory and set up his own modelling studio at 95 High Street, Worcester.
Hadley is reputed to have sold the complete output of his factories ornamental vases and figures to Royal Worcester and he inscribed his name on the base of his master models.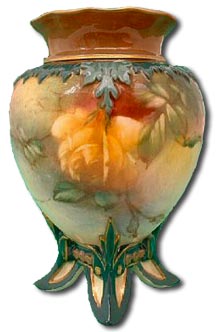 In 1895 Royal Worcester cancelled James Hadleys contract due to a drastic drop in the demand for elaborate luxury goods.
Hadley then rented some factory space from his old friend Edward Locke, who had set up his own works at Shrub Hill, Worcester.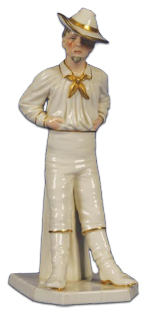 In 1897 with the support of partner Frank Littledale, Hadley started to build a factory in Diglis Road, Worcester using land owned by his family.
When complete, early production concentrated on decorative art pottery with monochrome decoration and terracotta plaques.
James Hadley porcelain wares were made using coloured clay mouldings in dark blue, green and brown which distinguished them from similar objects made by the Royal Worcester factory.
James Hadley employed a group of young talented artists including; William Jarman, Walter Powell, Arthur Lewis, Walter Sedgley, Albert Shuck, Kitty Blake and Mary Eaton, to paint peacocks, game birds and flowers in a subdued palette.
Softly painted roses in full bloom, were painted in the Hadley style. They later came to be known as Hadley Roses by collectors of Royal Worcester porcelain.
In 1900 Hadley & Sons became a limited company with shares held by James and his four sons, Louis, Howard, Harry & Frank and Frank Littledale.
In 1901 Royal Worcester tried to prevent Locke & Co. and Hadley and Sons Ltd. using the title 'Worcester' on their ceramics.
The case against Locke was taken to the High Court with the agreement that the finding would also apply to James Hadley.
In July 1902 the court ruled against Locke and Hadley agreed to clearly distinguish his goods from the goods of the plaintiffs.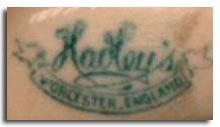 Hadley began using a new mark with a ribbon enclosing the words, Worcester, England.
In June 1905, after James Hadley's death, Royal Worcester purchased the Hadley factory for £7500.
Until march 1906, Worcester continued to produce wares at Hadley's Diglis Road premises using the Royal Worcester mark with the additional word Hadleyware.
After march 1906 the workforce, moulds and designs were moved to the main Royal Worcester site in Severn Street.
Royal Worcester continued production of James Hadleys designs ... but the letter H was added to the Royal Worcester shape design number on the underside of the pieces.