Highly Collectable Royal Doulton Seriesware. From the sought after Dickens Ware series to the Shakespeare Series and more.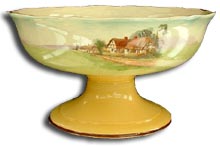 Series ware is an excellent area for the new or the devoted Doulton collector with many varied designs, shapes and artists to focus on.
Doulton series ware is particularly collectable and becoming more and more popular as the years pass.
Remember to check our Royal Doulton reference sections to verify your Doulton marks, artists and dates.
A little about Royal Doulton
The ever popular Royal Doulton, is a hugely successful UK company and once the most prolific producer of top quality stoneware, pottery and porcelain.
Royal Doulton started with a factory at Vauxhall Walk, Lambeth, London, as a partnership between John Doulton, Martha Jones, and John Watts.
It grew from small beginnings into the biggest producer of Victorian Sanitation pottery.
Then around 1871, Henry Doulton launched an art wares studio at Lambeth and offered work to designers and artists from the local art school.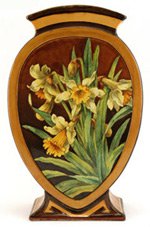 Doulton never looked back and the Art Wares Studio produced some of the finest ceramic artists of modern times.
Royal Doulton Artists Marks & Monograms

Most Royal Doulton artists and assistants used a mark or monogram that included their initials.
These Doulton artist marks are in addition to the Doulton Base Marks and can greatly assist the serious collector to cataloque and value their collection.
Value is always an important consideration and correctly identifying the Doulton artist or assistant can make a significant difference in how attractive a piece is.
Browse the listings above to find rare and collectable Royal Doulton seriesware items from the golfing gaffer and Dickens collections.
Remember; to have a browse through our Royal Doulton Artists Marks section, once you've found something of interest here in the Doulton Series Ware Section.