Antique Collectors Plates offer the keen antiques collector a wide range of possibilities.

European Monarchs and the worlds Royalty were the first to covet porcelain and began the practice of collecting and displaying porcelain plates.
Today many plate collectors focus their attention on collecting the types of porcelain plates that were once far too expensive for anyone but Royalty or the very rich to own.
Other collectors focus their attention on particular glazes or styles or plates from individual designers, periods or manufacturers.
Whether specialising in the rare European and English antique collectors plates by Chelsea, Meissen, Derby, Swansea, Caughley, Minton, Sevres, Limoges and other top manufacturers, or focusing on the stunning decorative arts examples produced in the heydays of Worcester, Doulton and the excellent artists brought on by them, your choice is extraordinary.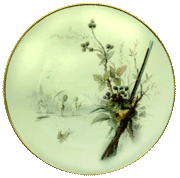 Collecting Modern Collectors Plates ...
1973 saw the birth of The Bradford Exchange and the beginning of a huge world market in collectors plates.
However, these are mostly massive production runs, only limited to however many plates a manufacturer can produce in a limited number of firing days.
It will take quite a few years for this type of collectors plate to rival the quality and beauty of the true antique collectors plates, like the Minton example above, by Antonin Boullemier, or the examples that follow ...
A few good examples of antique collectors plates
A Royal Worcester Porcelain Cabinet Plate by Harry Davis.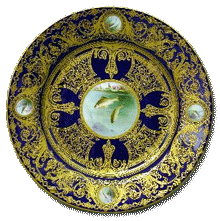 A piscatorial plate decorated to the centre with two fish in a clear pool, on a deep blue gilt decorated ground. The wide border having four similarly decorated cartouches to the rim.
Puce transfer printed factory marks to base, date code for 1908. Diameter 9"
Auction Estimate Sept. 2009: 600 to 800 (GBP)
Royal Worcester was founded in Worcester, England in 1751 and the first Worcester factory was established on the banks of the River Severn
Worcester porcelain is among the most collected in the world and Worcester quality has always been superb. Plates by certain Worcester artists are highly desireable and plate collectors search high and low for pieces by artists like Harry Davis, Richard Sebright, James Stinton, John Stinton, James Hadley and others.
Antique collectors plates by Royal Worcester are a sound investment for the future based on their excellent past performance.
A Royal Doulton Piscatorial Collectors Plate.
A rare, finely painted Royal Doulton cabinet plate depicting a pair of Salmon among water weed within a fine gilt rim band, with a further gilt band to the base rim.
Artwork Signed C.Holloway and bearing Robert Allen studio marks for c1927.
Auction Estimate Sept. 2009: 150 to 200 (GBP)
In 1901, the popularity of Doulton products came to the attention of the Royal family and the Burslem factory was granted the Royal Warrant by King Edward VII. The business adopted bold new markings and the new name of Royal Doulton.
A Royal Worcester Porcelain Cabinet Plate by John Stinton.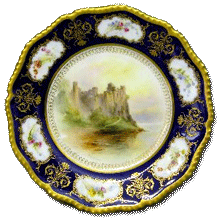 A superb Royal Worcester cabinet plate with named scene of Pembroke Castle by John Stinton, who is well known for his excellent landscapes depicting castles around the UK.
This collectors plate has a particularly beautiful border decorated with floral cartouches on a gilt decorated cobalt blue ground with shaped relief moulded gilt rim.
Puce Royal Worcester transfer printed factory marks to base, together with date code for 1910 and Pembroke Castle script. Plate Diameter 9"
Auction Estimate Sept. 2009: 180 to 220 (GBP)
A Swansea Pottery Plaque in Blue and White.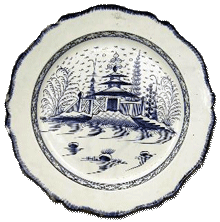 Blue painted to the centre with an oriental pagoda within a landscape with cross-hatched border and blue shaped rim. Diameter 14"
Auction Estimate Sept. 2009: 100 to 150 (GBP)
Swansea Pottery was the most important pottery and porcelain centre in South Wales in the late 18th and early 19th centuries.
The Cambrian Factory, produced creamware and basalte earthenware and was active from c1767.
Swansea was best known for the finely modelled and decorated, high-quality soft-paste porcelain it produced from 1814, with the help of William Billingsley from Nantgarw. From 1822 the factory only produced earthenware and it closed c1870
The First Antique Collectors Plate ...
The collecting of souvenir plates first became popular in the late 1800's. Souvenir plates featured transfer printed designs commemorating special events or picturesque landscapes mainly in blue and white.
It was then and is now a relatively inexpensive pastime and the variety of shapes and designs caters to a wide audience.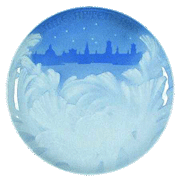 The first limited edition collectors plate named 'Behind the Frozen Window' is attributed to Bing and Grondahl and was made around 1895.
One December morning in Copenhagen, Harald Bing, Director of porcelain house Bing & Grondahl, ordered his workers to smash the mould for a small blue and white plate produced to commemorate Christmas. In breaking the mould, Mr Bing limited production of the plate and created the potential for the plate to increase in value if demand outstripped supply. He also laid the foundations for a hobby that attracts millions of collectors and speculators from around the world.
Tip! Christmas plates are very popular and many European porcelain companies still produce them today. Royal Copenhagen produced a Christmas themed series in 1910 and a Rosenthal series also began in 1910.