Charles Noke – Royal Doultons Premier Designer & Modeller
In 1899 the Doulton studio recruited a young designer by the name of Charles Noke.
Charles Noke was greatly influenced by James Hadley's style and initially served an apprenticeship under Hadley at Hadley and Binns before James Hadley set up his own design studio.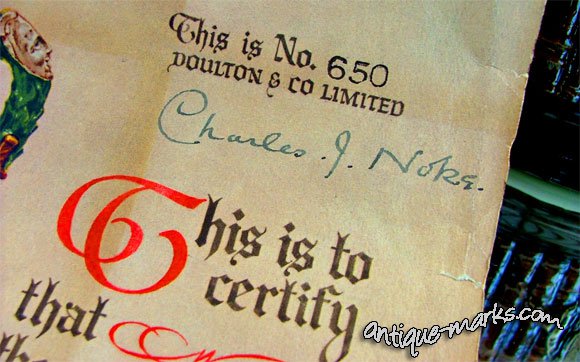 Charles Noke is today regarded as the brainchild behind Doulton Seriesware, a range of designs in which standard blank shapes were decorated with a consistent theme.
He was a gifted designer while he worked at the Royal Worcester factory, but his output for Royal Doulton was even more considerable.
Doulton collectibles produced by Charles Noke include the HN figurines, Kingsware, loving cups, character jugs, Toby jugs, Chinese Jade wares and Chang ware porcelain.
Every Doulton collector should aim to have at least one item by Charles Noke in their Doulton collection.
More on Royal Doultons Charles Noke
No Comments