Buying antiques on eBay internet auctions is quick and profitable. It's also simple to do and fun.
If you're buying antiques on internet auctions then you have to think about different things entirely, you have to factor in other aspects and learn all about the sellers customer service.
The most important things to factor in when buying antiques on ebay are...,
That you can't pick it up, or hold it, or feel for damage or restoration.
You can't feel the quality of an item or look at it in daylight
You are relying one hundred percent on the sellers description
All you have are the photos provided by the seller, of the antique item
In addition a great many eBay internet auction sellers are complete amateurs who have very little knowledge of what they are selling.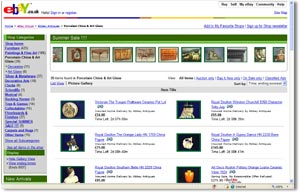 Sometimes they have simply copied the closest approximate description for their item from the one that looks sort of similar to the picture in the book they own, or to something someone else is selling on the auction site.
But still, today millions of pounds of antiques sell through ebay internet auction sites and in the main, most buyers are happy with what they've bought.
Everything sells; from beautiful Chelsea porcelain figures at £1500.00 to stunning Meissen centrepieces at £5000.00 and rare & beautiful William Moorcroft pomegranate vases at £1200.00.
All alongside collectable Royal Doulton figures as low as £30.00 and Japanese Imari vases for as little as £4.99.
Why eBay - the biggest and probably the best internet auction site.
We sell antiques through ebay and have done so since 1998. We buy stock from antique auction houses, antique fairs and from antique dealers and we sell on for profit.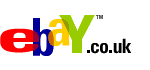 We make profit because we know what we are buying and what we are selling.
We know our antique marks, our antique terms and the terminology used by dealers and auctioneers.
And yes; we also buy items from other ebay sellers and then re-list the same items on ebay with more accurate descriptions and better photos, and almost always sell them for more money.
Why do we use ebay?...
We use ebay because 10 million international buyers and sellers do the same, every single day of the year. It's a massive high street full of buyers looking and ready to buy and they're all looking in our shop window.
How do you buy and sell on ebay?
Read 'Make your net auction sell' download it ... it's free; and you'll gain a full understanding of how internet auctions and ebay in particular, work.
Then set up your ebay account and use antique marks, (it's free too), to pinpoint potential purchases before buying them; and use it again to create your item descriptions and sell your rare finds to generate excellent profit.
Top ten tips for buying antiques on internet auctions.
Read: Make Your Net Auction Sell -- It's FREE and it covers everything you need to know about buying and selling on internet auctions. It gives more free advice on this one subject, (over 200pages), than we could ever hope to.
Learn - become an expert in how to search for the items you're interested in, on whichever site you choose to use.
Trust -- your own judgment. Check a sellers reputation through the auction sites feedback system and ask the seller a question or two. Then trust your own judgment and decide accordingly.

Don't -- just rely on the pics provided. If the pics don't show the base mark or they aren't clear, or don't show the angle you want to see, then ask the seller to send you more. If they don't, then their customer service sucks and you won't want to deal with them.
Keep Records -- governments will eventually find a way to tax the profit you make on ebay and other auction site sales. So keep organised and accurate records. They're also essential in dealing with customer complaints, items lost in the post and spurious refund claims.
Use paypal -- or a similar online payment processor. Don't pay for anything you buy on an internet auction site in any other way. It costs you nothing and provides extra protection against mis-described items, lost items and internet scams. It also saves you handing out credit card details to all and sundry. It isn't perfect and there are alternatives, but but it's free to buyers and keeps sellers as honest as possible.
Specialise -- If you're buying to sell on, then specialise in one type or make of item. You can even focus on just one category of item, as long as you become an expert in it and ensure you have a ready supply.
Check terms & conditions - sellers, especially those with a high feedback or a shop, usually list specific terms and conditions of sale. Some list them within the item description, some on a separate page. Make sure you check them for refund policies and other relevant information.
Factor in post & packing costs -- to your maximum bid. Especially on larger items as the post and packing can seriously affect the final cost. Some sellers simply charge one price, others charge postage at cost and throw in packing materials. Whatever the case, make sure you know what the cost is and what the seller offers before you bid. If you are bidding on a rare or high value item then consider arranging and paying for your own courier, but make sure the seller will still pack the item properly before collection. And if you are considering collecting the item yourself, make sure the seller is happy for you to do this; some are not.
Finally -- don't chase feedback. Gaining a good feedback score is a trap for the unwary. If you're buying you don't need ten million feedback points; just the ability to pay for your purchases. So don't get drawn in to buying enough to get that gold star beside your name. Buy wisely, buy knowledgeably and only buy what you like.