The value of an antique pocket watch is heavily dependent on your ability to correctly identify the watch, its features, and its materials. Before you start your own antique pocket watch valuation, you'll need to understand the fundamental terms associated with pocket watch parts and coveted brands. Begin with some quick tips for identifying and valuing your old pocket watch, then seek the advice of an expert if necessary.
There are only a few items in the world that naturally exude vintage charm. None of it says old-fashioned style like a good pair of shirt cuffs or a pin on your lapel. The pocket watch, on the other hand, is perhaps the most essential vintage item of all.
A Short History
Alan Costa of the National Association of Watch & Clock Collectors (NAWCC) has written an authoritative treatise on the history of watches, claiming that personal, portable timekeeping devices were not possible until around 1600, when the hairspring, also known as a balance spring, was developed.
In 1524, a locksmith named Peter Henlein created the first pocket watch, which was worn as a pendant on a chain. Because they were not good at keeping accurate time, the watches of the 1600s served more as jewelry than timekeepers.
Types of Antique Watches 
The watch dial, also known as the face of the watch, and the watch case are used to determine the type of pocket watch you have.
Demi-hunter case: The cover has a small window that allows you to see the time without opening it. This is predominantly a European style. A hunter case is a watch with a round metal cover attached to a spring hinge that closes to protect the dial's crystal. The stem and crown, also known as the winding mechanism, will be found at the 3 positions on the watch.
Pocket watches were a standard issue for militaries in some regions up until the early 1900s, and they were very simple.
Open-face: This type of watch lacks a cover to protect the crystal, or glass, on the dial. The winding and setting stem and the crown will be located on the watch's 12 positions.
Pair-cased: This is basically an open pocket watch set on the inside of a hunter case from the mid-18th century. The inner case can be excluded to wind the watch and then placed in the outer case to protect it.
Railroad pocket watch: Railroad watches have been designed and used by railroad workers. Any created after 1908 are almost always open-faced.
Stainless steel watches: These really are pocket watches with stainless steel cases.
Wristwatch to pocket watch conversion: This is really a wristwatch that has been converted into a pocket watch.
Identifying the Serial Number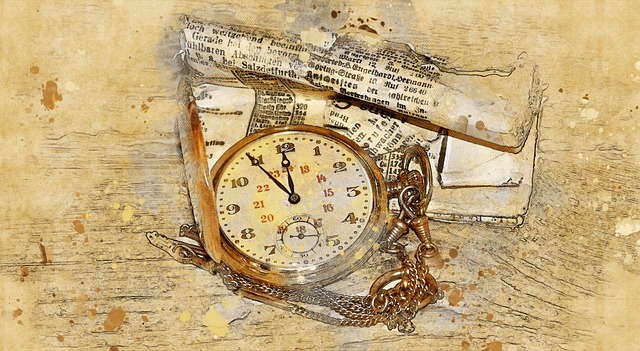 Because each part is typically made by a different company, American-made pocket watches may have a serial number, one type of identification mark, on the watch case, and a different one on the "movement," or the inner workings of the watch.
To find the serial number engraved into the movement of the pocket watch, carefully open the back cover. You can then use the Pocket Watch Database or the PM Time Service tables to help you identify your piece.
Identifying the Movements of a Watch
The machine parts that power the pocket watches are referred to as movements. Pocket watches have various movements that wind and set the watches in various ways.
Key-wind, key-set: To wind and set the watch, you'll need a special type of key. From the 1600s to the mid-1800s, this was the standard.
Stem-wind, stem-set: Introduced in the 1850s, this type eliminates the need for a key by winding and setting the watch with a stem. Stem-wind, lever-set watches are set by opening the dial cover to gain access to the special setting lever. This was typical of railroad watches in the early 1900s.
Stem-wind, pin-set: With this modern movement, you press the pin, turn it to set the time, and then release the pin.
Jeweled: Throughout history, high-end watches have used this movement type, which uses small minerals to reduce friction.
The pocket watch has been worn for centuries for both fashionable and practical purposes, and it is still a fashion statement among the fashion community today.
So, what are among the best antique and vintage pocket watches on the market right now?
Top 10 antique watches on Amazon:
1. Mudder Vintage Roman Numerals Scale Quartz Pocket Watch
This is a great pocket watch for those who want to invest in something classic and stylish but don't want to spend a fortune right now. The watch, which measures approximately 4.6 centimeters in total, will fit into most shirt and jacket pockets, allowing you to keep it close at hand. Furthermore, Mudder caters to a variety of tastes by offering the design in silver, gold, and gunmetal finishes.
2. Udaney Antique Bronze Watch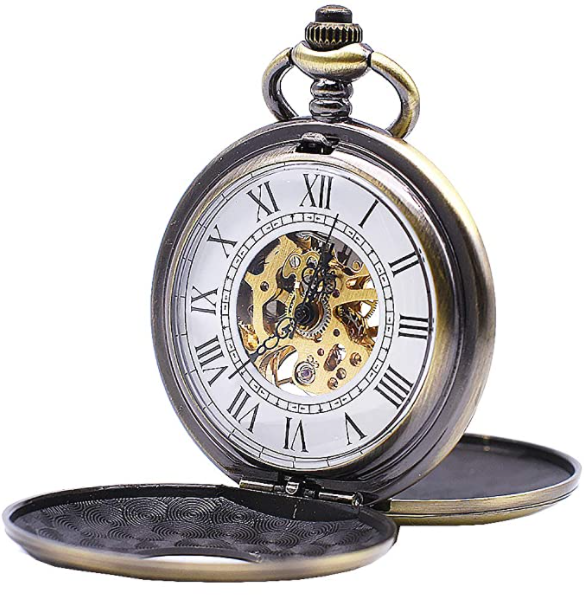 Taking a slightly different approach to pocket watch style, this Udaney antique model has two opening hatches, allowing you to stand the clock up on your desk when working or place it on a table when you want to see the time whenever you look up.
Many classic pocket watches had this extra hinge correctly installed, allowing people to use their pocket watch in a variety of ways. It could even be used to time a chess game.
3. Vigoroso Men's Mechanical Watch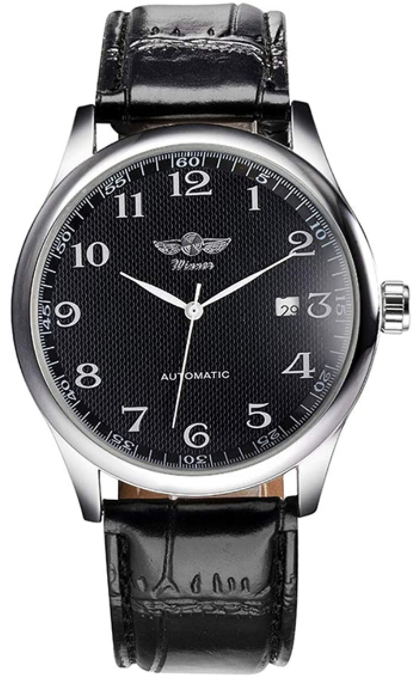 With its soft copper coloring and clear face with roman numerals in place of numbers, this Vigoroso men's watch looks like it came straight from the records of history, making it the ideal gift for those who appreciate the finer things in life.
Made of pure copper, this pocket watch has an element of genuine authenticity that is difficult to find from other manufacturers – especially if you're looking for a price under $50.00.
4. NEOVIVID Brass Sundial watch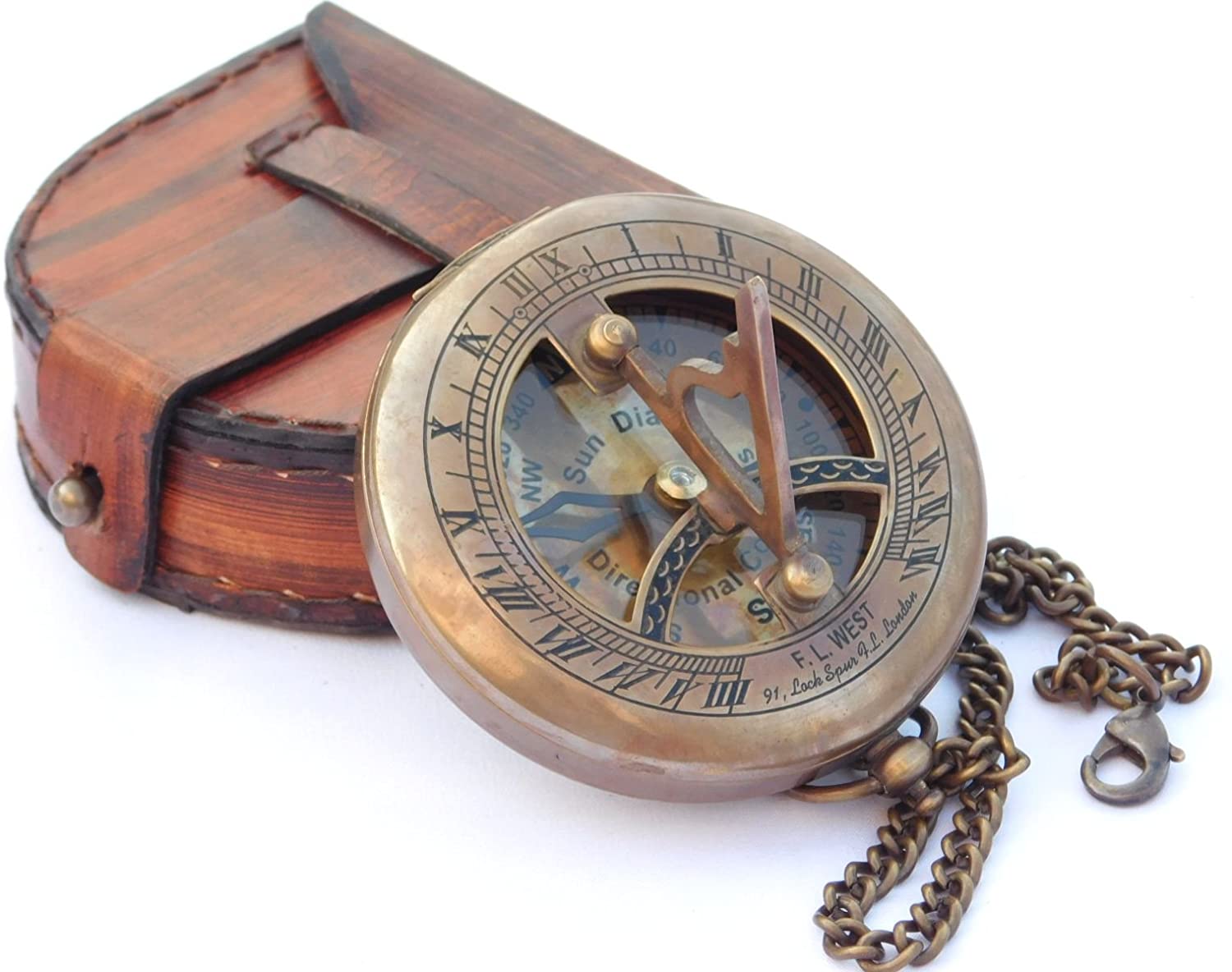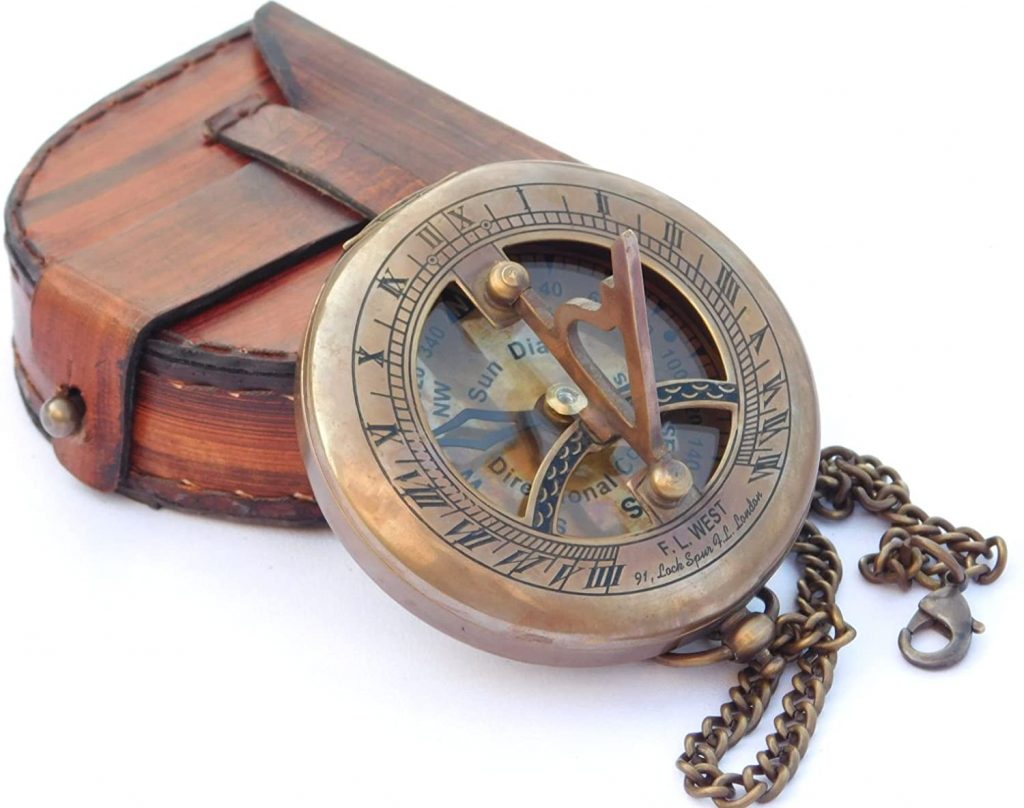 Individuals with an outdoorsy character and a spirit of adventure are likely to be drawn to this pocket watch. It combines the traditional charm of a pocket watch with the functionality of a sundial compass to create two excellent products in one. Furthermore, the piece's unique brass finish ensures that it retains its wonderful vintage vibe.
5. ManChDa Antique Mechanical Watch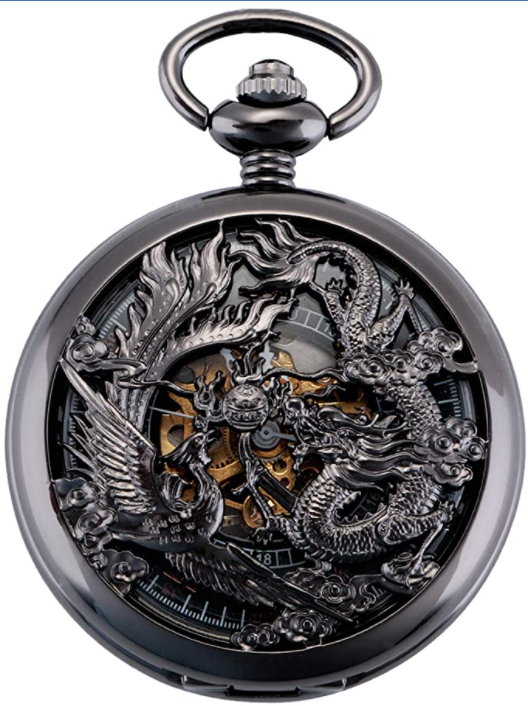 This vintage pocket watch puts a very unique spin on the traditional style of most clocks available in the past. Instead of a globe print or a basic pattern on the clock's shell, the manufacturer included an incredible dragon and phoenix skeletal cut-out. The impressive design resulted in a compelling gothic aesthetic that is difficult to ignore.
6. Stuhrling Men's Watch
This stunning piece from Stuhrling Original is made of brass and stainless steel and is probably one of the most beautiful vintage pocket watches we've seen so far. The gleaming steel finish gives the item a more modern appearance than some of the other watches on this list.
However, this does not detract from the clock's allure. The mechanical watch comes with a chain and a belt clip, allowing you to wear it in a variety of ways.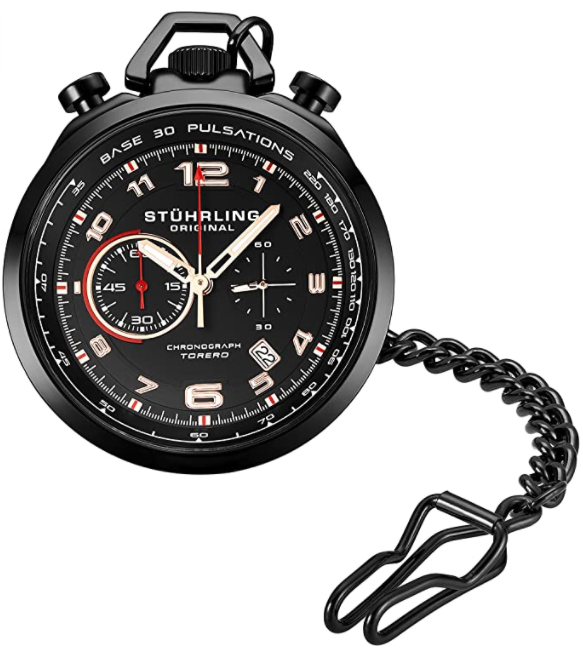 7. Charles-Hubert Classic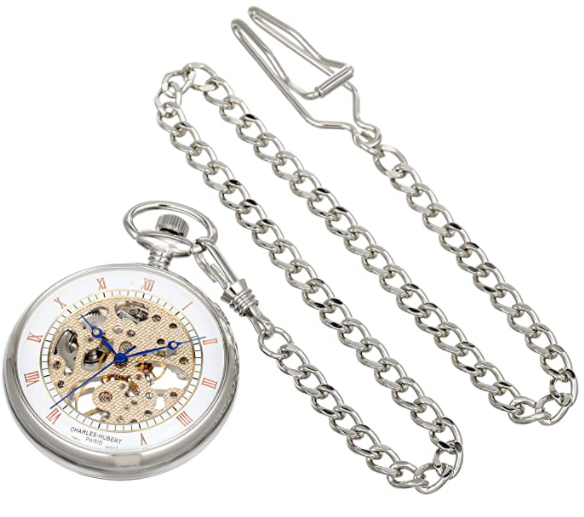 This is not a product for novices in the vintage world; it is intended for the most discerning clock and pocket-watch collectors. This black and silver open-face mechanical watch from Charles Hubert is a must-have if you're looking for a truly stunning collectible.
The entire watch, brimming with Persian style, displays the gears and mechanisms within, allowing you to see the mechanical pieces working as the clock ticks away.
8. Pocket Clip Watches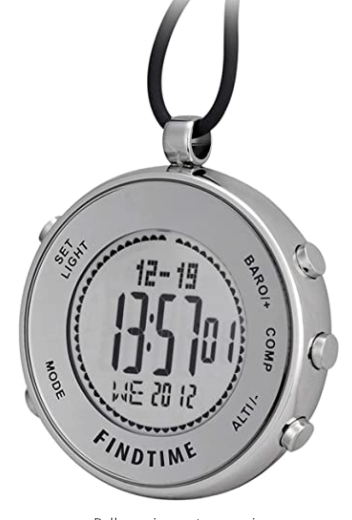 The stainless steel Spovan Men's Wallet or purse Sports Watch is shockproof and water-resistant to depths of less than 100 feet, making it ideal for clipping onto a diving suit or going for a casual swim without fear of internal damage. The watch also has an altimeter, barometer, and thermometer functionality for added versatility
9. Gotham Men's Silver-Tone Ultra-Thin RailRoad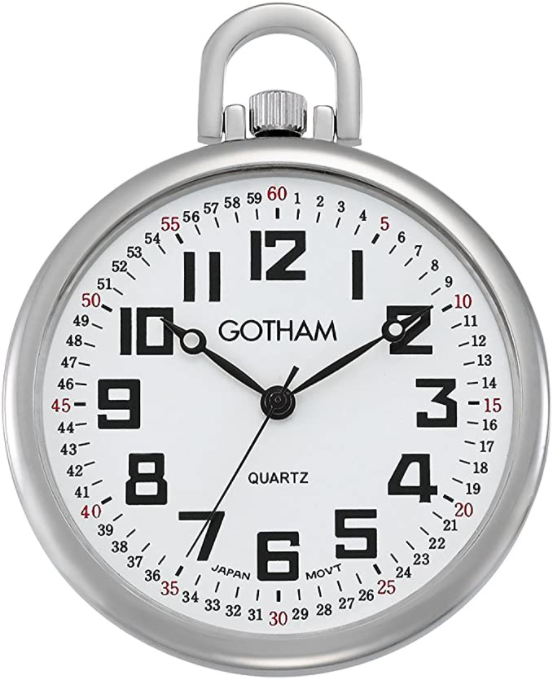 Test out the Gotham silver-tone, ultra-thin, road and rail quartz pocket watch if you're looking for an everyday pocket watch that can be worn to both formal and casual occasions.
The polished brass back case adds to the classic design, which harkens back to vintage pocket watches. On the front is a white railroad-style dial with black 12 and 24-hour markers, which is more common in modern pocket watches.
10. WENSHIDA Skeleton Men Antique Mechanical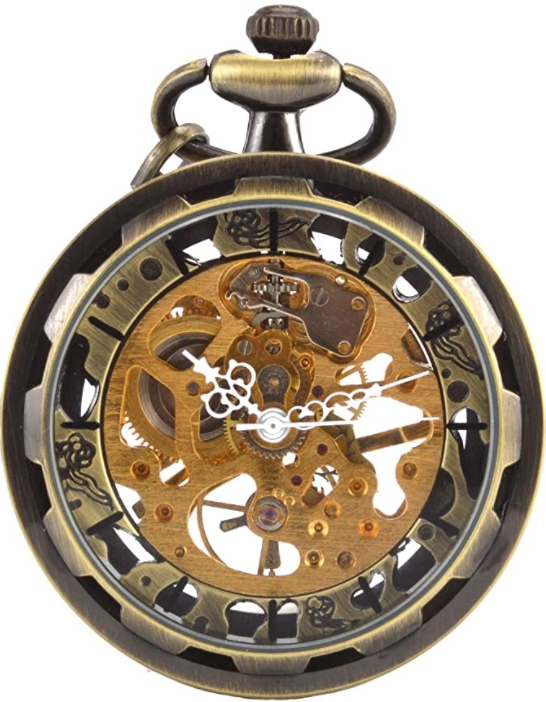 The WENSHIDA Skeleton structural hand-wind pocket watch is the best pick for yourself or to give as a one-of-a-kind gift. The modern look is combined with a modern design that starts to feel expensive and high-quality. Its exposed face contrasts nicely with the solid gold mechanical pieces and encasing.
The American Watch Brand in Waltham, Massachusetts, later became known as the Waltham company, produced the first American pocket watch in 1809. Around 1850, watchmakers such as Hamilton, Elgin, and Illinois in America and Alange-Soehne in Europe began to produce watches on a larger scale.
Identifying and determining the value of an antique pocket watch requires first learning about the piece's history. While many old pocket watches aren't worth much money, they can make excellent collector's items with sentimental value for historians or families.