Beautiful Arts and Crafts Vase. Or is it?
Can you help identify the mark on the Beautiful Arts and Crafts Vase I found on eBay
by John Hugeback (U.S)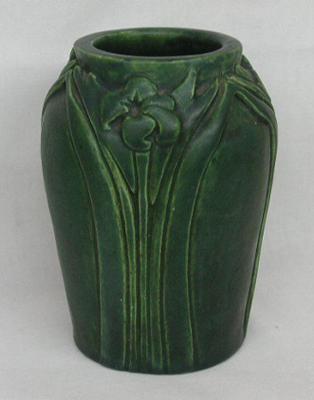 Photo shows my Arts & Crafts vase is signed KE or RE
This beautiful arts and crafts vase was an Ebay purchase from a seller who stated it came from a Maryland estate.
This green matte vase stands nearly 5 inches tall and has a raised floral motif on all 3 sides of the vase.
The bottom is marked with a 6 and 2 sets of letters that I cannot be make out, as well as the initials K.E or R.E.
I have researched this piece and am unable to find a potter or company that produced this beautiful arts and crafts vase.
If anyone can shed some light on the potter, when it was made or the factory, it would be greatly appreciated.
Thank you for any help.
John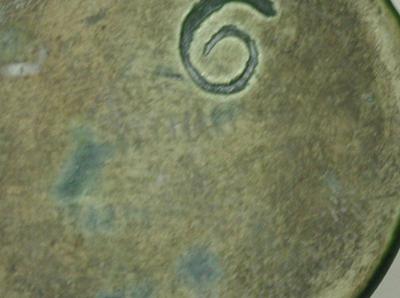 Comments on John's Beautiful Arts and Crafts Vase
Arts & Crafts or Art Nouveau by: Jo Norman
Hi John, to me your vase looks more like Art Nouveau than an Arts and Crafts vase.
There's K.E & B a mark used by King Edge & Barratt in the 1890's
Also used by Knight Elkin & Co in the form K.E.& Co or just K.E. in the mid-18thC. Which is probably a little early for the style.
No Comments