I have a large Moorcroft pottery bowl that my mother gave me. It is signed, I think, by Walter Moorcroft (grey-blue inititals).
by Donna (Canada)
Unfortunately, the Moorcroft bowl was broken and has cracks.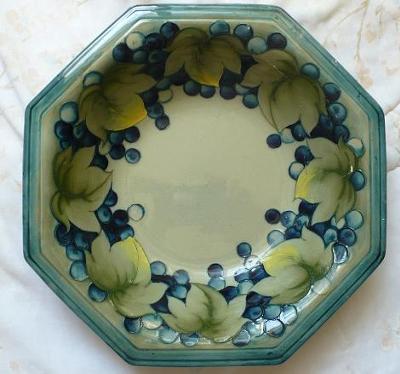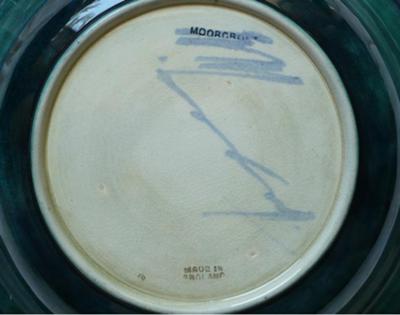 Photos above show the Moorcroft Bowl pattern and the Walter Moorcroft Grey-Blue Signature Mark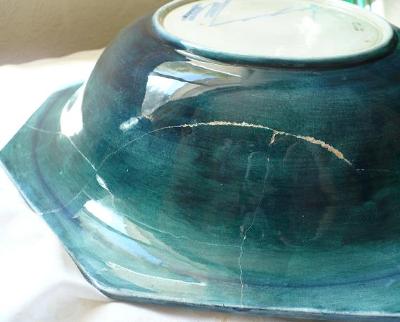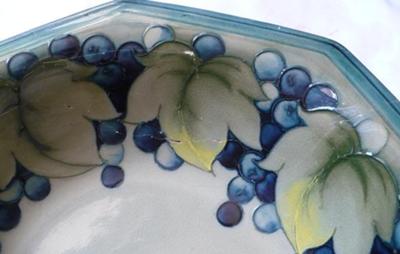 Above photos show the damage to the underside of the Moorcroft bowl and damage on the inside of Bowl
I think this Walter Moorcroft bowl is a special one-off piece because, from what I have been able to gather, general pieces only had initials on them, but I am not sure.
I am not sure if it still has any value, but I was wondering if someone could tell me if they know anything more about it?
Thank you.
Donna.
Comments on Donna's Moorcroft Pottery Bowl
Moorcroft Pottery Marks by Kat ...
This does indeed appear to be by Walter Moorcroft and bears the full signature mark dating between 1947 and 1953.
Walters full script signature mark was only used on important pieces, on one off pieces for exhibition, or on limited editions.
Unfortunately the extensive damage means Moorcroft pottery collectors will be reluctant to pay very much for it.
Although the rarity of the pattern may affect this ... Read more about Moorcroft Marks