Moorcroft Marks
A Guide to Moorcroft Marks and identifying dates for Moorcroft Pottery.
The moorcroft pottery has mainly remained in the hands of one family since its creation and Moorcroft mark changes have been quite few.
The main Moorcroft marks changed as William Moorcroft moved from Macintyre & Co, at the end of the 19th century and then when Walter Moorcroft took over from his father.
The Moorcroft marks remained steady until the modern owners instigated a system of dating and then again until modern Moorcroft design studio artists, where allowed to mark the Moorcroft pottery they personally designed or created.
Modern Moorcroft marks continue to become more elaborate and to provide more and more information.
Moorcroft collectors should be aware of the Silver Stripe that sometimes appears and is almost always through the WM monogram.
The Moorcroft silver stripe denotes a second quality or imperfect piece that has failed to pass the strict quality control that Moorcroft demands. These pieces are only ever sold at discounted prices in the Moorcroft factory shop.
Moorcroft Marks (1898-1950)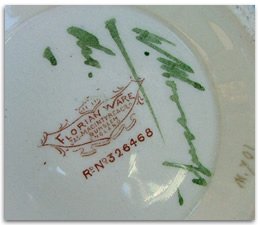 c1898-1905
Typical early Florian ware mark in brown with handpainted William Moorcroft signature in green with 'des' below.
Sometimes with pattern registration number.
---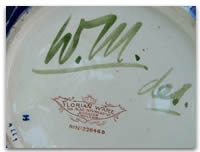 c1904-1913
Typical early Florian ware mark in brown with handpainted W.M initials in green with 'des' below.
Sometimes with pattern registration number.
---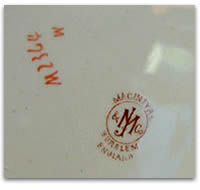 c1904-1913
Common Macintyre & Co, Burslem brown printed mark.
Can also be found in black.
Sometimes with the pattern registration number (Rd No.)
---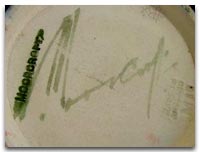 c1928-1949
William Moorcroft full signature used from the opening of the Cobridge works along with MOORCROFT and or BURSLEM
ENGLAND added in 1916. MADE IN ENGLAND added in 1918. Sometimes
with rectangular paper label used for pricing by retailers.
---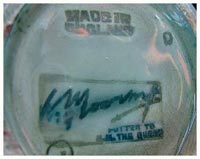 c1928-1949
Impressed stamp mark used with facsimile signature and having 'Potter to HM Queen' at bottom right.
Used prior to and alongside the introduction of the paper label.
---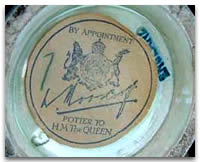 c1928-1953
Early version of the Royal Warrant paper label – 'Potter To HM The Queen'.
The label was updated in 1936 to read 'Potter To HM Queen Mary', following the death of King George V.
---
Moorcroft Marks from – (1950 on)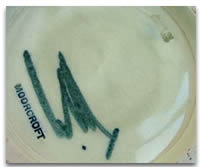 c1947-1953
Walter Moorcroft initial mark with MOORCROFT and MADE IN ENGLAND.
Earlier Walter Moorcroft initials used a slate blue colour to differentiate
it from his father Williams.
---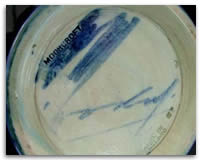 c1947-1953
Walter Moorcroft full signature mark.
Walters full script signature mark was only used on important pieces,
one off pieces for exhibition or limited editions.
---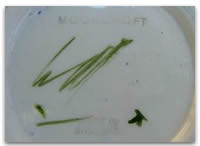 c1950-1986
Large impressed MOORCROFT with upper case MADE IN ENGLAND.
Occurs with and without Walter Moorcrofts monogram
---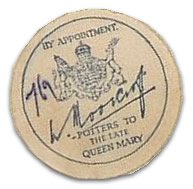 c1953 – 1978
Moorcroft Royal Warrant Paper label transferred to Walter Moorcroft in 1946 and stating 'By Appoinment
Potters To The Late Queen Mary'.
The Royal warrant expired in 1978 on the anniversary of Queen Mary's death.
---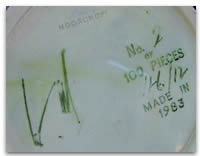 c1983
Walter Moorcroft initial mark alongside impressed MOORCROFT on large limited edition Anemone vase.
Possibly signed by a paintress as Walter did not sign every single piece.
---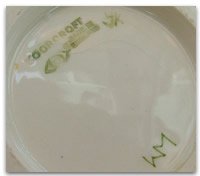 c1987-
William John Moorcroft initial mark appears now 'John Moorcroft' is a director of the company and Walter a consultant.
J. Moorcroft appears on large prestigious pieces
---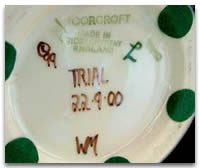 TRIAL PIECE MARK
Modern Moorcroft mark depicting a trial piece.
With upper case MOORCROFT and Stoke On Trent above ENGLAND.
With trial date, copyright and WM in brown.
Older trial pieces will not have as much information.
---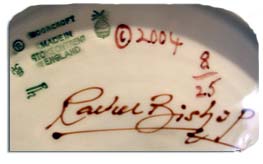 c2004
Modern Moorcroft mark for artist and designer Rachel Bishop.
Showing the complexity of the modern mark with full signature, copyright mark and year cypher together with the standard MOORCROFT – MADE IN STOKE ON TRENT – ENGLAND
Moorcroft Year Cyphers
Moorcroft introduced year cyphers in 1990.. The first ten year cyphers are as follows:
---
1990 – an impressed arrow
1991 – an impressed bell
1992 – a candlestick
1993 – a diamond shape
1994 – an eye
1995 – a flag
1996 – a gate
1997 – a HC monogram for the centenary year
1998 – an iron
1999 – a jug / pitcher
2000 – a key with a double 'M' for the teeth