0

Vintage & Collectable Pressed Glass
Pressed glass has been dismissed by serious collectors and the wealthier elements of the population throughout the years, simply because it was aimed at the mass market. But like most things that appeal to the majority of the population, pressed glass has moved up in the World and is now fashionable enough among the more well to do, that glass collectors are sitting up and taking notice.
Continue Reading
Antiques Roadshow (2)
Your Antiques RoadShow ... Page (2) More antiques and collectibles submitted by antique collectors seeking information or help with antique attributions. Including Georgian glass, Capodimonte porcelain, Wedgwood candlesticks and native American pottery. All sitting comfortably alongside an antique owl jug, blue & white figurines and Chinese vases. The headings and descriptions in the antiques roadshow are those of the owner, and they may be right or they might be ...
Continue Reading
Collectible Wedgwood Antiques
Collecting Antique Wedgwood Pottery and Porcelain. The Wedgwood Collector is faced with many imitators and must ensure they are buying true Wedgwood antiques, that are properly marked, so that the collector can confidently attribute the work to the Wedgwood potteries. Beware of pieces marked 'Wedgwood & Co', an Enoch Wedgwood mark and also wares of the 1790-1801 period by the Knottingley Pottery which are also marked 'Wedgwood & Co' Wedgwood Jasperware It took Josiah Wedgwood ...
Continue Reading
Fairyland Lustre
Wedgwood's Fairyland Lustre Ware and those wonderful Daisy Makeig-Jones designs. Daisy Makeig-Jones must surely have had fairies living at the bottom of her garden. Where else could she have found the inspiration for the most magical of ceramic fairy wonderlands created for Wedgwood Fairyland Lustre? The pieces pictured here are products of Daisy's vivid imagination. One of seven children, Susannah Margaretta 'Daisy' Makeig-Jones was born in 1881 in a small mining village near Rotherham, ...
Continue Reading
0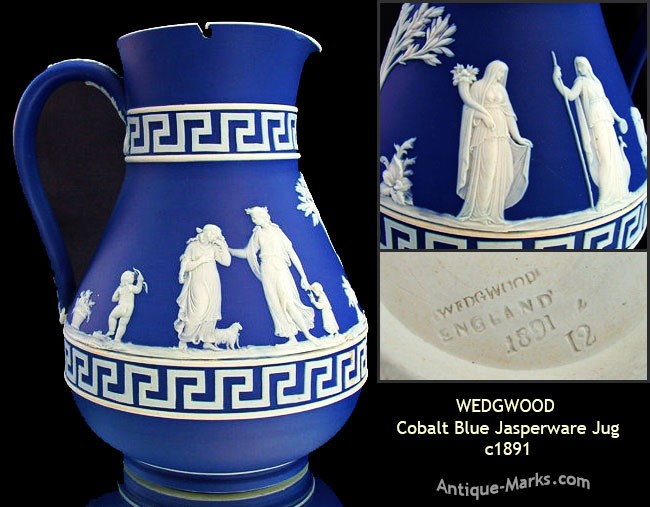 Wedgwood Marks
An illustrated list of Wedgwood Marks presented in chronological order An easy to use chronological list of Wedgwood marks to help the Wedgwood collector, who is faced with many imitators, to date genuine Wedgwood antiques. Fortunately for the collector, Josiah Wedgwood was the first potter of note to mark his goods with his own name. Unlike the easily copied potters marks used by other manufacturers, for example the crossed swords mark used by Meissen; the Sevres double L mark, or the ...
Continue Reading
Antique Wedgwood Pottery
Antique Wedgwood History & Wedgwood Marks associated with Wedgwood Creamware, Jasperware and other products The Wedgwood company is a British pottery firm, originally founded by Josiah Wedgwood c1795, and possibly the most famous name ever associated with pottery. In modern times Wedgwood merged with Waterford Crystal in 1987 to become Waterford Wedgwood. The original manufactory was a pioneer of new products such as those modelled by William Greatbach, and those coloured with lead ...
Continue Reading
Moorcroft Artists
The Original Moorcroft Artists and Designers including William & Walter Moorcroft Other Moorcroft Studio artists include Philip Gibson, Rachel Bishop, Emma Bossons, Nicola Slaney and Sian Leeper. Today, the Moorcroft artists and Studio designers are young and the Moorcroft workforce has an average age of less than 27. There are degrees and master's degrees scattered among them, but a degree is not the only true mark of success. Only at the end of a long road, when the Moorcr...
Continue Reading
Buying Antiques at Auction
Buying Antiques at Auction is a fun and simple process that most buyers shy away from. But when buying antiques at auction you should be open minded, do not buy anything unless you've handled it and if you're unsure or can't reach it, then ask the auctioneer or a member of staff to get it, or for more information about it. There are a great many auction houses spread across the country. Some are part of chains and some are small local houses that provide a valuable local service through ...
Continue Reading