Opinions please ... Is this a Dresden or Meissen Porcelain Centerpiece?
by Mirna G Ramirez (Escondido, CA)
We recently met an old German gentleman and while buying some puppies from him, my husbands mother who was interested in porcelain antiques, noticed the old man had this piece in his garage.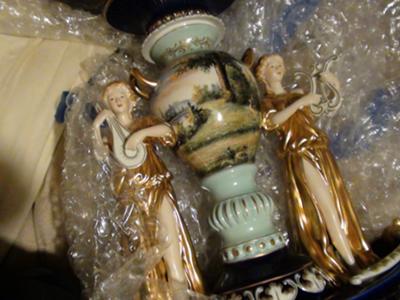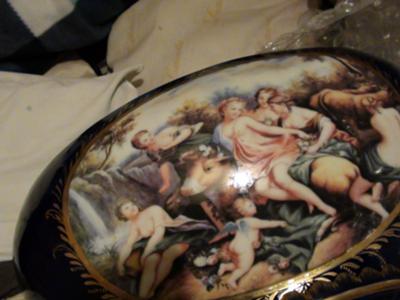 Above photos show the Dresden or Meissen Centerpiece and the Panel Decoration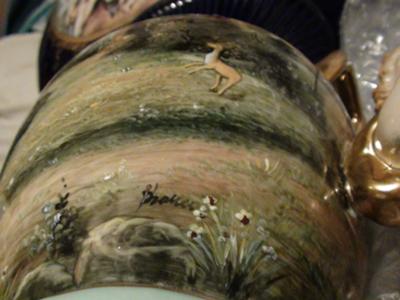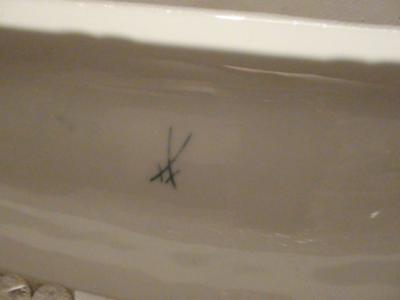 The other two photos above show the artist signature the decoration on the porcelain body and the blue crossed swords mark on the base
We asked the gentleman if we could buy the piece, but he just let us have it since he said he had no one to leave it to.
Unfortunately the old gentleman has passed away and we forgot to ask any more about the porcelain at the time.
Now we have this beautiful piece and we don't really know what it is.
We think it is a Dresden or Meissen porcelain centerpiece. It is decorated with harp players and has two blue crossed swords on the bottom
We would be very grateful for any info on this piece.
Thank you, Mirna
Comments on Mirna's Dresden or Meissen Porcelain Centerpiece
Dresden Not Meissen by: Michael
As Meissen porcelain never made this model, it would have to be a Dresden example, copying the Meissen mark.
That would not be uncommon at all. The fact that it is Dresden and not Meissen is also reflected in the style of decoration.
One of the scenes seems to be Europa and the Bull by the way.
Meissen No, Dresden Yes by: Rebecca
Prucci art Dresden design?
With Meissen Quality Counts by: Julie
Very difficult to identify whether this piece is genuine Meissen porcelain or even Dresden from the photos.
A valuer or antiques dealer would really need better quality photos or to actually hold the piece to guage the quality of the porcelain and the ceramic decoration.
Similarly the crossed swords mark should be accompanied by other, mostly impressed, marks that cannot be seen in the photos.
Love to help as it does look like a lovely piece but really need more information ... Julie