Doultons Mark Marshall like George Tinworth, trained at the Lambeth school of Art
After training at Lambeth he moved on to work at a local masons yard
During this period he also helped at the Martin Brother's pottery until 1874, when he joined Royal Doulton.
Mark Marshall's work is some of the boldest and most exuberant ever produced at the Doulton Art Pottery.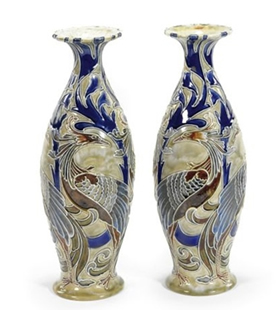 Many of his pieces undoubtedly owe much to the Martin brothers, with grotesque and fanciful animals modeled in high relief and hiding among scrolling foliage.
His time at Martin Brothers includes an impressive stoneware vase lavishly modeled with a scaly creature winding around the vase. Its offspring cowering under the usual scrolling foliage.
The fantastical vase measures 20 inches in height and is estimated to be worth over $58,000.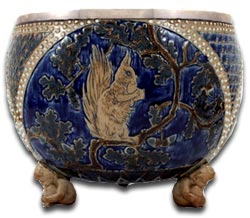 Mark Marshall continued with his own work too
His pottery reliefs of Biblical scenes were exhibited at the Royal Academy and were particularly well received.
His work was admired by John Ruskin.
As a major influence in the Royal Doulton world in the late 1800's and early 1900's, Marshall designed and manufactured a wide range of grotesque figures in all sorts of scenes.

Doulton stoneware by Mark Marshall is almost always signed M.V.M
His figures are usually stoneware and he produced a range originally intended to be used as menu or flower holders.
The piece pictured above was modelled by Mark Marshall in the mid 1880's and is considered very rare and collectible.
During his time at Doulton, Mark Marshall worked closely with William Rix the manager of Doulton's art department, on the Doulton Marqueterie range which feature Mark's stylish and popular reptilian decorations.
Mark Marshall was born to Elizabeth Susanna Valsler in August 1842.
His father was Frederick Marshall and they married in June 1841 at St Nicholas's Church, Rochester, Kent.
Mark's mother Elizabeth died at just 39 years old in January 1858. Mark had four brothers and sisters.
His father then married a younger woman who was only ten years Mark's senior. Mark then acquired an additional four brothers. Unfortunately only one of these survived to maturity, which was fairly common in Victorian times
Mark married Helen Relf in 1864, one of the many Relf sisters that the Marshall brothers married.
Mark Marshall was the son of a stonemason and Mark's occupation is detailed as a sculptor in the 1881 census. Despite his earlier connection with Martin Brother's he fell out with them in later life.