I have an interesting Doulton Burslem china vase with Frogs Mice & Birds, I would like to share.
by Peter Roberts (Australia)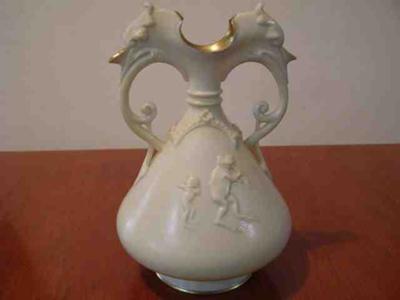 Photo of Doulton Burslem Vase showing frogs
The vase is stamped on the base Doulton Burslem with the coronet on top and England underneath which I have been able to find out dates it between 1891 -1902.
The number 356 is also inscribed on the base. There are no other marks.
Size is 17cm in height and condition is very good with no damage.
I have been searching the web trying to find a similar example of Doulton Burslem wares in order to find out a value but have been unsuccessful.
The first photo shows one side of the Doulton Burslem vase that has 2 frogs playing flutes.
Photo 2 shows a mouse running.
Photo 3 shows the top that is in the form of 2 eagles or phoenix heads.
Water can be poured through the hollowed birds beaks.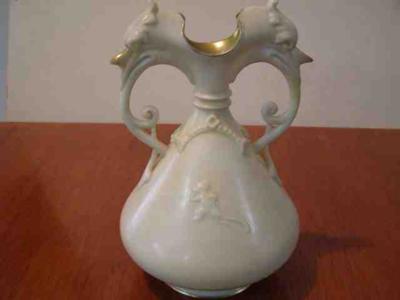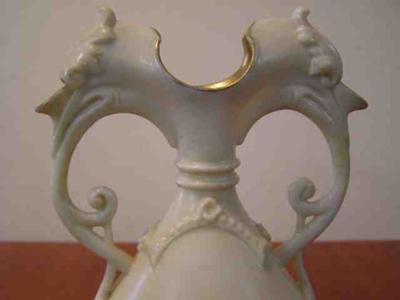 Above photos show my Doulton Vase with mouse and the top of the vase showing the eagle or phoenix heads
I was wondering if something like this with the frogs and mouse could have been influenced by George Tinworth?
I would love to know more about it as it certainly appears to be a fun piece, certainly away from the mould of the traditional Doulton Burslem pieces I've seen.
I would appreciate any thoughts or comments.
Thanks, Peter