Always Remember Our Tips on Buying Vienna Porcelain plates & wall plaques and you should avoid any problems

1. Choose your subject carefully.
This is the single most important factor when buying Vienna porcelain. Find plaques or plates depicting semi-nude female portraits and you've found what everyone is looking for. Semi-nude females compositions command much higher prices than male portraits.
Religious subjects, although stunning, are simply not in voque, they are a lot less desirable and command lower prices.
2. Always buy the best quality you can afford
The quality of the painting is one of most important factors when it comes to calculating the value of a particular plaque or plate.
Some Royal Vienna artists were simply better than others, and if you develop a good eye, you'll learn to spot quality right away.
Apart from the quality of the painting, the glaze is also very important. A good deep glaze highlights the colour and protects the surface of the portrait.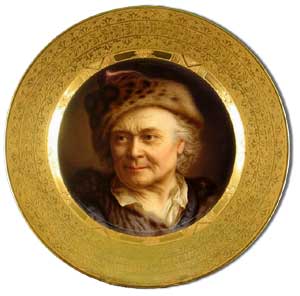 3. Check the border as you would a fine frame on a fine painting.
A border on a Royal Vienna plate is what a good frame is to a painting or a plaque. It can be rich or it can be simple, but it must be in good condition, with only minimal wear to the gilding, and it must work well with the portrait itself.
Most plates have a dark cobalt blue border decorated in a raised gold design.
An ivory background is popular, as well as the art nouveau style. However, the most desirable and expensive border is one with raised jewels.
4. Worry less about the artist than the condition.
Plates and wall plaques produced in the Royal Vienna style are sometimes signed but most are not. Signatures matter little to the connoisseur collector.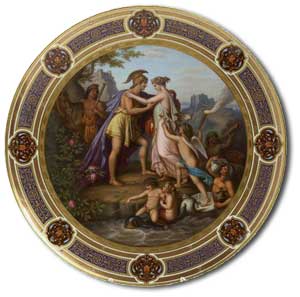 Some signatures, Wagner for instance might command a higher price but generally signed or unsigned plates are around the same value. Pieces painted by the Wagners (a whole family of artists who worked for KPM and other German porcelain makers) tend to be very high quality, especially portraits. But a similar painting by another artist, that presents in the same condition and is of comparable quality and detail as Wagner's, would be worth just as much.
Take any other victorian decorative arts maker such as Royal Worcester fruit, Japanese satsuma, Meissen pate-sur-pate, and the artist's name is always the most important thing affecting the value.
Names like Yabu Meizan on Japanese ceramics, Louis Solon on an exquisite pate-sur-pate vase, or Harry Stinton on a Worcester vase and it could command a huge premium. There might even be a similar piece with the same high quality decoration sitting beside it, but if it's not signed then its value is dramatically reduced.
Not so with Royal Vienna Porcelain portrait plates or wall plaques.
5. The beehive or not the beehive.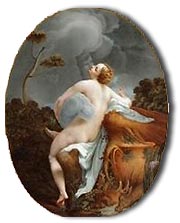 A minimal consideration is the beehive mark or the lack of it. Dozens of porcelain makers throughout europe made Royal Vienna style plates and wall plaques.
Some marked their pieces with the beehive mark, while others (Dresden, KPM or Hutschenreuther) used their own marks. Try to gauge the items quality first and the mark second.
6. Does size matter when buying Vienna porcelain?
Most plates are between 9 and 10.5 inches in diameter. Smaller plates are worth less and wall plaques are usually worth more.
7. Condition is first and foremost.
Royal Vienna plates were made to be displayed in cabinets or hung on indoor walls and have spent their lives there.
As a result, they can be found in perfect or almost original condition.
Damage is rare, but it is there and it affects the value drastically. Cracks, chips, repairs, stacking wear or prominent scratches will reduce the value.
Tip! Always examine very carefully when buying Vienna porcelain as any major damage will make your Vienna Porcelain plaque virtually worthless.