Adding Art Deco Sculptures to your Art Deco Collection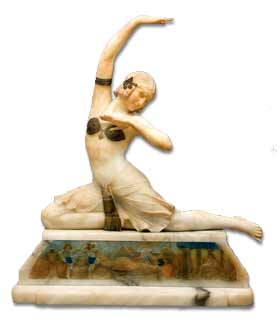 Art Deco sculpture projects some of the most beautiful forms in the art world.
Figures usually, but not always, depict stunning animal forms or the idolised female form with long legs and elegantly proportioned bodies.
Art Deco sculptures are usually made of bronze, silver or chryselephantine, which is a combination of the two.
They are often painted, silvered or incorporate ivory features.
Female Art Deco Sculpture
Feminine Art Deco figures show the perfect art deco female form in sporting or dancing poses, often including popular Egyptian forms
Design influences come from the age of Egyptian Pharoahs, the Orient, Tribal Africa, Cubism, Futurism, the age of machines and graphic design.
The artwork of Tamara de Lempicka epitomises the glamorous Art Deco style but art deco sculpture is done best by the likes of Demetre Chiparus and Le Verrier.
Le Verrier (1891 to 1973)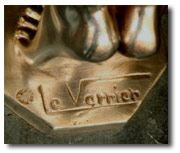 Le Verrier is in probably one of the best sculptors in the Art Deco style.
His most famous piece is probably Clarte, the nude lady lamp, which he produced in 1928. It was made in 4 sizes with the largest being life sized.
In his early years Le Verrier used the pseudonym 'Artus' and this can often be found on his vulture sculptures and Art Deco wall lights.</p.
The Le Verrier foundry produced very stylish Art Deco lights, statues, busts, bookends, car mascots & paperweights.
Le Verrier pieces are almost always of the highest quality and much sought after by Art deco collectors.
Dimitri Chiparus was born in Romania on 16th Sept 1886, he studied, worked and lived in Paris under Mercier and Boucher.
Chiparus exhibited at the Salon in 1914 and is without doubt the most famous of all the Art Deco sculptural artists
He is considered a pioneer of Art Deco Chryselephantine bronze techniques.
But he produced sculptural pieces in many materials including bronze, Ivory, spelter, terracotta and plaster.
Theatrical performances of the Ballet Russe inspired him and he had a keen interest in ancient Egypt.
Learn More About Demetre Chiparus
Fans and collectors of Art Deco Sculptures have a love of clean lines, bold colours and sophisticated design. Recommended Reading: Chiparus - Master of Art Deco by Alberto Shayo